Volatility is a home name in the crypto world. The drive behind profits, losses, and the determining factor of risk.
One key step in creating a sustainable crypto portfolio is the proper allocation of assets. Allocating different percentages of your assets in different investments helps to cushion the effects of investment risks.
Maintaining a balanced portfolio is another ball game altogether. Over time, what seems to be a balanced split between high, medium, and low-risk investments, can end up as a portfolio dominated by a high-risk asset. The key to avoiding this is to rebalance.
A good and easy way to rebalance a crypto portfolio is by using crypto portfolio rebalancing tools. Find out the best crypto portfolio rebalancing tools and what portfolio rebalancing is all about as you read further.
What is Portfolio Rebalancing?
Portfolio rebalancing is simply selling some of your investments and reinvesting the returns in other investments in your portfolio to maintain a target or original asset allocation. In other words, you are simply buying low, and selling high periodically.
The crypto market is always moving, some assets are more volatile than others. The more volatile an asset is on the market, the more profit can be made and likewise the more the risk of a loss. This is why it is sensible to invest only a percentage of your investment, based on your risk appetite, on a particular asset.
A balanced portfolio will not remain balanced for long. If you keep track of your portfolio, you will notice a deviation in values and weights after a while.
Keep track of your portfolio with a good portfolio tracker from our list of best cryptocurrency portfolio trackers.
Instead of having a portfolio that has more value concentrated on a particular asset, portfolio rebalancing spreads it more evenly, reducing the risk that comes with volatility.
Let's say $100 was invested in a portfolio. And you are only willing to risk 35% of it in BTC and 25% in BNB. The rest 40% is invested as safety in stablecoin (USDT). If BTC were to rise in market value by 30%, you would have $45.5 worth of BTC in your portfolio.
Your portfolio which is now a total of $110.5, would be made of up 41% BTC which is more than what you are willing to risk in BTC. Now, you have a portfolio dependent on a high-risk investment.
By Rebalancing, you will be able to restore your portfolio to the original weight ratio.
To rebalance the portfolio back to the original asset ratio, $6.83 worth of BTC will have to be converted to $4.2 worth of USDT and $2.63 worth of BNB. This will bring everything back to the 40%, 35%, and 25% weights.
By rebalancing your portfolio, the risk level has been reduced.
While rebalancing your portfolio can reduce the risk level of your investments, it can also cause you to lose some profit. Basically, in rebalancing, you are selling high and buying low; selling the assets that are currently high and have grown above the allocated percentage, and reinvesting the profit to buy assets that are currently low or have dropped below the allocated percentage.
Selling an asset that is doing well, can cost you some profits if the assets keep on performing well. If you are looking to make more profits through arbitrage, Bitsgap is a good place to automate your trades. learn how to make money with Bitsgap crypto bot. Yet still, having a balanced portfolio is important.
Best Crypto Portfolio Rebalancing Tools
Based on your defined portfolio diversification, rebalancing tools buy/sell coins to rebalance your account.
The portfolio can be rebalanced manually or automatically. You can rebalance manually on almost any exchange where you have assets. Automatic rebalancing saves more time and thus is more efficient. This is why we have listed the best automatic rebalancing tools below.
1. Quadency
Quadency is a cryptocurrency asset management platform with automated strategies. It functions as a unifying window/interface for trading and managing a crypto portfolio from different exchanges.
Launched in 2018, the platform provides advanced crypto solutions through automated bots to all traders – beginner, average, or experienced.
Also running a 3-point goal, Quadency aims to make Crypto accessible to all, simplify advanced trading tools and unify the Crypto trading experience.
Currently running 15+ automated strategies for traders to trade efficiently on the platform, automatic crypto portfolio rebalancing is one of the things you can do with Quadency.
Quadency rebalancing bot will automatically rebalance your portfolio according to selected assets, allocations, and interval/threshold. Connect your accounts from Various supported exchanges and Monitor the progress of your portfolio from your Quadency dashboard.
Manage over 1500 Crypto Assets on leading exchanges. Quadency supports integration with up to 13 exchanges including Binance, AAX (LSEG Tech), KuCoin, OKEx, and Liquid
Features
Portfolio analytics
Pre-built strategies
Market screener
Portfolio tracker
Market asset research insight
Trading bots
Strategy Coder
Relative Strength Indicator (RSI)
Mobile app.
Portfolio rebalancing on Quadency is a paid feature available beginning from the Pro plan.
2. Holderlab
Holderlab is an automated crypto portfolio management platform where you can easily create, test, and manage a portfolio. The platform aims at providing users with the most effective crypto portfolio. From the creation of portfolios to backtesting, Holderlab offers a lot of crypto portfolio management tools including automated rebalancing of portfolios.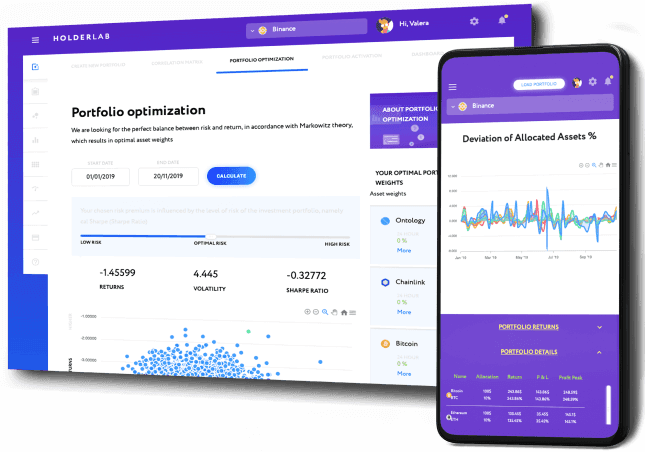 Trading bots on Holderlab automate portfolio rebalancing. A portfolio can be automatically rebalanced periodically on an hourly, daily, weekly, or monthly basis, or according to deviations by setting a rebalancing threshold.
Connect your accounts from multiple exchanges and view all your assets in one place.
If you are a newbie, or you just don't have the patience to piece together assets on a portfolio, Holderlab features ready-made portfolios. A large crypto community sharing real portfolios and real portfolio performance, you can view and analyze up to 5000 different user portfolios on the Holder lab Social Marketplace to get an optimal asset weight. Any portfolio of interest can be copied and used.
Portfolio can be optimized according to the user risk profile. Set your risk level and get a Portfolio with maximized returns will be generated for you based on the Markowitz theory. This is combined with lots of Modern Portfolio Theory (MPT) based simulations to provide possible portfolio results to choose from. 
Choose between 3 Holderlab generated low risk, optimal, and high-risk Portfolios. Portfolio performance indicators will show an overview of assets and asset ratios, risk, and estimated returns. Improve your chances of having a more diversified portfolio with the correlation matrix.
Get up-to-date weekly/monthly crypto index market value of your portfolio assets based on current market information. Sell, buy or trade directly from within the platform.
If you already have a crypto portfolio, Holderlab has a backtesting feature for testing the performance of a portfolio over some time. 
Features
Ready-made portfolios
Crypto portfolio rebalancing
Multi-exchange support
Crypto indexes
Markowitz theory and Modern Portfolio Theory simulations
Portfolio Performance Indicators
Correlation Matrix
Trading bots (auto-rebalancing, day-trading)
Informative materials
Portfolio performance graph
Portfolio Optimization
Portfolio Backtest
Mobile app
Holderlab offers access to all these features through three plans, A Free Holder plan, Holder plan, and Holder pro plan. Automatic portfolio rebalancing is a paid feature on Holderlab.
3. Shrimpy
Shrimpy is a portfolio management platform featuring social trading tools. Unlike the rest of the tools here, Shrimpy is solely for portfolio management. 
Link all your crypto holdings from different exchanges and manage them on a single Shrimpy dashboard. Shrimpy links to over 30 popular Exchanges and Wallets, bringing all your Investments to one place.
Cryptocurrency beginners can keep up with creating a balanced portfolio. Social trading is available on Shrimpy where you can choose to tag alongside an experienced investor, learn and copy their rebalancing automation and strategies to your portfolio.
There are several rebalancing strategies on Shrimpy. Study different strategies with the backtest feature and create a more accurate one.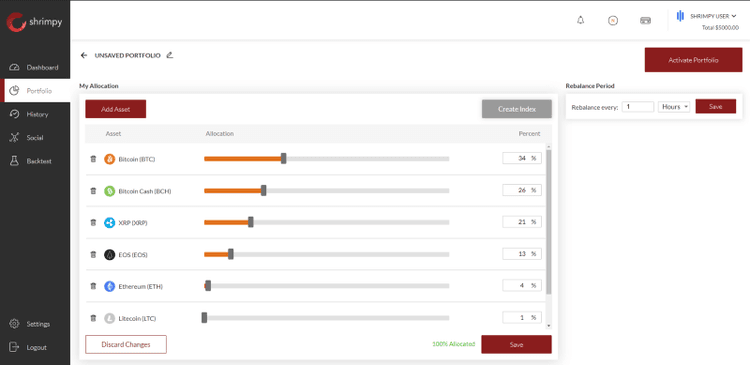 Get real-time feeds from different exchanges on the activities of other investors and traders. 
Track your performance in the market and your portfolio across different accounts.
Features of Shrimpy.io
Multi exchange and wallet support
30+ exchanges
Crypto Portfolio management
Portfolio tracker
Portfolio backtesting
Automatic rebalancing
Portfolio performance tracking
Social trading (copy top traders)
Crypto index
Portfolio stop-loss
Demo mode
There are no free plans on Shrimpy, only Starter, Professional and Enterprise paid plans. Beginning at a $19 monthly Starter plan, you can access features and rebalance your portfolio. Or use the Demo mode to test it first.
4. 3Commas
3Commas is a crypto trading platform providing automated trading services for trading across multiple exchanges. Running on 3 Core Principles, 3Commas aims at providing a simple and intuitive interface for traders, developing sophisticated tools to simplify trading, and lastly running a reliable and trustworthy platform.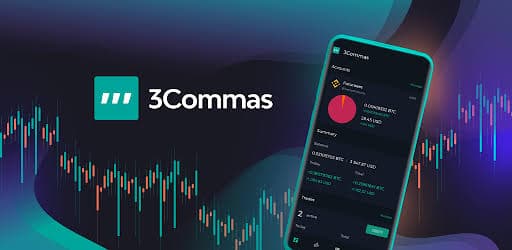 Offering a range of trading services, from DCA bots to crypto exchange, 3Commas also has a portfolio rebalancing features. assets can be rebalanced into BTC or USDT easily.
Over 18 exchanges are supported on 3Commas, but Crypto Portfolio rebalancing feature is only available for Binance, Bittrex, Poloniex, and Huobi exchanges.
A custom portfolio can be created on 3commas. After which all included assets can be bought on your connected exchange with a single click.
You can view the portfolio of other users and copy them as well
Keep the original ratio of your portfolio assets with a timely auto-balancing feature.
Features
Multiple coin purchase
Portfolio creation
Portfolio copying
Notifications via App, Telegram, or email
Trading signals from Cartelsignals, Crypto Quality Signals Premium, etc
Mobile app.
Frequently Asked Questions (FAQs)
Q1. How often should I rebalance my crypto portfolio?
How often you should rebalance your crypto portfolio should be based on the kind of portfolio you have and the market conditions for that period. If yours is one with very volatile assets, it is better to use a periodic and threshold combined strategy. Between hourly to weekly rebalancing should be good.
Q2. What is the best portfolio tracker for crypto?
The best crypto portfolio tracker is one that supports all the exchanges where your assets are. See the best cryptocurrency portfolio trackers.
Q3. Does rebalancing increase returns?
In the long run, rebalancing a portfolio usually does not increase investment returns. But it keeps risk levels in check and also asset weights at desired levels.
Final Thoughts
Rebalancing your crypto portfolio is a good way to keep a steady income in a volatile market. You should know also there is a need to keep updated, study the market and adjust your strategies accordingly.
Read More