In this article, I will be explaining how to stake your crypto on the Coinbase platform.  I chose Coinbase because it's a household name and one of the top crypto exchanges in the U.S and a reputable name all over the world.
There are tons of benefits to derive when you stake crypto on Coinbase. To stake on Coinbase, you start by signing into your account or simply register if you do not have an account.
Let's examine the key takeaways from this article before we dive into the details on how to stake Tezos.
Key Takeaways
• Coinbase supports staking for Tezos, Cosmos, Algorand, and Ethereum. However, there is every possibility that other coins may be welcomed sooner than later.
• On Coinbase, the minimum stake-able amount for Tezos and Cosmos Atom is 1.
• Coinbase pays out staking rewards daily for ALGO and ETH, once every three days for Tezos, and once every week for Cosmos.
• Staking on Coinbase is not available to everyone, Staking is available to certain regions, you may need to visit its support center to know more about your eligibility for staking.
SEE ALSO: How Often Does Coinbase Pay Staking Rewards
SEE ALSO: How to Stake Ethereum on Coinbase
What is Staking?
In simple terms, staking is the process of earning rewards on your crypto by committing your holdings to work.
You support the blockchain network and help confirm or validate transactions according to the number of cryptos you delegate to the network.
Staking adopts a mechanized system known as proof-of-stake (PoS).
Proof of Stake is a consensus mechanism requiring users to stake their tokens to become validators of the network. The purpose of this is to achieve a distributed consensus.
How Staking Works on Coinbase
Cryptocurrencies like Cosmos, Tezos, ALGO, and Ethereum avail you the opportunity of staking your crypto on Coinbase.
Once you stake your crypto holdings, you will get rewarded a certain percentage rate over time. The activities usually take place in a "staking pool."
You might wonder why you earn rewards on your crypto through the staking process; This is because the blockchain puts your crypto to work.
Once you meet the minimum balance set, the total amount of crypto will be deposited as a stake into the network by a node.
The chances that a node could be chosen to forge the next block depends on the number of nodes. The validator will get rewarded if the node successfully creates a block.
Although proof-of-work (PoW) had set the pace for modern blockchain technology, new tokens are adopting the proof-of-stake(PoS) consensus mechanism which is scalable, less expensive, and faster to implement.
Lately (in recent years), Proof-of-stake has witnessed drastic growth. This new method has gained some attention, and even Ethereum (ETH) is gradually moving towards it.
Unlike mining, you get staking rewards for holding some amount of coin over a given period.
SEE ALSO: What Cryptos Can Be Staked On Coinbase
Staking Tezos On Coinbase
Let's illustrate staking Tezos (XTZ) on Coinbase. Join Coinbase to start the staking process.
Step 1: Enable Staking Rewards
First, you have to enable staking rewards. On the web, head onto financial services and toggle the staking rewards icon to opt-in.
After that, you head over to your portfolio not to "earn rewards"  because "earn rewards" will only lead you to convert or buy any cryptocurrencies available for staking.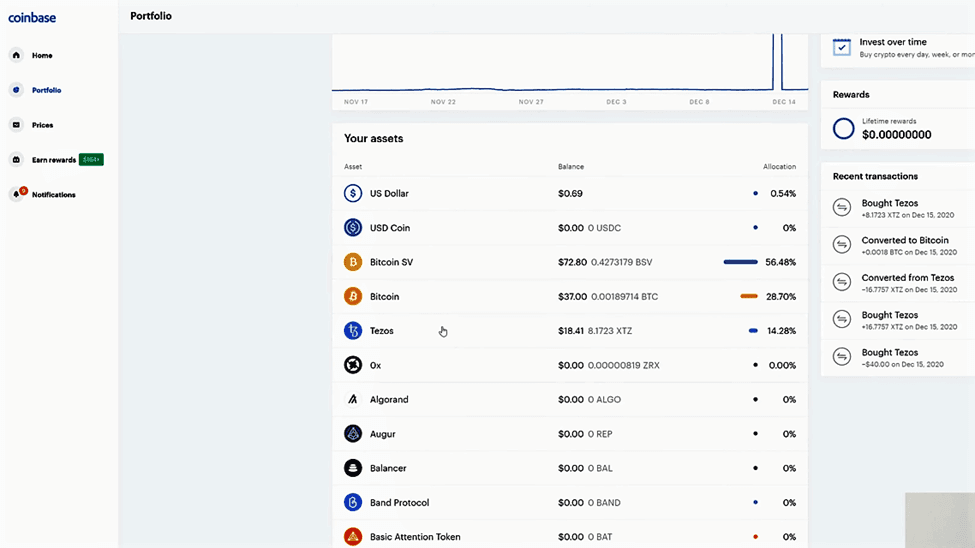 After hitting your portfolio, locate the coin you wish to stake, which in this case is Tezos.
Then head over to the "send and receive option" and hit the little slider button, which will reveal your Annual Percentage Yield (APY).
Step 2: Meet the Staking Requirements
To Stake Tezos on Coinbase, you will need a minimum of one Tezos (1), which is quite affordable.
When you stake Tezos on Coinbase, you receive your first reward payment approximately 35 to 40 days from the staking date.
This means you have to be prepared to hold on to that Tezos in your Coinbase account for a minimum of 35 to 40 days with staking switched on.
Step 3: Understand Withdrawal Terms
After this waiting period, you will receive your staking reward approximately every three days.
If you withdraw your funds early or drop below the minimum balance of 1 XTZ, you may not get any reward from Coinbase.
By Implication, you should not withdraw your Tezos (XTZ) before the waiting period is over; otherwise, you may not get any reward.
Similarly, after the waiting period has elapsed, you should also wait to complete each cycle of 3 days before withdrawing your Tezos; otherwise, you could also forfeit all rewards meant for it.
The same process applies to other cryptocurrencies. The only difference could be the waiting time and payment cycle change.
Unlike Tezos, Cosmos credits your first reward payment approximately 7 to 14 days from the date of staking.
After this initial waiting time, subsequent reward payments are credited in a cycle of seven days.
SEE ALSO: How To Transfer Money From Coinbase To PayPal
Final Thoughts
In summary, various coins come with various rewards and waiting times.
Staking is a less tasking and less expensive way to earn on your crypto. No need for buying powerful mining hardware and pay outrageous electricity bills.
Staking is a smarter and green way to participate in crypto blockchain technology and earn passively.
Read More