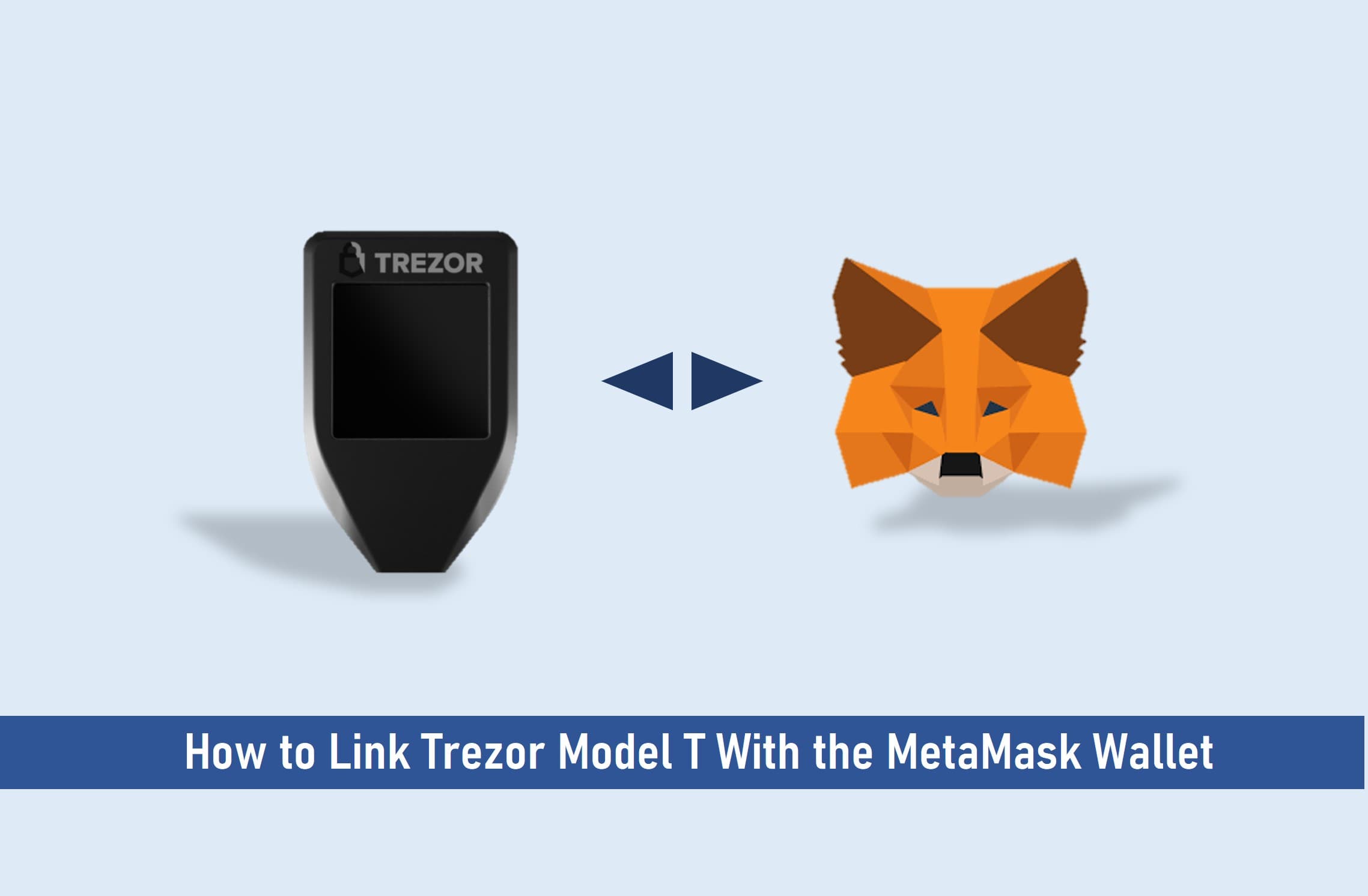 There could be several reasons why you want to link a hardware wallet like Trezor with a soft crypto wallet such as MetaMask.
One of such reasons could possibly be for a token swap on MetaMask or the migration of your digital assets from your MetaMask to a new Trezor Model T you just purchased or vice versa.
The second could be that you want to explore blockchain apps or have the freedom of transacting on both wallets and not necessarily carrying your Trezor wallet around.
Whatever the reason is, I will explain how to link your Trezor wallet with the MetaMask or its Extension.
Requirements for Linking Trezor Wallet to MetaMask
Note that before you proceed to link Trezor Model T with MetaMask, there are some requirements that you will need to meet before you can successfully connect both wallets.
Check below:
"Blind signing" is enabled on the device (if needed for what you are doing).
The device is plugged in via USB, NOT Bluetooth.
The device is unlocked and in the Ethereum app.
After you must have done all that listed above, you can now proceed to use the Trezor Model T with MetaMask using the steps below:
Setting Up Trezor with MetaMask
Step 1: Download the latest version of MetaMask and install it on Google Chrome.
Step 2: Open the MetaMask.
Step 3: Select the icon on the top-right corner.
Step 4: Select "Connect Hardware Wallet."
Step 5: Choose the Trezor Model T.
Step 6: Click "Connect".
Step 7: Select an account you want to interact with.
Step 8: You have successfully imported an account to MetaMask.
After following these steps and your account has been connected, it will act just like the average MetaMask account with the only difference being that you will have to plug the Trezor Model T to be able to sign transactions and messages.
You can also click on 'X' next to it on the account list menu should you choose to remove the connected account.
A Quick Look at the Trezor Model T Wallet
[table id=17 /]
The Trezor Model T is an advanced cryptocurrency hardware wallet that can store bitcoin and other cryptocurrencies, passwords, and other keys with confidence.
It supports over 1200 coins & tokens and has impressive features which are listed out below:
The Trezor Model T wallet claims to have transparent security as it is audited by security researchers and verified by an excellent track record.
The Trezor Model T serves as a U2F (Universal 2nd-Factor) hardware token. Ordinary security tokens lack a display, so you can never be certain about what you are approving.
Trezor utilizes its Trusted Display to show you details of the authentication request before you approve it and confirm the service you are logging in to.
Network-isolated Authentication
Designed for your confidence and peace of mind, the Trezor Model T protects you by always confirming what you are agreeing to on the device itself.
This hardware wallet features a touchscreen, giving you an intuitive, convenient interface through which to verify and approve all operations, so you know exactly what data is being sent.
Passwords are individually locked within Trezor Password Manager, using your digital keys. Secrets are released one by one, and only after you physically confirm the action on your Trezor.
Their experts are ready to help you at all times and their dedicated Support Team specialists work day and night to answer your inquiries.
Supported Operating Systems
Trezor devices currently support all major computer operating systems: Windows (version 10 or newer), macOS (version 10.11 and higher), Linux.
On mobile devices, Android is supported. iOS and Windows Phone are not (yet) supported.
ChromeOS is not yet officially supported, but it should work via Google's WebUSB.
A Quick Look at the MetaMask Wallet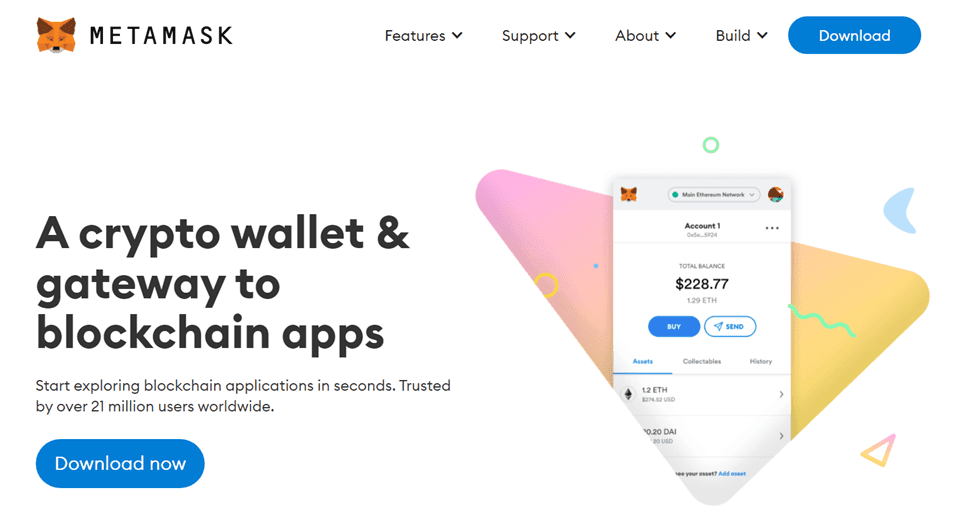 MetaMask is a crypto wallet as well as a gateway to blockchain apps. With it you can buy, store, send and swap tokens.
MetaMask also provides the simplest yet most secure way to connect to blockchain-based applications as it gives you total control when interacting on the new decentralized web.
MetaMask generates passwords and keys on your device, so only you have access to your accounts and data. You always choose what to share and what to keep private.
Features of the MetaMask wallet include:
The MetaMask wallet is highly secure as it hasn't suffered any major hacks since 2016. It gives you total control of your keys and creates a private key-pair via a seed used to access your crypto assets from any location.
Having the ability to link your Trezor Model T to MetaMask, was made possible because of this particular feature. Also, you can directly spend straight from a MetaMask compatible wallet such as the Trezor Model T in this case.
With this feature, your crypto address becomes difficult to trace coupled with the fact that your traffic is encrypted and bounced through several servers.
Your private keys are always in your control unless you choose to export them.
Frequently Asked Questions (FAQs)
How do I install the Trezor wallet?
The first thing you would need to do is to download and install the Trezor bridge and then refresh the page. After that, you will be asked to install the firmware once your device has been recognized.
Then you click on "Install firmware" and wait until the installation completes and the device reboots. Lastly, select "Create a new wallet" and confirm the action on the device's touchscreen.
What is the Trezor Model T
The Trezor Model T is your wallet, your authenticator, and your digital ID. The Trezor Model T stores your private keys for you and allows you to use them safely. Your keys never leave the device, keeping them isolated from online vulnerabilities.
Final Thoughts
Using the Trezor Model T with MetaMask is a very simple process. All you need to do is simply follow the steps laid down in this article, and you should be able to successfully make use of the Trezor Model T with MetaMask.
Read More