During the official launch of Ledger Live, the company made it known that its mission is to ensure that everyone who owns crypto assets can keep them safe, using the most advanced security technology available.
This entails developing products that are both robust and user-friendly.
And so, with Ledger wallets, notably the most popular Ledger Nano X, they established the benchmark for safe wallets.
But a great crypto hardware wallet is nothing without a resilient software, and so they created the Ledger Live app.

And so, Ledger Live is a new all-in-one companion application for your Ledger device that runs on Windows, Mac, and Linux.
Ledger Live was created to provide users and beginners with a feature-rich yet intuitive experience.
Ledger Live replaces the previous system of many Chrome-based programs by bringing device management and individual crypto assets together in a single location.
In addition, the Ledger devices such as the new Ledger Nano S PLUS come with a host of innovative new features that make receiving, sending, and staking crypto assets simpler than ever.
The new NFT signing on Nano S PLUS and Nano X is also amazing making it a robust hard wallet to own. You can now sign and send NFTs from your Nano device.
Ledger Live, like much other software, occasionally has connection issues, which is unpleasant for users.
As a result, I'll share insights into Ledger Live Connection issues and how to fix them.
Key Takeaways
• The Ledger Live application help users connect to their crypto assets storage offline, initiate transactions, and efficiently manage them.
• For security reasons, Ledger Live stores each user's record and a single or registered device. Users will need to recreate or approve another device to have access to the Ledger Live application.
• Ledger Live comes with fixable issues. Most issues are due to connection.
• For security reasons, never enter your 24-word recovery phrase anywhere else than on your Ledger device.
Disclosure: Please note that some of the links below are affiliate links and at no additional cost to you, we will earn a commission. When you purchase any Ledger wallet using the affiliate link, we may get compensated and this helps in the maintenance of the website.
How Ledger Live Works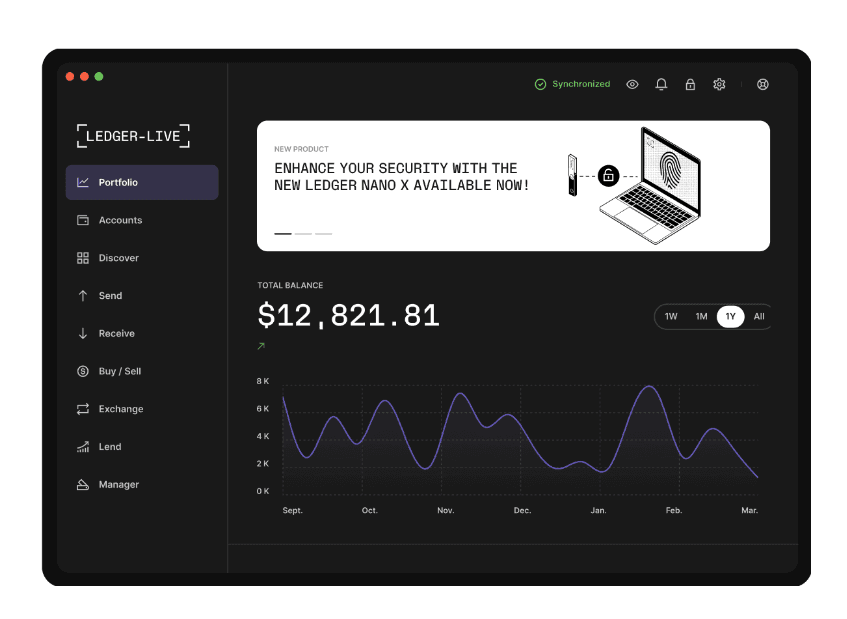 Ledger Live's launch marks a significant turning point in the availability of secure administration of cryptocurrency assets to all its users.
Ledger Live's initial release does not include some functionality, such as support for ERC 20 tokens, however, future updates are intended to provide these capabilities regularly.
Ledger Live is a free service that supports both the Ledger Nano S and the Ledger Blue.
Nevertheless, this is only the beginning. Ledger Live will gradually include additional, unique features, for its users.
Features on Ledger Live
Simple onboarding
It is simple to set up a Ledger device with this feature. Existing users can quickly and easily import their accounts into Ledger Live.
Multi-accounts
With this feature, users can access all of their cryptocurrency accounts at once. There's no need to switch between separate apps for Ripple, Bitcoin, and other cryptocurrencies.
Real-Time Balance
Users can check the worth of their assets using real-time market rates using real-time balance.
In addition, transactions and balances remain accessible even when the Ledger device is not connected.
Secure Transaction
To help guarantee that the money is going to/coming from the intended sender and receiver, on-screen instructions and transaction confirmations are provided.
How to Get Started With Ledger Live
Things Needed to begin.
1. Start the Ledger Live application.
2. Click on Get started, on the welcome screen.
3. Choose how to set up your device:
• Set up a new device to generate new private keys and create new accounts.
• Restore the device from the recovery phrase to restore the private keys of your existing accounts using your (24-word) recovery phrase, also known as a mnemonic seed.
4. Choose your device, then click on Continue.
•  The Ledger Nano X can only connect to the Ledger Live desktop app computer via USB.
While using Ledger Live can seem to be a great experience, most times connection issues do make it difficult to use. And so, we will list out some issues users are likely to face and how to fix these issues.
Ledger Live Connection Issues: How To Fix
Connection issues: Device won't connect?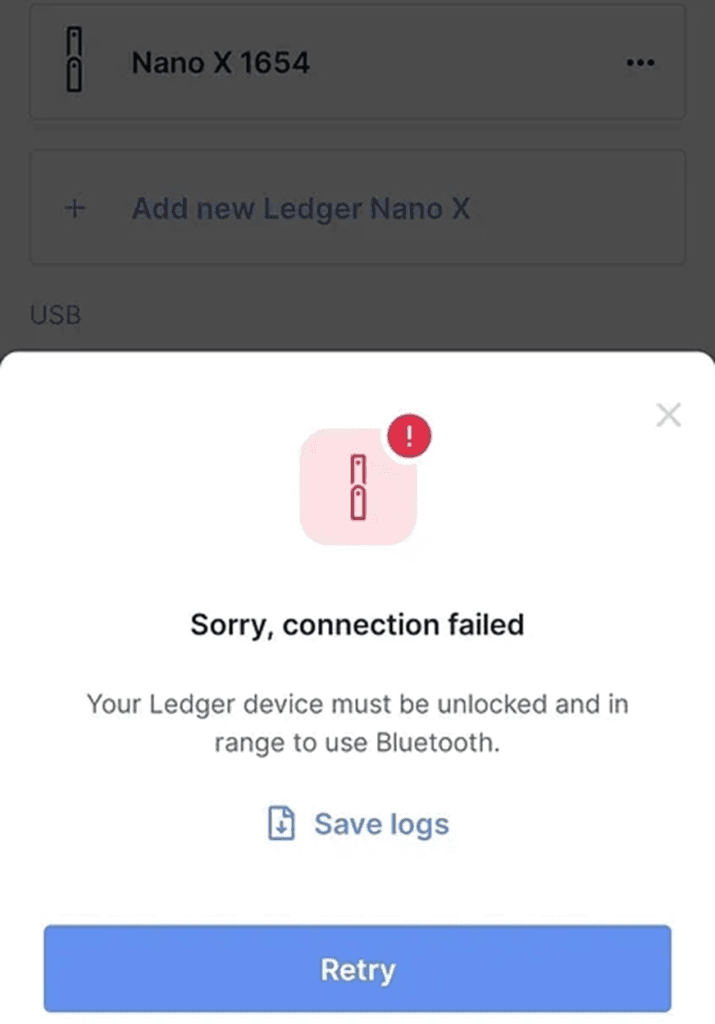 For users experiencing USB connection issues, here's how to fix the issue.
Change the USB cable if possible. Try removing any dongles or docks you're using.
Try different USB ports.
If you're on Windows, one of the following solutions could fix your connection issue:
Right-click on Ledger Live to run it as Administrator.
Try updating the USB drivers.
For Bluetooth connection issues, try to reset the Bluetooth pairing on your Ledger Nano X and your phone.
Connection issues: Window 10 connection
We suggest this solution for users having connection issues with Windows 10
Solution
1. In Chrome, Brave, or other Chromium-based browsers, navigate to chrome://flags#new-usb-backend
2. Make sure that "Disabled" is selected for the Enable new USB backend flag.
3. Refresh your web browser, then reattach your Ledger device.
Before Chrome 87's recent release, "Disabled" was the default setting. Now, it is "Enabled."
Normally, we wouldn't advise changing the feature flags for browsers, but in this case, we think it's a workable temporary fix until the Ledger team issues an official patch for Web USB.
Connection issue: Nano X Bluetooth mode issues with Windows 10
Ensure Ledger Live is shut down.
Solution
Turn off Bluetooth on your computer, and make sure Ledger is plugged in via USB.
Use a different USB port to reconnect your Ledger.
Restart your computer.
Connection issue: Setting up a Ledger Live account for Binance Smart Chain
A Ledger Smart Chain account can be used to store Binance BEP20 and BEP721 coins.
To create a Binance Smart Chain account in Ledger Live, follow these steps.
Open the Ledger Live application
Unlock your Ledger by connecting it to your computer.
Select Add account from the Accounts menu, then click Binance Smart Chain and continue.
Visit the Receive tab, choose the BSC account, and then click Continue once the BSC account has been added.
Your Binance smart Chain address is now displayed in Ledger Live and on your Ledger.
After confirming your address, click. Your deposit address for BNB or BEP20 tokens is this one.
Connection issue: How to transfer cryptocurrency from the Binance exchange to Ledger Binance Smart Chain Account.
How to Do it:
Select your preferred coin in the "Withdraw Crypto" section of your Binance account.
Complete your withdrawal by pasting your Ledger BSC address and making sure the BEP20 – BSC network is selected.
Connection issue: Metamask is not compatible with Ledger
Your web browser—Chrome, Brave, Firefox, or another—runs Metamask.
It can be challenging to connect when certain browser manufacturers deprecate the APIs that allow Metamask to communicate with hardware wallets when they release updates.
You must first update MetaMask to version 10.5.0 or higher to address any issues. Additionally, make sure that the "Preferred Ledger Connection Type" is set to "WebHID" in your "Advanced Settings".
Open the ETH app and select "Connect Hardware Wallet" to add your Ledger hardware wallet to MetaMask.
This time, a pop-up window where you must choose your device and press "Connect" will appear.
You merely need to choose the address you want to import from your list of addresses when it appears.
[table id=18 /]
Final Thoughts
Ledger Live was created as a platform to help users with the assets. The software offers a safe and secure means for investors to keep track of their assets.
However, connection issues can make the experience quite unfavorable.
This guide should be of help in solving some connection issues that users experience when using Ledger Live.
Read More