One of the most important aspects of developing crypto-based projects and applications is testing them to ensure it works. One could waste a lot of resources and time testing on established blockchains.
Binance Testnet makes it possible for developers to test their projects within the environment and conditions of the Binance Smart Chain but not directly on it, saving your assets.
Smaller in scale to the public network, developers can perform a lot of analysis on Testnets using Testnet tokens.
Binance Smart Chain Testnet token can only be obtained from their faucet.
This article explains how to get Testnet BNB from Binance Smart Chain faucets.
Binance Smart Chain Faucet
Test tokens are not considered real tokens, and as such cannot be bought anywhere or sold either. You can only claim free test tokens from the BSC faucet.
Binance Smart Chain Faucet is the faucet gateway where test tokens for the Binance testnet can be claimed. Developers can get tokens like BNB, BTC, BUSD to use in experimenting.
Binance Smart Chain Testnet
Binance Smart Chain Testnet is an alternative blockchain that is used for testing purposes only. This testnet is a replica of the main Binance Smart Chain blockchain and runs parallel to it but is used for test running projects to see how they will function on the blockchain.
There are tokens on the Binance Smart Chain testnet just like the on the main blockchain, but they are purely experimental and have no value.
There are many Dapps and tokens on the Binance Smart Chain mainnet, and before they are launched on the blockchain, they are tested on the Binance Smart Chain testnet to ensure that it works according to plan.
The purpose of testnet is to play around with features on the mainnet to see how they operate or get familiar with it without the risk of losing valuable tokens.
Creators of crypto wallets, for instance, use testnet tokens to test the integration of their wallets with the Binance Smart Chain to see if it works or not.
Aside from testing blockchain projects, testnet can also be used by traders to test how good their trading strategies are.
Testnet tokens are testing tokens and for that purpose only. Owning them does not bestow any benefit, they have no monetary value and therefore are not equal in any way to the actual mainnet assets.
Testnet tokens are meant for the testnet only and mainnet tokens for the mainnet. Transferring tokens from mainnet to testnet will result in you losing your tokens permanently.
How to Use Binance Smart Chain Faucet?
To obtain test tokens from Binance Smart Chain Faucet you need a Binance account. A single account can be used to fund multiple addresses on Binance Smart Chain.
You also need at least 1 BNB in your account. You are not buying the test token with the 1 BNB, rather it is just a requirement for safe measures. It remains in your account and can be spent afterward.
1. Install Math Extension Wallet or MetaMask to be able to integrate with the testnet chain.
2. Create a Binance Smart Chain wallet address.
3. Go to the Binance Smart Chain faucet or just copy and paste this page link in your browser: https://testnet.binance.org/faucet-smart.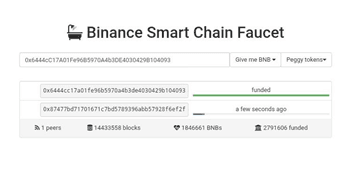 4. Copy the Binance Smart Chain address you want to receive the token and paste it in the provided space.
5. Now choose the token you want to receive and the number of tokens. Aside from the testnet BNB, other Pegged tokens can be received.
In a matter of seconds, BNB will be sent to your address.
As a preventive measure against possible spamming and scams using the testnet token, Binance ties requests on the faucet to third-party social media to limit people from exhausting the Faucet.
So to validate the request, make a tweet that contains your Binance Smart Chain address within. Copy the tweet URL and paste it in the provided space back on the faucet page.
SEE ALSO: How To Join Binance Smart Chain As A Validator
Frequently Asked Questions (FAQs)
Q1. What is the difference between Mainnet and Testnet?
A mainnet, regarded as the main network, is a fully developed and working blockchain where crypto transactions are taking place.
A testnet, more like a testing network, is a replica of a mainnet or a prototype used for experimenting and testing blockchain projects that are being worked on before launching. Strictly for testing purposes, testnet coins do not have any value.
Q2. Is Binance testnet legit?
Yes, Binance testnet is legit and is run by the Binance Chain development community, a community of developers. It is very useful to developers for developing and improving on Binance Smart Chain.
However the testnet tokens are not legit, but testing tokens. Likewise, every activity is done on the testnet. The validators on the testnet are from the development team.
Q3. How to Transfer Testnet BNB from Binance Smart Chain to Binance Chain?
Aside from testing Binance Smart Chain, you might also want to test the features of Binance Chain. You can use Binance Chain Extension Wallet for BNB cross-chain transfer.
 Binance Chain Extension Wallet is a Crypto Wallet for sending, receiving, and performing cross-chain transfers between Binance Chain and Binance Smart Chain. It is available for Firefox and Chrome browsers.
You can also use MathWallet dApp to transfer BNB cross-chain.
1. Create a Binance Chain wallet address
2. On your browser, go to the page: https://developer.mathwallet.org/bsc01/
3. On the cross-chain transfer page, fill in the receiving address you just created and proceed to approve the transfer.
Q4. What are Peggy tokens on Binance?
Pegged tokens are tokens that are tied to the value of another cryptocurrency. These replica tokens on Binance are entirely backed by the native token in a reserve.
BTC is pegged as BTCB and for every BTCB, there is a BTC kept in reserve. Meaning, there is Bitcoin in BEP2 token format. Pegged tokens are meant to provide an easy way to convert and trade the native coin on Binance.
BNB gotten from the Binance Smart Chain faucet is the best way to experiment, build on and understand the mainnet with ease of mind.
Read More