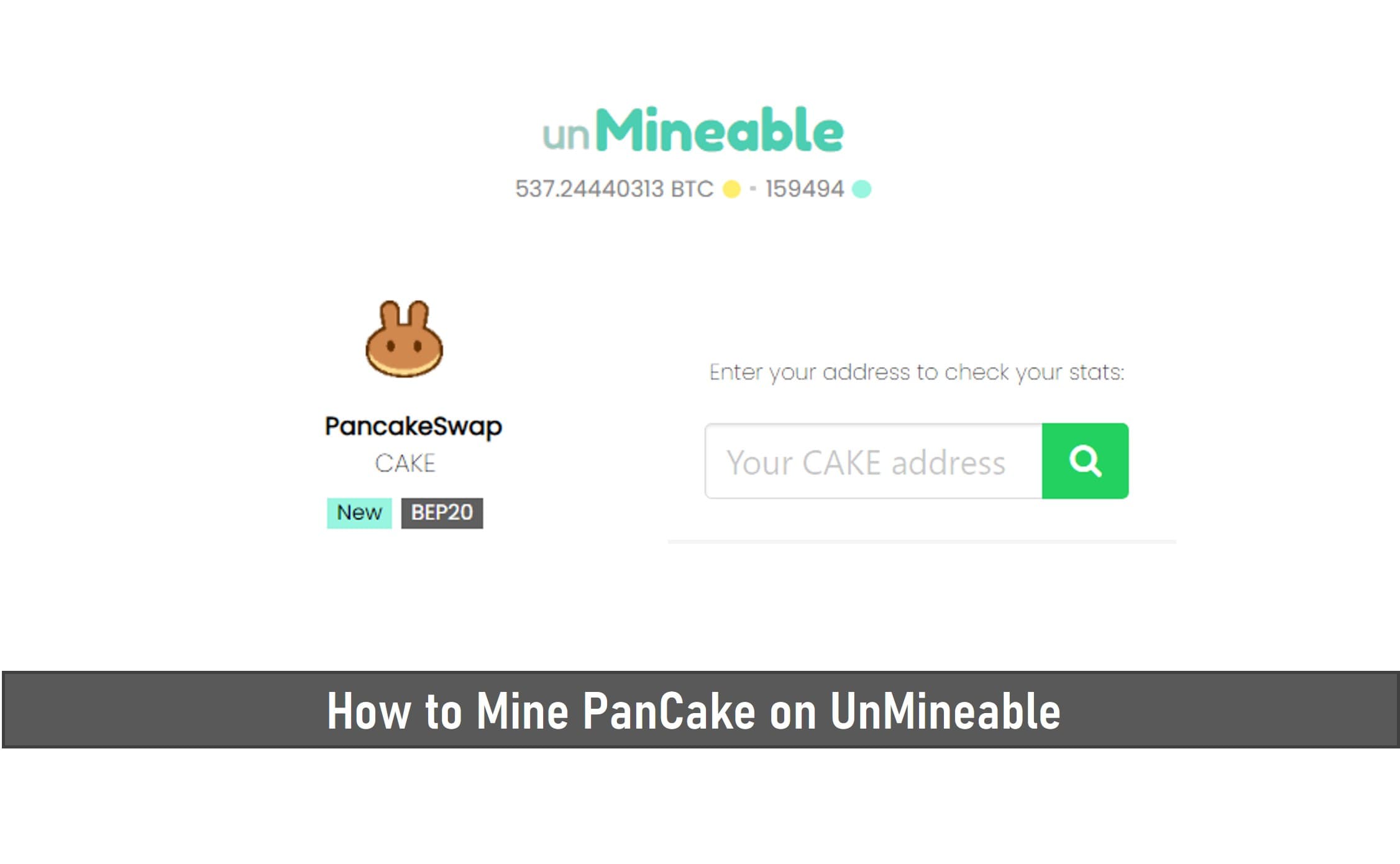 Getting Started with UnMineable
UnMineable is a cloud mining tool for mining with a wide range of cryptos. UnMineable is known for its extensive use of graphic cards that are compatible with a wide range of mining hardware.
To get started with UnMineable, all you need to do is to point your miners to one of its pools depending on the type of mining hardware you use (Graphic card or CPUs).
These graphic cards and CPU types are available on UnMineable.

Another way to get started is to follow UnMineable's setup guide. With any of the underlisted miners, you can get up to speed with the guide and start mining straight away.
To mine PanCake on UnMineable is pretty straightforward. In this article, I will take you through the mining steps for the PanCake token.
Key Takeaways
 • UnMineable uses 4 distinct graphic cards and CPUs to mine a vast number of coins and tokens.
 • The referral network on UnMineable is robust. Using a referral code can reduce your mining fees by 0.75% .
 • On UnMineable, you can mine different algorithms at the same time with different workers' names. Just add it after your worker name, separated by a # symbol.  The referral code won't change your worker's name on your stats page.
 • The RandomX CPU has a standard mining fee of 1% with an average reward time of 7 minutes while the graphic cards' (Ethash, Etchash, Kawpow) average reward time is between 3-5 minutes.
 • UnMineable has been an excellent tool known for mining a vast number of cryptocurrencies.
SEE ALSO: How to Create a PancakeSwap Token
SEE ALSO: PancakeSwap Yield Farming – How Does it Work
SEE ALSO: How to Fix Insufficient Output Amount Error On Pancakeswap
You can start mining PanCake on UnMineable with the  following steps below:
STEP 1: Download a Crypto Wallet
The first thing you need to do is to download a crypto wallet, preferably MetaMask, as you can download it from metamask.io.
After that, register and log in, then connect the Binance Smart Chain Network to MetaMask or whichever crypto wallet you choose to work with.
If you do not know how to establish the connection between your Binance Smart Chain Network and MetaMask, you can head on over here to find out how.
After you have done that, head on over to MetaMask and copy your address from the Binance Smart Chain.
STEP 2: Download and Install the Unmineable Miner Software.
Set certain folder exclusions in Windows Defender, your antivirus, and your browser before downloading the file so you don't get distracted by warnings about harmful files.
You can download the Unmineable software for free here.
The UnMineable software is just one executable file, and it already contains all the configurations, so it is the best and easiest way to mine PanCake.
Step 3: Run the file as an Administrator in Windows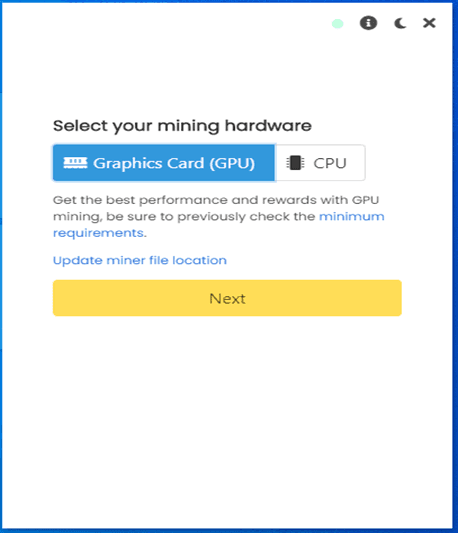 The next thing you need to do is to run the file as an administrator in Windows. You can select "GPU cards" or a "CPU"; it is up to you.
Next, it will send you to the second screen, where you will input your Binance Smart Chain Address as well as the code that will reduce your development fee from 1% to 0.75 %.
Use the code n7js-dhnfto reduce your development fee from 1% to 0.75 %.
This is what your screen should look like: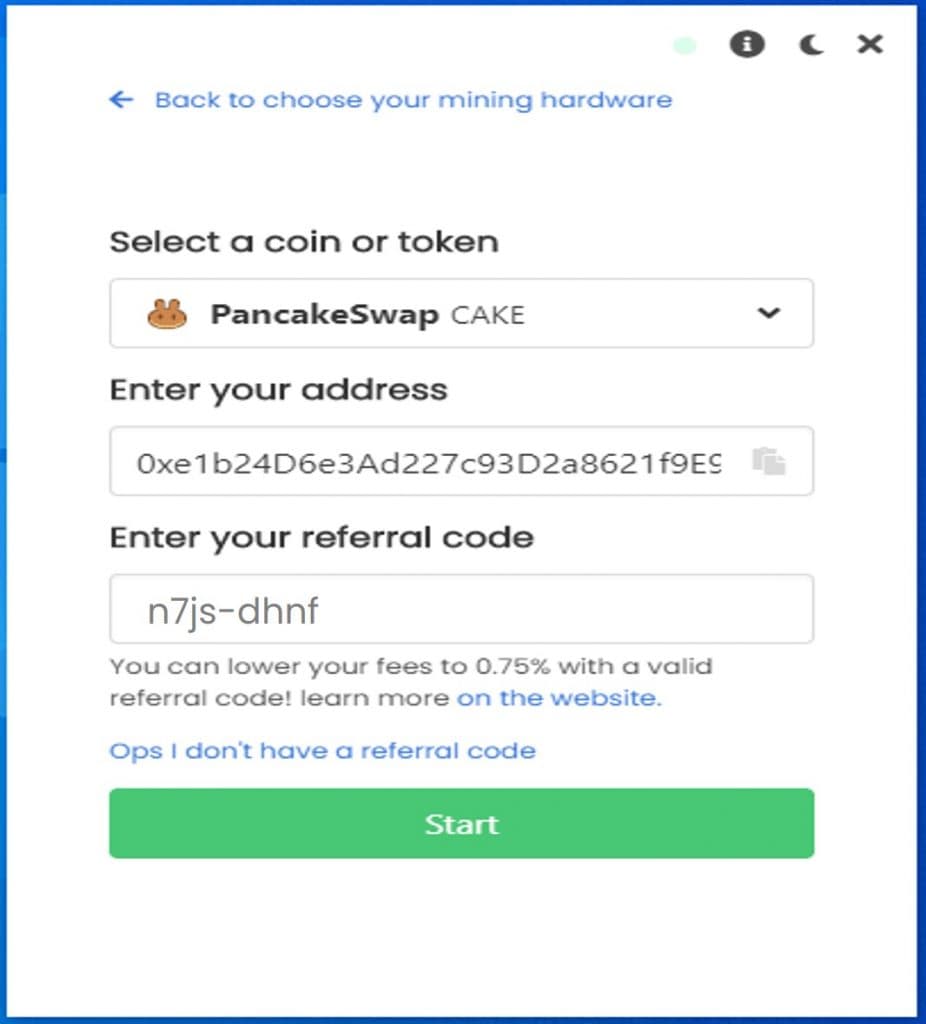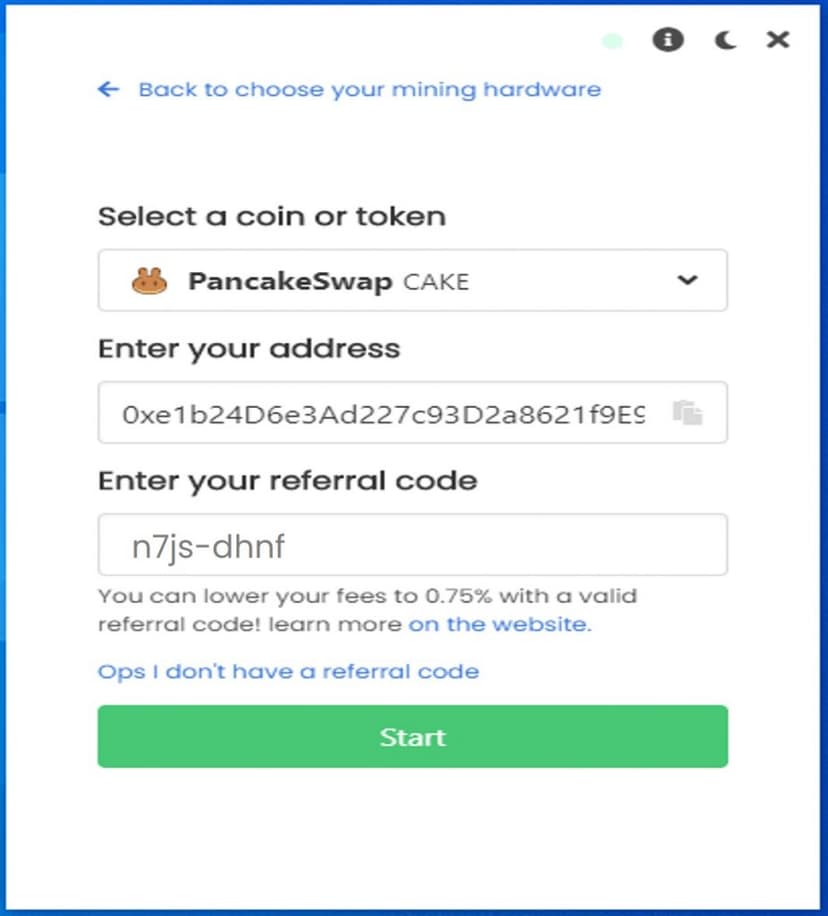 When you press the "Start" button, you should see something like this: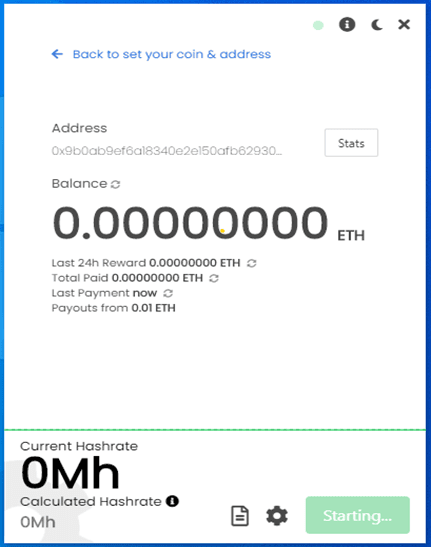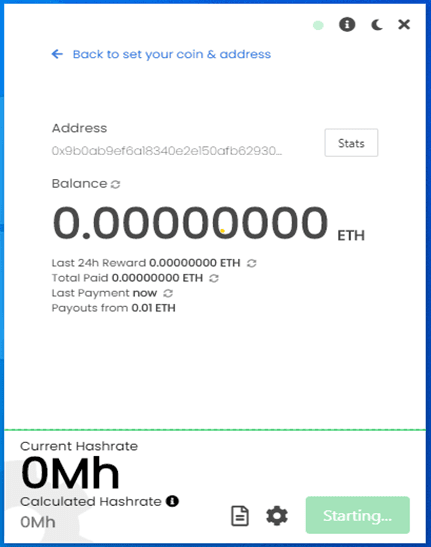 At this point, I recommend that you choose the option at the bottom to view the logs (it looks like a sheet of paper), and then click "Force Stop."
Then select the settings icon (it looks like a cog wheel), and on the page that appears, double-check the following:
Check that the algorithm you've chosen is ETCHASH if you're mining with 4GB cards, ETHASH if you're mining with 6GB or more, and CPU if you've already selected it.
You may decide to add a referral code, the benefit of this is that it reduces your mining fee by 0.75% if you use our referral code n7js-dhnf (optional).
Set a name for the computer from which you are mining.
Increase your mining intensity to the maximum, which I would recommend doing during moments when you are not using the computer.
It appears to be similar to this: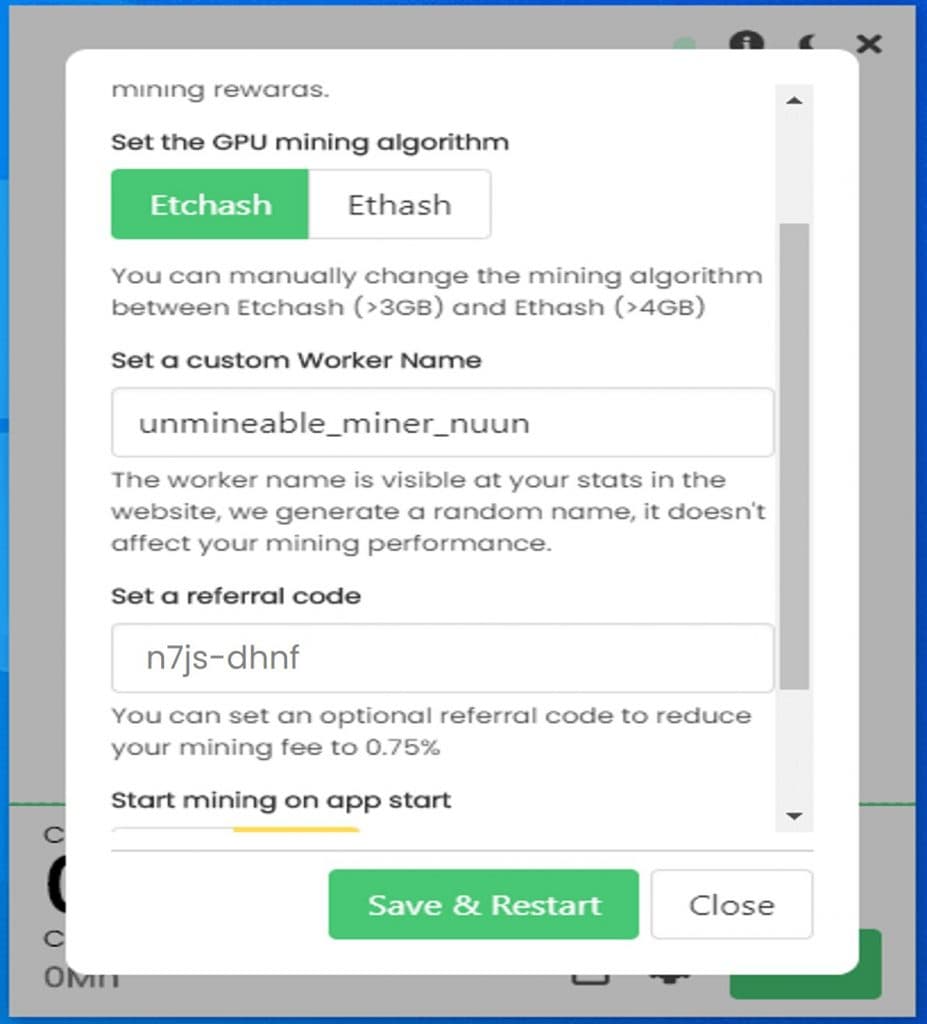 To begin mining, click the "Save and Restart" button.
When it starts, you can see the speed of your graphics card, which is shown as the current hash rate.
You may also go straight to the Unmineable website by clicking the stats button on the upper right, where you can check your balance and request a manual payout.
It is advised that you adjust a few options in Windows; some people deactivate updates as well as sleeping mode, hibernation, or anything else that might switch off the computer when it is not in use.
If you're using a laptop, make sure it's powered up or connected so it doesn't shut down and you are good to go.
SEE ALSO: How To Mine Dogecoin On UnMineable
SEE ALSO: How to Mine Shiba Inu on UnMineable
Frequently Asked Questions (FAQs)
Is UnMineable a Virus?
No, UnMineable is not a virus, as the mining program is virus-free, and you can examine its source code for any irregularities.
Also, you can use any mining app that supports Ethash, Etchash, RandomX, or Kawpow and connect it to their pools if in doubt.
What is a PanCake Swap?
PanCakeSwap is an automated market maker, which is a form of a decentralized exchange. This implies there are no order books, bid/ask systems, or limit/market orders.
Users trading on the platform, on the other hand, immediately draw liquidity from one or more liquidity pools, which then rebalance when the deal is completed.
What is the CAKE Token?
CAKE, the PanCakeSwap token, is a BEP20 token that debuted on the Binance Smart Chain. Its primary role is to incentivize liquidity provision for the PanCakeSwap platform.
Users can receive incentives by staking their tokens, which is done by depositing and locking up liquidity provider tokens.
Final Thoughts
Mining with UnMineable is quite straightforward. If you need to mine PanCake on UnMineable, simply go through this article or follow the support guide on how to point your miners.
Read More