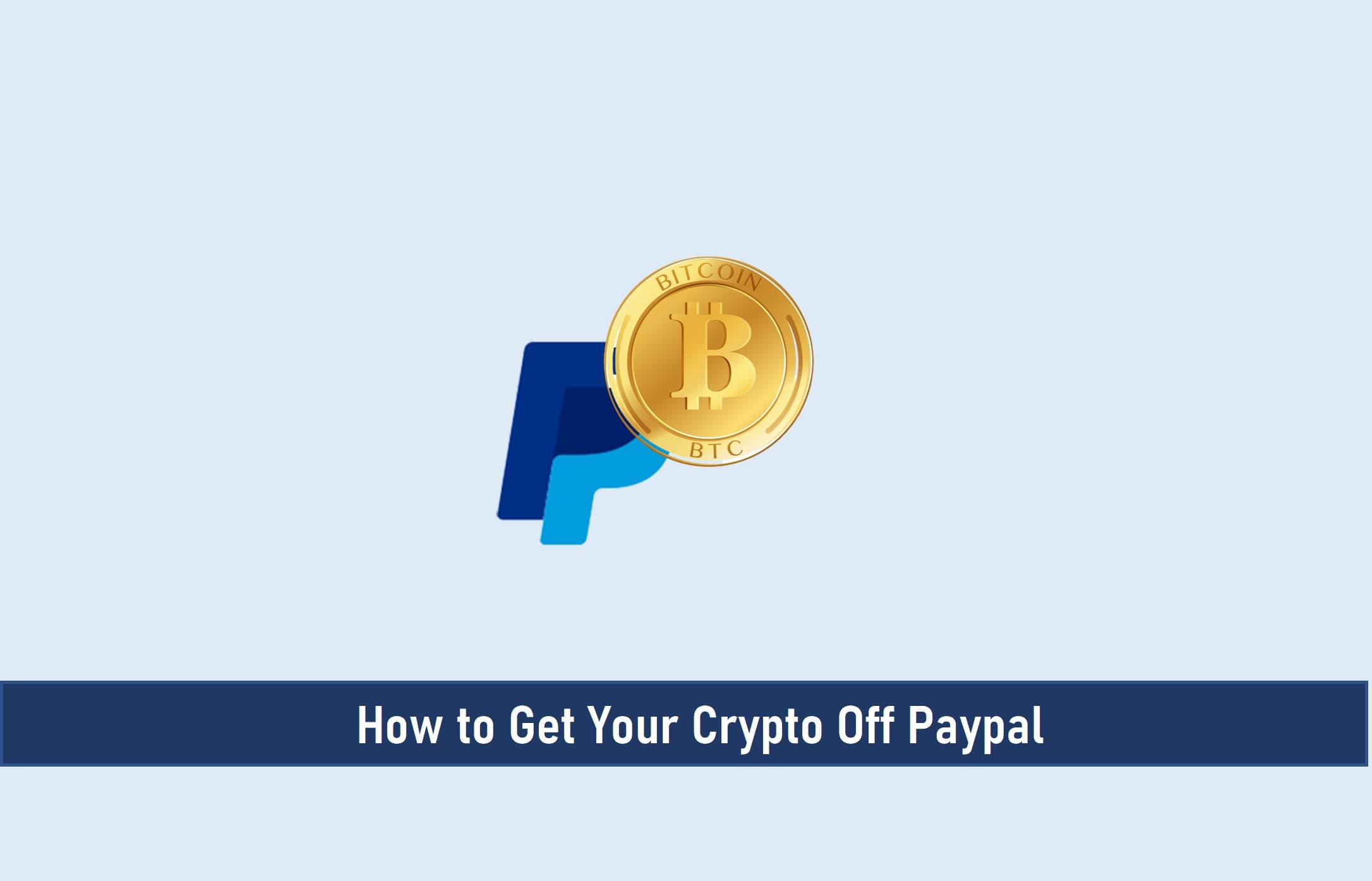 PayPal announced in August 2021 that U.S customers can now hold, buy and sell crypto on its platform.
Since PayPal in not an Exchange, how do you get your holdings out?
If I were to sell, who do I sell to on PayPal platform?
In this article, I'll explain how to get your crypto off PayPal so you can invest in other places.
Crypto Withdrawal on PayPal
Currently, you cannot send your crypto in your PayPal cryptocurrency hub to another account or external crypto wallet.
It is not supported, and there is no option for transferring crypto on the platform.
What this means is you cannot withdraw crypto from PayPal. A big issue of concern if you are looking to withdraw your crypto from PayPal.
The only way you can get your crypto off PayPal is to sell it and use the proceeds to buy crypto again on exchanges.
PayPal does not allow direct dealings with Crypto assets.
When you checkout with crypto on your PayPal, you do not directly make the payment with crypto.
As earlier mentioned, the only course of action you can make on your PayPal as regards cryptocurrencies is to buy, hold or sell.
When you checkout with crypto using your PayPal, what you do is sell the checkout value worth of crypto.
The proceeds are then added to your main fiat balance, which is then transferred as the payment for the purchase. This happens so fast you don't get to notice.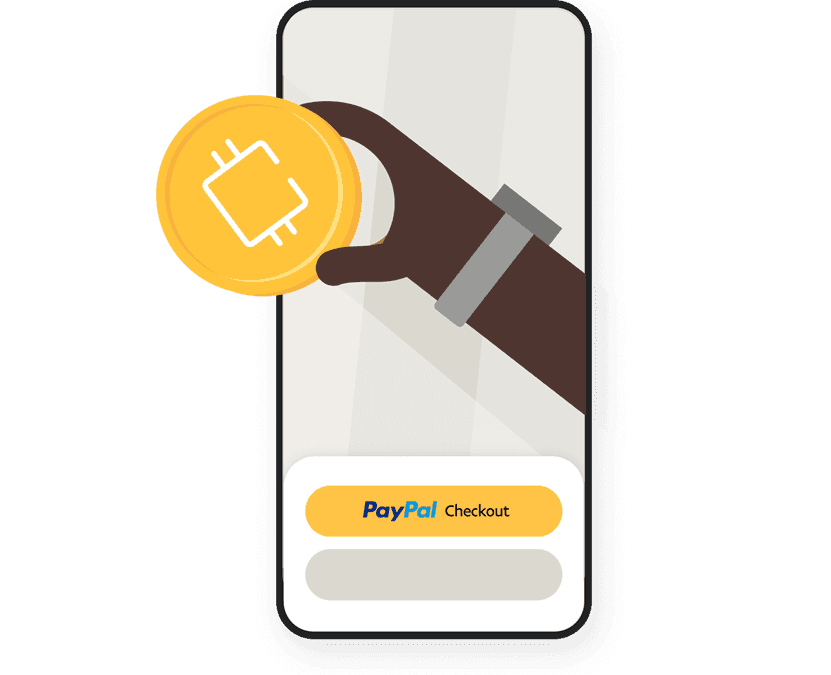 PayPal explicitly states in their PayPal Cryptocurrency service Terms & Conditions that custody and trading of all crypto assets are handled by their official Licensed crypto service provider, Paxos Trust Company, LLC.
Be aware of crypto restrictions in place by different governments, PayPal does this to ensure transactions are within the laws of the area.
Say you are selling from New York, it will be handled by an authorized dealer in New York. And same goes for other locations where PayPal Cryptocurrency transactions are supported.
How to Sell Crypto On Paypal
PayPal makes selling crypto as easy as possible. To sell your crypto assets on PayPal, all you have to do is follow the steps below.
Click on Finances from the options at the bottom of the screen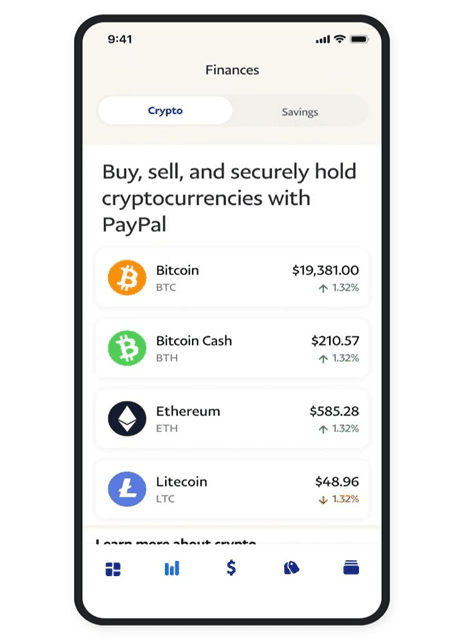 Proceed to select the crypto asset that you want to sell. On the next crypto-asset page, details of the current price value of the crypto will be displayed including the amount of the crypto you own and its value in fiat. If you are okay with the current price you can then proceed.
Click on the Sell button on the crypto asset page.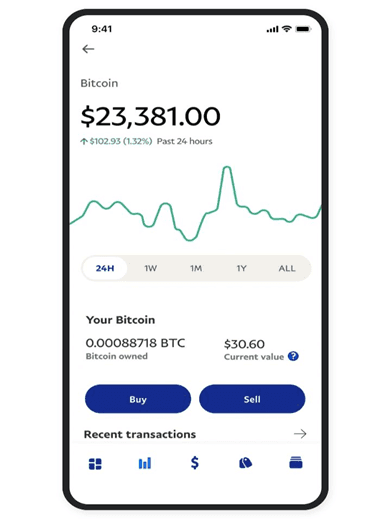 Confirm tax information is this is your first time selling crypto in PayPal.
Now enter the amount that you want to sell (in this case, withdraw).
Click on the Next button.
Cross check and then click on Sell Now to finalize the transaction.
Frequently Asked Questions (FAQs)
Q1. Can I transfer crypto from PayPal to Coinbase?
No, you cannot transfer crypto from PayPal to Coinbase.
PayPal does not support the transfer of crypto assets to another PayPal account or external wallets.
On the PayPal Cryptocurrency hub, you can only buy crypto assets, hold them within your PayPal account or sell them and use the proceeds for checkout.
You can however link your PayPal to your Coinbase account and use PayPal to buy Bitcoin on Coinbase, or purchase other cryptos as well. Just add it as a payment method.
Q2. How do I checkout crypto on PayPal?
In addition to buying, holding, and selling crypto on PayPal, you can use it at checkouts to pay for your purchases.
PayPal automatically converts the selected crypto asset into fiat (USD) and pays for the purchase. To do this…
First, you have to complete your W-9 tax form ahead of time to clear you for using crypto as payment. You can do this in the PayPal app. After doing this, crypto will be available among the payment options.
Choose the crypto payment option during checkout.
While PayPal is yet to announce support for inter and intra crypto transfer, we hope they will soon. Until then, after selling your crypto, you can purchase crypto from exchanges like Coinbase and Binance where you can easily hold and transfer them.
Read More