Purchasing Bitcoin with your debit card for the first time would make anyone develop cold feet.
This is because some exchanges are wary of fraud, so they don't accept these cards.
Yet, several other exchanges have put down steps to spot fraud and are now accepting credit and debit card purchases for cryptocurrency.
A major broker that allows the purchase of cryptocurrency with credit and debit cards is cex.io.
CEX.IO is a renowned company with greater buying limits, offering trading and brokerage services (helping you buy bitcoin).
If you're a beginner, it is better to use the brokerage offering option for purchase (although this means paying a  slightly higher fee).
However, if you're used to navigating around the exchange, you can deposit money at your convenience via your debit card which is then used to buy BTC on the platform at a lesser fee.
SEE ALSO: 10 Most Popular Ways to Earn Bitcoin for Free
SEE ALSO: 10 Awesome Features of Changelly Exchange
Buy Bitcoin Fast with a Debit card using CEX.IO
To buy Bitcoin on CEX.IO, follow these steps:
1. Register an account
For you to buy bitcoin on CEX.IO, you need to create an account. To create an account with the exchange, click on the signup button and, follow the instructions.
You will be allowed to signup with an email address or your social media details (google, VK, Github, Facebook).
We advise using your email address and a very strong password that features symbols, capital letters, numbers and, lower-case letters.
By incorporating different characters, your account becomes more protected from fraudsters.
If you are done with the steps above, then congratulations! You have just created an account at Cex.io.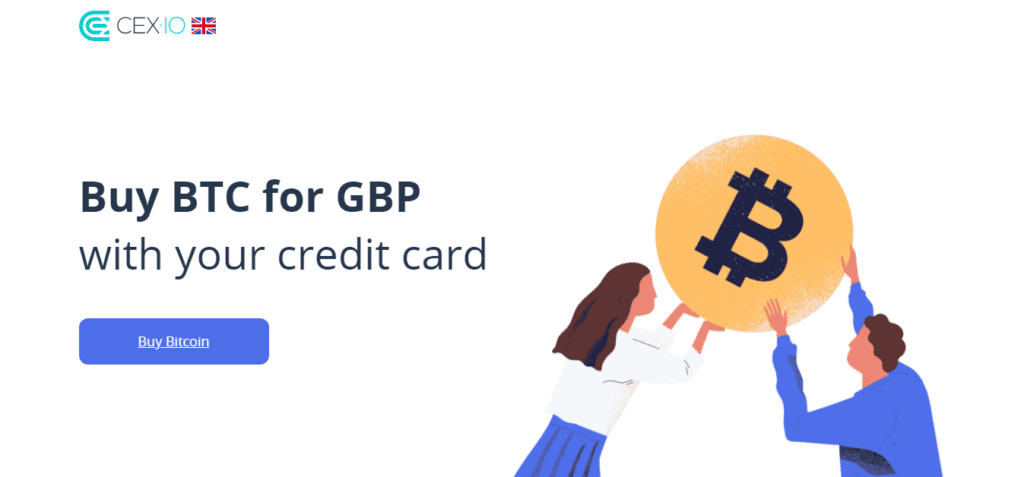 2. Confirm your account details via email
After signup for your account to be active, You have to confirm your email.
You will be given 24 hours to confirm your email. After Your email is confirmed your account becomes active.
3. Complete the verification process
After confirming your email, you need to continue verification. You will find the button on the upper right side below your user ID (ensure it is kept safely for reference purposes).
Click on begin verification and finish all steps demanded such as ID info, addresses, scans of documents and, Personal data.
Fill in the ID information based on the required fields. Ensure your data is accurate and, tallies with your documents and,(document must be written in the English Language).
Also, the address you put in should be your house address (where you reside at the moment) while your permanent address should be that of your billing address used for official matters.
You will then be required to upload scans of the document corresponding to the data you provided earlier.
Ensure that your scan or photos attain the requirements below:
Documents should be valid to the date of issue
Scans or photos of the two sides of the document be uploaded
Scanned images must be in color & high resolution (not less than 360 dpi)
The formats allowed are GIF, PNG, JPG, TIFF, or PDF.
File size shouldn't be above 15 Mb
Scans or photos should have been issued within 3 months
Documents should be presented using characters of the Latin alphabet or the main fields should be in Latin transliteration.
The document of identification you tender could be any of the following: International passport (reversal), both sides of your national ID card, and both sides of your Driver's license.
Please ensure the letters are written in Latin.
Take a selfie while holding the identity document used to complete the verification form.
SEE ALSO: Beginners – How to Earn Bitcoin Without Buying It.
SEE ALSO: 5 Best Places to Buy Bitcoin before Eighteen
Before putting a picture on the verification form, ensure you take to the photo requirements:
Make sure you are staring directly at the camera
Your background should have a light, neutral feel
Your selfie should have a color
Red eyes are not allowed
You are not to wear a hat, a headband, or sunglasses
The data on your document must be seen clearly 
If you upload a low-resolution selfie, the Compliance agent might demand you endeavor to upload it once again
Try to provide scans or, photos of documents that contain the details presented in the verification form.
Pick from any of the following options:
Utility bill (this is not satellite/cable TV, mobile phone, or printed Internet bills)
Bank statement
Tax return, Council tax
Electricity fee
Other documents except for electricity bills or, statements, mobile phone charges, online screenshots, or credit card statements.
Be aware that if you only have electricity or an online utility bill, then you can tender it taking to the mandatory requirements.
Upload the entire document (every page) in PDF format
Take a screengrab of the website where you hold your transactions. The screenshot must feature an open document provided to the exchange and the URL of the site must be very conspicuous.
Please, ensure that your scans are in line with the following requirements:
Documents should be valid based on the date of issue (in the last 4 months)
The document for proof of address is attached to your name
Proof of Address document is attached to the home address (not a side-address or, Post office box)
Proof of Address document has to be a picture or scanned image of a paper document
Documents must be tendered with characters of Latin alphabets
Proof of Address document must have the Date of Issuance
Be aware that if the documents above with Latin transliteration are not in your custody, you can tender any of the following:
Bank Statement that contains your address and address in English
Confirmation from your college, University, care institution, or work confirming your name as well as info on employment or studies or residential status having a signature and official stamp.
As soon as you've concluded verification, the exchange will verify you as early as possible. After verification, an email will be sent to your box.
4. Deposit funds
To deposit funds into your account, you can go for any of the following:
Deposit money into your account and display the purchase
Buy crypto directly with funds using your Mastercard or VISA.
If you want to make a deposit, you as well have three different options:
Bank transfer.
Payment by card.
Crypto capital (that is, you have to send cryptocurrencies from another exchange or wallet to your account on CEX.IO, though this doesn't work for now).
5. Commence trading
To start trading, go to CEX.IO
Choose the right symbol for the cryptocurrency you want to buy
Select the right crypto pair
Go down till you get to the Buy/Sell area and trade.
Read More