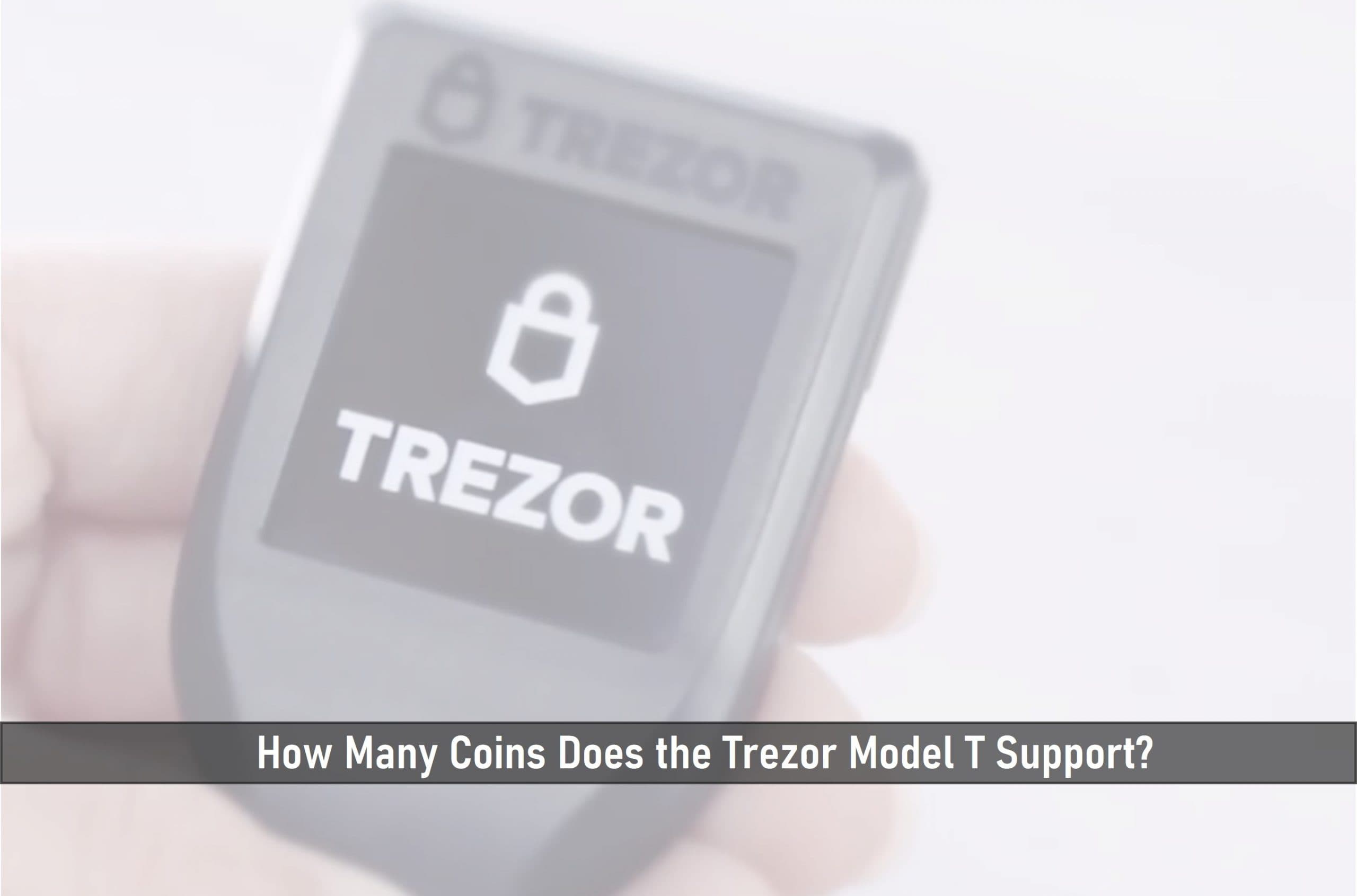 Trezor Model T is a premium cold storage produced from Trezor's Satoshi's Lab.  
The Model T boasts of superior user-friendly features, flexibility, and more coin compatibility to lovers of the Trezor brand.
Trezor was released in the year 2018, four years after its debut model was released (the Trezor Model One).   
The Model T of course ranks above its first model with more third-party wallet support, a faster computer processor, input full-color touch screen, connectivity, and a wider number of supported coins.
In this article, I will highlight the number of supported coins on the Trezor Model T and other important features of this cold storage device that should interest you.
Supported Crypto Coins (Trezor Model T)
The Trezor Model T supports 1389 crypto coins such as Ethereum, Bitcoin, and Ripple, among others. The Trezor brand supports 1816 in total.
To see the full list of crypto coins supported by the Trezor Model T, click here.
Features of the Trezor Model T
[table id=17 /]
The Trezor Model T boasts a big touch screen display with full color, which is quite impressive and an improvement from the Model One.
The touch screen of this wallet is one of the selling points advertised by the Trezor family. This feature makes it seamless and faster for users to enter their PINs and their crypto addresses.
While more costly than other wallets, the Trezor Model T provides your crypto with high security comparable to that of other wallets.
You can also buy crypto such as Bitcoin on the Trezor T using your money and then swap it in exchange for another on the same wallet. If you need help in doing this, simply go to Trezor support to find instructions on how to do that.
Let's see what Model One offers.
[table id=16 /]
Is the Trezor Model T safe?
With the Trezor T, your private keys are saved and separated within the device, keeping them offline and thus making them a lot more difficult to compromise.
To access the hardware wallet, a PIN is required, and all transactions and changes to the wallet's settings must be validated by hitting the physical buttons on the wallet.
In addition to the PIN, the Trezor Model T requires a passcode, which when combined establishes a new account where you can store your crypto.
This means that even if your PIN is hacked, the account and the crypto contained within it with the additional passcode will not be accessible.
Finally, the Trezor Model T employs a 24-word recovery phrase rather than the conventional 12-word phrase used in software wallets, although it does offer the option of using a 12-word recovery phrase. All of these are to ensure that your wallet is virtually impenetrable.
Two other interesting features you should know about this wallet are that Trezor now supports Universal 2nd Factor (U2F), allowing you to utilize your Trezor Model T as a hardware security token to validate logins on services like Google and Dropbox.
In addition, the Trezor Model T supports FIDO2 Authentication, which is similar to U2F but allows you to use your Trezor Model T as an authenticator to connect to approved sites and services without typing in a password.
SEE ALSO: How to Stake Cardano on Trezor Model T
Supported Operating Systems
The Trezor Model T hardware cryptocurrency wallet is compatible with desktop operating systems like Windows, macOS, and Linux, as well as browsers like Firefox and Chrome.
It also has mobile support for Android phones (through USB-C), but it has no iOS support at the moment.
Should I buy this Hardware Wallet?
When you take a good look at the Trezor Model T, you will find that it has a lot of interesting features that other wallets do not have, which might be because of its recent release.
While this is a good development, the wallet is quite on the high side in terms of pricing $213/EUR189, but users have reviewed the device positively.
This perhaps tell us that the Model T may be worth the price.
For instance PrivacyPro rated the Trezor Model T quite well.
Users on Twitter also has this to say about the Trezor Wallet.

Final Thoughts
As such, the Trezor Model T is the latest Trezor wallet in the Trezor family, and as such, it comes with some new features that fans of this wallet and other experienced users may find interesting.
If you happen to be one of them, read this article to find out all you need to know about the wallet.
Read More