Recently, the crypto market has seen a decline as Bitcoin and other altcoins have witnessed a major fall in prices.
A situation that has prompted investors and crypto enthusiasts to advise buying the dip with the expectation of a bullish run beginning in at least the second quarter of the year.
Regardless, if you are buying the dip, you will need a solid wallet to store your crypto assets in, and given the number of competing wallets in the crypto market, it is only prudent that you use one with a high-security feature.
This is where the AirGap wallet comes in.
In this article, I will be taking a look at the AirGap wallet, what it is, its features, and how it works, so stay with me as I delve into detail concerning this wallet.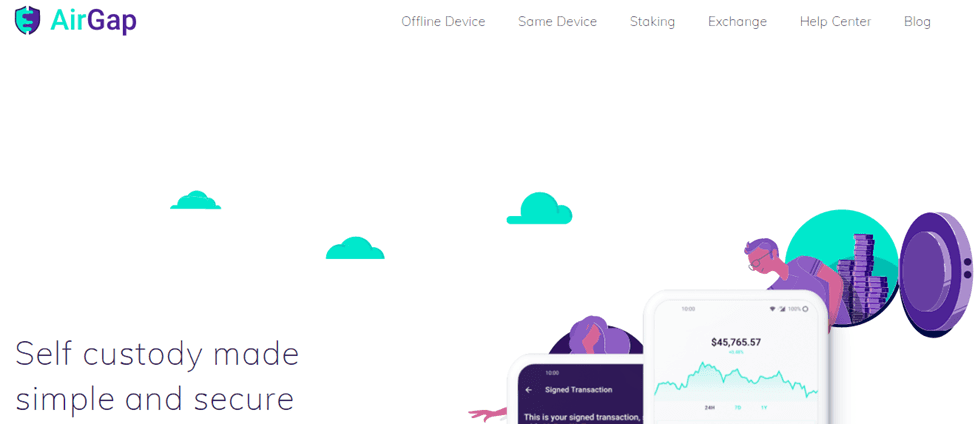 What is the AirGap Wallet?
The AirGap wallet is a crypto wallet that serves as a substitute for hardware wallets because it follows the same guiding regulations as hardware wallets while also providing an understandable model.
The AirGap vault and the AirGap wallet work hand in hand to handle communications. The AirGap vault, just as the name "AirGap" implies, is stored on an outdated mobile device that has no network for communication on it, although it could still work on a new device if done.
When the AirGap vault is used with two devices, it allows you to sign a transaction offline on a mobile device that was configured solely for this.
Then you will now download the AirGap vault application to a dedicated mobile device, which is the second device, as this is where you will store your private keys offline, completely secure.
If you don't have two devices, you will have to install both AirGap vault and AirGap wallet on the same mobile device while still being assured of better security through sandboxing and switching apps for communication.
So, in essence, the AirGap consists of the AirGap wallet and the AirGap vault. The AirGap wallet is simply used to store your crypto while the AirGap vault stores your private keys and other secret codes.
These two work hand in hand to facilitate communication on the blockchain.
Features of the AirGap Wallet
1. It makes use of an offline signing mechanism in which all the confidential data, passcodes, and private keys are stored offline in the AirGap Vault.
2. The AirGap vault communicates with the AirGap wallet using QR codes (for different devices) or a URL scheme run through a sandbox operating system (for the same device).
3. The AirGap wallet recently had an integration with WalletConnect, which gives it the ability to add other ERC-20 tokens available on Uniswap.
4. It has an in-app exchange for swapping tokens seamlessly. It makes use of apps like Changelly, changeNOW, and most recently, Quipuswap.
5. It has a browser extension offering secure interactions with protocols directly and the ability to sign transactions on the AirGap Vault device.
6. It offers a staking feature through which you can earn rewards on your saved crypto.
7. It has BIP-85 mnemonic management. Put simply, this is a mechanism in which you can have an unlimited number of wallets (each with its mnemonic secret phrase), but you only need to back up one phrase.
How to Stake on the AirGap Wallet
You can simply engage in staking using the AirGap wallet by making use of the delegation feature. This way, validations can be done by the AirGap team, who engage in the validation of multiple staking protocols conducted directly in the AirGap wallet.
You also get to earn as high as 7.2% Annual Percentage Return (APR) on the various staking protocols.
Fees
The AirGap wallet will not charge you any fees for utilizing the wallet. Rather, the only fees you will pay are network fees, which are paid to miners, and staking fees (if you wish to stake your coin).
The wallet runs on grants gotten from crypto foundations, and that is how it improves and updates the functionalities of the AirGap wallet.
Supported Cryptocurrencies
The AirGap wallet currently supports tzBTC, Cosmos, Tezos, Kusama, XCHF, Aeternity, Groestlcoin, Polkadot, Ethereum, and Bitcoin. It has also made provisions for the support of the Moonbeam token, and the Moonriver token for other protocols.
Security
The AirGap wallet is quite secure as it was built to be resistant to hacking. The only way a hacker will steal from it is if they get access to the PIN, passwords, and the AirGap vault itself.
While the AirGap vault was built to be stored offline, hackers won't get access to your funds if, by mistake, the phone housing the AirGap vault gets access to the internet and comes online.
This is because those hackers would need access to your private keys, and as long as they are safely stored on your mobile device, they cannot access your funds.
Also, even if the hacker tries to make use of viruses and harmful software to gain access to your funds by signing a transaction activated in your AirGap vault, it will not be successful as the signature would be wrong.
Lastly, the AirGap product is highly secured by a Swiss security company known as Compact Security that constantly upgrades the product against new threats from hackers.
Frequently Asked Questions (FAQs)
Is the AirGap Vault safe?
Yes, the AirGap vault is quite safe. The AirGap Vault is responsible for a secure key generation as the code is saved in the secure part of a mobile device and is only accessible by biometric authentication.
How many cryptocurrencies does the AirGap Wallet support?
The AirGap wallet supports only ten cryptocurrencies such as Ethereum, Bitcoin, and Tezos.
Final Thoughts
The AirGap wallet is a crypto wallet that comes with its own unique features and capabilities.
It is obvious that many people are unfamiliar with this wallet; as a result, you should read this article to learn how it works as well as the features that come with it.
You could research the wallet in addition to this article to see for yourself if it is a wallet you would want to work with.
Read More