Helium Mining and IoT Devices
Do you know that most IoT devices are backed by the mining processes of Helium?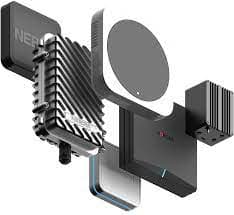 Unlike Bitcoin and Ethereum requiring expensive GPU hardware for mining, Helium HNT mining is done through radio technology taking away power wastages and upfront capital investment in graphic cards, cooling systems, and all.
Helium is a blockchain-based technology that uses a unique radiofrequency to create broad and decentralized wireless networks for IoT gadgets via hotspots.
It works by encouraging users to install hotspots in their homes and then rewards them with HNT – its native coin. The more the number of hotspots installed, the broader and more reliable the network will be.
Since its inception and adoption, the Internet of Things (IoT) technology has been of great significance and benefit to humans in all spheres of life as it helps to create a lot of devices that ease, hasten and improve efficiency.
The products of this technology include smart light bulbs, washing machines, garage doors, blood pressure, heart rate monitors, etc. It uses the interconnectivity between the sensors and antennas of these smart devices to operate and communicate via Bluetooth and Wifi.
SEE ALSO: Do Helium Miners Need Wifi?
However, there is no reliable source of connection. To solve this problem, Helium technology was created.
Key Takeaways
 • Internet of Things (IoT) technology creates smart devices that ease humans' daily activities.
 • The Helium Network provides decentralized and broad wireless network services on which IoT thrives.
 • Helium is mined via hardware that generates radio frequencies based on Proof-of-Coverage protocol.
The Mechanism of Helium Technology.
The Proof-of-Coverage (PoC) consensus mechanism is the consensus protocol on which the Helium network operates. This consensus protocol allows the network miners to use radio frequencies to confirm that devices are receiving wireless coverage from the hotspots created by the users. 
It performs its function with the aid of three (3) vital features of the Radio-Frequency (RF). These features enable the network miners to prove that the hotspot activities are authentic. 
They include:
1. Radio-Frequency has the speed of light, meaning it is always active.
2. It has a limited range.
3. Its signal strength helps to locate its origin.
The proof of challenge consensus uses the above features to ensure the proper functioning of the hotspots through a sort of Challenge.
A challenge is the amount of workload needed to be done to fulfill the Proof-of-Coverage (PoC) consensus. It has three (3) classes of participants that perform unique functions in verifying the data shared via a hotspot.
1. The Challenger hotspot developed the challenge. It occurs every 200 blocks.
2. The Transmitter hotspot is the challenged hotspot that transmits the data concerning the challenge.
3. The Witness hotspot confirms that the challenge data is transmitted properly.
SEE ALSO: 7 Best Cloud Mining Contracts for Lucrative Returns
SEE ALSO: How to Mine Ripple XRP on Android and PC
How Do I Estimate My Profit As A Helium Miner?
Helium network rewards miners whose hotspots start, witness, or finish challenges with their native token, HNT. The more the coverage generated from an area, the more HNT earned by the hotspots in the area.
This implies that you will earn more if you are in an area with other miners where you can easily connect to your other hotspots. Hence, it is advisable to set up a hotspot where coverages already existed.
Currently, there is no specific metric to precisely calculate your profit on Helium, nonetheless, you can have a good estimate by comparing the current profits made by hotspots in your neighborhood using a Helium coverage map.
A coverage map enables you to check and locate any nearby hotspots. It also reveals how much profit they have made in the last 24hrs or months.
The network prefers a wide coverage that extends over a vast area to a very dense coverage in a limited area. Consequently, once an area has sufficient hotspots to partake in the challenges, lesser profits would be gained for extra hotspots.
What Hardware Can I Use?
For mining activity on the Helium network, you will need to get specific hardware that was particularly developed to mine Helium. It is made of plastic in form of an internet router with an antenna. It had different brands from different companies, but they all perform similar functions. The commonest one is sold at $450.
Unlike Bitcoin and Ethereum that consume an enormous amount of energy because they operate on the PoW consensus mechanism, Helium consumes next to zero energy as it works on the PoC consensus mechanism that only powers its router. It produces no noise, not heat.
SEE ALSO: Dogecoin Mining Essentials: How to Mine Dogecoin on PC
What Spot Is Best For My Miner?
Height is a key factor that determines the efficiency of the signals on your miner. The higher the height the greater the chance of creating undisturbed network coverages, hence place your indoor miner at the highest spot of your house.
Also, metals, concrete, or electronics can disrupt signals, so remove them from the spot.
Where Can I Keep My HNT?
There is a lot of wallets to keep your HNT token, however, the best option is Helium's authorized wallet apps that enable you to safely and easily run your hotspots and also hold your coins.
Just like any other crypto wallet, it protects your profile with a private key which should only be accessed by you.
How Do I Trade My HNT For Dollars?
Not all famous exchange firms support HNT. Nonetheless, some well-known exchanges do support it, such as Changelly, Paxful, as well as Binance US. You can easily trade your HNT on these platforms.
When you want to sell your token, transfer it from your Helium wallet to your wallet on crypto.com or the Binance US platform and then exchange it for dollars. Some gas fees would be charged for the transactions.
SEE ALSO: How to Join Mining City and Earn Coins Daily
SEE ALSO: How to Choose a Bitcoin Miner that Saves Electricity
Final Thoughts
Helium is a perfect example of outstanding blockchain technology. It is significant because it serves another important function other than a virtual asset.
For every Helium hotspot you set up, you are not only contributing to the growth of a special network, but you also earn income passively.
From what you have learned so far, I supposed you now know how to mine your Helium.
Read More