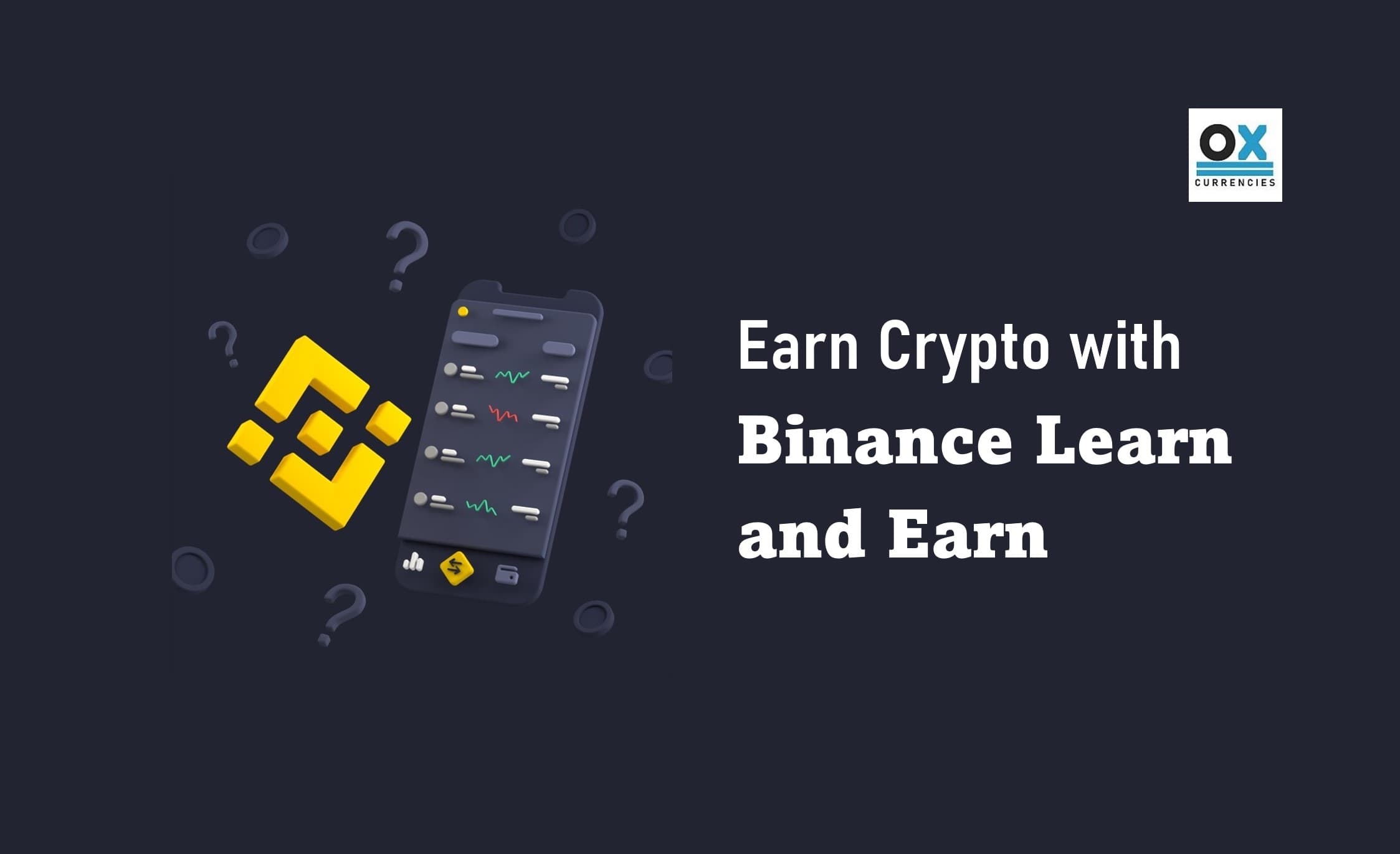 Binance launched its Learn and Earn program to provide its verified users the opportunity to earn free cryptocurrencies and simultaneously increase their users' activity on the platform.
The renowned platform also released the Bitcoin Button game in March 2022 to give users the chance to earn BTC.
The first round of the program was received with a lot of positive feedback.
To provide an unbiased and fair opportunity for all their users to participate, Binance then launched the second round of courses and quizzes, which were divided into three phases, with each phase offering limited rewards. That is, the earlier, the better you get started with it.
This article will share more insights on Binance Learn and Earn, eligibility and requirements, and how you can leverage and earn from the program. Keep Reading!
What is Binance Learn and Earn?
The Binance Learn and Earn is a program launched by the popular crypto exchange, Binance, to encourage users to learn and know more about cryptocurrency trading and how blockchain technologies work.
The program gives interested users educational crypto videos to watch and articles to read. Once they are done, they will take quizzes based on all the learnings to earn crypto rewards.
The rewards sometimes vary due to time and crypto market inflation. They are also limited in the amount that can be redeemed.
With the latest Learn and Earn updates released on August 4, 2022, Binance added three more courses and rewards.
 Also added was a course for BitTorrent Chain (BTTC) on staking, which is targeted at those who have never engaged in locked staking. The only downside is that it's not available in all regions.
Eligibility and Requirement
It should be noted that this program is not for everyone. The initiative and its rewards are targeted at Binance-verified users only.
So as a new user, you must complete the Identity Verification before you can earn from the Learn and Earn rewards. Also, only some Binance users are eligible to receive rewards for certain campaigns.
To learn more about this, visit the official Binance website, as the exchange reserves the right to all final distributions and rewards.
Therefore, if your Binance account does not comply with the Binance Terms of Use, you are ineligible for the rewards, and even if you win, you will have to forfeit all your earnings.
According to their official website, Binance also reserves the right to disqualify any user who violates their rules, such as illegal registrations of bulk accounts and self-dealing or displaying attributes of market manipulation.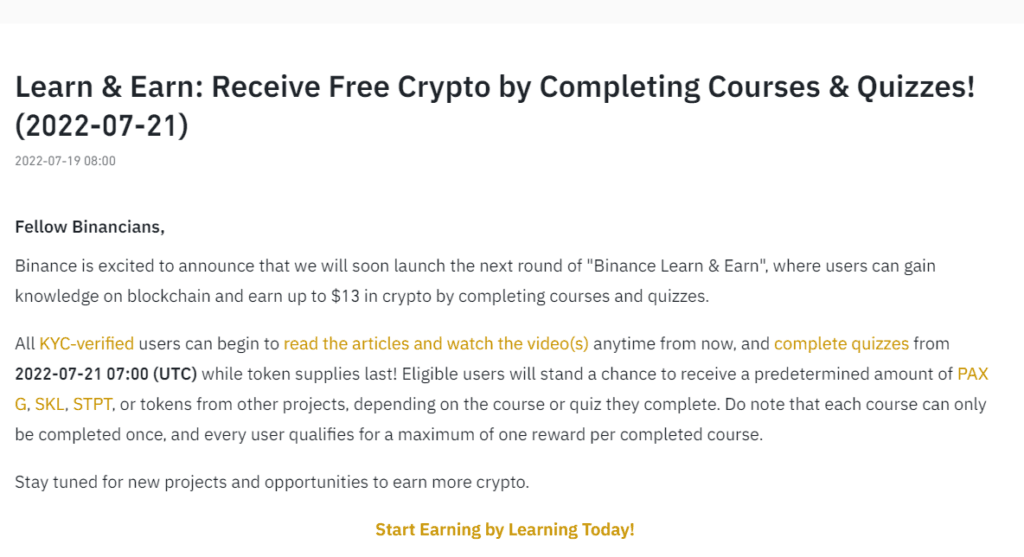 How to Earn Cryptos from Binance Learn and Earn
If you have a verified Binance account and are interested in earning some cryptos as a reward for participating in the Binance Learn and Earn program, below is the step-by-step guide to earning and receiving those rewards.
Step 1: Log in to your account on the official Binance website and go to the Binance Earn and Learn page.
Step 2: Go through all the available crypto courses and quizzes, and decide the one that suits you.
Step 3: Select the course, wait and follow all the instructions and ensure you complete the course within its timeframe because most courses are time-limited.
Step 4: After completing the course within the specified period, you will now be given a quiz; if you pass, you"ll automatically be eligible to receive your crypto rewards.
Step 5: To redeem the reward, click only Accounts> Rewards.
Frequently Asked Questions (FAQs)
How much can you make with Binance Learn and Earn?
You can earn up to $7 as a reward for completing the courses and quizzes.
What can you do with Binance earn?
As a verified user, you can transfer your crypto assets from the Binance Earn to Binance P2P and, from there, can sell them easily in exchange for your local currency.
Final Thoughts
Crypto learn and earn programs like Binance Earn and Learn are some of the ways you can earn some free cryptocurrencies. But to be a part of this program, ensure you have a verified Binance account.
Read More