How to fund your Bybit wallet is simple. But first, signing up with ByBit automatically gives you access to a Bitcoin wallet which also comes with a wallet address that is automatically generated.
Key  Takeaways For Funding Your ByBit Wallet
There are two ways to create a Bybit account either you sign up with an email or mobile number.
Transactions involving Bitcoins are quite sensitive and delicate, as pasting the wrong address can lead to the automatic loss of your assets, which is why it requires proper verifications and timely validation. So ensure you confirm the address before making the transaction.
When another crypto user sends Bitcoin to your ByBit Bitcoin address, it goes directly into your ByBit wallet.
A new Bitcoin address can be created for added privacy/security. You can create as many Bitcoin addresses as you like and use them whenever you want.
A Bitcoin wallet address is made up of 27 to 34 alphanumeric characters and usually starts with 1, 3, or bc1. For instance, a BTC address could look something like; 3FZbgi29cpjq2GjdwV8eyHuJJnkLtktZc5. This address does not expire and you can easily copy and use it to receive Bitcoins from other wallets.
Depositing funds on ByBit requires no fees but you have to pay for withdrawal depending on the crypto assets you are withdrawing. You can get access to everything you need to know about the minimum withdrawal and fees at the withdrawal "pop-up" window.
To deposit or fund Bitcoins into your ByBit wallet:
1. You have to log in to your Bybit account by visiting the Bybit official website and logging in with your account details.
2. Once you are logged in, click on the "Assets" tab which is located at the top of the screen.
3. Search for the cryptocurrency you want to deposit (which is Bitcoin in this case).
4. Once you have selected it, ByBit will automatically generate a unique Bitcoin deposit address for you. Once it is generated, you can either copy the address or scan the QR code to complete the deposit.
5. From there, you then proceed to the external wallet or exchange you want to send the Bitcoin from and paste the address.
6. Once you have initiated the transaction, you will need to wait for some minutes for the transaction to be confirmed on the platform. Sometimes it might take more time depending on the number of transactions going on at that moment.
7. After the transaction is confirmed, the funds would appear in your Bybit account. You can reconfirm by checking your account valance under the "Assets" tab.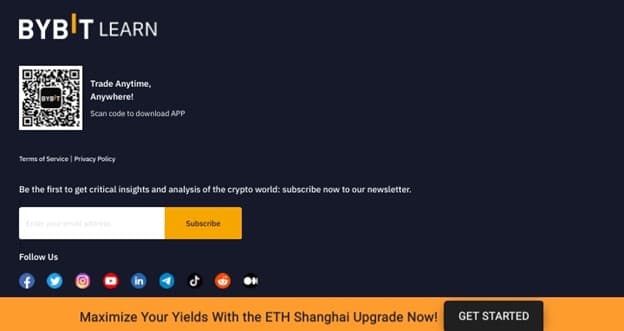 Trading with ByBit comes with several advantages and features such as leverage trading, perpetual contracts, and more. Here are some of the bonuses that you get to enjoy signing up for a ByBit Bitcoin account to trade Bitcoins:
Welcome Bonus: The crypto platform offers a welcome bonus for all new users who sign up for an account. The bonus each user gets may vary depending on the promotion at the moment, but it usually comes with a cash bonus which is credited to your account once you make your first deposit and start trading.
Referral Bonus: ByBit also has a referral program with which it rewards users who invite their friends to also sign up for an account and trade on the platform. Whenever an intending user signs up using your referral link and completes their first trade, you'll receive a referral bonus.
Trading Bonuses: ByBit frequently runs trading competitions and promotions where you can earn bonuses as a user for meeting certain trading volume requirements or achieving specific trading goals.
Loyalty Rewards: The crypto platform also has a loyalty program that rewards users for their trading activity. As you trade more on the platform, you'll earn points that can be redeemed for bonuses, such as reduced trading fees, cashback rewards, and more.
Promotional Bonuses: ByBit occasionally runs special promotions or offers that can include additional bonuses or rewards for their users. These promotions can vary but may include things like discounted trading fees, bonus deposits, or other incentives.
Frequently Asked Questions (FAQs)
Q1. If my purchase fails, how do I get back the amount I paid?
If your purchase fails, maybe as a result of a poor network, you can rest assured that the funds would not be deducted from your account if the order is unsuccessful.
Also if you encounter further challenges regarding funding your Bybit Bitcoin wallet,  you can log in to your Bybit Account and click on the support icon in the bottom right corner to contact Bybit Live Chat support.
Q2. What credit/debit cards does Bybit support?
At the moment, Visa and MasterCard payments are the two major debit/credit cards supported for payment on ByBit.
You should also note that Corporate cards are not supported. So ensure your bank allows international and online transactions on the card and also supports 3D Secure.
Q3. Can you get scammed on ByBit?
Designed with many unique security features, ByBit is a legit and safe-to-use platform. It does have some limitations, but ByBit ensures that whoever uses its services is provided all kinds of security required to keep their funds safe.
Q4. How long does it take to get verified on ByBit?
Generally, verifying on ByBit takes approximately 15 minutes. However, due to the complexity of information verification, KYC verification may at times take up to 48 hours. If you encounter any issues getting verified on ByBit, you can submit your case to their Customers Support.
Once you submit a case, you'll receive an automated email with the case number stated. The relevant team will reach out to you within one working day.
Final Thoughts
Always ensure you double-check the deposit address before sending any funds to ensure that you are sending it to the correct address.
This is necessary because if you by chance miss any of the digits, it could result in your funds being transferred to another address or even an address that does not exist on the Blockchain, leading to the permanent loss of your Bitcoins in the ecosystem.
Read More