What is Algorand (ALGO)
Algorand (ALGO) is a blockchain platform founded in 2019 to build an economy with no boundaries. It was founded by an Italian Computer Scientist and Ex PayPal Exec, Silvio Micali.
The Ex PayPal Exec launched Six Clovers, a decentralized cross-border payment network set to bridge the traditional or fiat currencies with digital currencies. Six Clovers is the next generation of payment infrastructure that solves today's challenges.
The platform is dubbed to be the future of finance; analytically, this may turn out to be true considering its design. Ever since its launch, it has been gaining a lot of interest (from both average people and significant entities).
Key Takeaways
 • With Algorand's flexibility and scalability, Former PayPal tech, and 2 other technology leaders launched a new platform Six Clover on Algorand's blockchain.
 • The key features of Six Clover's Alogrand RAPID-powered platform include time-tested features such as faster payments, regulated coin usage, peer-to-peer transactions reducing counterparty risks.
 • The decentralized payment network enables faster transaction processing. Businesses can connect to DeFI for cross border payments.
Let's get into the details…
Will Algorand Get To $10?
The factor that determines whether a cryptocurrency will hit the $10-mark is whether investors have positive sentiment towards it. As the total market capitalization of Algorand continues to increase, the future of the coin will begin to draw attention to analysts who would, in turn, give Algorand the needed media attention it deserves.
Coinquora predicts that Algorand will reach $10 in 2021, however, its bullish price prediction is $0.9 to $1.4.
As the coin continues to exchange hands through new payment platforms, Algorand should thrive until a Bitcoin Whale picks interest and hypes it further, this played out with Elon Musk and Dogecoin. If a cryptocurrency does not see wide acceptance, it may not reach its full potential.
There are 3 other top reasons why we predict Algorand will get to $10:
SEE ALSO: How to Stake Algorand on Ledger Live
SEE ALSO: How to Claim Algorand Rewards on Coinbase
SEE ALSO: Polkadot or Ethereum Blockchain Framework, Which is Better?
1. The Creator of the Algorand Has Great Influence
The creator of Algorand (Silvio Micali) is a very influential man; he will help Algorand become a prominent platform, using his influence to promote the platform to people in power. When people in power start to accept the platform, it is only a matter of time before the average people also start to come in.
To give you an idea of how influential the man is, the following are some of what he is:
— He is a professor at the Massachusetts Institute of Technology;
— He is the recipient of a Turing Award (alongside Shafi Goldwasser), for their work in cryptography [2012];
— He is the recipient of a Gödel Prize [1993];
— He is the recipient of an RSA Award for Excellence in Mathematics [2004];
— He is the recipient of an honoris causa degree in Computer Science (awarded by University of Salerno) [2015];
— He is a member of the National Academy of Sciences [2007];
— He is a member of the International Association for Cryptologic Research (IACR) [2007];
— He is a member of the National Academy of Engineering;
— He is a member of the American Academy of Arts and Sciences;
— He is a member of the ACM; and
— He was the Ph.D. supervisor of many other renowned IT personalities like Mihir Bellare, Bonnie Berger, Shai Halevi, Rafail Ostrovsky, Rafael Pass, Chris Peikert, and Phillip Rogaway.
All these achievements may not have a direct influence on Algorand but we believed it could add up where and when it matters.
2. Algorand is Gaining Positive Investor Sentiment
Since the launch of Algorand in 2019, hardly does a quarter pass by without Algorand experiencing a big adoption event. Significant events like this have become even more rampant. For instance, of recent:
— There was the launch of technology on top of Algorand. The technology (VitalPass), which is dubbed as the world's first blockchain-powered COVID passport, is meant to guarantee security, traceability, and transparency during the vaccination process across Latin America. The technology went live in Colombia and is planned to be expanded to other countries.
— Bermuda uses a healthcare payment processing system that is slow, cumbersome, and costs more money than it should. It is estimated that if a better system could be put in place, millions of dollars per year could be saved on just the cost of payment processing.
A group of entities came together and launched MAPay (on top of Algorand), to combat this problem. It is estimated that if this technology spreads to other countries and ends up saving just 10-per-cent of the unnecessary payment processing cost of healthcare industries, this will mean saving the healthcare industries as much as $1 trillion per year.
— Two former PayPal tech leads launched a money transfer platform (Six Clove). The platform was launched on top of Algorand. Since Clove is meant to enable organizations to make cross-border money transfers in real-time: organizations will no longer have to depend on the outdated SWIFT-powered systems, which take a lot of time.
SEE ALSO: Best 5 Smart Contract Platforms for Polkadot DApp Dev
3. Algorand has one of the Top Scalability
Of all reliable blockchain platforms, Algorand has one of the top scalability. Scalability means how many transactions a blockchain platform can process within a given time.
Scalability is one of the reasons why platforms like Bitcoin and Ethereum are not considered to be used for day-to-day transactions — Algorand on the other hand can process just as many transactions per second as traditional financial systems.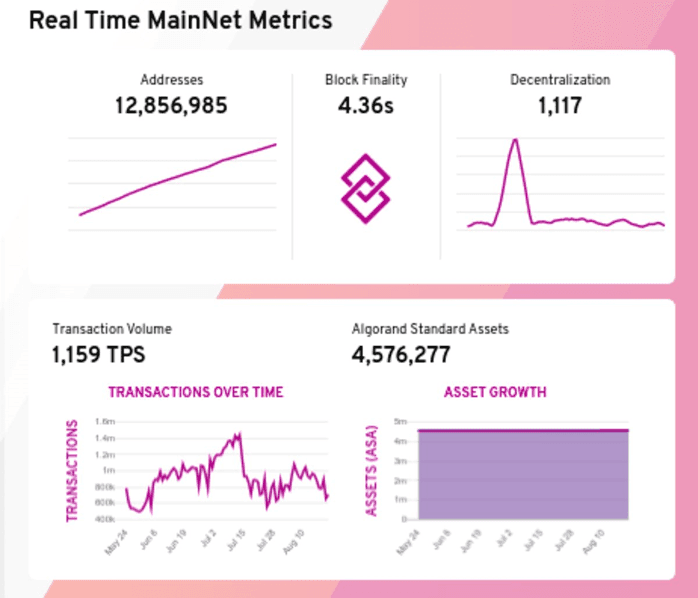 We are fast approaching a period where existing blockchain platforms will not be able to handle the volume of cryptocurrency transactions needed to be carried out per second. When that happens, platforms like Algorand will see massive adoption.
Frequently Asked Questions (FAQ)
1. What do you need to know about the Algorand wallet?
The Algorand wallet is a family of software wallets developed by the Algorand Foundation (the entity behind Algorand).
The family is made up of two wallets: an android wallet and an iOS wallet; there is no wallet for any of Linux, macOS, Web browsers, or Windows.
For those who prefer hardware wallets, you can still use any of the two Algorand wallets, as they both support Ledger Nano X.
Rewards
The Algorand wallet has a feature called rewards. When you leave money in your wallet for a certain period, you will earn interest on the amount left in the wallet. The interest may vary with time, but as of August 21, 2021, it is about 7-per-cent.
2. What Type of Blockchain does Algorand use?
Algorand uses a pure proof-of-stake blockchain. If you already know what a proof-of-stake blockchain is, you may wonder how pure proof-of-stake is different – do not bother yourself: the "pure" added to the front of the term is just a marketing gimmick.
If you do not know what a proof-of-stake blockchain is, a proof-of-stake blockchain is a blockchain that determines which computer gets to process a transaction, based on the amount of stake held by the participating computers.
3. What are The Goals of the Algorand project?
The goal of the Algorand project is to bring the beautiful features of traditional financial systems and those of decentralized financial systems into a single platform: the goal of the Algorand project is to create the future of finance (FutureFi).
4. What is the best place to buy Algorand?
There are two places I can confidently recommend: Binance and Kriptomat.
Final Thoughts
You have likely been hearing a lot about Algorand, consequently, you have been wondering whether the cryptocurrency is truly worth investing in.
It is reassuring that the world of crypto is here to stay and, Algorand will be part of the future currencies. Algorand is a penny coin to consider at the moment.
Read More