YouHodler has long been the go-to platform for a wide range of services, such as cryptocurrency conversions, crypto loans, and even interest on cryptocurrency held on the platform.
In this article, I will be showing you a step-by-step guide on how you can earn up to 12% interest on crypto on the YouHodler platform.
Bear in mind that YouHodler is not available in all countries, so you can only utilize this opportunity if you are a citizen of any of the supported countries.
Nonetheless, I believe that in the coming years, more countries will be integrated into their amazing services.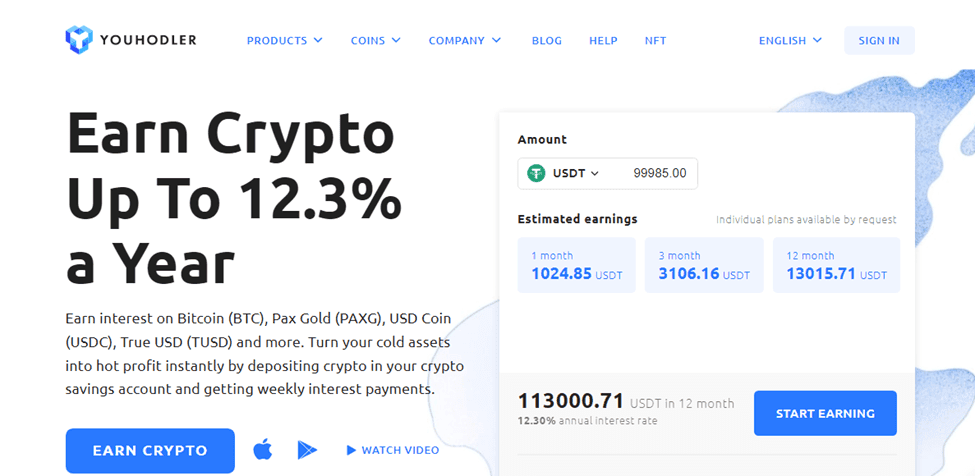 Key Takeaways
• YouHodler offers different interest rates for different cryptocurrencies, which are clearly shown on their website to enable investors to easily decide on which to purchase.
• You will need to sign up and create an account with YouHodler, where you will also be asked to provide other details, such as signing your contract and providing identity verification.
• USDT happens to be the only cryptocurrency on the YouHodler platform that offers up to a 12.3% annual interest rate.
• Anyone can become an affiliate partner with YouHodler and, with the right steps, can begin to benefit massively from becoming one.
SEE ALSO: YouHodler Fees, Interest Rates (All You Need To Know)
SEE ALSO: How To Access a Crypto Loan On YouHodler (Quick Steps)
Quick Steps on How to Earn Up To 12% Interest
Step 1: If you wish to earn interest of up to 12% in crypto, you will need to head on to the website and deposit crypto into your crypto savings account, then begin to earn weekly interest payments.
Step 2: Note that on the website, there is an interest calculator where you select the amount and type of crypto you want to purchase with your wallet into your savings account.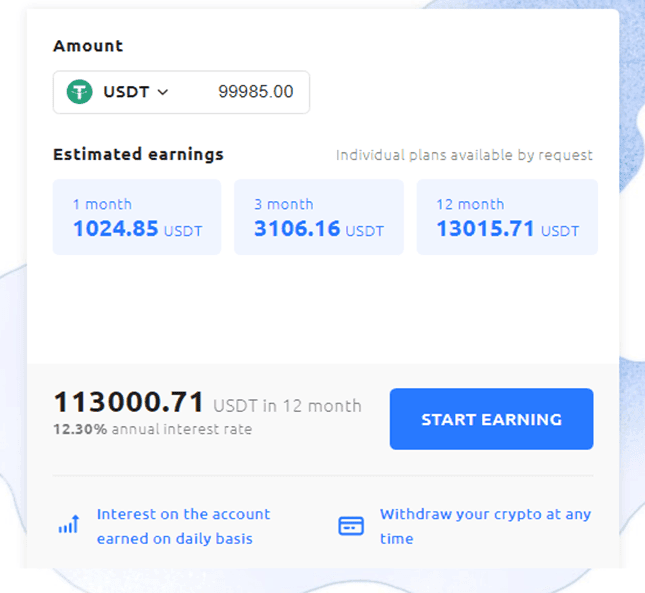 Step 3: The amount of interest you earn annually is determined by the amount you buy and the type of cryptocurrency you buy.
Step 4: Buying 500 ETH, for example, will earn you 2.29 ETH per month, 6.91 ETH after three months, and 28.20 ETH (5.50%) after a year.
Buying 500 USDT, on the other hand, will lead to an interest of 5.13 USDT in a month, 15.54 USDT in three months, and 65.09 USDT (12.30%) in a year.
Step 5: Apparently, purchasing popular cryptocurrencies on the YouHodler platform means you will get a far lower percentage of interest in a year, so it is better to focus on low-priced cryptocurrencies to gain the maximum amount of interest of up to 12% annually.
Step 6: YouHodler provides a list of interest rates it allocates to every one of the 50 cryptocurrencies it supports, making it very easy for you to decide on which to buy and save.
Step 7: Finally, once you've decided on a particular cryptocurrency, you'll be directed to wallets, where you'll be asked to choose a wallet based on that cryptocurrency, and then deposit the required funds.
Step 8: You can also withdraw, convert, and boost your funds if you want. Then you're all set.
Becoming an Affiliate Partner with YouHodler
Becoming an affiliate with YouHodler is quite easy as you only need to be a part of a fast-growing company and get commissions for each active client you bring to YouHodler.
The four steps to becoming one include:
Get the tracking link
Bring traffic
Earn money
The platform has up to a 15% high conversion rate, three ways of payout, no maximum limit on your payout, three payout models, an above-average payout, and over 2000 partners.
Once you officially become an affiliate partner, you will receive six attractive YouHodler offers for your audience, which include:
Crypto savings account
Conversions with minimal fees
Fiat transfer
You also receive other offers, such as
Automated tracking links for dedicated landing pages
Dashboard for traffic analysis
Dedicated account managers
Extensive marketing materials like landing pages, banners, videos, and content on product descriptions, promotions, and competitions
Lastly, becoming an affiliate is open to everyone, ranging from brokers, marketing agencies, influencers, crypto investors, and even crypto enthusiasts.
Whoever you are, they know exactly what you need. Whether you are driving traffic via a website, having a strong online presence, working with social media accounts, online crypto educational platforms, channels, and other digital media, or you work with a local presence and a personal client network; they have a commission plan that suits your audience.
Final Thoughts
Earning interest in crypto with YouHodler is one of the easiest things you can do on the platform. With your favorite crypto in mind, you can begin to earn reasonable interest rates on them once you get them deposited into your savings account on YouHodler.
Read More