It is no longer news that the world is traversing the digital currency age. With this, smaller fintechs and a few tech giants have gotten creative in offering crypto rewards for virtual tasks, support, and followership.
In this case, Brave Software, Inc. the owner of the Brave browser rewards users with the Basic Attention Token (BAT) by viewing privacy, respecting Ads, and paying forward.
Amazingly, Brave is known to be 3x faster than Chrome.
With your old browser, you paid to view content on the web with Ads popping up all over the place.
Brave welcomes you to a new browsing experience where your time is valued and you get rewarded for a time well spent.
What is a Brave Browser?
Brave Browser is a free web browser (fully open-sourced and privacy-focused) that operates on Google's open-source chromium-browser code.
Brave gives you control of everything…from controlling the number of ads you'll want to see to whether or not you want to hide sponsored images. Its ads are available to most countries, see the list.
You can decide on the creators you want and tip them directly and at the same time remove the websites you don't want to support.
Brave tops the list of browsers with out-of-the-box features. When you think speed and time saving, think brave browser.
Key Takeaways
• Brave is 3x faster than Google Chrome.
• Brave stops online surveillance, loads content faster and uses 35% less battery in delivering content.
• Brave pays! and you get rewarded with 70% Ad revenue on Basic Attention Tokens (BATs), with payments once a month.
• Superb at blocking data-grabbing-annoying ads and trackers.
• Brave adds more privacy to browsing with Tor enabled to mask your browsing history and location.
Let's examine the Brave browser in detail…
Real-time Privacy
When you check other browsers out there, they have what is termed "private mode". But is it private?
The answer is no because it only makes your history invisible to others that might make use of your browser. But for BRAVE, the case is somewhat different.
Right in a tab, Brave lets you use the "Tor" feature. Tor does not only make your history invisible to others, it securely hides your location from the sites that you visit.
This is achieved by routing you browsing through various servers before it gets to you. With Tor, your location is successfully masked and protected.
Anonymity is sure because all the connections are securely encrypted.
Brave Shield🛡️
Isn't it amazing to know that there is a feature with Brave that can put an end to those annoying little ads?
 Oftentimes we browse this internet and experience different pop-ups, it just gets so annoying that one would wish they stopped coming.
Pre-installed plugins for ad-block can become history because, by default, Brave blocks ads. Not just the ads alone. Brave also blocks the scripts that can track your footprints on the internet.

Basic Attention Token (BAT)
This feature, "Basic Attention Token" commonly referred to as "BAT", is an advancement developed purposely to correct the inefficiencies and the violation of privacy by the digital ad industry.
This token (BAT) is established upon the Ethereum Blockchain. For this new decentralized, and open-source platform for advertisement, BAT is the basic unit of exchange.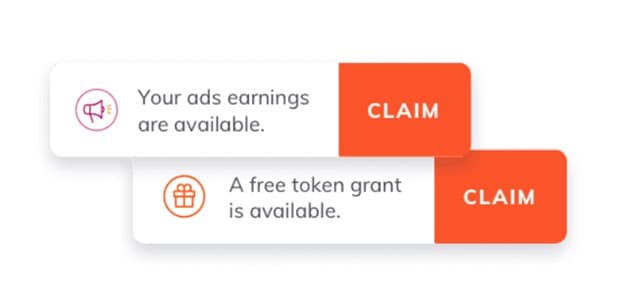 One way to earn BAT is by viewing Brave Ads. At least you get control over the kind of ads you view, as they are push notifications.
Unlike the aforementioned, annoying on-page pop-ups and display ads. Once you are opt-in for BRAVE, you most probably need not worry about installing any ad-block plugins.
How Brave Browser Works
Viewing Push Notifications Ads
Upon installation of the browser, quickly move on to turn on the Brave Rewards. This will make you start earning free BAT as long as you keep surfing the web and don't stop receiving push notifications.
Hold on a sec… these BATs aren't going to make you rich overnight. No, it's not all of a sudden. But it's better than other browsers, who don't even pay you a dime.
When it comes to the issue of display text, you don't have to worry yourself, not even an inch.
This is because every ad campaign after being vetted and verified undergoes the process of approval by Brave staff manually.
Before any ads are but approved, Brave verifies every advertiser.
Publishing Contents to The Web
If you're a publisher or probably a content creator, then you have lots of benefits waiting. You can start earning BATs by monetizing your content on the Brave platform.
All you need to do is join the brave Rewards by signing up as a creator and you too can start earning BATs.
Once you're signed up as a creator, your subscribers, as well as followers can make donations to support your course.
Your readers too can. In addition to this, it is possible on the platform to get a monthly schedule for support from your fans, subscribers, followers, and readers anonymously.
You can activate brave Rewards on the following channels:
• Your website
• Twitch channel
• Your YouTube channel
• Twitter handle
• Vimeo channel
• Reddit
• GitHub…and a host of others
Viewing Sponsored Background Images
You can also earn by viewing background images.
Frequently Asked Questions
1. Is the Brave browser safe?
• Yes, the Brave browser is indeed safe. Some users have reviewed it positively in the areas of real-time privacy and speed.
2. Can you cash out Brave Rewards?
• You can withdraw your Brave earnings (BAT) once you verify your digital wallet.
3. Will Brave sell user data to advertisers?
Brave does not sell any user's data: not to advertisers, not to anyone else.
4. Can I install extensions in Brave?
• Brave operates on the same open-source Chromium code as other browsers like chrome.
Final Thoughts
Google Chrome and other browsers are excellent, but BRAVE offers more.
BRAVE browser is an improved option and combines better privacy, safety, speed, and above all, rewards with a browsing experience.
Read More