Part of the federal infrastructure bill signed into law by President Joe Biden included a new law that all cryptocurrency exchanges should report cryptocurrency transactions to the IRS in the form 1099-B, beginning from the tax year 2023.
While some investors are still trying to understand how crypto taxes work? You should know cryptocurrency is considered a form of property in the US, thus, it is subject to capital gains and income tax. 
TurboTax has been a well-used software to get the tax done. Importing tax records from exchanges via Form 1099-B is the easy way, but Cryptocurrency exchanges are not required yet to send the 1099-B forms, not until the tax year 2023. So you might not get one with which you can report your crypto transactions. 
What this means is that TurboTax currently does not pull transactions from crypto exchanges automatically. So one has to look for alternative means of generating crypto transaction records first before filing them on TurboTax.
One of the software you can use to quickly generate tax records is CoinLedger. But will the results be usable on TurboTax? This article explains how CoinLedger can be used with TurboTax to ease your crypto tax procedures.
Disclosure: This article contains some affiliate links to our affiliates. we earn a commission when you purchase via our link at no extra cost to you.
What is TurboTax?
TurboTax is a tax preparation software used by individuals and businesses for electronically filing and processing their tax returns. With TurboTax, you can report your cryptocurrency taxes easily from anywhere.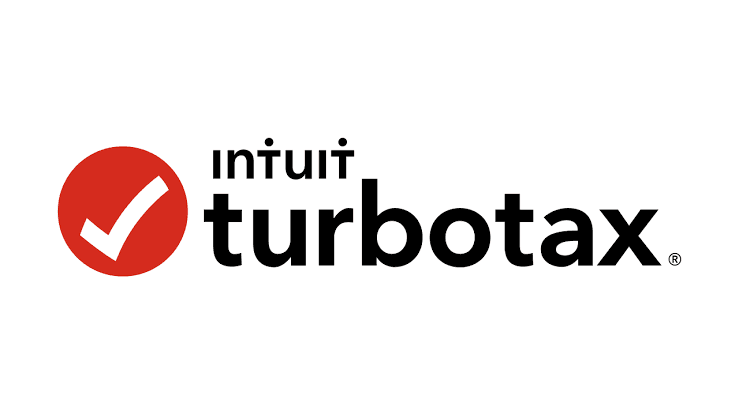 An easy-to-use interface walks you through a series of steps to collect information on what you are reporting, making it a very easy-to-use DIY software. There are different packages with different privileges to suit different user needs.
The software is also available as a paid app to install on Mac, Windows, and Mobile platforms, and also an online app version through browsers. 
The cryptocurrency functionality is limited especially when it comes to handling many cryptocurrency transactions. 
TurboTax and CoinLedger
TurboTax is the official tax partner of CoinLedger, formerly known as CryptoTrader.tax, a software for filing your crypto taxes. Since you are dealing with cryptocurrency tax, it is better to pool together the required data using crypto tax software and save a lot of time. CoinLedger is one of the best crypto tax software that you can use to do that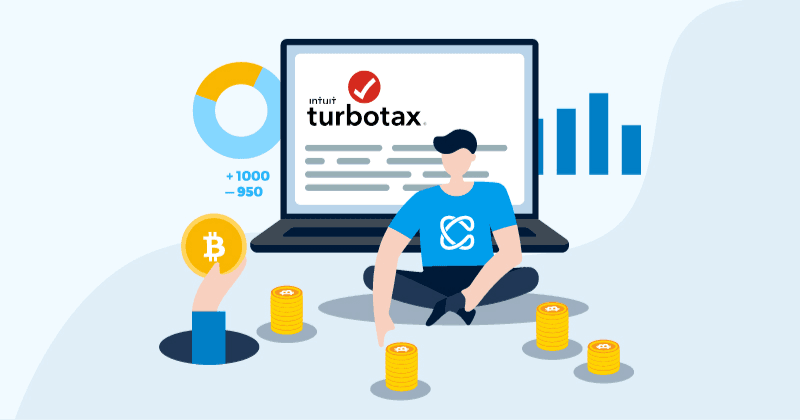 Why you should use CoinLedger with TurboTax
CoinLedger is a dedicated cryptocurrency tax calculator that goes beyond what TurboTax can offer when it comes to tracking your capital gains on crypto. It supports over 1000 cryptocurrencies and NFTs and integrates with popular wallets, DeFi, and a long list of exchanges. Import your crypto transaction history from all sources and generate your crypto tax reports easily.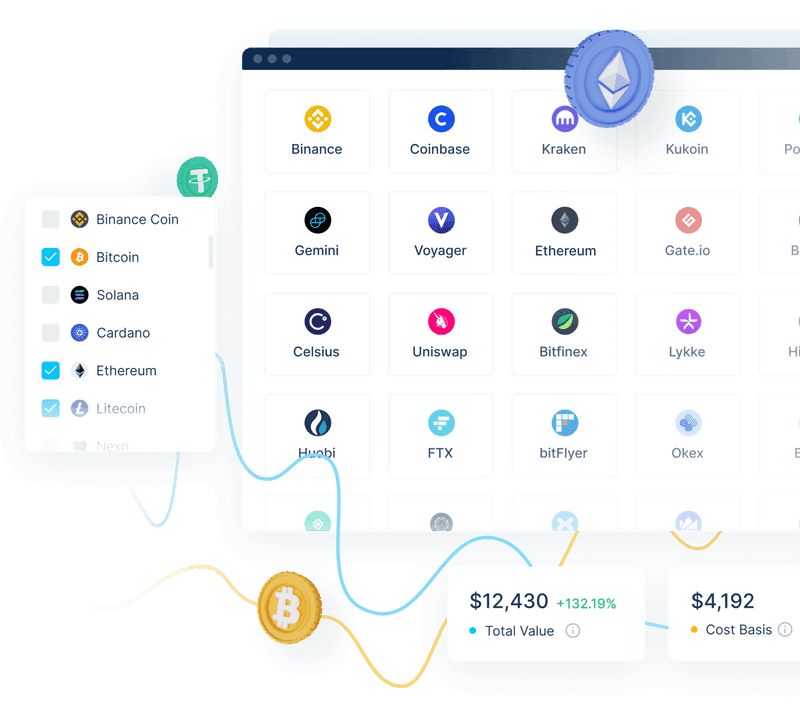 As a partner with TurboTax, CoinLedger allows you to export all your generated crypto tax reports as a CSV file designed for use on TurboTax. So with just a single click, you can import all your gains and losses directly into TurboTax.
Track your entire crypto transaction history across all of your crypto platforms for FREE using CoinLedger.
Get a FREE CoinLedger account and get a FREE tax preview report today.
Use the promo code CRYPTOTAX10 and SAVE 10% on all CoinLedger packages after you sign up.
There is also a large library of support resources to provide answers to all your questions. A support team is also available to offer assistance with reporting your taxes. You can always upgrade if you need more support. Complete tax preparation by an expert also comes under some support privileges.
How to import tax reports from CoinLedger to TurboTax 
Before you can import it to TurboTax Online, you have to first download your tax report CSV file from the CoinLedger reports page. After that, you can go ahead and import the file to TurboTax to finalize your crypto tax report. Now will probably be the right time to do so.
See how to generate income reports for tax using CoinLedger.
Generate TurboTax CSV
To download your CSV file, Create a CoinLedger account, connect your exchanges and wallets that you have used, and then proceed to generate and download.
Click on Tax Report on the dashboard.
In the Tax Report downloads section, Click on Tax Filing Softwares.
Finally, click on Generate besides TurboTax Online. You will get a Download Succeeded prompt when it's done.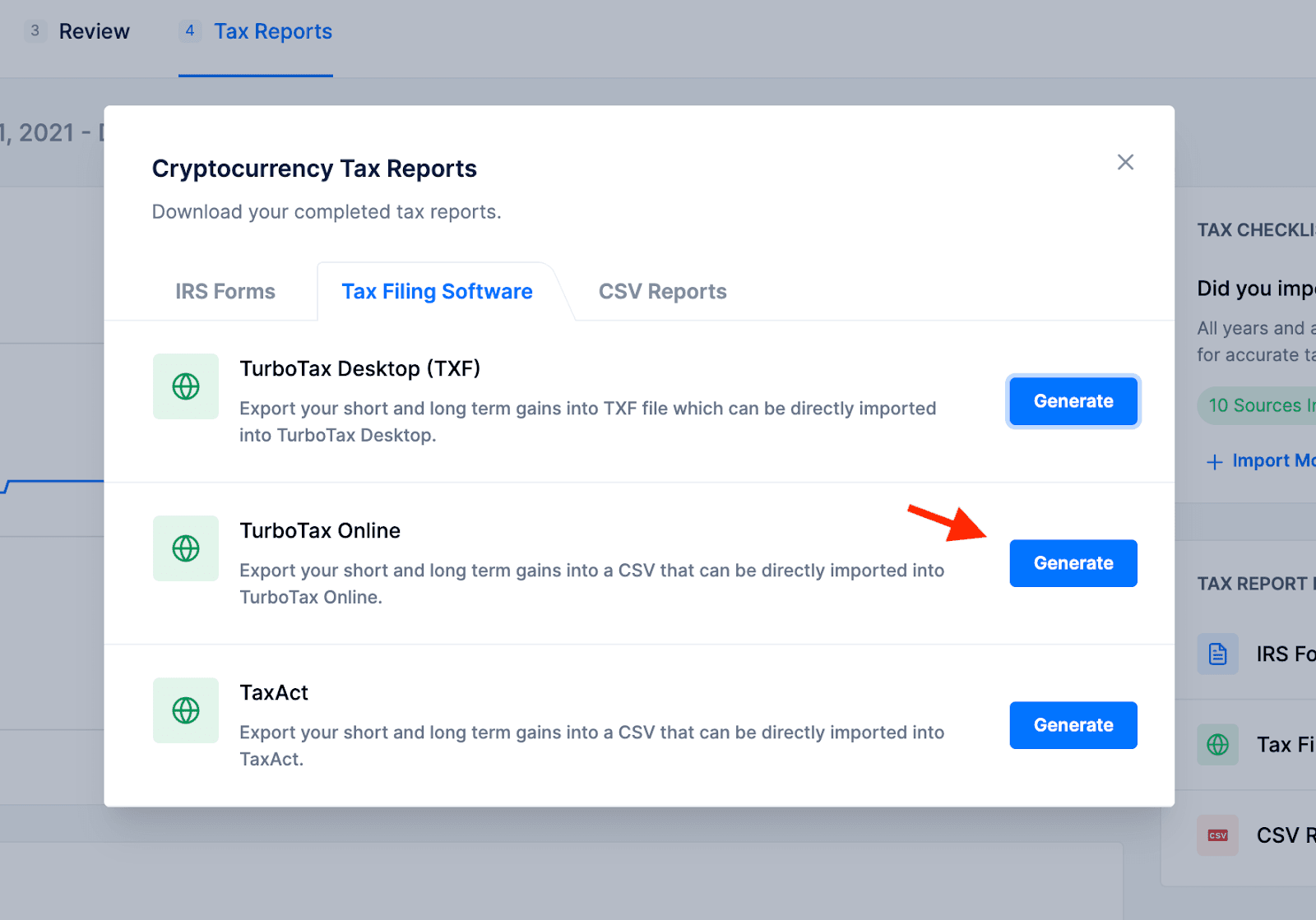 Import CSV
To begin importing, Always be sure to select the right TurboTax plan before you begin filing your report, you cannot switch midway into it. Cryptocurrency tax reporting is supported on the Premier and Self-Employment packages.
Sign in to your TurboTax Online account and answer the startup questions and prompts. These are essential and you cannot skip them.
From the TurboTax Online drop-down menu, click on Federal.
Now click on the Wages & Income tab and then click continue on the prompt.
On the list of income categories, expand the investment income category by clicking on show more, and then click on the Start button next to Stocks, Cryptocurrency, Mutual Funds, Bonds, Other (1099-B).
Next, select Cryptocurrency from the investment types and then click on Continue at the bottom of the screen.
On the import page, click on Change how I enter my form to make use of your exported tax data from CoinLedger. It will contain data from all the wallets and exchanges you have linked to your account, so there is need to select any of the exchanges in the options.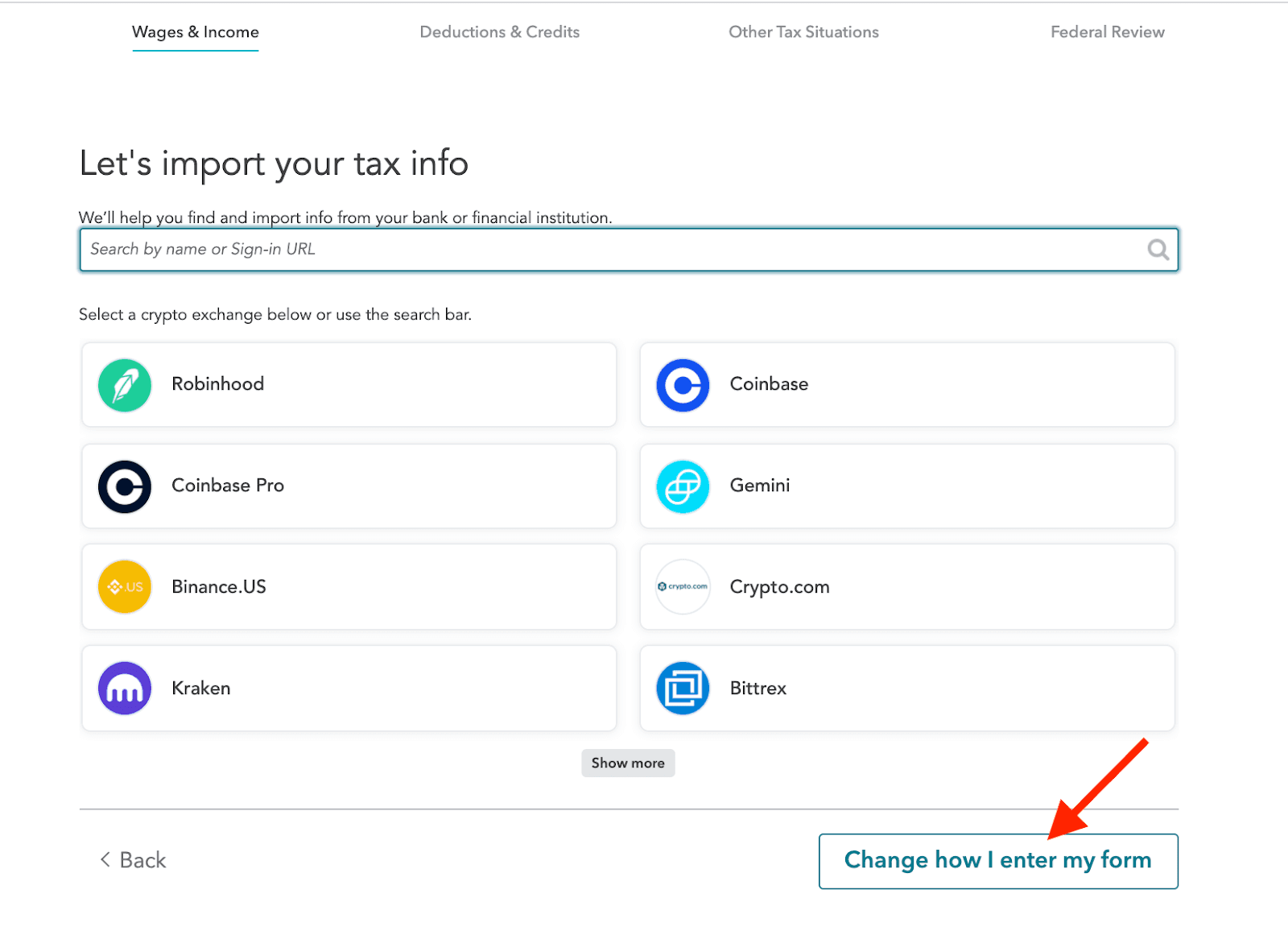 Under crypto experience, Select Upload it from my computer and then click on Continue.
Select CoinLedger from the drop-down crypto service list and then click on Continue.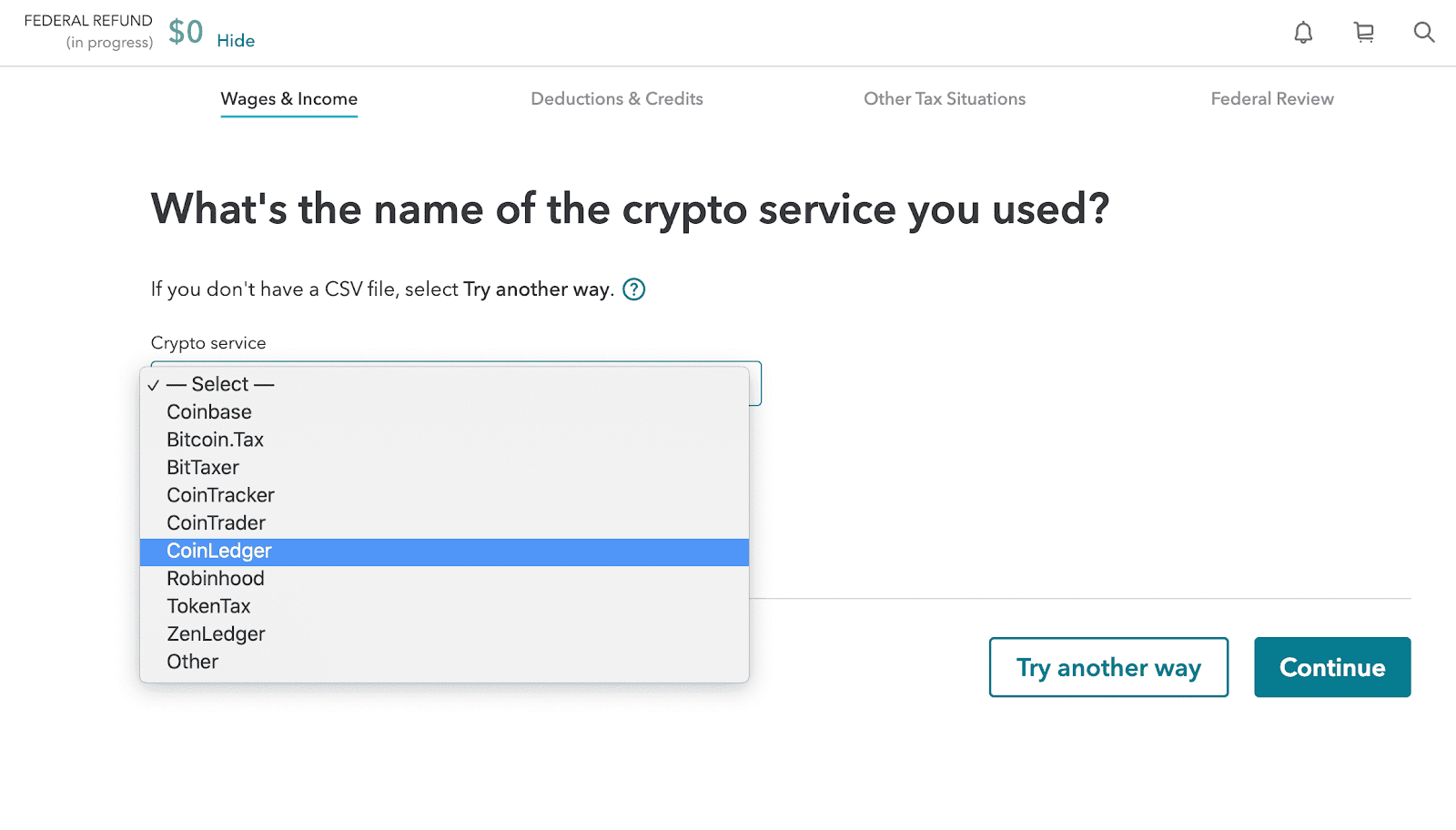 Proceed to upload your already downloaded CoinLedger CSV file. Click on continue when done.
Finally, review the imported crypto transactions optionally, otherwise, scroll down to the last entry and then click on Continue.
Note that the above steps are for reporting capital gains and losses. Staking and mining income have to be reported separately as Miscellaneous Income under Less Common Income on the Wages & Income page.
Frequently Asked Questions (FAQs)
Q1. Does TurboTax do crypto?
TurboTax handles many categories of income tax from stock, bonds, ETFs, rental property income including cryptocurrency, and other investment incomes.
Q2. What version of TurboTax do I need for cryptocurrency?
TurboTax Premier is the version for filing cryptocurrency taxes. TurboTax self-employment version also supports crypto tax reports.
Q3. Can I calculate crypto gains with TurboTax?
Yes, you can use TurboTax to manually calculate your crypto gains. For a better and faster result, you should use a dedicated crypto tax software for calculating.
Final Thoughts
When using CoinLedger, you do not have to worry about questions like do you pay tax on crypto if you don't cashout? and other similar questions that come to mind when debating what is taxable or not. The Software has been designed to handle all that and even with professional help available. Save time and enjoy ease.
Read More