MetaMask is a popular browser extension wallet known for NFTs, DeFI, and Web3 Dapps. The wallet is known to have a secure login, token wallet, and a token exchange for managing tokens efficiently
However, MetaMask users occasionally experience issues when trying to initiate transactions or perform other tasks. Most of these issues range from the extension freezing or its inability of establishing a connection to the public ledger.
Not to worry, in this article, I've compiled 7 common MetaMask issues and explained how to solve them.
Key Takeaways
• MetaMask is a popular software-based crypto wallet. It is a browser plugin that allows you to make transactions to web3 sites.
• Currently, MetaMask is available for Google Chrome, Brave, Microsoft Edge, and Mozilla Firefox. 
• MetaMask was released by ConsenSys in 2016 and has already reached over 30 million users globally. 
• MetaMask is not entirely free from bugs and errors. With some errors including, ledger connection, balance not showing, and chrome connection amongst others.
SEE ALSO: WalletConnect Vs MetaMask (Best Comparison)
SEE ALSO: How Much Is MetaMask Gas Fee?
SEE ALSO: How to Link Trezor Model T With the MetaMask Wallet
1. MetaMask Not Opening
Solution
• Refresh your web browser
On the browser, click the three-dot menu icon.
Select Exit.
Refresh the browser to check whether MetaMask is still functioning.
• Use of a different browser
Change to a more suitable browser if you want to effectively resolve the MetaMask problem on your PC.
You can gain a lot by switching to Opera and gaining access to several extensions and applications like MetaMask.
This web browser has been available for more than 25 years, has undergone continuous refinement, and offers integration options to operate applications like messaging apps or an integrated cryptocurrency wallet.
• Change the MetaMask network.
Start your browser and launch MetaMask.
Before the profile icon, select Ethereum Mainnet.
choose network
From the list, pick a different network.
With these common fixes, your MetaMask should start working.
2. MetaMask Not Showing Balance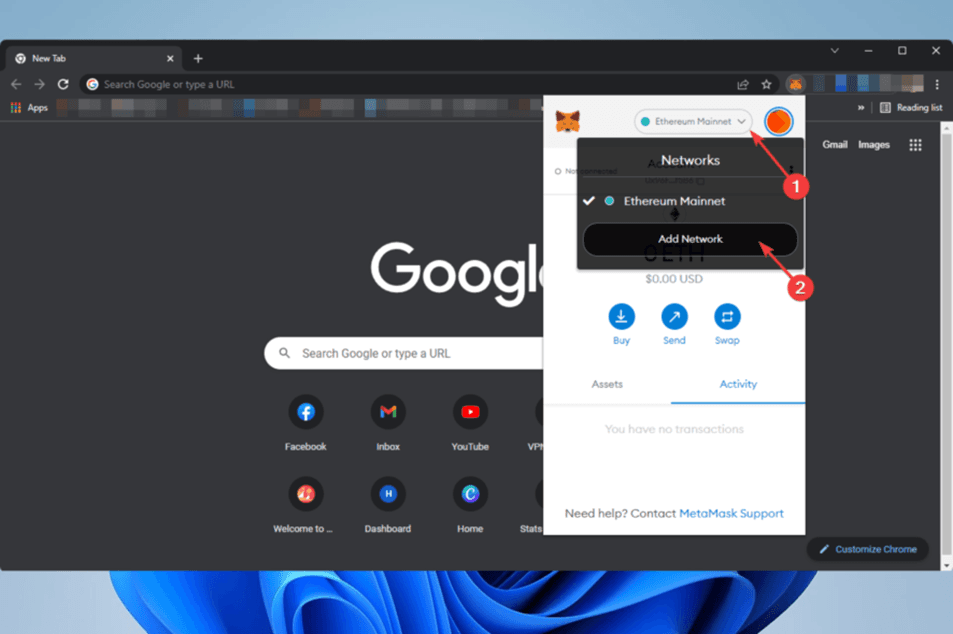 Solution
• Restart the browser
Restarting the browser should be your first step if you see that MetaMask is displaying the balance incorrectly or not at all. It will usually solve your issue.
If the issue persists, though, and you regularly need to restart the browser, you can try the following techniques.
• Update your browser
➡️ Version 2.1 of Chrome
Activate Google Chrome.
In the top right corner, click the three vertical dots, then select Settings.
heading to Chrome settings
Select About Chrome after selecting Advanced.
using Chrome system
Chrome will automatically look for updates and install them.
Restart Chrome.
➡️ Version 2.2 of Firefox
To get help, click the three vertical lines.
moving to assist Firefox
Select the firefox about link
The browser will be automatically updated.
Making sure that the browser is compatible with the add-on requires updating browsers. The issue with MetaMask not updating the balance might be resolved as a result.
• Examine various blockchain networks
In the top right corner of the browser, select the MetaMask symbol.
Choose Add Network from the drop-down menu that appears after selecting the network name, which is typically Ethereum Network.
Now enter the information for your desired trusted network and save.
Using a different network will solve the issue if MetaMask somehow encounters problems with the default network. You'll be able to see the balance clearly as a result.
3. MetaMask Not Popping Up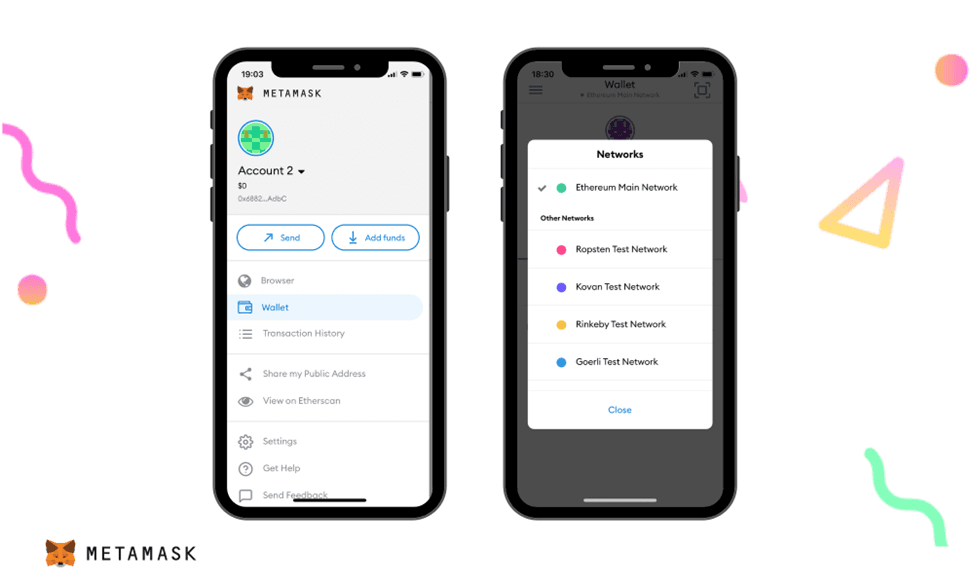 Solution
• Reinstall or update MetaMask
It's conceivable that the MetaMask extension you're using is out-of-date. An out-of-date MetaMask extension may not work with some websites, rendering MetaMask inoperable. As a result, you should check the MetaMask version and install the most recent one if necessary.
If your version is out-of-date, uninstall the current ones and download the most recent version from the appropriate Chrome or Firefox store.
Even if MetaMask is current, I still advise you to remove and reinstall the extension on your web browser once to bring it up to date.
• Reset your MetaMask login information
In case nothing else works, you can also try resetting your MetaMask account. Your coins, balance, and NFTs will all still be there after clearing your transaction history and any preserved data. Also, remember to back up your Secret Recovery Phrase because you will need to enter it.
4. MetaMask Not Working On Chrome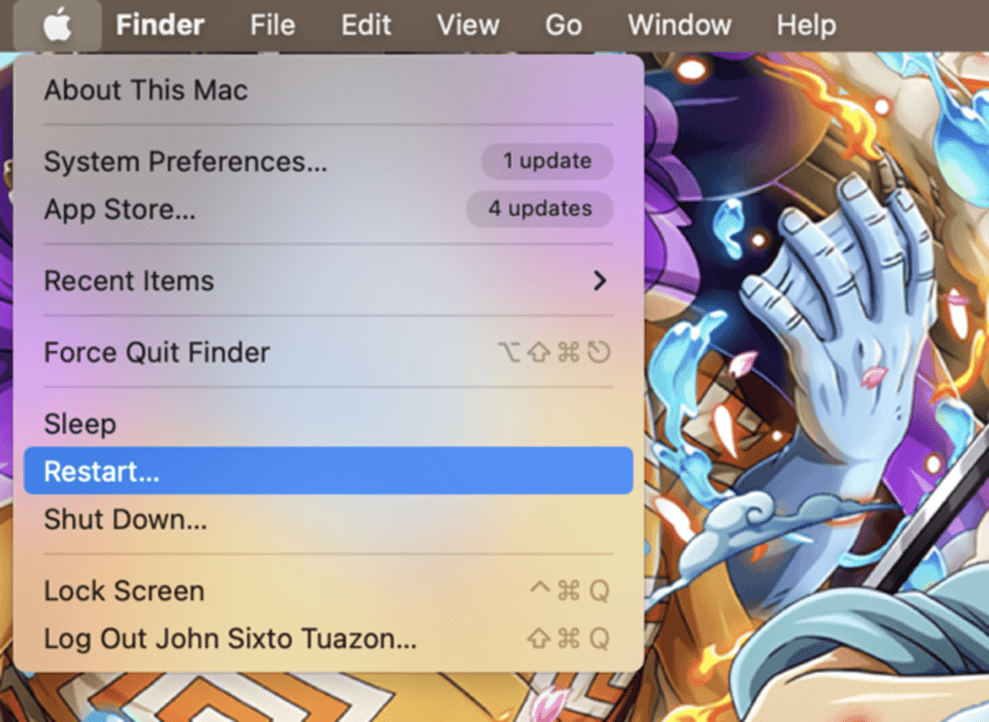 Solution
• Start your computer again.
Restarting your computer is one of the first steps you may do when MetaMask is giving you trouble. Your system resources are reloaded as a result, and any transient faults that might have happened are also fixed.
See the instructions below to restart your computer if you use Windows:
To access the Start Menu, press the Windows key on your keyboard.
The Power Options tab should then be selected.
Finally, to restart your computer, choose the Restart option.
For Mac Users, here's how to restart your computer.
Open the Apple Menu by clicking on it in the top left corner of your screen.
Restart can then be selected from the context menu.
Finally, to confirm your action, click the Restart button once more.
Once finished, open Google Chrome and verify if MetaMask is operational.
• Reinstall the browser add-on.
We advise reinstalling the add-on on your machine if Google Chrome still crashes when browsing MetaMask. By doing this, you can make sure the MetaMask extension is set up properly.
To remove browser add-ons from Chrome, follow the instructions below:
Select Settings from the More Options menu in Google Chrome.
Following that, select Extensions from the side menu.
Locate MetaMask and select Remove to finish.
After that, visit the MetaMask website to reinstall the browser extension.
5. MetaMask Not Loading
Solution
Most often, it can only be a momentary loading problem. Simply touch your phone's first left button to access the recent applications menu. Simply close the app and reopen it. It should operate normally.
• Attempt a hard restart on your Android phone.
The "Home" and "Power" buttons should be pressed and held down simultaneously for up to 10 seconds. Release the buttons after that, and continue to hold down "Power" until the screen illuminates. You can now attempt to launch the app.
If none of the aforementioned solutions work, you can wait until your phone's battery runs out and it shuts off on its own. After that, charge it and then turn the device on. After this, it might function.
Finally, you might need to remove the program and reinstall it if none of your other fixes work. As soon as you reinstall and log into the app, Android typically restores all settings.
6. MetaMask Not Connecting To Ledger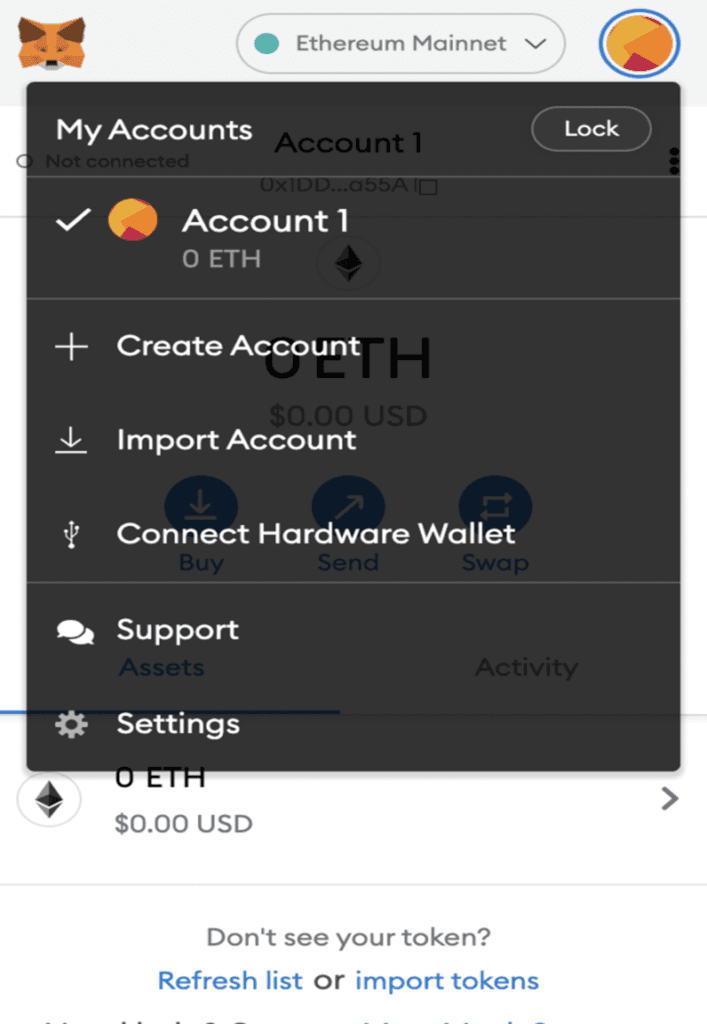 Solution
The problem might be resolved by changing browsers. Use of Chrome or Firefox is advised.
Make sure MetaMask is upgraded to 10.5.2 or a later version.
Make sure your Ledger device is running the most recent firmware release.
Make sure the Ethereum (ETH) software is operating on the most recent version of your Ledger device. Find out more here.
Make sure Ledger Live is shut down before trying to link your Ledger device to MetaMask.
Before beginning the "Connect Hardware Wallet > Ledger > Continue" process in MetaMask, open the Ethereum (ETH) app on your Ledger device.
Make sure Metamaks is displayed in a new tab by selecting Expand View from the "three dots" menu when you click the icon. Choose WebHID: webHID MM.gif under Settings > Advanced > Preferred Ledger Connection Type if you're using Chrome.
Try resetting your MetaMask account by navigating to Settings > Advanced > Reset Account if the problem continues. Restart your browser when your account has been reset, then try once more to link your Ledger device to MetaMask.
It's safe to reset your MetaMask account, however, doing so will delete the Activity tab's transaction history.
7. MetaMask Not Connecting To OpenSea
Solution
• Use a different browser
The best way to use MetaMask is as a Chrome extension (or Chromium-based browsers). If you're having trouble connecting MetaMask to Opensea on a browser other than Chrome, try switching to Chrome and see if that resolves the problem.
• Reinstalling the add-on
Go to chrome:/extensions and uninstall the MetaMask extension if switching browsers doesn't work. After completing this, you can return to the Chrome App Store to download and reinstall the extension.
You risk losing access to your account and any funds or ETH contained therein, so be sure to keep your password and secret phrase close at hand.
• Turn off browser add-ons
To see if the browser resumes working, go to chrome:/extensions and try disabling all of your extensions. If it does, enable each one separately until the MetaMask extension is operational once more.
Final Thoughts 
The most well-known cryptocurrency wallet for non-techies is MetaMask, which is open-source software that may be used as a browser extension or mobile app. Additionally, it is secure and user-friendly.
It secures your data by using appropriate encryption techniques. The data you have in this crypto wallet can only be decrypted with your password.
In contrast to other wallets of a similar design, it does not have control over the keys. They are kept there locally. You, therefore have full control over the keys.
Read More