As of the end of 2021, PayPal has over 392 million users with about 29 million merchant accounts.
This goes to say that a large percentage of its users would need to complete and receive payments through crypto.
Buying Crypto just got better, safer, and faster with PayPal. You can now buy Bitcoin using PayPal.
In this article, I will explain how this works.
Key Takeaways
• Buy Bitcoin and 3 other cryptocurrencies – Ethereum, Litecoin, and Bitcoin Cash, instantly within the PayPal app.
• When you buy crypto on the PayPal app, You can use it to make fiat payments without paying any conversion fee.
• Buying Bitcoin with PayPal is covered by PayPal Purchase Protection on eligible purchases within given limits. So you are buying with ease of process and ease of mind as well.
SEE ALSO: I Can't Link Coinbase To PayPal-How To Fix
SEE ALSO: How To Transfer Money From Coinbase To PayPal
SEE ALSO: Fast and Easy Way to Buy Bitcoin on PayPal
PayPal is supported on many platforms as a means of payment. This means there is more than one way you can buy Bitcoin with PayPal.
How to Buy Bitcoin Instantly With Paypal App
You can purchase Bitcoin instantly with the PayPal app.
PayPal offers buying and selling, including the holding of four crypto assets – Bitcoin, Ethereum, Litecoin, and Bitcoin Cash on their app.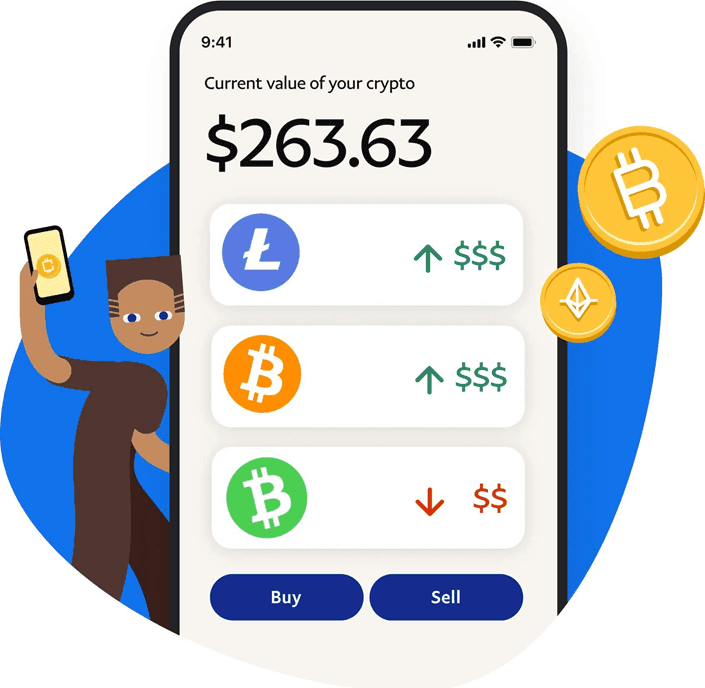 To buy crypto from PayPal, first of all, you need to have an account, verified and with funds or source of funding.
The Source of funding can be a bank account or debit card linked to your PayPal account.
Click on Finances, the bar chart symbol at the bottom of the screen.
On the dashboard select Crypto.
Now click on the Cryptocurrency you want to buy from the list of supported cryptocurrencies. In this case, we want to buy Bitcoin, so click on Bitcoin.
Click on the Buy button. For security purposes, PayPal will verify your identity at this point. Provide the needed information correctly and pass the verification process.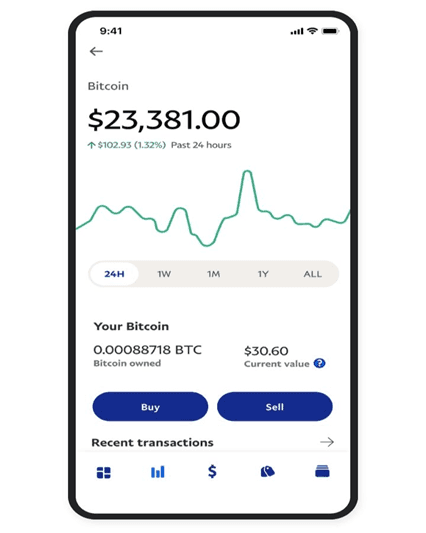 Enter the amount of Bitcoin that you intend to buy. Now click on Next.
Select your payment method from the prompt. Either pay with your linked debit card or your linked bank account. Now click on Next to continue.
Review the conversion rate and transaction fee for the current transaction.
Click on Buy Now to finalize the Bitcoin purchase.
After a successful transaction, the purchased Bitcoin will appear in your PayPal digital wallet.
Bitcoin gotten on PayPal goes straight to your Bitcoin digital wallet on PayPal.
You cannot buy from PayPal to another address, neither can you transfer the purchased Bitcoin to another PayPal account or external wallet.
The only action you can do is hold, sell and check out with crypto on your PayPal account.
If you are looking to buy Bitcoin instantly with PayPal into your crypto wallet outside of PayPal, then you have to seek other ways aside from using the PayPal app.
Other Ways to Buy Bitcoin instantly with PayPal
Aside from buying Bitcoin with the PayPal app, you can also buy Bitcoin instantly using PayPal on crypto exchanges that accept PayPal as a payment method.
These exchanges are few that accept PayPal payment and we will be looking at some.
Coinbase added PayPal to its list of payment methods. So as of now, you can purchase Bitcoin and instantly pay for it using PayPal.
You can also buy Bitcoin with PayPal on Binance, a popular trading platform, with its peer-to-peer trading.
Other platforms where you can instantly buy Bitcoin with PayPal include
Venmo – a payment app of the social kind and is owned by PayPal.
eToro – an exchange with PayPal support.
LocalBitcoins, and a list of others.
To buy Bitcoin with these platforms.
First set up a PayPal account and add it as a payment method on the platform you wish to purchase Bitcoin from. If PayPal is supported, you can find it in the add payment method list.
Go to the interface for cryptocurrency purchases on the platform you wish to use.
Choose Bitcoin from the list of cryptocurrencies.
Select PayPal from the payment method list.
Finally, continue to finalize the purchase.
Frequently Asked Questions (FAQs)
Q1. How do I transfer Bitcoin from PayPal to Bitcoin wallet?
PayPal currently has a wallet limitation, so you cannot transfer Bitcoin in or out of your PayPal digital wallet.
Q2. How much is the PayPal fee for $100?
PayPal has transaction fees ranging from $.50 to 1.5% of the transaction total. For a $100 purchase, PayPal will charge a fee of 2.3%, which would be $2.30. See a breakdown of PayPal fees.
Q3. Does PayPal cover me if scammed?
One of the benefits of using PayPal for making payments is its Buyer protection service.
You can get a full refund on eligible transactions if it isn't what it was supposed to be. But first, what you are buying has to be what is covered under PayPal Purchase Protection.
You can buy Bitcoin safely from exchanges with PayPal. But it is advised that you should not store your crypto assets on exchanges.
Read More