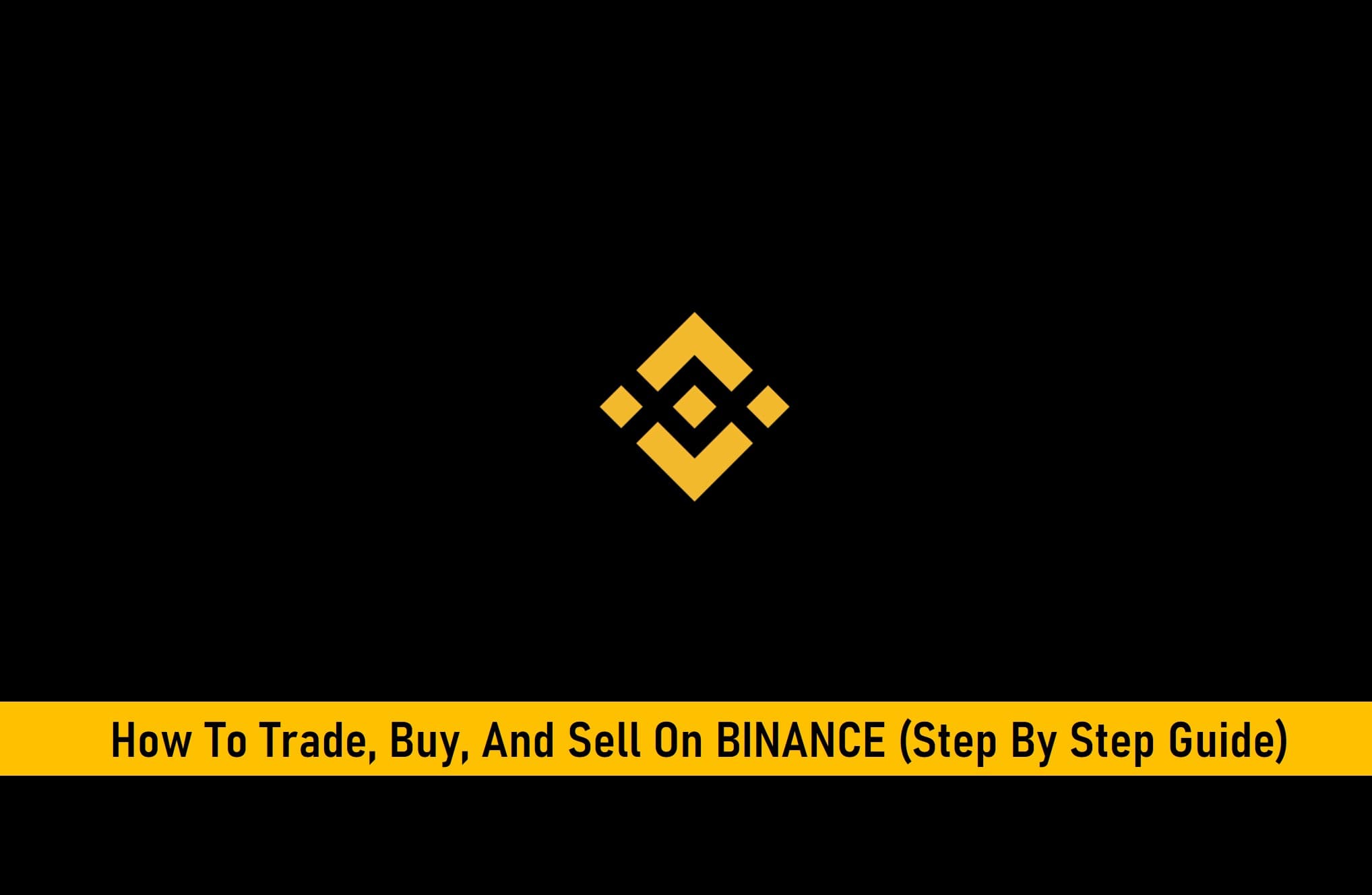 When you think of all the cryptocurrency exchanges in the world today, Binance comes to mind as one of the foremost crypto exchanges that offer very high liquidity due to the size of its marketplace.
The Binance exchange prides itself on being the largest crypto exchange by volume, with a large customer base in over 180 countries. This means that Binance is in nearly every country in the world, which is impressive. 
Key Takeaways
 • Binance is the largest crypto exchange on the market by trading volume, cutting across over 180 countries.
 • Binance Exchange strengthens its security by deleting suspicious accounts to prevent thefts or hacking of the platform.
 • Trading on Binance is quite simple as the platform is structured in such a way that it caters to both the needs of experienced and new investors.
 • Binance has an academy called the Binance Academy where users can sharpen their expertise in crypto and crypto trading.
SEE ALSO: How To Join Binance Smart Chain As A Validator
SEE ALSO: Compare Fees Coinbase Vs. Binance
SEE ALSO: How to Connect Binance Smart Chain to MetaMask
Moving on, Binance comes with quite a huge number of features as it caters to both experienced and inexperienced investors.
You do not even need to be a crypto expert to find your way around the website easily, as everything is tailored in such a way that the average individual will easily find their way around.
You can also use the Binance Academy to brush up on your crypto knowledge if you find it lacking. This exchange also has regulatory provisions in place, as it is present in almost every country on the planet, and each of these countries has its own crypto laws.
As such, Binance has a strict user verification system and other security protocols that are in line with the regulatory laws of each country.
Binance Mobile and Desktop Application
Binance is available on every known platform you can think of. It is available on Android and iOS devices. It is also available on the desktop via Mac and Windows.
Should you be an experienced investor who utilizes the Binance exchange regularly, it is advised that you make use of the mobile version either on your iOS or Android device due to the huge amount of traffic that slows down the web version due to large transactions taking place all at the same time.
How to Verify Your Binance Account
As Binance happens to be a centralized exchange regulated by a central authority, accounts opened on the platform must be verified through KYC regulations. 
Also, since the exchange is in the hands of a central authority, efforts are usually made to prevent money laundering and other fraudulent activities through crypto, hence the importance of deleting fraudulent accounts.
Conducting the verification procedure is quite easy as all you need to do is to register, log in to your account, and click on "become verified." Then you go through the verification stages and you are good to go.
When verifying, make sure your nationality, first and last name, date of birth, street address, postal code, and city are all provided, and remember to take and upload images of your government-issued ID, passport, or driver's license to upgrade to the intermediate level for a greater transaction limit.
Following that, you'll be asked to take a selfie or submit a photo to complete the face verification process. Advanced verification will necessitate the upload of evidence of address, such as a bank statement or a recent utility bill.
How to Trade on Binance
One major thing about Binance that makes it stand out from the rest is that it takes into consideration all comers. To break it down further, it offers different types of trading for different investors.
Investors who are new to trading can make use of the convert feature, which simplifies everything to make things interesting and easy to understand.
For more experienced investors, the most convenient approach to trading is to execute spot trades at real-time prices. Binance provides a variety of spot trading options, including market, limit, stop-limit, and OCO.
To make things easier, I will be breaking down these terms with examples to enable you to understand what they actually are.
Market Order
What a market order does is that it allows you to buy or sell cryptocurrencies at their current (active) prices. Nonetheless, because of the price difference between the selling and purchasing orders, you will most likely be buying at a slightly higher price or selling at a slightly lower price.
Limit Order 
What a limit order does is that it allows you to place a trade order at a specific price (higher than the current price for selling and lower for buying). 
For example, if the price of Bitcoin falls to $24000, you can place a purchase order (say, worth $30,000 at the moment).
Stop Limit Order
A stop-limit order combines a stop loss with a limit order and protects you against large market changes by allowing you to make buy or sell orders above or below the current price.
For example, if Bitcoin is at $40,000 and you are hopeful that the price will increase further, you may place a stop-limit sell order at $45,000. But if you believe that the price will reduce in value, then you may place a stop-loss order at $36,000. 
If the price exceeds certain levels, your orders will be executed automatically, allowing you to maximize your earnings or minimize your losses. The main issue with stop-limit orders is that they require you to choose a direction. 
If you happen to be wrong, the stop-limit order may affect your trading adversely, and it is for this reason that Binance added the OCO orders.
OCO Order
An OCO order combines the best of both worlds by allowing you to create a sell or purchase order at both the current and higher price of a crypto asset.
For example, if the price of Bitcoin is $40,000 and you want to trade on autopilot, you can put a sell order at both $38,000 (for a 5% loss) and $44,000 (for a 10% profit), depending on your trading habits.
Please keep in mind that during periods of high volatility, your orders may be skipped if the price of a cryptocurrency fluctuates too rapidly.
Also, be aware that whales can affect crypto prices, particularly in low-liquidity markets, by placing massive buy and sell orders with the intent of either crashing or spiking the price, so hitting your stop loss or liquidation margin orders is very important. 
These circumstances frequently result in a bull trap or a bear trap. As a result, do your research before engaging in these various sorts of orders, and don't be one-sided in your trade.
How to Buy Cryptocurrency on Binance
You can buy crypto on Binance using three methods, which are:
1. Through Peer-to-Peer (P2P)
2. Through Bank Credit/Debit Card
3. Through crypto with your Cash Balance
For easy understanding, the video above shows you how to buy crypto on Binance using the P2P method, while I will be giving a step-by-step explanation on how you can buy crypto using your bank credit/debit card.
Step 1: Log in to your Binance account and click "Buy Now" on the homepage banner.
Step 2: You can buy cryptocurrency with a variety of fiat currencies. Enter the fiat amount you want to spend and the system will automatically display the amount of crypto you can get. Click "Continue."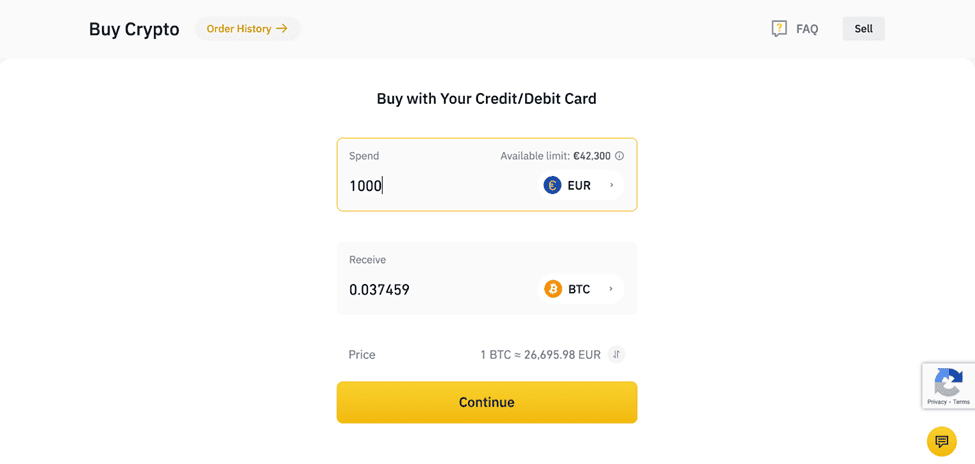 Step 3: Select your preferred payment method here. To buy with a credit/debit card, click "Visa/Mastercard"—"Continue".
Step 4: Follow the instructions and enter your card information.
Step 5: Your card will be added. Click "Continue."
Step 6: Please check the payment details and fees and confirm your order within 1 minute, or the amount of crypto you can get will be recalculated based on the current market price. You can click "Refresh" to see the new order amount.
Step 7: You will be redirected to your bank's OTP Transaction Page. Follow the on-screen instructions to verify the payment. After that, you can see the purchased crypto in your Binance Spot Wallet instantly.
Remember that buying crypto on Binance using fiat is not supported in some regions, so be sure to check if your region allows you to carry out such transactions before doing so. 
How to Sell Cryptocurrency on Binance
There are several ways you can sell cryptocurrency on Binance, but because of its simplicity, I will be showing you step by step how to use the P2P method to sell your cryptocurrency. 
You can simply watch the video below on how to do it, or simply follow the steps below:
Step 1: Select (1) "Buy Crypto" and then click (2) "P2P Trading" on the top navigation.
Step 2: Click (1) "Sell" and select the currency you want to buy (USDT is shown as an example). Filter the price and the (2) "Payment" in the drop-down, select an ad, then click (3) "Sell".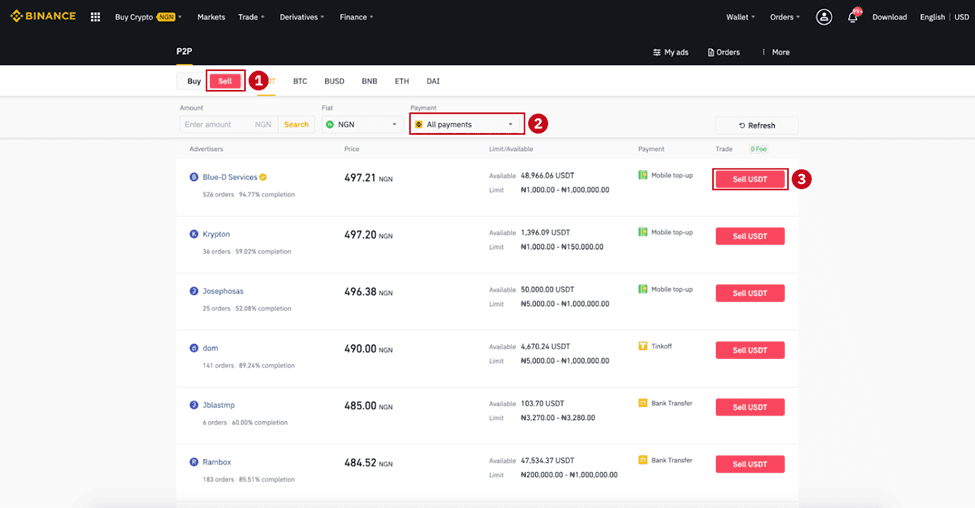 Step 3: Enter the amount (in your fiat currency) or quantity (in crypto) you want to buy and click (2) "Sell".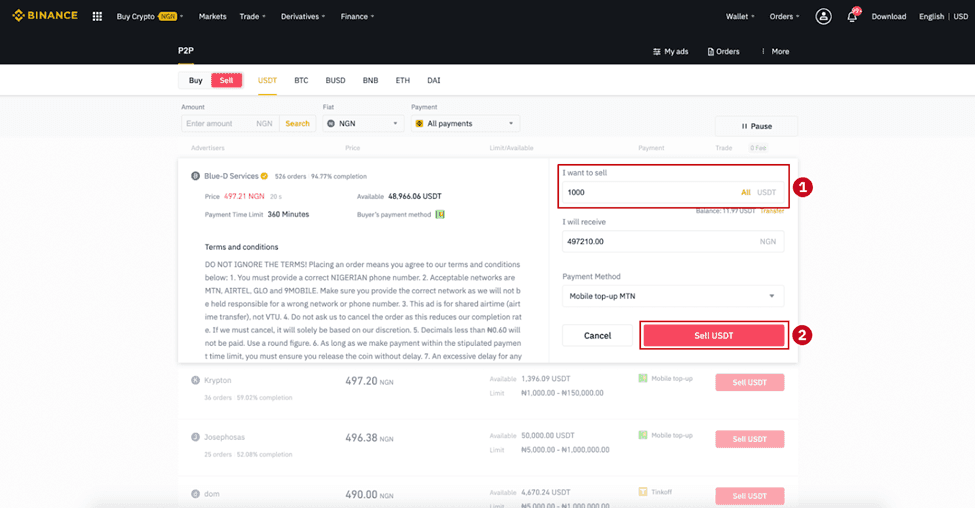 Step 4: The transaction will now display "Payment to be made by the buyer".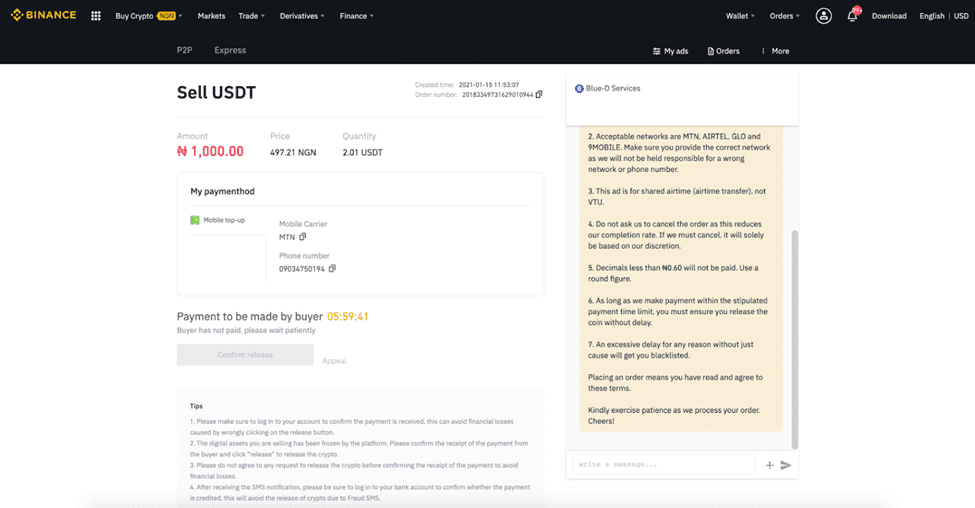 Step 5: After the buyer makes the payment, the transaction will now display "To be released." Please make sure that you've received payment from the buyer to the payment app/method you used. 
After you confirm the receipt of money from the buyer, tap "Confirm release" and "Confirm" to release the crypto to the buyer's account. Again, if you have not received any money, please DO NOT release crypto to avoid any financial losses.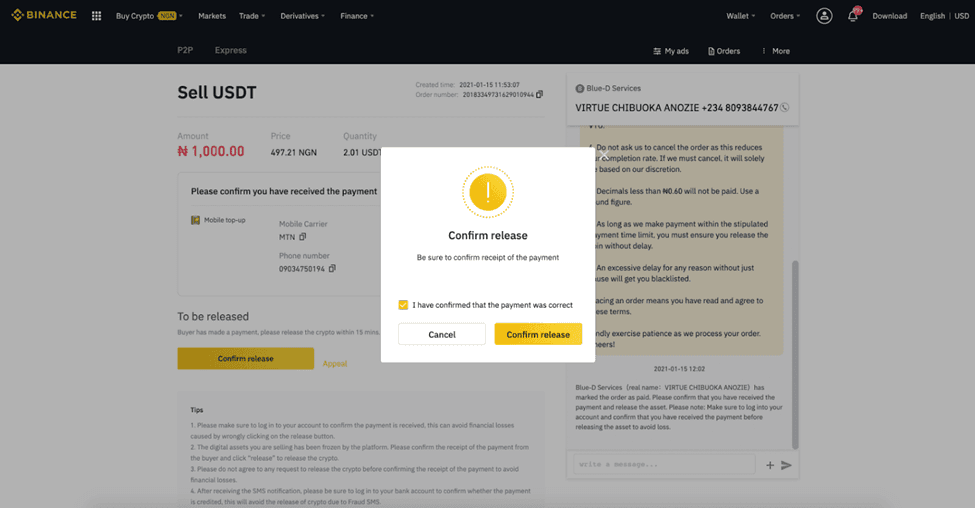 Step 6: Now the order is completed, the buyer will receive the crypto. You can click "Check my account" to check your Fiat balance.
Note: You can use chat on the right side to communicate with the buyer throughout the whole process.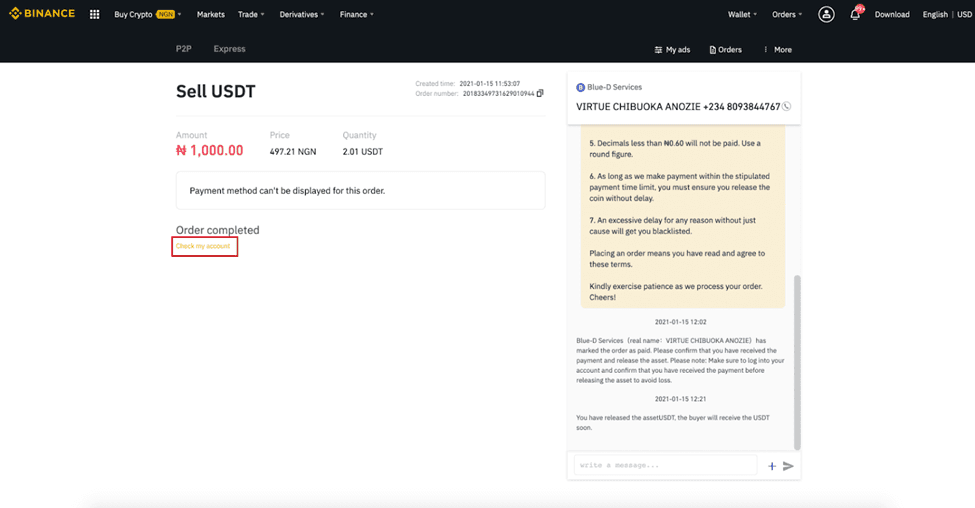 Note: If you have any issues in the transaction process, you can contact the buyer using the chat window on the top right of the page or you can click "Appeal" and our customer service team will assist you in processing the order.
How Safe is Binance?
Binance has always been a safe exchange as it employs the best security features available. Nonetheless, it was the victim of a significant attack in 2019 that resulted in the theft of 7,000 bitcoins worth $40 million from the exchange. 
Since that tragic event, Binance has subsequently enhanced its security and has promised to refund all losses through its insurance fund. 
To better safeguard user accounts, Binance employs two-factor authentication (2FA) and constantly works with authorities to freeze compromised assets or criminals' accounts.
Frequently Asked Questions (FAQs)
What is the minimum trade on Binance?
The minimum trade amount investors are allowed to start with on Binance is $10.
Do you need to go through the verification process to be able to trade on Binance?
Yes, you need to, as all new users are required to verify their accounts to access Binance products and service offerings, and that includes trades as well.
Final Thoughts
With its fantastic offerings and features, Binance is one of the best, if not the best, crypto exchanges on the globe.
This guide provides you with all the necessary information you need to know concerning buying, selling, and trading cryptocurrencies on Binance.
Read More