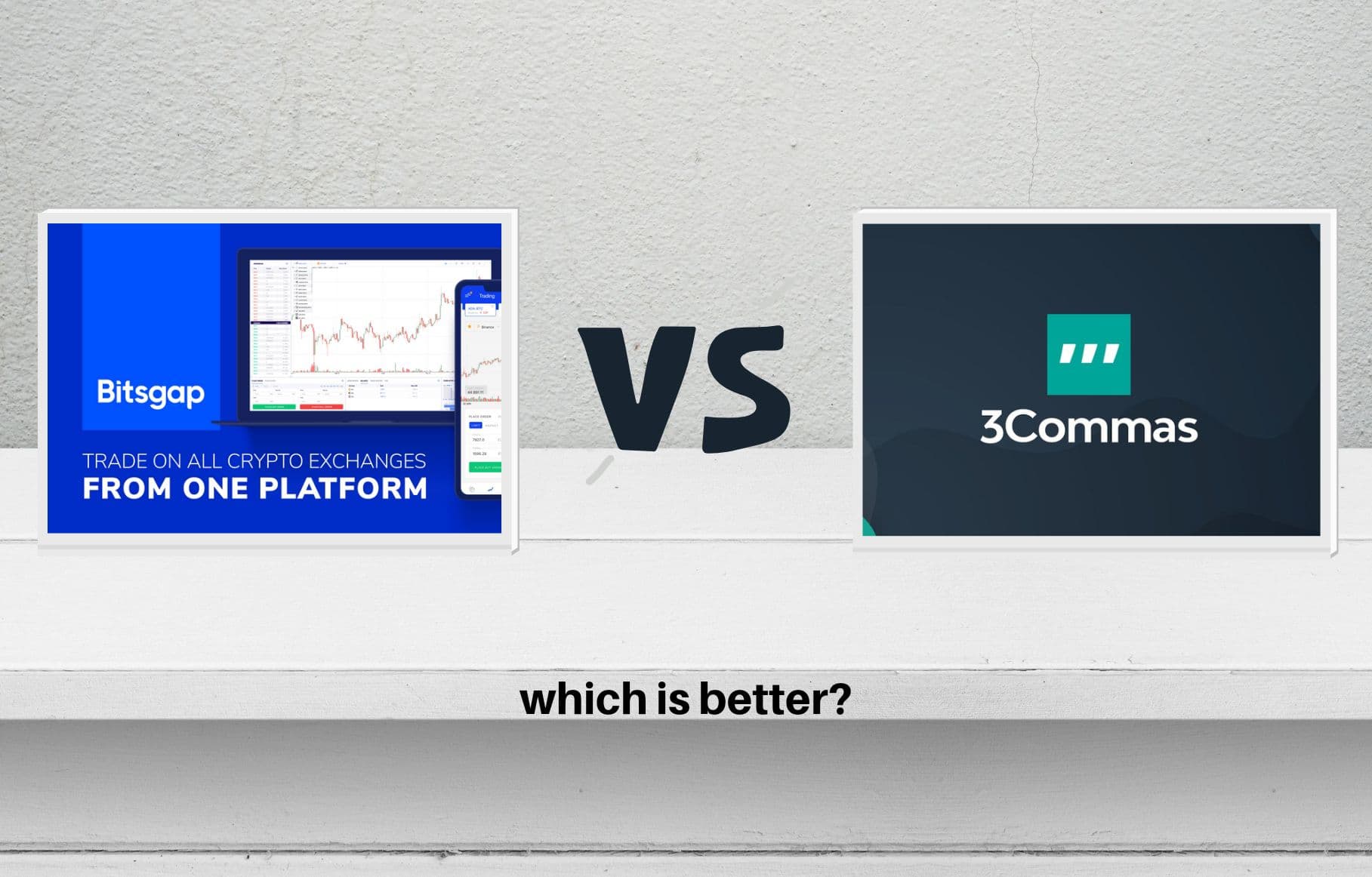 The global algorithmic trading market hit $11.1 billion in the year 2019, and this value is estimated to reach $18.8 billion by 2024 [analyzingalpha]. A fast growth in the demand and use of automated trading.
Cryptocurrency, now a part of everyday life, is not left out. There are trading bots all over the scenes now. Offering many benefits including reduced risk and mistakes, the use of trading bots is increasing by the day. 
To take part in the use of trading bots, first, you have to choose a good platform that offers such a service. Among the many Automated trading platforms in the open already, Bitsgap and 3Commas are two automated trading platforms that have earned a good reputation over the years of operation.
Between Bitsgap and 3Commas, which trading bot is better? Which trading bot has more features? Is 3Commas cheaper than Bitsgap? You will find answers to these and more as we compare similarities and differences further down this article.
Overview
About Bitsgap
Bitsgap is an automated crypto trading platform for trading across multiple exchanges connected to a single interface. Rolled out in 2016 and officially released in 2018, Bitsgap currently provides crypto trading bots, algorithmic orders, and portfolio management to over 4 million monthly visitors.
About 3Commas
3Commas is a cryptocurrency trade automation platform that has been in operation since 2017. Created by Yuriy Sorokin, Egor Razumovsky, and Mikhail Goryunov, the platform which is based in Tallinn, Estonia, provides trading bot services to trade to eliminate emotions in trading and trade across exchanges from a reliable interface.
Currently providing services to over 220,000 registered users worldwide (US, Europe, Asia, Africa, Australia, and Oceania) across 18+ supported exchanges, 3Commas, still operates on its 3 Core Principles – Providing a simple and intuitive interface for traders, developing sophisticated tools to simplify trading and maintain a reliable, trustworthy and transparent business.
Supported Exchanges
The ability to manage portfolios across multiple exchanges from a single unifying interface is vital to saving time and increasing efficiency.
Bitsgap supported exchanges
Bitsgap supports 10 popular exchanges. They include
Coinbase Pro
Huobi
Kucoin
OKX
Bybit
Binance
Bittrex
Bitfinex
FTX
Kraken
Bitsgap trading bots are available for all the listed exchanges.
3Commas supported exchanges
3Commas officially supports smart trading tools on 23 different cryptocurrency exchanges. Automated trading tools on 3Commas are supported on 18 major cryptocurrency exchanges. They include the following 
Binance
Binance US
Bitfinex
BitMEX
Bitstamp
Bittrex
Bybit
Coinbase Pro (GDAX)
Crypto.com
Deribit
FTX
FTX.US
Gate.io
Gemini
Huobi Global
Kraken 
KuCoin 
OKX
Poloniex
3Commas has more exchange support when it comes to trading bots. This makes it a better choice if you are dealing with a more diverse portfolio.
Features
Bitsgap features
Trading bots
Profit from every market move 24/7, with fully automated trading bots. You can choose from a range of ready-made predefined backtested strategies or customize yours. Performance analytics and Extended features like Take Profit, Stop Loss and price Trailing features, etc are features of the bots. They include
1. Grid bots
They feature the following strategies
Buy the dip – Earn BTC as it becomes cheaper, then HODL
Flat – Earn USDT on every small price fluctuation
Custom grid
2. DCA trading bots
DCA bot strategies are not yet available, but the following strategies are coming soon on the platform.
MACD + RSI – Оutperform market on bullish or bearish trends
Stochastic + channel – Buy/Sell inside channels, HODL outside channels
Pure DCA – Buy at multiple DCA levels, take profit, repeat
Custom DCA – Construct your perfect trading bot by yourself
3. Futures trading bots
Specifically made for trading crypto derivative instruments. They use the Long and Short strategies for a bullish or bearish market, respectively.
Get Bitsgap bot free for 7 days.
Smart orders
Trade manually trading strategy with powerful algorithmic orders and tools beyond what your exchange offers.
Stop Loss
Take Profit
Trailing Take Profit
OCO
Market
Stop
Stop Limit
TWAP
Scaled orders.
Trading terminal
This allows you to monitor, switch between exchanges swiftly, and trade from a unified interface. Trading View with 100+ indicators and 50 smart drawing tools. Trade with the following available Smart algorithmic orders
Limit
TWAP (Time Weighted Average Price)
Scaled – place a grid of up to 100 Limit buy or sell orders.
Market
Stop limit
Stop
Take Profit
Stop Loss
Trailing
OCO
Bitsgap also features
3Commas features
Automated trading with Trading Bot
The platform features
DCA bots
Grid bots
Options bots
Futures bots
The Bots trade at scale 24 hours a day with technical indicators. They can be Single-pair bots for trading single pairs or Multi-pair bots for trading multiple pairs. And also Long algorithm – buy at a set price, sell high, and Short algorithm – sell high, buy at your set price.
Bot trades according to TradingView signals and can view, analyze and copy other bot settings on the platform.
Learn how to trade with Trading View social networking tool.
Manual trading with Smart Trade
You can trade manually on the platform with lots of Smart Trade tools at your disposal.
Trade optimization: Sell and buy coins in a single window with Smart Buy and Smart Sell.
Take Profit settings.
Stop Loss settings.
Concurrent Take Profit and Stop Loss
Stop Loss timeout
Take Profit and Stop Loss Trailing feature 
Sell by multiple targets
Smart Cover – Sell and buy back coins.
Trailing Take Profit
Trailing Buy
Charts and Signals from TradingView
You can share your Smart Trade settings with another 3Commas user.
Portfolios
3Commas also features the necessary investment tools you need for a portfolio.
Portfolio Creation
Create portfolios with any coin amounts
View – You can review the incomes of other 3Commas users for better decision-making.
Copy and edit – Copy coin ratios and apply them to your portfolio
Portfolio Balancing – Maintain your portfolio coin ratios through automatic rebalancing.
See our list of the top crypto portfolio rebalancing tools.
Other 3Commas features include
Marketplace with trading signals from Cartelsignals, Crypto Quality Signals Premium, etc
Paper trading (Demo mode)
Mobile app
Notifications (Browser, mobile app, Telegram, or email)
Both platforms have enough features to get you through bear markets, bull markets, and sideways markets. Bitsgap offers more on Bot customization and strategies, while 3Commas has more extra features aside from automated trading.
Pricing and Plans
Bitsgap Plans
Bitsgap offers 3 plans – Basic, Advance, and Pro, all with different benefits on the platform. All plans on Bitsgap include the following
15+ supported exchanges
Multi-exchange trading terminal
Demo mode
Fully automatic portfolio
Smart algorithmic orders
Pre-made trading bot strategies
Over 175 TradingView indicators
Cloud trading
Email, Live-chat support
And 10 Active DCA Bots (Only for now while the Bots are at Beta phase).
Desktop and Mobile versions
Bitsgap Pricing and Access
Bitsgap doesn't have a free plan but offers a 7-day free trial on any plan.
Try the Bitsgap PRO plan, free for 7 days.
Basic
$29/month
2 Active GRID Bots
10 Active DCA Bots
Unlimited Smart orders
Advanced
$69/month
5 Active GRID Bots
10 Active DCA Bots
Unlimited Smart orders
Futures bots
Trailing Up for bots
Pro
$149/month
20 Active GRID Bots
10 Active DCA Bots
New
Unlimited Smart orders
Futures bots
Trailing Up for bots
Take Profit for bots
Bitsgap plan discount
Save 17% on any plan when you pay for 6 months.
Visit Bitsgap official pricing page: https://bitsgap.com/pricing
3commas Plans
Offering a free plan, 3Commas has a total of 4 Plans to choose from – Free, Starter, Advance and Pro Plans. Each comes with different access to features in addition to the following which is available on all plans on 3Commas
18 supported exchanges
20+ trading features
TradingView integration
All of your crypto accounts in a single portfolio
Multi-level referral program
Free mobile apps
3Commas Pricing and Access
Free plan – $0
1 GRID Bot
1 Options Bot
1 DCA Bot
1 Active SmartTrade
Unlimited Scalper Terminal
Starter
$29 monthly payment
1 GRID Bot
1 Options Bot
1 DCA Bot
Unlimited Active SmartTrades
Unlimited Scalper Terminal
Paper Trading
Advanced
$49 monthly payment
1 GRID Bot
1 Options Bot
Unlimited DCA Bots (Unlimited Single pair for Spot. One Multi pair for Spot or One for Futures)
Unlimited Active SmartTrades
Unlimited Scalper Terminal
Paper Trading
Pro
$99 monthly payment
Unlimited GRID Bots
Unlimited Options Bots
Unlimited DCA Bots
Unlimited Active SmartTrades
Unlimited Scalper Terminal
Paper Trading
3Commas Plan discount
Get 50% off on any plan when you pay for a year.
3Commas official pricing page: https://3commas.io/pricing
With a free plan and many/unlimited bots available for a lesser price, 3Commas has better/cheaper trading bot pricing and plans. 
Product Security
Bitsgap security
Bitsgap implements industry-leading safety features and protocols. Bitsgap has no access to your funds. Your funds are kept in your exchange. Bitsgap connects to exchanges via API technology. Access to your exchange is just for monitoring and trading purposes, transfer and withdrawal privileges are excluded (and should be disabled).
Using RSA 2048-bit encryption as the standard protocol for encrypting all information stored on their secured firewall-protected network, Bitsgap boasts of being safer than your internet bank. Considering that most banks use 1024-bit encryption, you can say Bitsgap servers/systems are twice as safe.
For an extra layer of security, Hardware Security Keys/FIDO2 2FA method is available for accounts. Employees are also required to use it to gain access to the network. For a secure network, employees' access is limited only to area of expertise.
Other security measures include
Device and location whitelisting
Failed login attempts protection
Complex password support
Encrypted browser API delivery
3Commas Security
On 3Commas, encrypted API keys and enterprise-grade tools from Cloudflare, a security services provider, are used to ensure data security. 
Your funds do not leave your exchange. Rather API keys are used to communicate with your exchange to start or close deals. There is no access to withdrawals or transfers, or your exchange login details. You can only do that from your exchange account and not from 3Commas.
Other security measures include
Web Application Firewall
DDOS attack protection
SSL/TLS encryption between visitors and origin servers
2FA.
Continuous precautionary measures ensure your accounts are safe on 3Commas. 5 years in the crypto industry without any serious breaches on security says a lot about how secure the platform is.
With both trading platforms having years of smooth operation void of security breaches, both are tied on security.
Still, how secure your funds are also depends on you. Ensure to enable 2FA on all your accounts. Keep your API keys safe and secured and Save your backup keys in safe places like cold storage.
Learning Resources
Bitsgap Learning Resources
Help Center
There is a Help Center where you can search for answers to queries regarding how to use the platform. Here you can find tips and examples on how to use different features of Bitsgap.
Bitsgap Academy
Bitsgap has an Academy with a glossary of articles covering different topics on cryptocurrency fundamentals as well as cryptocurrency trading. If you are a crypto beginner, this is enough to get you started before getting into automated trading.
Bitsgap Demo Mode
You can get started trading crypto with trading bots without risking your money. The Bitsgap Demo account is a good and safe environment to learn further, sharpen your trading skills and try new strategies and features before switching to live trading. Works in real-time and has the same market conditions as real trading.
Demo mode on Bitsgap is a free feature, all you need to start using it is to sign up.
Get 10 Bitcoins on Bitsgap Demo mode to trade on 10 most popular cryptocurrency exchanges
Binance
KuCoin
OKX
Kraken
FTX
Huobi
Coinbase
Bittrex
HitBTC
Bitfinex
3Commas Learning Resources
Knowledge Base
Get advice and answers on different topics from the 3Commas Team on the 3Commas knowledge base page.
3Commas Trading Academy
3Commas has an independent online learning course on cryptocurrency trading. Consisting of 14 modules, and 15 free video tutorials, 15-20 minutes long. Technical Analysis materials and Learning processes and bot settings support
The free course is available to all users on the platform. It covers cryptocurrency basics to using and customizing features on 3Commas.
3Commas Demo Mode (Paper Trading)
With Paper Trading on 3Commas, you get a virtual deposit for trading. With a similar experience to real trading and real-time replication of actual price movements, you can test the waters safely, trade, create bots, understand strategies, and even experiment with apps without risking your funds.
You get the following deposited to your Paper Trading account to start with
10000 USDT
300 BNB
50 ETH
1 BTC
You can reset your losses as many times as you want to. Liquidity is not simulated and you cannot transfer profits.
Paper Trading (Demo Mode) on 3Commas is a paid feature. You cannot use it with a free plan. Also, available features depend on what is available to the plan you are subscribed to.
As a crypto beginner or professional using a crypto trading bot, there will be a lot of questions that need answers.
3Commas has more learning resources. 
However, if you are looking for practicality at no cost, the Demo mode on Bitsgap is free and has more exchange support. This makes it a good choice for practice.
Verdict
Both platforms are good, each with unique features. It is hard to place one over the other.
Bitsgap has a better reputation as a trading bot platform, a good place for arbitrage.
3Commas also has a good reputation and is preferable for beginners looking to learn.
Frequently Asked Questions (FAQs)
Q1. Are 3Commas bots profitable?
Yes, and they can save you a lot of time and effort as well placing hundreds of trades easily.
Q2. What is the trading fee on Bitsgap?
There is no trading fee on Bitsgap. Aside from payment for activating paid subscription plans on Bitsgap, the only fees or charges you will incur are those on your exchange.
Q3. Does 3Commas have copy trading?
No, 3Commas does not have copy trading. However, you can copy bot presets or your bots can copy signals from a signal provider.
SEE ALSO: Top 5 Classes of Financial Instruments to Trade on TradingView
Final Thoughts
When choosing a good automated trading platform to use, you should put into consideration your strategies and the exchanges you trade on, how much you are willing to spend on such service, and your technical know-how as per usage. 
Read More