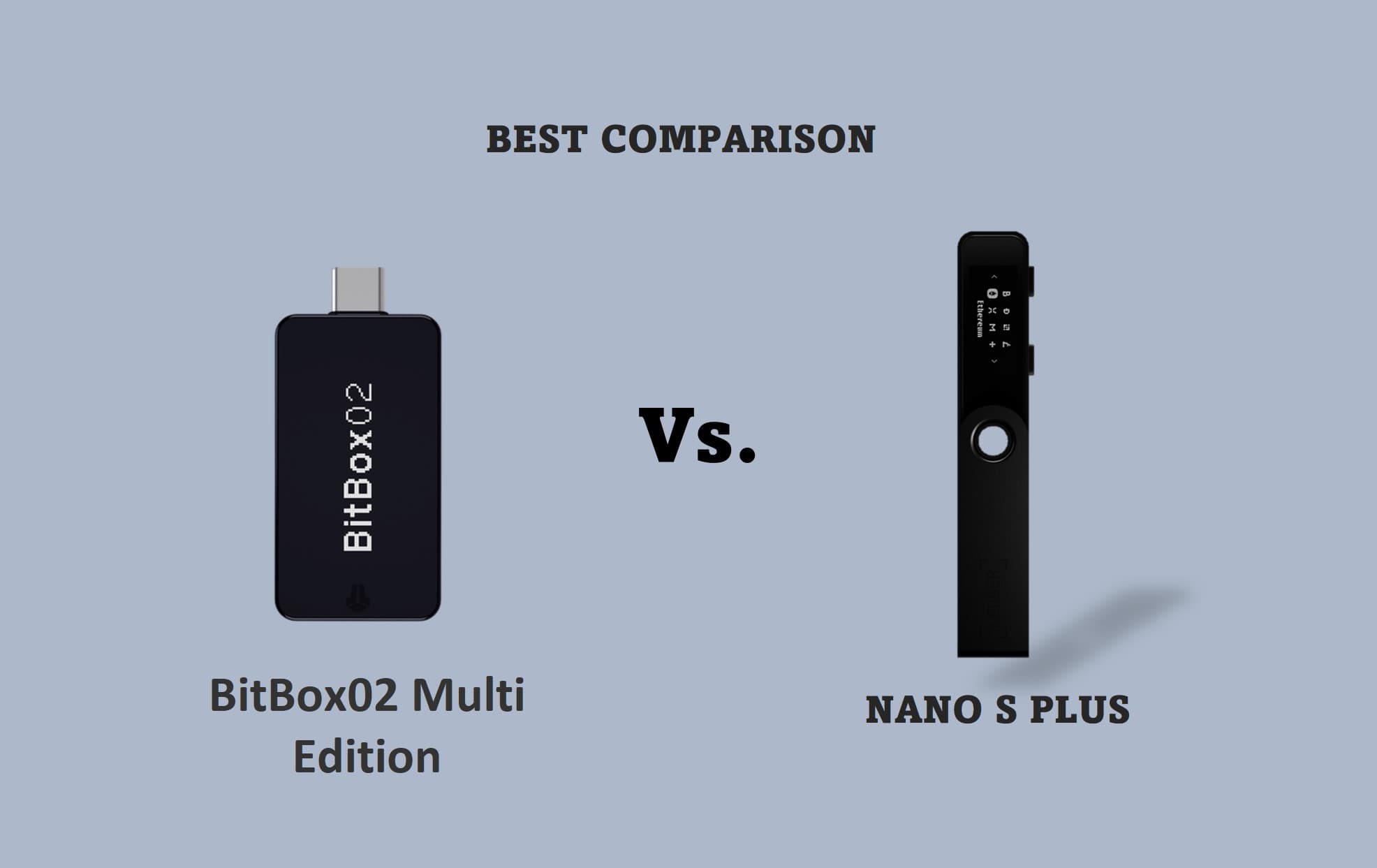 In this article, I'll be comparing two renowned crypto hardware wallets, first the BitBox02 Edition and the recently released Ledger Nano S PLUS wallet.
BitBox02 Edition is the second edition of the popular BitBox cryptocurrency hardware wallet from the Swiss brand Shift Crypto security. BitBox02 was released on the 1st of September, 2019.
The Ledger Nano S PLUS was released by the popular Ledger Nano wallet brand in April 2022.
In this article, we will compare the features of the Swiss-made hard wallet (Bitbox02) with its Paris-made counterpart (Ledger Nano S PLUS).
BitBox02 Edition Wallet Vs. Ledger Nano S PLUS: Comparison
[table id=27 /]
BitBox02 Edition Wallet
The BitBox02 Edition wallet is simple, elegant, and designed with an OLED screen with legible-size font and sliding control for smooth setup and transactions.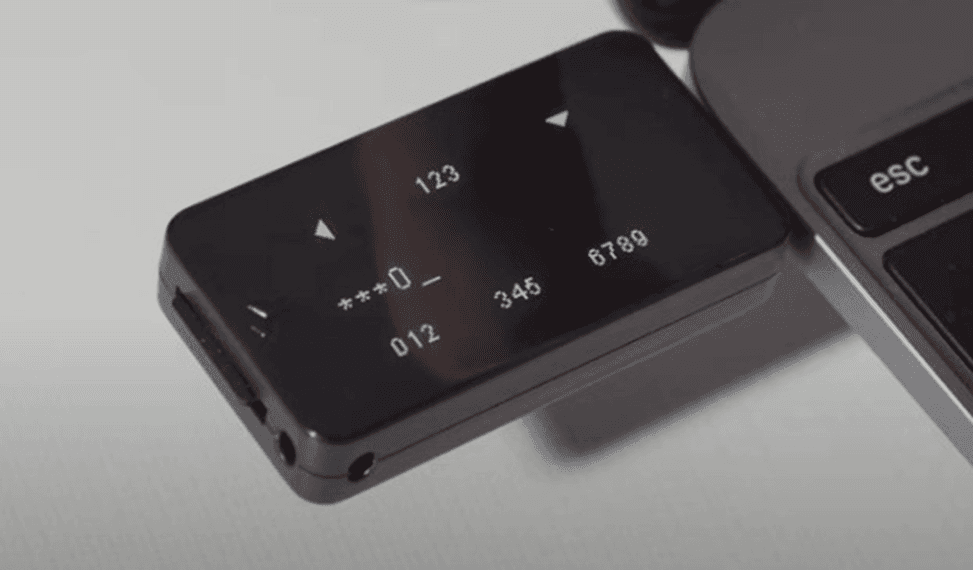 With the click of a button, you can quickly and easily navigate through the device and execute functions like setting up your profile, generating your private keys & BIP-39 mnemonic seed, and updating the device's firmware among other tasks you can perform.
Shift CryptoSecurity, the team behind BitBox02, adopted features from both Trezor and Ledger to create a defensively built hardware wallet capable of withstanding brute force attacks.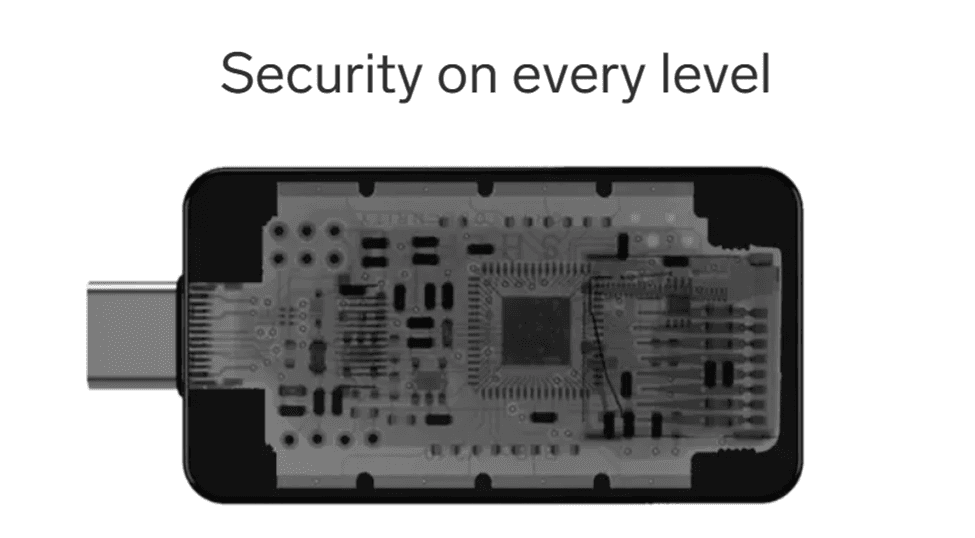 Let's take a look at the pros and cons of the BitBox02 wallet.
[table id=28 /]
Features and Accessibility
The BitBox02 has a simple but compact and damage-resistant appearance built-in MicroSD slot and USB-C connector, an OLED display (128 x 64 px), and capacitive touch sensors on the sides to interact with the device. The BitBox02 has no physical buttons.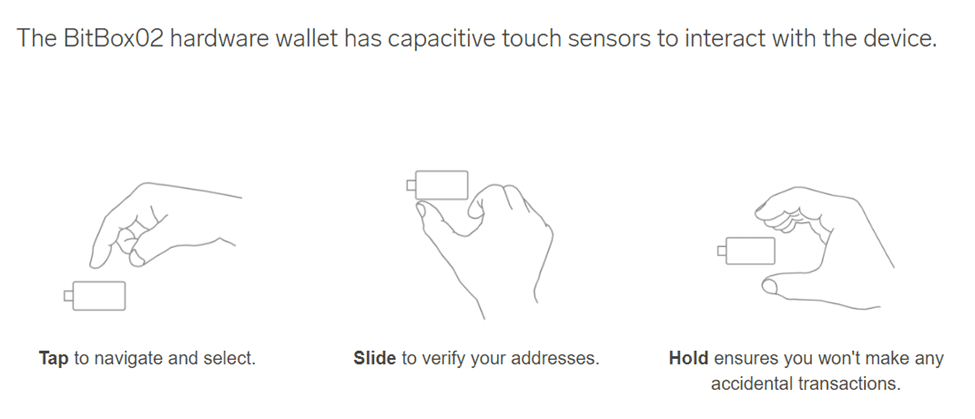 Even though it's almost entirely made of plastic material, it feels well made and resistant, weighing only 12g.
Backup and Restore feature
Backups are instantly made to a microSD card and can be managed from the desktop or mobile BitBoxApp.
Once you make the backup, you should store your MicroSD card separately from the device in a secured place. Then, you would only need it again to restore the backup.
For additional protection, you write down your 24 recovery phrase and keep them in a safe, offline place, separately from your device.
Native Desktop and Mobile Apps
BitBox02 Edition wallet app is available for download on macOS, Windows, Linux, and Android. Unfortunately, it's not supported on iOS.The app has an easy-to-use user interface.
Ledger Nano S PLUS
The Nano S PLUS is Ledger's third release from its Nano series, a line of pocket-sized hardware crypto wallets.
Ledger's Nano S PLUS has all of the features of the original Nano S but with a few upgrades, including support for NFT storage and management.
Additionally, the Nano S PLUS has built-in support for interacting with various DeFi (decentralized finance) apps and services.
Nano S PLUS wallet is an ideal option for people looking to manage crypto, NFTs, and other decentralized apps in one place.
Security features
The Nano S PLUS uses the same certified secure chip (CC EAL5+ chips) as the Nano X to protect users' assets. This chip employs state-of-the-art technology that guarantees high-level security and asset protection against phishing and other asset extraction schemes.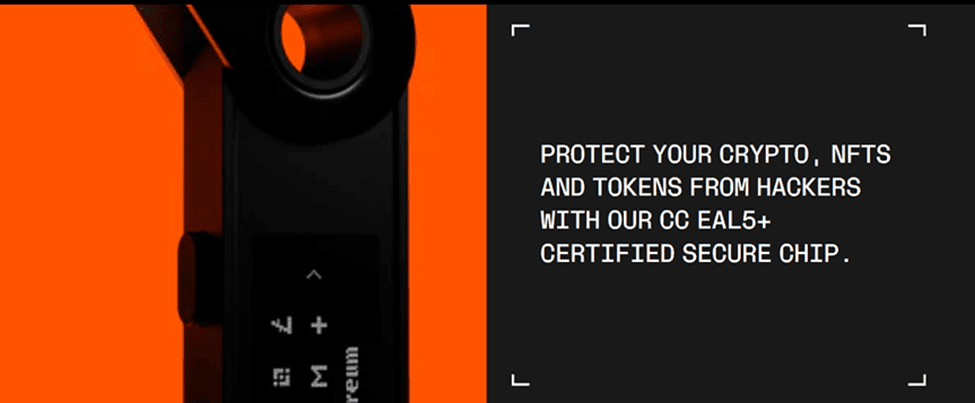 Additionally, the wallet has industry-standard security features, including a security phrase, PIN code locks, transaction confirmations, password encryption, and more.
Coin Support
The Nano S PLUS supports over 5,500 assets and can accommodate up to 100 different apps. Some supported assets include Bitcoin (BTC), Ethereum (ETH), ERC-20 tokens, Dogecoin (DOGE), XRP, BNB, Cardano (ADA), Polygon (MATIC), Litecoin (LTC), Tron (TRX).
But what is truly unique about the Nano S PLUS is that it is the first Ledger device to offer NFT support after which the same feature was introduced into the  Nano X .
Users of the Nano S PLUS can securely hold, send, and receive NFTs via the Ledger Live app. Ledger has made this process user-friendly, as owners can authenticate transactions right from the wallet's interface.
Users of the Nano S PLUS can also access several DeFi applications through the Ledger Live user interface. Anyone can securely buy, exchange, lend or stake crypto assets.
Let's examine the Pros and Cons of the Nano S PLUS…
[table id=21 /]
Verdict
The BitBox02 Edition wallet and the Ledger Nano S PLUS offer a lot of amazing features. Nevertheless, the Ledger Nano S PLUS offers more options in terms of NFT management and token compatibility.
Whereas, the BitBox02 is the best hardware wallet on the market for anyone new or early in their crypto journey as a result of its simple design and ease of use.
So if you are just starting as an investor, then the BitBox02 Edition is worth considering if NFT is not what you're considering now or in the future.
However, for experienced crypto investors with a heavily diversified range of crypto portfolios, the Ledger Nano S PLUS is perfect and it comes at a fair price with packed features.
Frequently Asked Questions (FAQs)
1. Who Should Buy a Ledger Nano S PLUS?
Users who want a wallet with multi-signature support
Users who own many coins
Users who want to hold NFTs
2. Is BitBox02 a safe hardware wallet?
To draw the line, we agree that BitBox02 is a secure hardware wallet that impresses with security features and ease of use, and is a great choice for your crypto funds.
What it lacks is the support for more currencies and third-party wallet integrations, but still offers a wide range of the biggest ones that you can store and hodl.
3. Is it worth getting a Ledger Nano S PLUS?
If you value your crypto assets a lot and you are looking for the best crypto wallet out there, then the Ledger Nano S PLUS is well worth every penny as it will safely secure your assets and much more.
4. What's in the Ledger Nano S PLUS Box?
The Nano S PLUS wallet comes with the following inside the box:
The Ledger Nano S PLUS hardware
A Type-C USB cable to connect the Ledger to a computer
An orange box with three notepads for the Secret Recovery Phrase
A purple box with the manual instructions
A key-holder chain with a Ledger logo
5. How do I set up my Ledger Nano A PLUS for the first time?
To set up the Ledger Nano S PLUS, you'll first need to navigate to Ledger's website on your computer and download the Ledger Live application, which will require you to set up a password.
Once you've done that, you'll need to connect your Ledger to your computer.
While Ledger Live provides a handy walkthrough for beginners, the bulk of the setup steps is performed on the device itself. First, you'll need to choose whether you're setting it up as a new device, or restoring it from a recovery phrase. Then, you'll need to set up a PIN.
To navigate through the menus, you use the two buttons on top of the device; clicking both buttons simultaneously selects the current option.
If you're setting the Nano S PLUS up as a new device, you'll be prompted to note down your 24-word recovery phrase, then verify each word in turn. This is a laborious, but necessary, process; technically speaking the 24-word phrase is your wallet; the Ledger device itself is just a means of accessing it.
As Ledger repeatedly tells you, that means if you lose your recovery phrase, you lose access to the funds in your wallet; Ledger has no way to help you.
For the same reason, you should never, ever share your recovery phrase with anyone, enter it into any apps or websites, take a photo of it, or save it to cloud storage. Anyone who has that 24 phrases has access to your wallet and all the funds in it.
Once your device is set up, you can connect to Ledger Live, where you'll be prompted to verify that it's a genuine Ledger device.
SEE ALSO: KeepKey Wallet Vs. Ledger Nano S Plus (Best Comparison)
SEE ALSO: Ledger Nano S PLUS Vs. Ledger Nano X (Best Comparison)
Final Thoughts
The BitBox02 Edition wallet and the Ledger Nano S PLUS are wallets that are very efficient in terms of quality, easy-to-use features, and security.
By going for the best wallets which are hardware wallets for your crypto assets, you are always guaranteed peace of mind from all forms of online or phishing attacks which is what those two wallets we reviewed today are offering.
Read More