Having a cryptocurrency portfolio means that you have invested in different types of cryptocurrencies. While this is a good thing, there is one important factor that needs to be taken note of, and that is tracking your cryptocurrency portfolio.
Now, in doing this, you would want to know the total value of your cryptocurrency investment over a given period.
Since the crypto market is volatile, there will always be corresponding changes to the value of your portfolio.  Price changes or fluctuations on individual coins your own will have a corresponding impact on your portfolio balance in real-time.
With Cryptocurrency portfolio trackers, you do not need to manually toggle through your excel spreadsheet anymore.
These new portfolio trackers were developed with smart and intelligent features that help investors have a holistic view of the valuation of their crypto-investment seamlessly.
The good part is that most of these tracking tools are free to use.
Key Takeaways
• TradingView and Yahoo! Finance are notable crypto portfolio tracking tools out there. These tools are versatile and robust, tracking stocks, currencies, precious metals, indices, and more.
• Portfolio tracking tools also have built-in artificially intelligent features that prompt investors if there is breaking news in the market requiring them to take action.
• Most portfolio trackers are free to use but offer some more features to their premium users.
SEE ALSO: 10 Best Crypto Signals on Telegram Free & Paid
SEE ALSO: Free Cryptocurrency Charts to Use
How to Track Your Cryptocurrency portfolio
As you begin to invest in more cryptocurrencies, you may find it difficult to keep track of the value of each currency. A cryptocurrency portfolio tracker indicates changes in your portfolio and allows you to know how much money you have at a glance.
A portfolio tracker is a must-have tool for both new and experienced cryptocurrency investors since they allow you to monitor price fluctuations any time of the day and track your investments over time.
If you keep your cryptocurrency in a hardware wallet for security reasons, a portfolio tracker is the best method to keep track of the value of that investment.
We have provided a list of cryptocurrency portfolio trackers to help you in your crypto investing journey:
1. TradingView
TradingView is an online web-based (browser-based) platform with a plethora of useful features.
It can be used to track and analyze prices for Forex pairs, equities, cryptocurrencies, commodities, and a variety of other tradable assets such as government bonds.
Although TradingView is primarily geared towards stock traders and crypto investors, it is a highly versatile platform that can be used by many types of traders, including Forex dealers.
If you are new to cryptocurrency or stock market investing, you should check out this portfolio tracker.
2. Yahoo! Finance
We are all aware that keeping track of one's portfolio is an essential component of investing in crypto, stocks, or any other investment.
Even long-term investors who purchase and hold must keep up with the news and trends that impact both investment securities and the whole market.
This not only enhances understanding of the securities but also provides insight on when to add to or lighten investments.
It also helps to identify market patterns and whether a security's movement is related to genuine firm performance or a tangential influence from broader market or industry news.
Using a monitoring tool, such as Yahoo! Finance, is arguably the simplest approach to monitoring portfolios, especially if an investor has multiple portfolios.
Yahoo! Finance allows users to connect their brokerage accounts, establish personalized portfolio measures, and, most significantly, consolidate their portfolios into one location.
SEE ALSO: Top 10 Best Cloud Mining Plans For New Miners
SEE ALSO: How to Cloud Mine Polygon MATIC
3. Achee
When it comes to keeping track of your investment performance, Achee is your go-to portfolio tracker.
You can monitor investment fees and the performance of your investment portfolio in your chosen currency, as well as analyze your profit or loss against a base currency.
You can also compare your portfolio performance to significant benchmarks and receive a portfolio health check as well as recommendations on how to enhance performance.
The application tracks and organizes all of your stocks, cryptocurrencies, fixed assets, and cash accounts with ease.
It includes approximately 170,000 stock tickers gathered from 70 global exchanges, including NASDAQ, NYSE, and others. You can also pick from over 7,000 cryptocurrencies as well as all of the world's main currencies.
In addition, Achee employs state-of-the-art encryption technology standards to safeguard your sensitive personal information.
4. CoinStats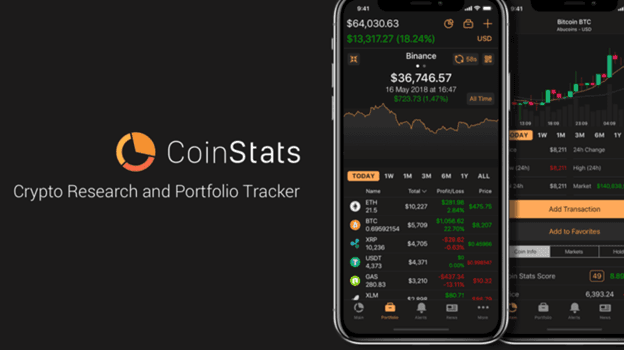 For managing and tracking a large portfolio of various crypto and DeFi assets, CoinStats is a clear choice.
You can link an infinite number of portfolios (wallets and exchanges) here, including Binance, MetaMask, Coinbase, and others.
On CoinStats, you can also monitor all of your cryptos, regardless of how many different exchanges or wallets you use, as well as swap directly from CoinStats DeFi Wallet to MetaMask, Trust Wallet, and so on.
If you are just getting started, CoinStats comes with a free version that is suitable for you. However, upgrading your plan is recommended if you want to make use of advanced features such as an infinite number of portfolios and in-depth analyses.
Finally, being able to see the big picture when it comes to your portfolio allows you to make smarter trading decisions, and using their DeFi wallet as your entrance to the crypto world is both secure and simple.
SEE ALSO: Best 7 Mining GPU Graphics Cards To Consider
SEE ALSO: 7 Best Cloud Mining Contracts for Lucrative Returns
5. Lunch Money
Lunch Money is designed for the modern spender, so it, of course, accepts cryptocurrencies.
Lunch Money can keep track of your portfolio regardless of whether you're an active Bitcoin trader or simply hanging onto some tokens in anticipation of a boom.
Connecting to a crypto exchange, wallet, protocol, or account via Lunch Money is as simple as it can be. You also get to have access to current balances in the principal currency that you prefer.
Lunch Money collaborates with Zabo to track cryptocurrency holdings through over 30 different integrations.
You can link your Lunch Money to any major cryptocurrency exchange, such as Coinbase, Kraken, or Binance.
You can also link to crypto wallets such as Metamask, TrustWallet, Trezor, and Ledger.
Frequently Asked Questions (FAQS)
Is there a portfolio tracker for stocks and crypto?
There is, indeed. Achee, for example, is a cryptocurrency and stock tracker that connects you to exchanges, wallets, and brokerages all around the world.
They support over 7,000 coins, 170,000 stock tickers, and over 750 stock indexes for tracking.
Are crypto portfolio trackers safe?
Crypto portfolio trackers are extremely secure. While many of them can be connected to your exchange accounts or non-custodial crypto wallets, you may restrict your crypto portfolio tracker's control over your crypto funds.
Final Thoughts
Crypto Portfolio trackers are very essential for every crypto investor out there who wants to keep track of their portfolio performance. This article has been able to make things easier by listing some of them and stating their unique features.
Read More