The University of Chicago's recent survey revealed that about 13% of Americans trade cryptocurrencies and as such, payment processing for goods and services through crypto is executed every minute.
With over 200k transactions in Bitcoin daily and over 1.1 million transactions on Ethereum per day (6 times more than Bitcoin), payment processing companies that have strategically positioned themselves early, are closing payment gaps fast and are on the verge of dominating the market.

Mastercard earlier partnered with 3 Asian crypto businesses to introduce a Bitcoin payment card. The three digital asset platforms include Hong Kong's crypto finance firm Amber Group, Thailand's crypto exchange Bitkub, and Australia's trading platform Coinjar.
The recently introduced Bitcoin payment card will enable users to transfer their virtual currencies into paper money (fiat) and convert Bitcoin into other cryptocurrencies.
Mastercard is taking this a step further with plans to introduce crypto-linked credit, debit, and prepaid cards for all its users residing in the Asia Pacific in partnership with the earlier mentioned digital asset platforms.
With these partnerships in place and more in the making, you may be curious about signing up or basically knowing which cryptocurrency payment processing company will meet your needs from a bucket list of many.
In this article, I will highlight the best cryptocurrency payment gateway processors that are worth your time and investment while considering fees and other features to look out for.
Crypto Payment Processors at a Glance
Key Takeaways
 • Transaction fees on payment processing typically start at 1% asides from a few that start at 0.5% (NOWSPayments).
 • Coinbase Commerce remains a top pick for mainstream brands, especially in the US market when it comes to payment processing integration.
 • Crypto & fiat support on these platforms are overwhelming with providers such as Coingate (which supports over 70 cryptos).
 • A user can integrate with a crypto payment gateway provider by accessing their developer API and offering a similar service to other users under their own brand name.
 • Many businesses such as ZenMarket have recorded an impressive boost in revenue by adopting crypto payment solutions.
1. Coinbase
Coinbase Commerce-based product features a powered-based tool to supercharge your crypto payments.
Coinbase Commerce is still one of the best and biggest crypto payment processors for Bitcoin-related business transactions. Its custom checkout and flexible invoice features make customer billing and invoicing seamless.
Another cool feature is that you can create custom workflows and experiences with transaction reporting tools for your accounting and reporting needs.
Merchants can start receiving crypto from their clients through any of Coinbase Commerce's flexible plans.
The flex plans are:
1. Self-managed (Manage your wallet and private keys).
2. Coinbase managed (Wallet and private keys are managed by Coinbase).
It is important to note that Coinbase guarantees returns of stolen funds under its Coinbase managed plan.
The transaction fee is 1% across all plans.
Coinbase is one of the payment gateways that provide maximum protection against inflationary pressures thanks to its fast payment conversion. Several well-known online businesses are well-integrated with Coinbase.
Coinbase Commerce can be integrated with WooCommerce and Shopify.
1. Currency conversion is automatic, free of settlements under the Coinbase managed plan.
2. Transaction fees are 1% across its two flexible plans.
3. Integrates with two popular eCommerce platforms (WooCommerce & Shopify).
4. Flexible plans (Self-managed or Coinbase wallet and private key management).
2. Bitpay
Bitpay, one of the world's most reliable crypto payment gateways, and was founded in 2011.
To get started with Bitpay and start accepting online payments, simply download the Bitpay app.
Bitpay transaction charges begin at 1%.
Bitpay has enabled Bitpay Contactless Payments for easy, simple crypto-to-fiat transactions.
The Bitpay processor incorporates open-source online shopping plugins together with other amazing functionalities such as the multifactor wallets that allow you to split payment authorization across 12 devices or trusted cosigners for enhanced security.
It further enhances these multi-user capabilities in over forty languages worldwide.
Bitpay partners with a few of the world's largest companies, as well as Amazon, Master Card, Delta, Bol.com, and a host of others.
Bitpay is extensively used as a cryptocurrency payment processor in most economically developed countries.
Bitpay supports payment processing on 10 platforms excluding Shopify.
Bitpay supports WooCommerce, Magento 1 & 2, WHMCS, OpenCart, PrestaShop, Drupal Commerce, Ubercart, Easy Digital Downloads, and ZenCart.

1. Bitpay secure assets with multi-sig and optional key encryption in BitPay's non-custodial wallet.
2. Well-developed open-source crypto payment processor backed by a flexible API tool.
3. Competitive pricing mechanism for buy, sell and swap transactions.
4. Allows for mass payouts and invoicing to clients.
5. Allows a broad number of stable coins and other tokens.
6. A robust merchant directory with a curated list of where to spend crypto.
7. Bitpay supports 10 CMS platforms except for Shopify.
3. CoinsPaid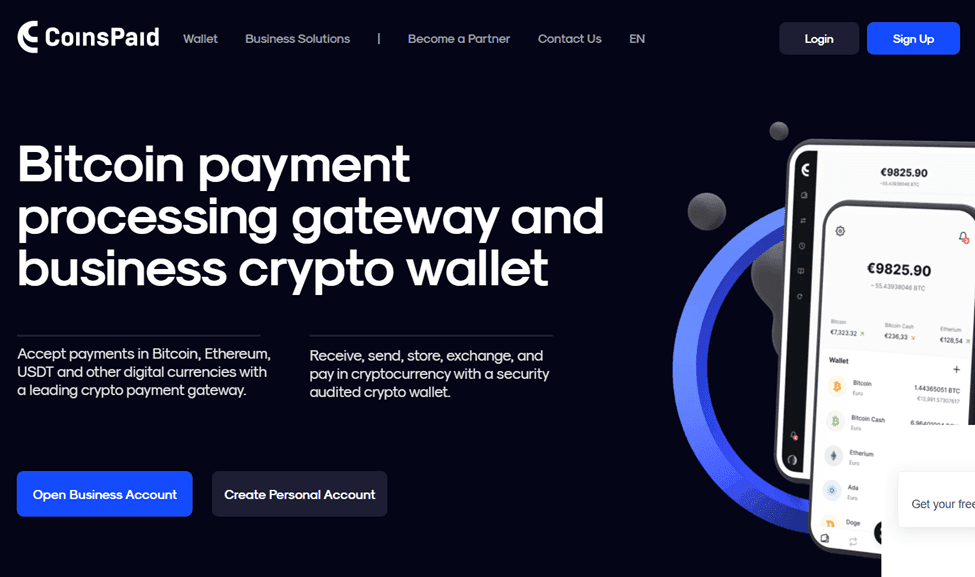 CoinsPaid is a reputable crypto payment gateway founded in 2014.
CoinsPaid presently handles 7% of all on-chain (transactions recorded on a blockchain that cannot be altered) Bitcoin transactions.
Another cool feature is that you can receive a crypto payment processor under your own brand out of the box within a month
With over thirty cryptocurrencies supported on its platform, it also supports 20+ fiat currencies accessible for storage and payments (like USD, GBP, EUR, AUD, JPY, CAD).
One other attribute of CoinsPaid is that it makes some currency accessible for withdrawal straight to your bank account (this has given it an edge and listed it as a top payment gateway).
Also, CoinsPaid commissions begin from 0.8% compared to Coinbase that starts at 1%.  Despite its lower fee, users can get extra discounts that may lower commissions right down to 0.4% when you use the CPD token option.
CoinsPaid has also received several nominations for AIBC awards as payment provider of the year.
1. Lower transaction fees starting at 0.8% compared to Coinbase and Bitpay (starting at 1%).
2. Accept payments in Bitcoin, Ethereum, USDT, and other digital currencies with CoinsPaid crypto payment gateway.
3. 20+ fiat currencies available for payments, receipts, and storage
4. Can become a crypto payment processor under your brand name.
4. Coingate
Coingate has emerged as another sturdy threat to win the title of "Best cryptocurrency payment gateway in 2021" owing to its tailormade solutions for every one of its users.
One cool feature on Coingate is that you can list your crypto asset on payment gateway and it will appear on your invoice when next a customer visits one of its merchants.
To enjoy Coingate's offerings more, all you need to do is to set up cryptocurrency payments infrastructure, track orders and manage your cryptocurrency earnings all in one place.
You also have access to a fully integrated and versatile platform that allows you to accept bitcoin and other major cryptocurrency payments
Sellers in Coingate can currently settle for cryptocurrencies aside from Bitcoin which makes countries like Japan, and Brazil has wide financial systems that list them among countries that use the Coingate service.
For multiple transactions, Coingate charges a 1% service fee.
Coingate supports payment in more obscure coins, and it also integrates with a large number of eCommerce platforms.
1. Over 70+ supported crypto on Coingate.
2. Most of its amazing features can be accessed in one place making it user-friendly.
3. Coingate is flexible and easy to use making it beginner-friendly.
5. NOWPayments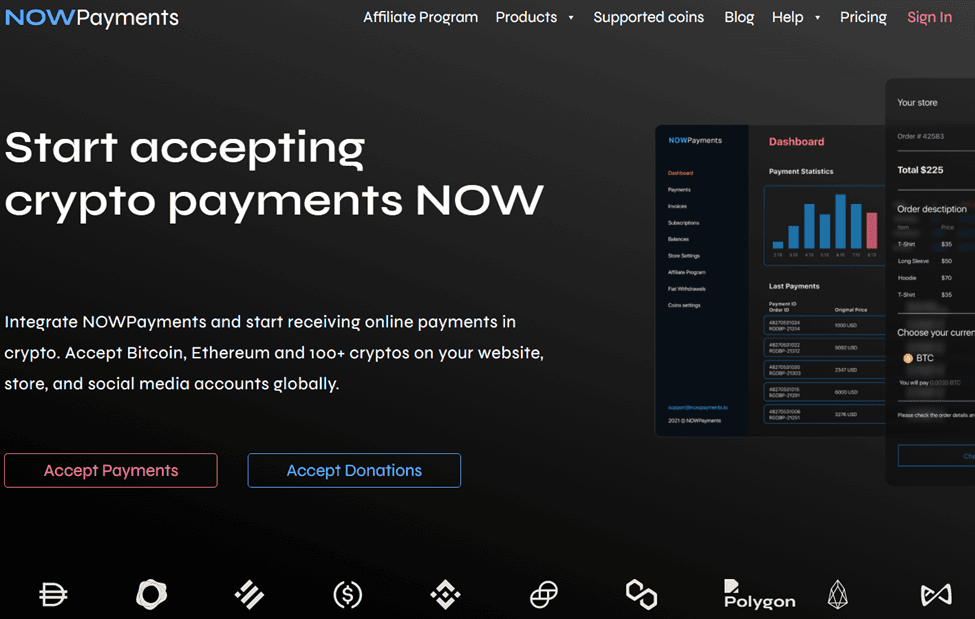 With MasterCard transaction fees rising, several businesses are trying to find ways to reduce costs to the nearest minimum.
NOWPayments is listed among the top platforms with lower transaction fees out there, provided you don't mind getting settled in the same currency you got paid. NOWPayments is a straightforward crypto gateway that can process over 100 different coins and tokens.
Transaction fees begin at 0.5% compared to CoinsPain which starts at 0.8%. Interestingly, there can be a decrease along with your monthly sales volume (measured in BTC).
There's an extra 0.5% if you wish to settle in a completely different currency than what you received. A specific exchange rate choice to defend you from volatility raises the bottom line fee to 1%.
It also enables payment in more obscure coins, fully incorporating many eCommerce platforms and low fees for simple transactions.
1. Relatively lower fees of 0.5% compared to CoinsPaid of 0.8% and 1.0% of Coinbase and Bitpay.
2. Supports a wide variety of coins and tokens (over 100+)
3. Plugins available for several eCommerce sites with WooCommerce being have the higher user download and activation.
Final Thoughts
A detailed analysis of all the above-listed payment gateways makes for a proper understanding of the factors that make one gateway superior, from simplicity to the fees and what have you.
For us, we think Coinbase towers above all in terms of reputation and long-standing history. If cost is what you're considering NOWPayments offers half of Coinbase fees.
However, all payment gateways are good in their respective ways but you have to diligently choose one that is reliable and has lower fees just like the payment gateways earlier mentioned.
Read More