Efficient crypto trading is having the ability to convert fiat-to-crypto and crypto-to-crypto in real-time as prices of currency move quickly.
What if you were offered a converter on your preferred exchange to make quick conversions and place a trade on the spot or make that payment instantly.
A few exchanges such as Paybis and Changelly have such provisions to enable visitors to make quick conversions even without signing up. You only get to sign up when transferring funds from one exchange to the other or a third-party wallet. While for some, you must create an account first before having access to the cryptocurrency converter.
In this article, I will walk you through six of the best cryptocurrency converters in the crypto market.
Key Takeaways
• You will need to open an account with Coinbase and provide an ID validation if you want to make use of their cryptocurrency converter.
• Coinmama charges commission fees whenever you decide to convert your cryptocurrency to fiat on the platform.
• Binance offers you the ability to convert one cryptocurrency to another at zero fees and zero slippages without any hassle.
• Crypto converters are one of the most important crypto tools for crypto traders and investors alike looking to either convert their crypto to fiat or other cryptocurrencies.
Let us take a look at them in detail.
Best Cryptocurrency Converters
1. Paybis

Paybis is an online cryptocurrency platform that provides a broad range of crypto services including crypto conversion.
The platform provides crypto calculators for various cryptocurrencies ranging from Bitcoin to Ethereum, Litecoin, Stellar, Bitcoin Cash, and so on.
With these crypto calculators, you can easily convert any supported cryptocurrencies on Paybis to any fiat of your choice.
Why you should make use of the Paybis Crypto Calculator
The Paybis crypto calculator features a simple, intuitive interface, which makes it ideal for beginners, yet powerful enough for advanced users.
It is constantly updated with the latest crypto rates. 
It includes more than 45 local currencies. Not only does it work as a crypto to USD calculator, but it also covers everything from AED to ZAR.
When you find a great deal, you can buy crypto straight from the Paybis platform.
Apart from the crypto conversion feature, Paybis also offers other amazing services such as its very own crypto wallet where you can preserve your crypto assets if you do not want to get an external hardware wallet, crypto prices, charts, and much more.
2. Changelly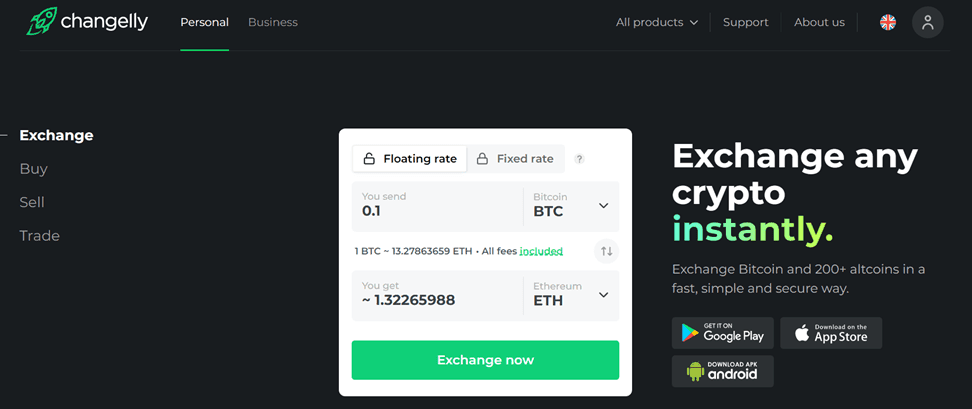 Changelly is a crypto exchange platform where investors can easily convert their cryptocurrencies. Its mission as stated on its platform is to provide an ecosystem of products and services that allows customers to have a one-stop-shop experience for purchasing, selling, swapping, and trading cryptocurrencies.
Since 2015, Changelly has been providing an intuitive platform for fast crypto exchanges. Driven by the goal of bringing the day of mass adoption closer, Changelly is continuously developing to offer its users a flawless experience and new services.
As an investor interested in converting cryptocurrencies, Changelly can help you achieve this in four easy steps as shown below:
Step 1: Choose the crypto you would like to convert
Here you would have to select the cryptocurrency you would like to convert. When using Changelly, you can convert crypto assets at either fixed or floating rates.
Step 2: Enter your crypto wallet address
You will have to enter the cryptocurrency address where your converted cryptocurrency will be sent.
Step 3: Create an account in just a few clicks
Simply sign up/log in to your Changelly account to track the transaction details. You can also register with either your Facebook/Twitter/Google account or your email address.
Step 4: Receive your crypto
The converted cryptocurrency will arrive in your crypto wallet within a few minutes.
You can also make use of the Changelly widget below.
<iframe width="100%" height="500%" frameborder='none' src="https://widget.changelly.com?from=btc&to=eth&amount=1&address=&fromDefault=btc&toDefault=eth&theme=default&merchant_id=i8chimpg2t8i3s3v&payment_id=&v=3″>Can't load widget</iframe>
3. Coinbase

Coinbase is one of the largest crypto exchanges in the crypto market. It boasts over 89 million verified users and supports over 500 cryptocurrencies and is supported in over 100 countries.
If you are looking to convert cryptocurrencies on Coinbase, you will need to sign up on the platform and then click on the buy/sell option at the top right corner, then you will be asked to verify your ID after which you can then click on the convert option and proceed to convert your favorite cryptocurrencies.
Apart from crypto conversion, Coinbase also offers other amazing features such as crypto gifts where you can gift crypto to your friends and family, Coinbase Earn, crypto tutorials for beginners, and much more.
Coinbase also has its crypto wallet where you can preserve your cryptocurrencies if you do not wish to get an external hardware wallet.
4. CoinMarketCap

CoinMarketCap is one of the best platforms for all things cryptocurrencies and that includes crypto conversions. On CoinMarketCap, you can easily convert not just major cryptocurrencies, but also fiat currencies and precious metals.
To add to that, you also get to convert your cryptocurrencies to almost any fiat currency and you get the latest rates while being able to save the conversion for future references.
Apart from crypto conversions, CoinMarketCap provides a portmanteau of other services such as NFT top collections, biggest gainers and losers in the crypto and stock market, and even crypto airdrops.
Finally, if you are looking to find out more about the prices of cryptocurrencies as well as their latest market performances, and the newest entries, CoinMarketCap is the best place to go.
5. Binance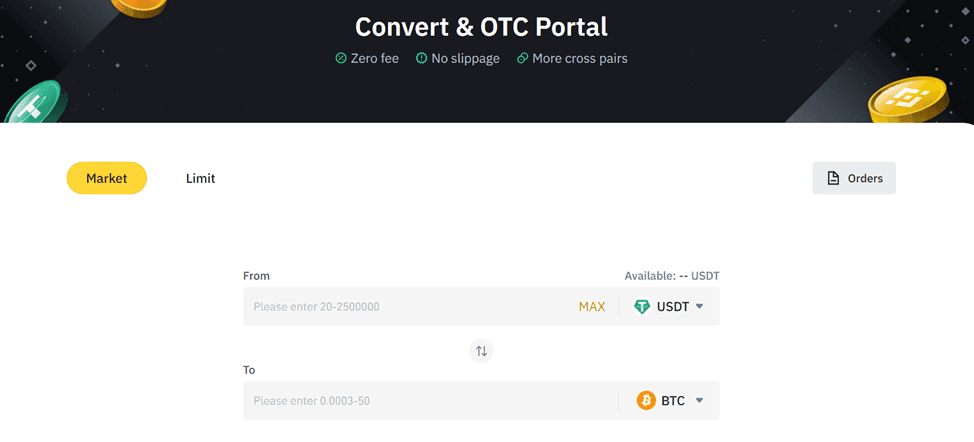 Binance is the largest crypto exchange platform by market volume in the crypto market. On Binance, everything you could ask for as regards cryptocurrencies are made available for you.
Binance provides you with an over-the-counter crypto conversion where you can convert one cryptocurrency to another at zero fees, and zero slippages.
In addition to crypto conversions, Binance also provides other amazing crypto services such as crypto loans, NFTs, Binance pools, yield farming, etc.
If you are looking to learn more about crypto trading or you are looking for a strategy to utilize, Binance has got you covered as it offers strategy trading and margin trading which shows you trading strategies using proper chart analysis.
Lastly, Binance offers a crypto savings account where you can save your cryptocurrencies seamlessly without worries similar to your traditional fiat savings account.
6. Coinmama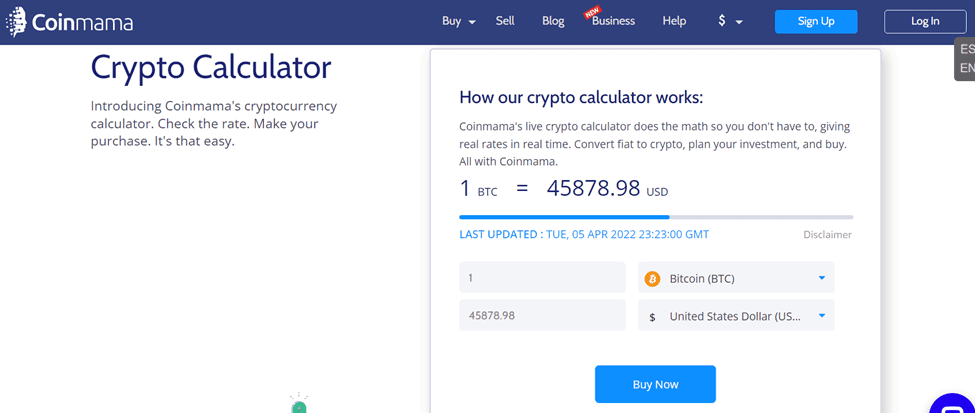 Coinmama is another crypto-based platform where investors can buy and sell cryptocurrencies at the click of a button.
If you are looking to convert cryptocurrencies to fiat on Coinmama, you will have to make use of the crypto calculator on the platform. This calculator does all the math for you given the real rates so you don't have to do too much.
You will also need to pay a fee as commission on Coinmama while converting your crypto.
This platform is one I recommend because of its easy-to-use interface and how seamless converting your crypto is on the platform.
All you simply need to do is to check the rate, make your purchase, and you are done. It is as easy as that.
In addition to that, Coinmama also provides other features such as multiple payment options, fast track verification, high spending limits, and so on.
If you are looking to make use of this platform then you should check these features out.
Frequently Asked Questions (FAQs)
What cryptocurrencies does Changelly support?
Changelly currently supports over 200 cryptocurrencies that are available for instant crypto exchange and purchase at the best execution prices. Since the crypto market is developing rapidly, they are continually building up the list of crypto assets, so you can exchange, sell, and buy new digital currencies within minutes. 
What are the fees charged by Coinmama for crypto conversion?
Coinmama charges a commission of up to 3.9% on buy transactions and up to 0.9% on sell transactions so if you want to convert your cryptocurrencies to fiat on Coinmama, your payable fees should fall within this range.
Final Thoughts
Crypto converters are excellent tools for crypto investors as it helps them to keep abreast of the current crypto rates and it is also useful when it comes to trading one crypto for another especially when investors receive information about a particular cryptocurrency with better prospects for making profits.
Read More