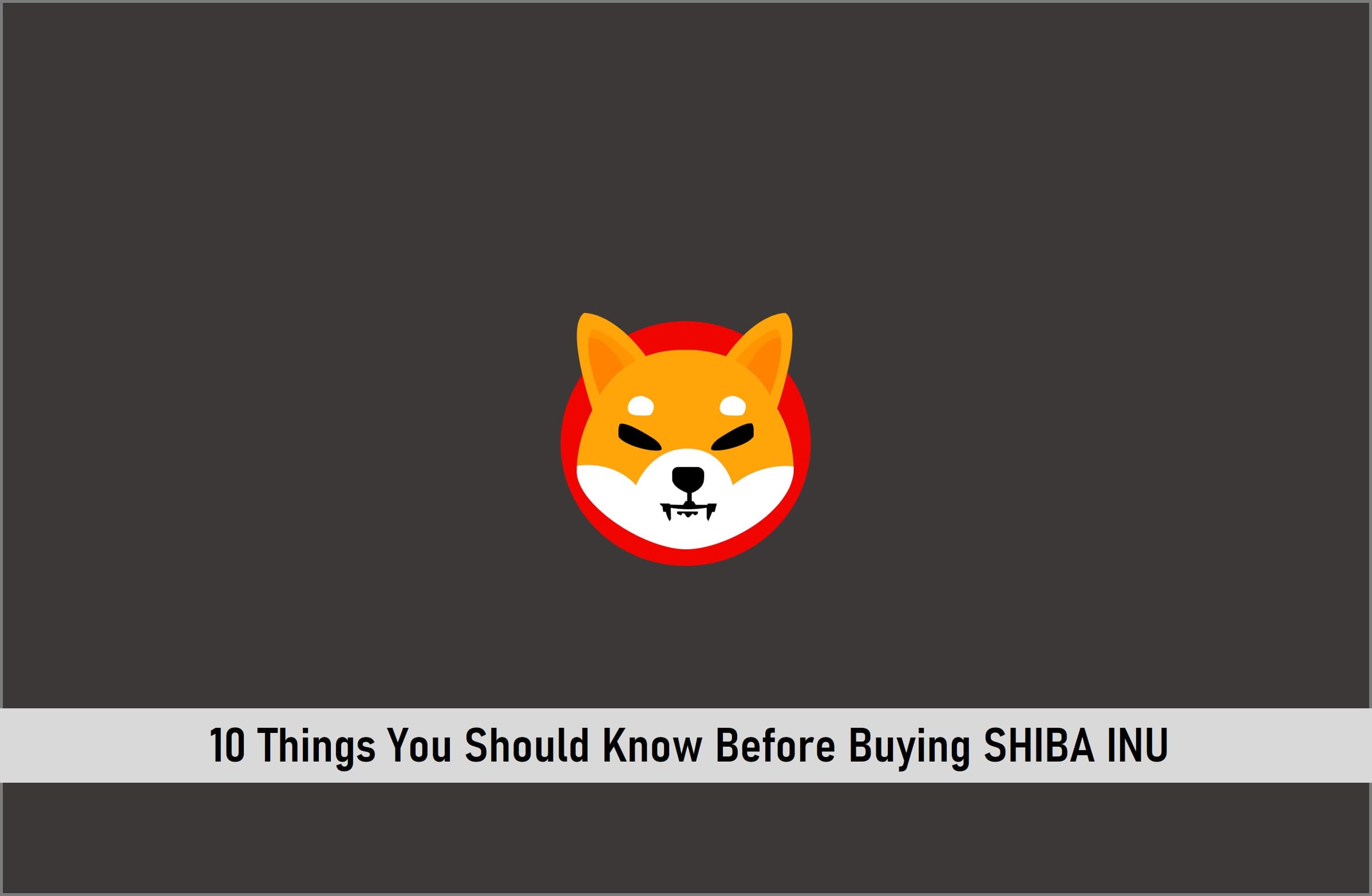 Getting Started with Shiba Inu
Shiba Inu is one of the cryptocurrencies making headlines with lots of positive investors' sentiments towards the token. Shiba Inu SHIB was created in August 2020.
Starting from fractions of a cent ($0.000006) on June 22, 2021, to a high of $0.000079 on October 27, 2021. The SHIB shows great potential and is geared towards offering investors appreciable returns depending on investors' price entry point.
A few analysts have predicted more upside for the SHIB in 2022. An article written by Sean William for Fool.com online mag suggests an additional increase of 2,100,000% to hit $1.
The creator of the Shiba Inu token, Ryoshi had spoken confidently that the SHIB is poised to be the Dogecoin killer.
Nonetheless, some think that the cryptocurrency was created merely as a joke and that it does not have any potential going forward, while others believe quite the opposite.
In this article, I will highlight 9 key things you should know before deciding to buy the Shiba Inu token.
Key Takeaways
• Shiba Inu has been predicted by investors and analysts to hit $1, performing favorably well in 2022.
• Shibarium blockchain is set to house the SHIB as its native cryptocurrency with the intention of serving a layer-2 solution.
• ShibaSwap is Shiba Inu's decentralized cryptocurrency exchange, where investors can exchange Shiba Inu for other cryptocurrencies.
SEE ALSO: 7 Best Places to Buy Shiba Inu Coin
SEE ALSO: How To Store Shiba Inu On Ledger Nano Wallet
SEE ALSO: How to Mine Shiba Inu on UnMineable
Let's get to the 9 things you should know before purchasing the Shiba Inu coin:
1. Shiba Inu Coin is a Meme Token
Shiba Inu coins, according to its website, are cryptocurrency meme tokens that allow users to possess billions of them.
ShibaSwap, the company's own decentralized exchange, is responsible for listing and managing these coins.
According to the Shiba website, it has locked 50% of its total supply to Uniswap, with the remainder given to Ethereum inventor Vitalik Buterin.
The tokens depict the same Shiba Inu dog as Dogecoin, which has lately become very popular.
2. In 6 months, the Value of the Shiba Inu Coin Surged Exponentially
The value of the SHIB surged just within 6 months from $0.000006 to a high of $0.000079. This surge pulled in massive investors' interest, The token's price has however simmered but with lots of optimism from investors in the coming year 2022.
Below is the price history of Shiba Inu SHIB (Chart Interactive)
[mcrypto id="7157″]
The value of Shiba, on the other hand, has increased by more than 1,216%  since June this year, which is very impressive, especially for investors who held the coin during this period.
3. Investors Believe that the Price of Shiba Inu Will Hit $1 in 2022
Because of the volatility of cryptocurrencies, it's challenging to predict exactly how the price of Shiba Inu will trend in the coming year.
On May 11, the token reached its previous high of $0.00003641, indicating that it has risen since then.
The token has benefited from a fortunate trend as more investors are looking towards investing in crypto and are optimistic about it.
For example, the cryptocurrency website Wallet Investor predicted that the value will reach $0.000053 in the coming year 2022.
The Coin Price Forecast also predicted that Shiba Inu will hit a price record of $0.00008819 by mid-June or July of the next year 2022.
4. Shiba Inu to Mimic Dogecoin's Success
Many investors believe that the Shiba Inu token was created to compete with Dogecoin.
This, however, has some truth in it as a further look at the token suggests that it has the same dog symbol similar to that of the Dogecoin and is trying to mimic Dogecoin's success by converting a token that was seen as a joke into a money-making machine.
According to the Shiba token website, the price of Shiba might be less than a cent, but it may still outperform Dogecoin in a reasonable short period.
5. The Shiba Inu Community believes there is more to the token.
Shiba Inu advocates believe that its ecosystem, which includes smart contract capabilities, NFTs, or nonfungible tokens, and liquidity mining options, to mention a few, provides benefits beyond the community.
However, most altcoins can be exceedingly unpredictable, with SHIB being no exception. The irony sometimes is that these hyped tokens may not have any intrinsic financial value.
Hence, investors who jump in with the bandwagon may end up being misled, leading to huge financial losses. Due diligence and proper risk management should be applied.
SEE ALSO: What is Shiba Inu SHIB Backed By?
SEE ALSO: 6 Best Digital Wallets For Shiba Inu for Safe Keeping
6. ShibaSwap and Binance are Decentralized Exchanges for Shiba Inu
Shiba Inu currency is denoted by the sign SHIB on coin exchanges. Binance recently began offering the SHIB token for trading on its platform, which is a significant development given that the platform is home to several well-known cryptocurrencies.
Binance, however, informed its customers that Shiba Inu is a volatile currency with the potential for losses due to intense price fluctuations.
ShibaSwap is Shiba Inu's decentralized cryptocurrency exchange, where investors can exchange Shiba Inu for other cryptocurrencies.
Holders of cryptocurrency describe it as a "secure location to swap your precious crypto while being decentralized."
ShibaSwap is undergoing security tests, audits, and final modifications to ensure a secure launch.
On this non-custodial platform, network participants will be able to swap their tokens directly from their wallets with other ERC-20 compliant tokens.
Non-custodial exchanges are frequently more secure than centralized exchanges since they do not keep large amounts of crypto to lure hackers.
7. Shiba Inu's Whitepaper
Shiba Inu, built on the trusted Ethereum blockchain, isn't all that different from other cryptocurrencies.
Ryoshi, the Shiba Inu's inventor, established that the token is not just a fun project, but also an experiment to build a cryptocurrency utilizing a completely decentralized and spontaneous community.
8. Shiba Inu's Motivations Differ from Other Cryptocurrencies
Although Shiba Inu Coin was designed as a community-building experiment as well as a parody of Dogecoin, some of the decisions taken by its decentralized team of developers indicate that the cryptocurrency has the potential to become a viable investment commodity in its own right.
One of the initial decisions taken by the Shiba Inu team was to offer Vitalik Buterin, the inventor of Ethereum, half of the tokens accessible during the launch.
This may appear to have been a weird move, but the team thought that by doing so, they might avoid huge sums of the crypto from being held by a few wealthy investors, which could have hampered its future potential as a token of value.
Secondly, Shiba Inu was designed to give its investors more earning possibilities from the start.
The Shiba Inu project's goal was to develop an ERC-20 token and accompanying ecosystem at such a low cost that anyone could hold millions of tokens while they were still undervalued. So far, the approach appears to be working well.
9. 10% of Shiba Inu was Donated to the Indian COVID-19 Relief Fund
Etherum co-founder Vitalik Buterin received around half of the first pool of coins upon debut.
This was an unusual decision by the creators, who had assumed that Buterin would keep the coins for a long time.
Buterin ended up donating 10% of the tokens to an Indian COVID-19 relief fund and burnt the remaining 90%.
10. Shibarium is Shiba Inu's blockchain
Ryoshi proposed the Shibarium blockchain which is set to house the SHIB as its native cryptocurrency with the intentions of serving a layer-2 solution. Shytoshi Kusama said in October that the Shibarium blockchain was in the works.
As of the time of writing this article, the official release date of Shibarium is not yet known but it is expected that crypto investors will get to find out soonest.
Ryoshi said that the Shibarium development will most certainly accelerate in the next few months, according to Shytoshi, who stated, "Shibarium is progressing along nicely, but attention won't be on it until after Shiboshi's arrival."
Frequently Asked Questions (FAQs)
Why was Shiba Inu in the News in October 2021?
Shiba Inu was in the news in October 2021 because it skyrocketed to astonishing new heights, placing it in the top ten cryptocurrencies.
Is Shiba Inu a Risky Investment?
Yes, Shiba Inu is a high-risk, speculative investment. Cryptocurrencies can be highly volatile, and Shib's recent increases may render it vulnerable to a subsequent fall.
Final Thoughts
Shiba Inu is one crypto that has managed to pull out a surprise feather in the crypto space as it took the media by storm this year. Investors are still optimistic that it will gain more and possibly hit $1 in the next few months.
Read More