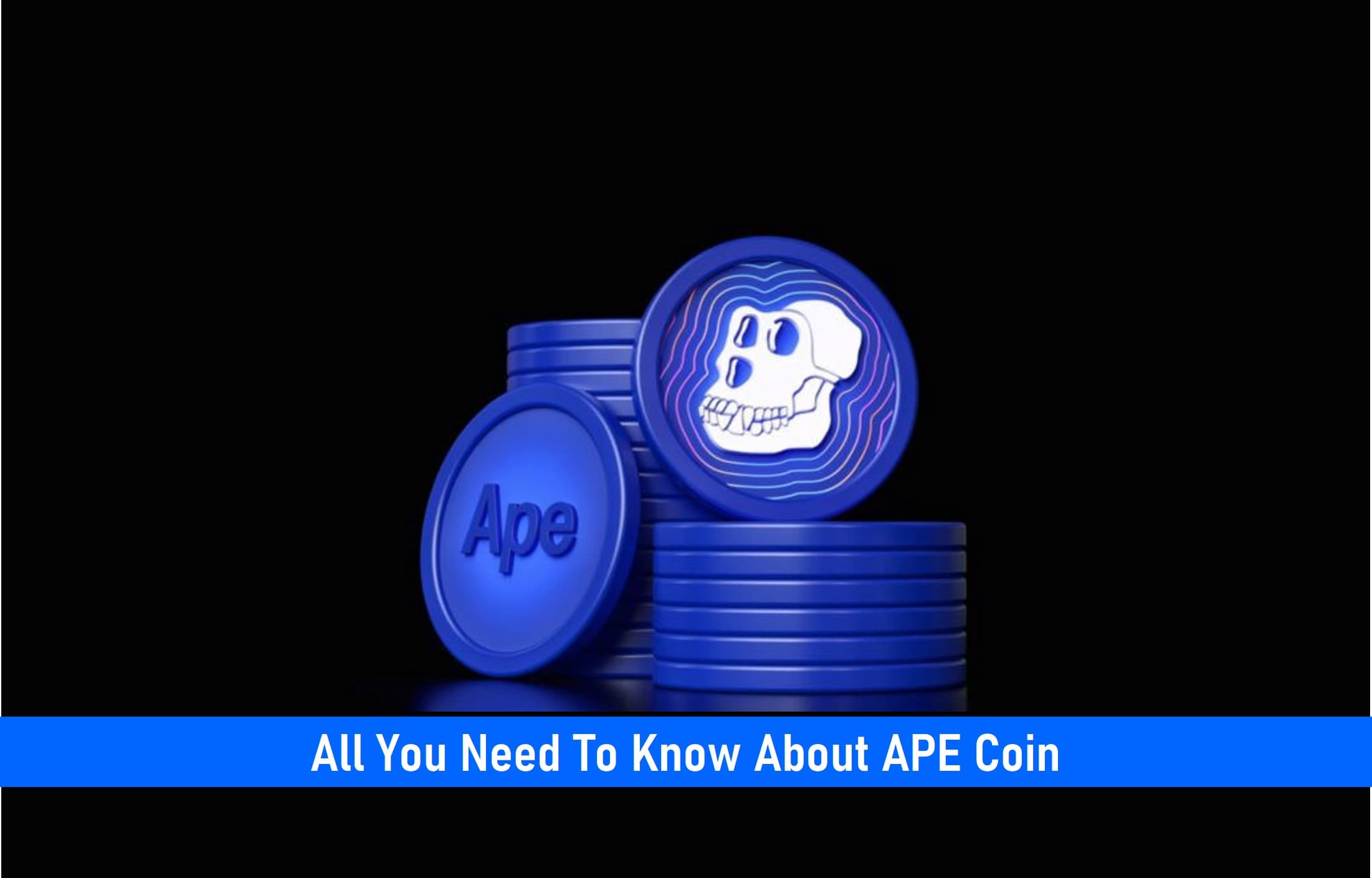 The Bored Ape Yacht Club (BAYC) and the associated NFT collections have turned into one of the most widely-discussed topics of 2021, and the buzz doesn't seem to fade in 2022.
According to reports, members of the Bored Ape Yacht Club NFT collection are highly involved in the new crypto in town. Do you remember the NFTs bought by Justin Bieber and Stephen Curry? The creators of those NFTs had an innovative idea for the owners of their collections.
Something that the team had hinted at a few months back was the creation of a native cryptocurrency – APE coin – that would power the entire ecosystem. Now, this has become a reality.
In this article, we're taking a detailed look into the much-anticipated APE coin by Yuga Labs – the creators of the Bored Ape Yacht Club – and everything you should know about it.
Key Takeaways
• ApeCoin is known to be used within the APE ecosystem to incentivize as well as empower an entire decentralized community building at the forefront of Web3.
• ApeCoin holders are said to govern themselves with the help of the decentralized governance framework controlling the ApeCoin DAO (decentralized autonomous organization).
• ApeCoin is a decentralized project that is known to have been inspired by Yuga Labs' Bored Ape Yacht Club project
• APE is the native utility token of the ApeCoin platform, which as a matter of fact can easily be used for a variety of purposes on the platform itself.
• The total supply of ApeCoin is permanently fixed at about a billion tokens, all minted at once.
 • The ApeCoin DAO members form what the project calls, "The Board."
What Is APE Token?
The official ApeCoin token (APE) will serve as the utility token for the APE ecosystem, with a focus on strengthening the BAYC community.
A utility token is a token that allows users to execute actions or initiate initiatives on a certain network. APE effectively provides its users with money that may be used without the requirement of a centralized intermediary.
The Ape Token is an ERC-20 token, which is a sort of Ethereum blockchain-based bespoke cryptocurrency.
As an ERC-20 token, APE can be used in four main ways:
1. Incentivization: ApeCoin is a means for third-party developers to participate in the ecosystem by integrating APE into games, projects, and other services.
For example, APE Token is accepted in the Benji Bananas game by Animoca Brands. For 25 ApeCoins, you can buy a Benji Bananas Membership Pass, which allows you to earn an in-game token that can be swapped for APE.
2. Access: APE Token will function as a gating token, providing limited access to certain parts of the ecosystem such as exclusive events, games, and merchandise.
3. Unification of Spend: ApeCoin is the utility token of the APE ecosystem, meaning that it can be used to purchase products and services such as play-to-earn games that BAYC is developing.
4. Governance: ApeCoin is the governance token of the ApeCoin DAO, enabling holders of the token to vote on governance decisions within the DAO.
Apecoin Price History
[mcrypto id="10866″]

ApeCoin is currently listed in the top 25 cryptocurrencies by market capitalization and has gained over 50% in the previous weeks. The notion that the "Otherside" metaverse land sale will take place in APE has fueled this huge expansion. Yuga Labs'
The Otherside is a new NFT metaverse project planned to launch on April 30th for an unknown price of 300 APE.
ApeCoin Competition
ApeCoin can be classified as a fungible token investment into the non-fungible token (NFT) ecosystem. According to CoinGecko, ApeCoin is ranked eighth in the top NFT coins by market capitalization.
The biggest competitors to ApeCoin in the NFT and metaverse space are Axie Infinity, Decentraland, and The Sandbox, the top three leaders in the NFT niche of the cryptocurrency market.
Since ApeCoin is fairly new, Axie Infinity, Decentraland, and The Sandbox benefit from a significant first-mover advantage. ApeCoin will need to work harder to gain market share and match its already existing competitors in terms of scale and partnerships.
For example, BAYC co-founder Wylie Aronow stated that the goal is to create an interoperable world that is decentralized and gamified. However, ApeCoin has to compete with The Sandbox –– a gamified metaverse project that has already issued its second Alpha Pass, conducted virtual land sales and possesses partnerships with The Walking Dead, Adidas, and Atari.
However, despite the lack of a first-mover advantage, a key competitive advantage ApeCoin possesses is its association with Yuga Labs, arguably the most influential presence in the NFT space. As a result, ApeCoin benefits from all the social capital associated with the Bored Ape Yacht Club, and all other projects in the Yuga Labs ecosystem.
Frequently Asked Questions(FAQs)
How Do I Buy ApeCoin?
APE is already listed and trading on major exchanges such as Binance, Coinbase, FTX, Kucoin, Gemini, etc. These top exchanges have enough liquidity for retail traders to invest in the token.
What Are The Best Exchanges To Buy ApeCoin?
There are a few options accessible right now if you only want to buy APE. Many exchanges are planning to support APE, and DeFi swaps are one way to get it. Right now, you can purchase APE on any of the following exchanges:
1. Binance
2. Coinbase
3. FTX
4. Kucoin
5. Gemini
What Are The Best Hardware Wallets For ApeCoin?
As ApeCoin is an ERC-20 token, it's better to store them on hardware wallets because they store your keys offline, keeping your funds safe from online hackers.
Software wallets are great for everyday use while hardware wallets would store the majority of your funds you don't plan to sell in the short term.
Some of the best hardware and software wallets for your Apecoin include:
3. CoinKite
4. Metamask
5. Trustwallet etc.
What is the Cryptocurrency Market Outlook?
Looking ahead, Bitcoin bulls aim for $45,000; however, some analysts warn about the formation of a bearish flag that could lead to a further price correction.
If a correction occurs, the entire cryptocurrency market could continue to fluctuate within this short-term sideways channel that the market has been consolidating for a while.
This trend is expected given the continuously unclear macroeconomic conditions influencing cryptocurrency that make it impossible to precisely predict the direction of the market in the short term.
Is ApeCoin a Good Investment?
In summary, ApeCoin is a high-risk investment that has the potential to provide astronomical returns. In the short term, there is likely to be extremely high volatility due to speculation that Yuga Lab's "Otherside" virtual land sale will be priced in APE.
As a result, a prudent investor may wait for ApeCoin to stabilize before entering if high volatility persists.
Nonetheless, given BAYC's popularity and high demand from price-insensitive investors such as athletes and celebrities, it is reasonable to assume that demand for APE will grow among investors if the BAYC ecosystem continues to successfully develop.
If you believe that the BAYC ecosystem and Yuga Labs can thrive and outperform competitors in the future, ApeCoin could be a lucrative method to profit from the ecosystem's increasing value.
Final Thoughts
ApeCoin is a speculative crypto asset that in its current form – is largely being driven by hype.
The question is whether YugaLabs and BAYC will be able to maintain their momentum. The answer is most likely yes, based on their previous experience with BAYC, but only time will tell.
If you're considering investing in "ApeCoins," now might be a perfect time.
Read More