With your seed phrase, you can access the contents of your wallet at any time from anywhere, making them the ultimate backup for any crypto wallet.
While your crypto wallet can get damaged (for hardware wallets) or deleted (for software wallets), you can rest assured that you can always have access to your crypto assets regardless.
The recovery seed phrase is a long combination of words and it is always advised, while setting up your crypto wallet, to copy it down in a safe and secure location away from public eyes.
It is a common practice to write them on recovery sheets, usually provided by most wallet providers, as this keeps them offline. But these are not reliable and you could lose your seed phrase and crypto assets as well since the paper is easily damaged.
For the best secure backup of your crypto wallets, the backup has to be able to survive any possible accident, like fire, water, etc. This means you need to record your recovery seed phrase in an indestructible place.
We have researched to bring you the list of the best crypto seed backup tools you can find in the market to back up your BTC and Altcoins. This article will help you make a good pick on the crypto seed backup that will be best for you.
Crypto Seed Backup Tools, What Are They?
Crypto seed backup tools are physical devices that store the recovery seed phrase of a crypto wallet. They are simple mechanical devices made entirely of strong indestructible metals such as stainless steel and Titanium.
The seed phrase is engraved on them or pieces of metal stored within them. The purpose is to make them immune to damage from different actions or elements such as fire, water, shock, bending, etc, hence keeping their contents entirely safe within.
Seed backup storages can be in different forms and shapes and use different techniques to hold the seed phrase within. Some can have moveable parts, others a single piece of metal chassis, regardless they all have the following in common
Fire resistant – made to remain indestructible fires up to a very high temperature.
Water-resistant
Immune to breakage
Corrosion resistant
Best Crypto Seed Backup Tools
1. CryptoTag Zeus
The CryptoTag Zeus is a crypto seed backup tool that uses numbers instead of words to store your seed phrase. It consists of two Titanium plates that can have 12 words each.
Each number marked slot for each word of the seed phrase comprises 4 sets of boxes numbered 0-9. Your seed phrase is easily converted to 4-digit numbers with a standardized BIP39 wordlist and then punched into the titanium sheet, digit after digit.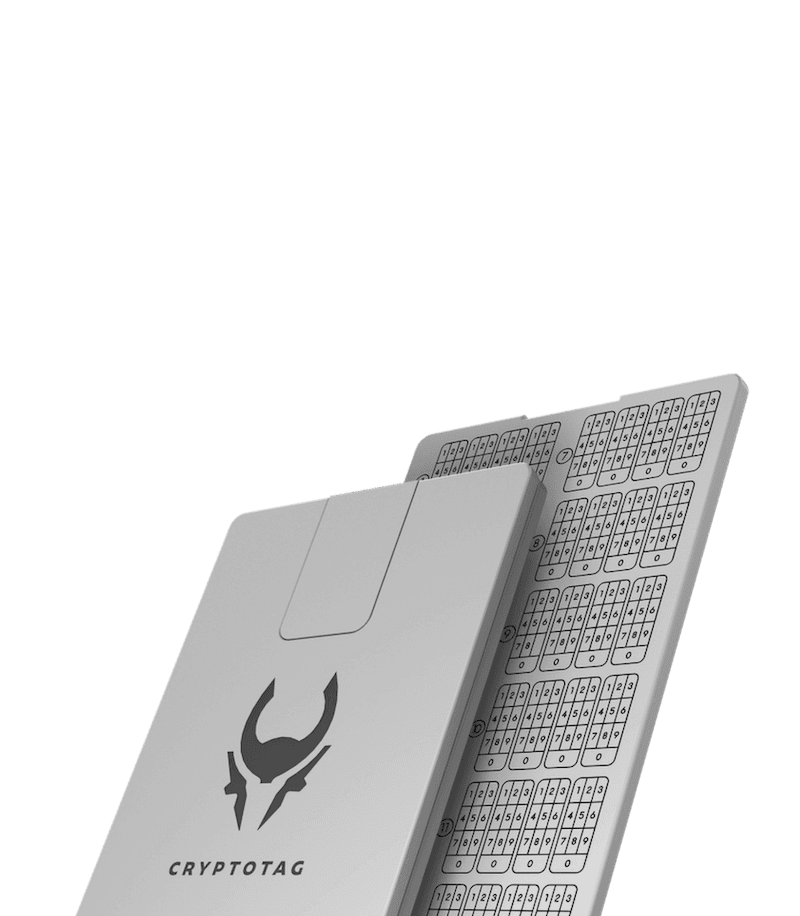 Features
Unparalleled finish
Laser etched details
Bulletproof 
Specification 
Material: Aerospace-grade Titanium
Fire resistant temperatures up to 1665°C / 3029 °F
2. Cryptosteel Capsule Solo
The Cryptosteel Capsule solo has an entirely different approach as a crypto seed backup tool. A second-generation backup wallet from Cryptosteel, it comes as a tube-like container housing a core column in the center on which letter engraved tiles representing your seed phrase are stacked.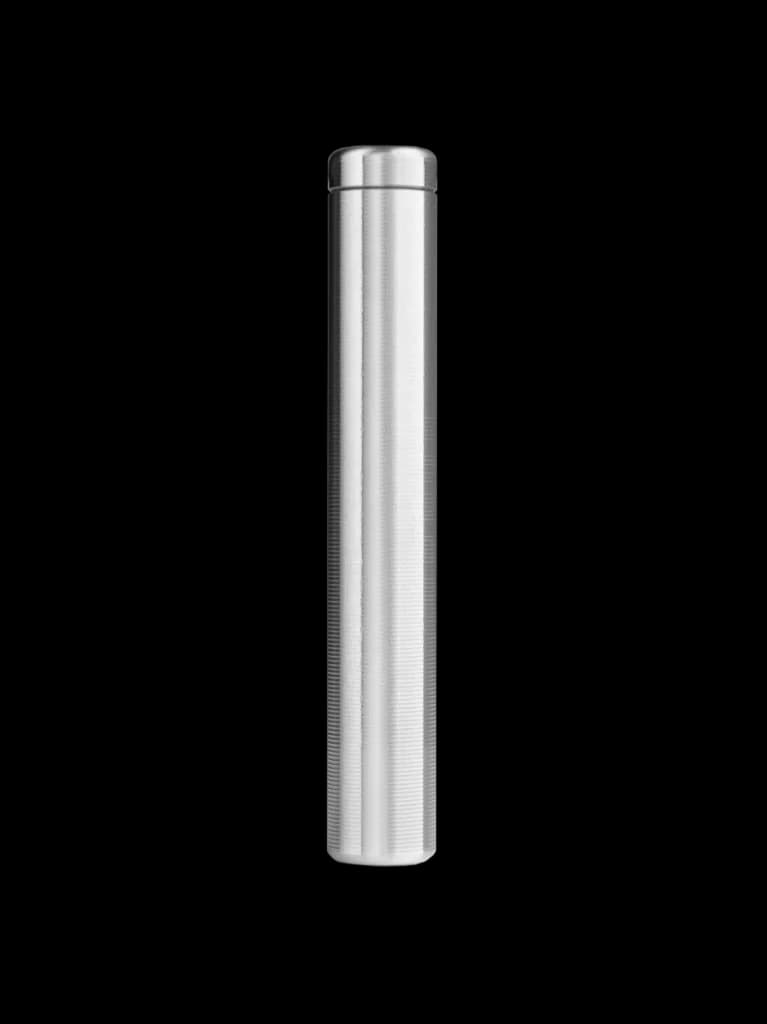 Features
BIP39 compatible
Can store up to 123 characters
Fire resist temperature of up to 1200°C
Specifications
Material: 100% stainless steel – Core, separators, fasteners, and character tiles made of AISI 304 – Shell made of AISI 303 shell
Container dimensions: length 102 mm, diameter 16 mm
Capacity: 24 words (4 lettered words)
See how to use the cryptosteel capsule with Ledger or with Trezor wallets.
3. Coinplate Alpha
Coinplate is a pocket-sized stainless steel sandwich designed crypto seed backup tool. The two thick plates are engraved with the seed phrase on the inside, and facing each other, they protect what is engraved within.
Each of the plates has dedicated word spaces engraved with alphabets. This makes it easy to just punch your seed phrase unto the plates letter after letter with a punching tool. Both plates are strongly tightened together by strong stainless steel bolts.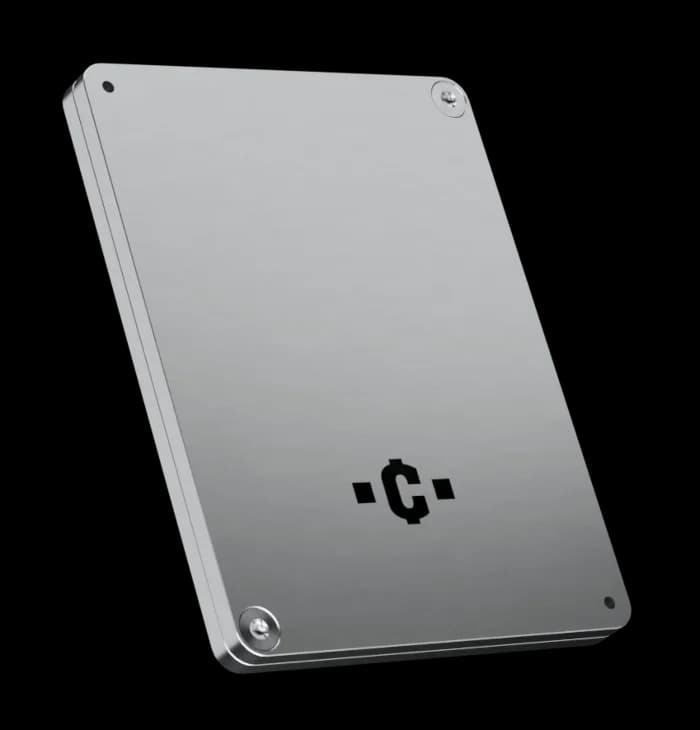 Features
BIP39 Compatible​
SLIP39 Compatible
No permanent branding. Good for concealing your storage.
Flat design
Mounting holes for mounting steel storage on different surfaces. 
Fireproof up to temperature around 1.400°C/2.500°F
Specifications
Material: 100% superior grade German Stainless Steel (AISI 304 | DIN1.4301)
Capacity: Up to 24 seed words
Thickness: 5mm | 3/16″ 
Weight: 1.1kg | 2.5lb. 
4. CryptoTag Odin
CryptoTag Odin is one of the crypto seed backup tools that are compatible with a Shamir Backup.
The Hexagon shaped single Titanium piece can hold up to 20 words, each word represented by four 0-9 digit engraved boxes. It is inserted into a silicon hexagon sleeve for added privacy.
The Odin comes in groups of 3, 5, and 7 – Odin 3, Odin 5, and Odin 7 for a truly unique multishare solution. All you have to do is punch the corresponding numbers with a center punch.
Features
SLIP39 compatible (Trezor's Shamir Backup)
Unparalleled finish
Laser etched details
Bulletproof 
Silicone sleeves
Fire resistant temperatures up to 1665°C / 3029 °F
Specification 
Material: Aerospace-grade Titanium
Dimensions:  12 x 2,2 x 2,5 cm  (4.7 x 0.87 x 0.98 in) LxHxW
Weight: 186 grams (6.6 oz) 
Storage capacity: 20 words per Hexagon
5. Billfodl
The Billfodl is a solid steel case crypto seed backup tool to store and protect your 24-word recovery phrase. It comes in a flat cassette-shaped steel unit with labeled slots on both sides where you slide in character tiles to recreate your recovery phrase.
It holds 12 words (the first 4 letters of each)  on either side of the cassette and screw-controlled grooves act as gates to protect the tiles from falling out.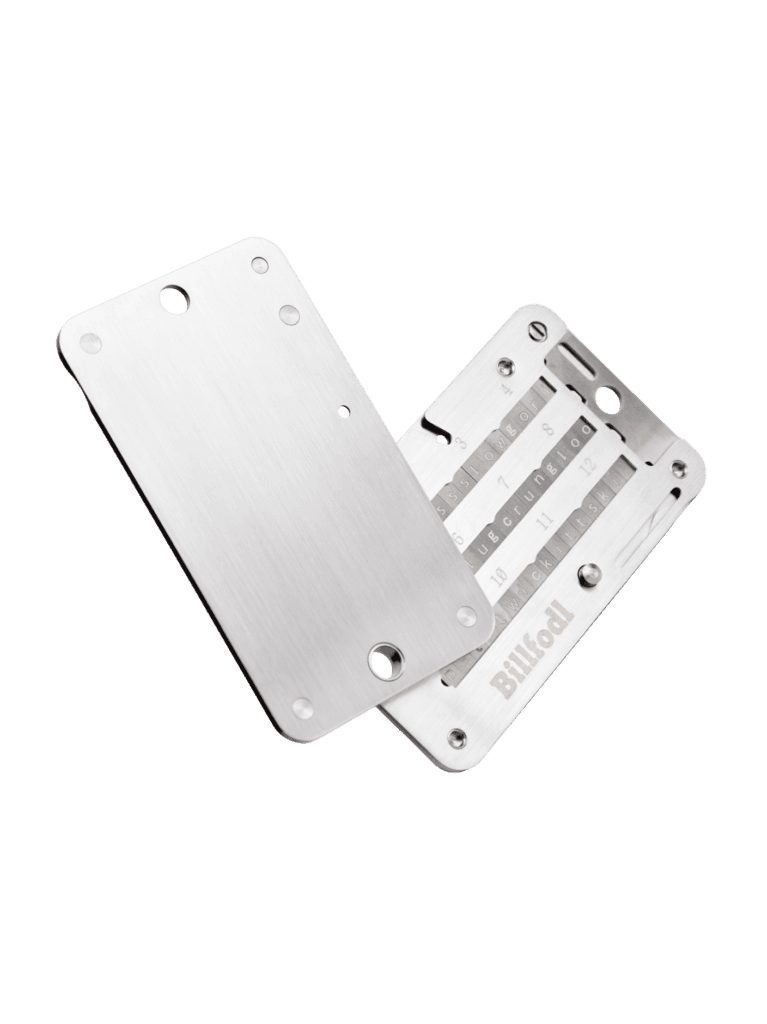 Features
Universal BIP39 or hexadecimal compatibility (12, 18, and 24 words)
Up to 96 characters.
Fire, Water & Impact Resistant
Laser-cut stainless steel chassis
Shockproof up to 1,000,000 volts.
Specifications
Material: Marine grade 316 stainless steel.
Dimension: 104mm х 58 mm х 5 mm (4.1in х 2.3in х 0.2in)
Weight: 0.4kg (14 oz)
Capacity: 24 words
6. ImpressSeed Titanium
ImpressSeed is a single-piece solid titanium plate crypto seed backup tool. Made by ImpressSeed® a division of ImpressArt®, a well-known expert in hand stamping tools and supplies, they provide the best metal stamping service to secure your Cryptocurrency when it comes to crypto seed backup tools. 
Features
Laser etched single-piece card
No loose pieces like tiles, rivets, or screws
Deep impressions up to 3x
Fire resistant up to 3000°f
Crushproof
Corrosion proof
Specification 
Material: Durable Titanium
Dimension: Credit card size
Capacity: 24 words (full words)
7. Blockplate 24
Blockplate 24
Blockplate is among one of the first center punch style crypto seed backup tools. It comes in a very simple single rectangular plate form. A mesh of small empty squares for you to punch in your seed phrase.
It is numbered on one edge and lettered on the shorter edge so that you can easily locate which word number and the alphabet you are punching. The Blockplate 24, as the name implies, stores up to 24 words, 12 on each side of the plate.
Features
Minimal & Efficient – A single punch stores your seed phrase.
Tough & Durable
Thick, 12 gauge stainless steel. Strong against wear and tear. Corrosion resistant.
Precision laser cut and engraved in the USA.
Withstand up to 2100 °F
Specifications
Material: 12 Gauge, 304 Stainless Steel
Dimensions: 3.5″ x 6.1″ x 0.1″ (88 mm x 155 mm x 2.8 mm)
Weight: 9.8 oz per plate (279g)
Capacity: 24 words
Final Thoughts
Wallets can break down and this happens more often than you think. Hence why your backup must stay safe and handy when needed. You should always keep your crypto seed backup private since, in the wrong hands, you might lose your crypto assets to someone who knows what to do with it.
Most backup tools are unbranded for easy concealing, yet that is not enough. The best practice is to keep your ownership of cryptocurrencies private. No one will come looking if they do not know you own some big sums hidden in backup.

Read More