With 1 in 10 people trading cryptocurrencies worldwide according to CNBC, the number of cryptocurrency exchanges has been on the rise thereby creating more solutions to users that transact with these assets daily.
According to CoinMarketCap's listing, there are 18,998 cryptocurrency markets which translate to 18,998 trading pairs with a vast majority being Altcoins. Asides from Bitcoin, over 7000 altcoins are traded on 259 exchange platforms.
With over 300 million users of crypto worldwide, the need for safe, secure, and efficient altcoin trading platforms is on the rise.
Global Cryptocurrency Ownership Data 2021 – TripleA (triple-a.io)
With the above numbers, I'll review the best altcoin exchanges to consider in terms of reputation, altcoin support, security, and fees.
Key Takeaways
• Altcoins are cryptocurrencies besides Bitcoin, Ethereum
• A cryptocurrency exchange platform allows the buying, selling, and trading of cryptos.
• Decentralized exchanges are platforms unregulated by third parties or the Government.
• Centralized exchanges are crypto platforms similar to the conventional banking systems in their regulation and operations.
• Charges, flexibility, security, support, amongst others are important things to look out for when choosing a cryptocurrency exchange platform.
SEE ALSO: 7 Crypto Exchanges With the Best Annual Percentage Yield (APY)
SEE ALSO: 7 Best Insured Crypto Exchanges for Better Protection
Let's look at the 7 Best Altcoin exchanges to consider.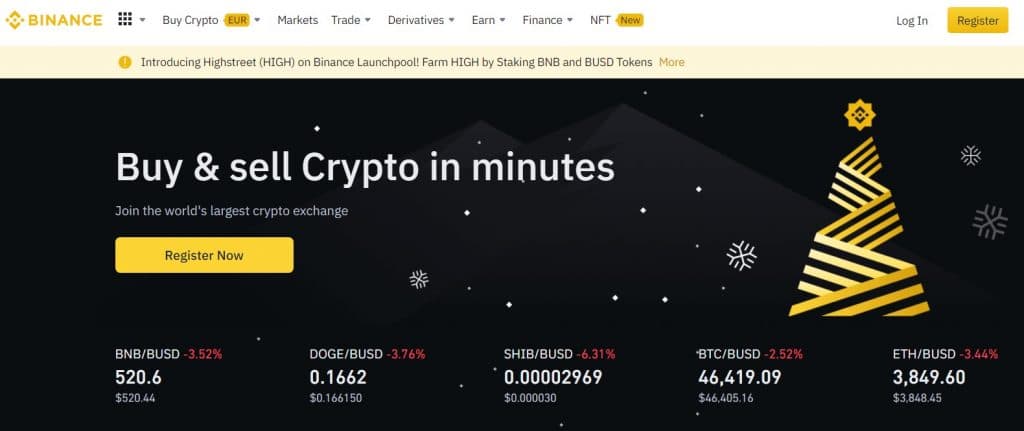 Binance ranks #1 worldwide in terms of the number of trades ($31.7bn) every 24 hours. It also has the most traded altcoins on its list allowing investors to trade, swap and store a vast number of altcoins.
Trading altcoins on Binance gives you an option to have a robust view of the coin or token stat before deciding to trade.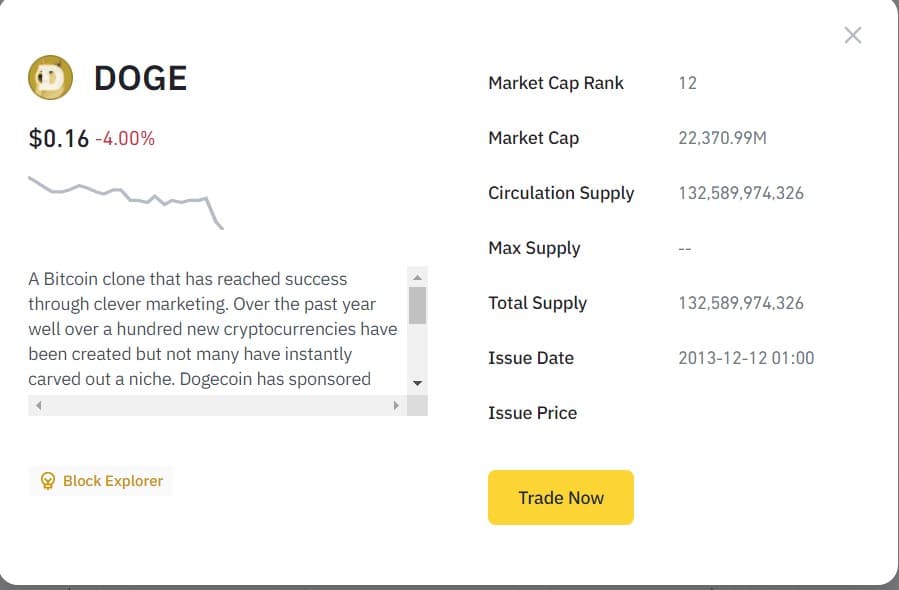 Then, you can decide to use the "Advance Trade" or "Classic Trade" option to trade the altcoin of your choice.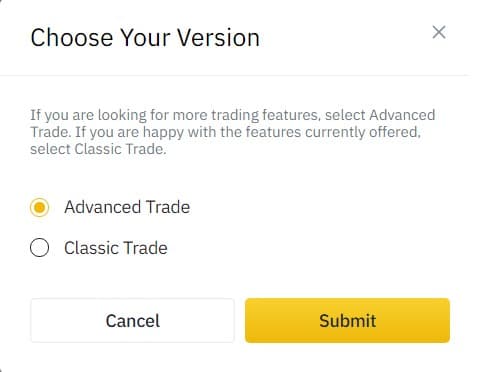 The "Advance Trade" option offers more trading features compared to the "Classic Trade" mode.
Pros
1. Binance offers competitive lower fees compared to other exchanges
2. Charts offer more features, they are interactive, enabling plotting.
3. Binance has more trading pairs and cryptocurrency options.
Cons
1. No built-in wallet by Binance
2. The Binance platform can be a bit technical for new users.
Coinbase is one platform that makes trading altcoins easy to do with a few clicks due to its amazing interface.
Another feature of Coinbase is that you can create and manage your own portfolio. On Coinbase, you can build a portfolio gradually by scheduling daily, weekly, or monthly buy trades as you watch your portfolio grow.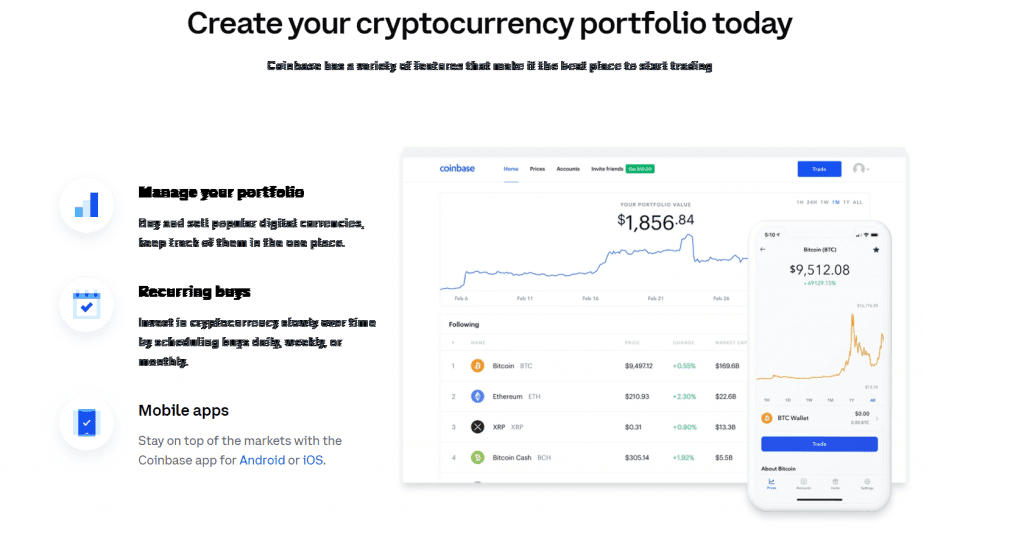 This exchange platform is simple to use, provides its investors and users with an insured wallet with the Federal Deposit Insurance Corporation (FDIC) on a maximum USD cash balance of $250,000 maximum.
Pros
1. Users are rewarded with cryptocurrency via an educational platform for learning about crypto.
2. User-friendly interface for beginners and simple process to buy coins.
3. Adequate security on crypto storage backed also by insurance.
Cons
1. Charges are among the highest in the crypto segment
2. Private keys are kept by Coinbase
Changelly supports over 200+ altcoins on its platform at the best execution prices. Since the crypto market is developing and remains highly competitive at all times, Changelly keeps introducing new assets on its platform.
Changelly is known for seamlessly exchanging BTC or ETH to any other Altcoin fast at the click of a button. As an exchange, you can trade, buy and sell altcoins fast.
Changelly exchange is non-custodial, that is, you are responsible for the storage of your money and crypto using your own soft or hardware wallet.
Experts recommend the Ledger Nano or Trezor Model brands of wallets for secure altcoin storage.
Trades on Changelly are low with a Floating or Fixed rate exchange rate.
Pros
1. Floating and Fixed exchange rate option to apply on exchange.
2. Cheap exchange rate for crypto-to-crypto
3. Highly compatible with lots of third-party wallets
4. The interface is user-friendly and easy to use.
Cons
1. The fiat-to-crypto currency charge is expensive
2. The payment options are limited
3. The minimum trade allowed is high
4. Unregulated in the United States
SEE ALSO: 7 Cryptocurrency Derivate Exchanges With Their Own Coin
SEE ALSO: 6 Best Cryptocurrency Exchanges with Leverage Trading Incentives
Paxful is one of the best peer-to-peer Exchange for buying and selling cryptocurrencies using over 350 payment methods.
On Paxful, there is no shortage of trades (buy/sell). With over 6 million users on its platform, you will always get who to sell or buy your crypto to in minutes.
The major drawback is that the number of cryptos you can trade is limited to 3. Bitcoin and 2 Altcoins (Tether & Ethereum).  
Paxful still remains one of the best platforms for those that exchange cryptos frequently and those holding a large volume of USDT and ETH.
Payment methods on Paxful are also numerous with about 411 options to choose from.
Pros
1. There are no admin charges except seller's margins.
2. The wallet reviews are positive meaning they are secure.
3. Existing users can earn through referrals.
4. Escrow trading is secure
5. The payment methods are diverse and impressive
6. Your preferred crypto vendor based on price and requirements is available
7. It supports charity with Bitcoins
Cons
1. Its customer support has limited options
2. The exchange is not regulated
3. Restricted in some countries
Gemini is an excellent choice for beginner investors. You can earn 3% back on purchases when you buy Bitcoin or other Altcoins. Note that you can enjoy this when you use the Gemini Credit Card which currently has a waitlist.
In addition to Bitcoin, 25 other coins are available. Gemini wallets are insured by the FDIC are available to prevent hacking of funds and cold storage for assets.
Gemini is ideal for beginners and has 20 cryptocurrencies with more than 25 fiat currencies. A bonus of $10 is offered for Bitcoins worth $100 both sold and purchased.
Also, when users save crypto, a Gemini Earn promotion is run for interest in Bitcoin up to 3.5%. 
Pros
1. Gemini platform boasts of one of the best and easy-to-use interface.
2. Earn up to 8.05% APY more than 100% of the average national interest rate.
3. Buy and Sell NFTs on Nifty Gateway.
4. Industry-leading security on its digital assets and infrastructure.
5. Sufficient liquidity and market depth for all kinds of altcoin trades.
Cons
1. Gemini transaction fees are high.
2. Stringent KYC process.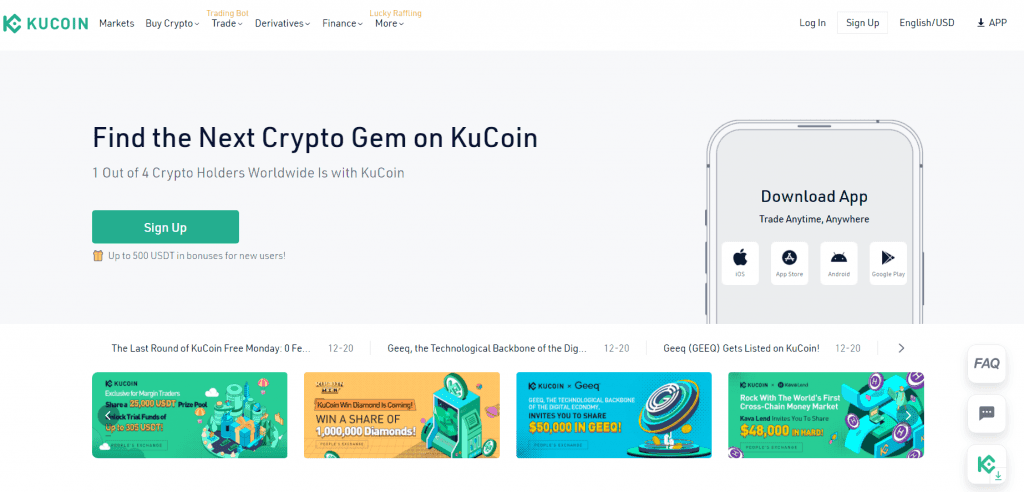 With 1 0ut of 4 crypto users with KuCoin, this exchange ranks high amongst other altcoin exchanges with over 500+ altcoins traded every 24 hours.
This amazing platform offers access to a wide range of altcoins at low rates for users' convenience.
Kucoin makes trading easy with its versatile trading app on iOS and Android.
Pros
1. Kucoin regards itself as the #1 top altcoin exchange with over 500 altcoins on its platform.
2. Trading charges are lowered by 20% using KuCoin's stablecoins; KCS
3. Margin base and automatic trading are available.
Cons
1. Stablecoins in the US dollar are used for trading, not Fiat money.
2. OTC must be used with dollars to buy cryptocurrency which may be complicated for novice investments.
Coinmama is a brilliant Exchange founded in 2013 with a mission to simplify how to buy or sell Bitcoin and other altcoins without limits. Account verification is also very fast and can be concluded in minutes.
On Coinmama, you can place an order and get your coins instantly with no deposits required. The exchange has simplified its processes especially when you want to buy, sell popular cryptos. Note that Coinmama offers 7 cryptos on its platform including LTC, ETH, XRP.
On this exchange, wire transfer, debit/credit card, ApplePay can be used to make purchases and deposit with a charge of 5.5% and 5% respectively.
Coinmama does not have an exchange wallet and so you need to transfer to secure wallets like Ledger Nano or Trezor Model.
Pros
1. High spending limits to buy any coin and quantity you want.
2. Fast account verification.
3. Responsive customer service
4. Direct Bitcoin sale
5. The website has an interface that is simple to navigate
6. Live pricing
Cons
1. Coinmama charges are abit high
2. It doesn't allow crypto-crypto transactions
3. Bitcoin cannot be sold without a European account
4. Allow only 7 cryptos on its platform.
Frequently Asked Questions (FAQs)
What Is a Cryptocurrency Exchange?
It is an online market for the sale, purchasing, and trading of cryptocurrency by Individuals. It functions in a similar form as brokerages; users make use of deposited fiats to buy cryptos.
How to Choose a Cryptocurrency Exchange?
Charges, security, cryptos offered, and storage are some of the things to look out for in an exchange platform. The exchanges can also be in centralized forms which are in sync with governmental financial bodies and decentralized forms which are unregulated by the government. Find your best cryptocurrency exchange
How To Buy Cryptocurrency?
On centralized platforms, you can deposit money through accounts, credit, or debit cards and exchange the funds for your preferred cryptocurrency.
How To Create a Cryptocurrency Exchange Account?
Opening a crypto exchange account requires an online account, KYC standard proof of identity which may consist of a driver's license, identity verification with third-party apps, or a personal questionnaire. On account approval, funds can be deposited and purchases made.
Final Thoughts
Getting started cryptocurrency is good but, choosing the right exchange that fits you and your goals is better.
Diverse options like the cheapest charges, easy usage, wide payment range, best for mobile phones, high security, flexible wallet, etc the ball is in your court.

Keep it at the back of your mind that cryptocurrencies are speculative hence, investments should be made after the understanding that you can lose all or gain double.
Read More