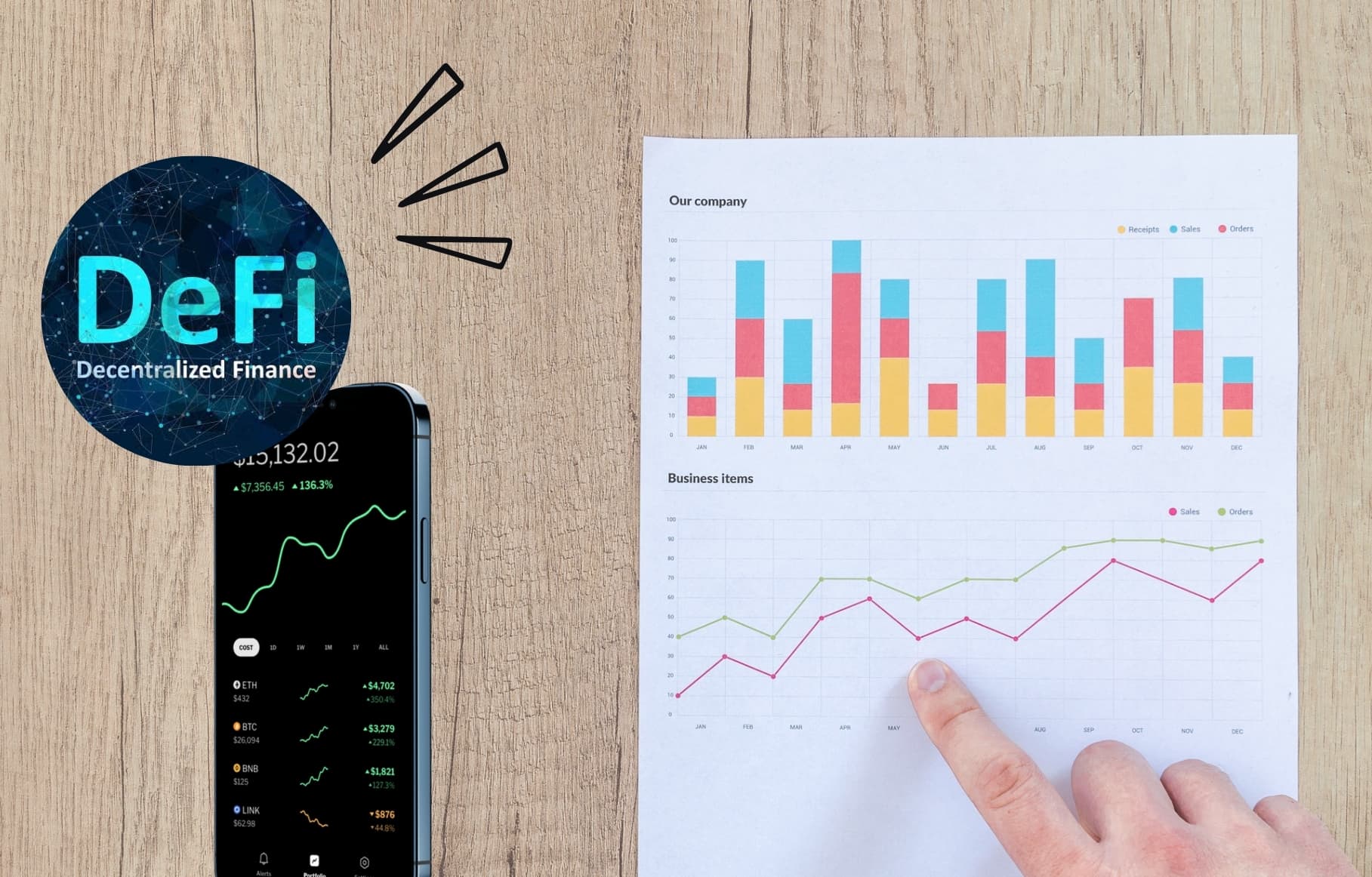 As of early 2021, there were over 3,000 DApps on just the Ethereum blockchain alone, the blockchain with the largest ecosystem of DApps all thanks to the idea of Web3. With DApps springing up on different blockchains, there are currently over 11,000 DApps running across different blockchains, according to stats from dappradar.
DeFi investments have gone beyond single chains and protocols. As an investor in DeFi, you can own multiple assets on wallets on different blockchains as you build a sustainable crypto portfolio to increase your wealth. 
With so many DApps for handling different tasks including cross-chain solutions, there is the problem of keeping accurate track of all investments on these DApps. The easy solution lies in the use of DeFi dashboards.
In this article, we have outlined some of the best DeFi dashboards you can use, along with an overview of what DeFi dashboards are.
What are DeFi Dashboards?
DeFi dashboards are apps consisting of a single dashboard or interface from which you can track and view all your investments on single or multiple blockchains.
The DeFi dashboard helps you keep track of your profits or losses incurred from investments on DeFi DApps without having to open each DApp individually. 
The Best DeFi dashboards for tracking investments
In no particular order, we have listed 6 of the best DeFi investment trackers and they are as follows
1. Zerion
Zerion is an easy DeFi portfolio tracker tied to the Ethereum DeFi ecosystem. You can track your assets and invest from a single window. View all your DeFi investments on over 500 integrated protocols across 9 chains, and an overview of your wallet balance, including staked and lent tokens. A good way to track your portfolio performance without doing any maths.
You can buy Ether (ETH) on Zerion credit/debit card or bank transfer. Buy, stake, lend assets, and execute other forms of investments on 60+ supported DeFi protocols. 
credit: zerion.io
Currently supported sidechains include Avalanche, Arbitrum, Aurora, BNB Chain, Gnosis Chain, Optimism, Polygon, and Solana. A 0.5% fee is charged on multichain transactions
Features
Minimalistic User Interface.
Decentralized connection.
Fee and exchange rate comparison during transactions.
Investment Category
Ledger Live support.
Mobile app
2. Apeboard
Ape Board is a DeFi Dashboard with exceptional features for Cross-chain tracking of DeFi activities across multiple chains. Standing as one of the top portfolio platforms, by just connecting your Wallet or entering your address, you can track and view all DeFi-related activities and assets on over 425 protocols across 38 chains including Ethereum, Binance Smart Chain, Terra, Solana, Ronin, AVAX, Fantom, Arbitrum, Cosmos, and Polygon.
View the total net worth of all your assets, profits earned on yield farms, and possible debts all on a single profile.
Ape Board is currently owned by Nansen, an on-chain analytics platform aiming toward becoming a Super-App for getting information on Web3.
credit: apeboard.finance
Aside from tracking DeFi investments, Ape Board also features different tools known as Ape Tools that are featured for easily navigating the numerous DeFi protocols available on the dashboard. They include:
Ape Radar:  A dashboard for viewing, making adjustments, and comparing yield farming yields across protocols.
Ape Bridge: for viewing and comparing Cross-chain bridges, their wait time, and bridging fee for transferring assets across networks.
Ape Blender: a newly added tool for blending or swapping multiple tokens owned into a single LP token, and for selling LP tokens directly. This tool helps to avoid multiple swaps when providing liquidity.
One special feature of Ape Board is the ability to track with a single profile, portfolio on both EVM compatible wallets and non-EVM compatible wallets on non-EVM chains such as Solana.
Features
Daily profit and loss
Token blender
NFT gallery
IL calculator
Multi-chain
EVM and non-EVM compatibility
Compare portfolio to BTC or ETH performance
3. Zapper
Zapper is a fintech platform that provides web3 asset management services. It gives easy access to different areas of DeFi all from a single Interface. Shortcuts (otherwise regarded as Zaps on the platform) available on the dashboard allow you to quickly access and lend, provide liquidity, or yield farm on AMMs across several chains.
Although this dashboard has been around for just 2 years, since May 2020, it stands as one of the best software for keeping track of your DeFi DApps Investments.
Exchange over 3000 digital assets and keep track of all your DeFi investments on several DeFi protocols existing on different blockchains and make adjustments all from a single interface. It supports popular DApp blockchains like Ethereum, Polygon, Binance smart chain, Fantom, Arbitrum, Avalanche, etc.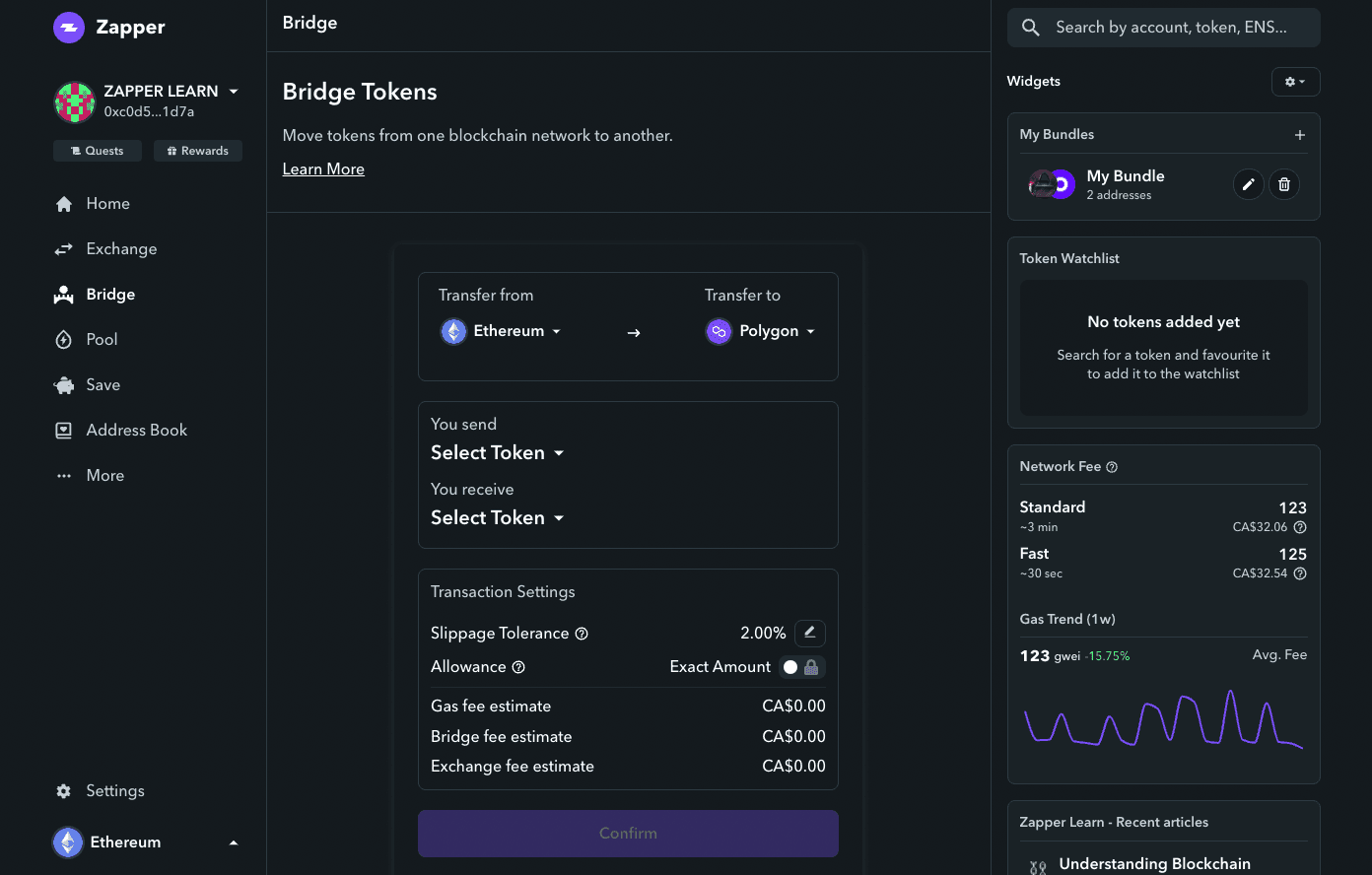 credit: zapper.fi
Features
Multiple wallet support
Multi-chain tracking
Educational resources for newbies
Invest from dashboard
Chain bridge
Token exchange
Available for mobile
4. Yieldwatch.net
Unlike the other trackers listed here, Yieldwatch sticks only to the Binance Smart Chain. Yieldwatch is a DeFi dashboard that lets you track your yield farming investments on the Binance Smart Chain. Get an overview of the performance of all your assets in yield farms and liquidity pools, and staked assets as well.
A single dashboard for all your BSC investments. Get a single overview of all deposits made, yield profits yet to be received, and charge debts owed. It not only lets you track your net worth on the BSC ecosystem but also helps 
monitor the potential impermanent loss of your investments.
credit: yieldwatch.net
Pro features are also available and they cost 0.5% of portfolio value in WATCH tokens to access. $1 worth of WATCH token lets you monitor $200 in portfolio value.
Features
Wallet balance and current token prices
Real-Time price refresh that you can switch on/off.
Different base currencies
Historical Data & Individual TX overview
Deposit time and FIAT value of the deposit
Optimized for mobile
Impermanent Loss calculator
Direct link to each transaction on the dashboard.
Additional features to be added
Combined address overview
Inactive Farms
Graphs
Brag button for sharing portfolio
LP-prices
5. APY.Vision
APY.Vision is a DeFi tracker for tracking Liquidity Pool investments and viewing farm yields across multiple AMM and chains. A handy tool for staying ahead on DeFi farming. Uniswap, Balancer, and Sushiswap are the supported DEX on APY.Vision. More DEX are expected to be added in the future. Supported chains include AVAX, ETH, ARBITRUM, POLYGON, CELO, FANTOM, xDAI, and HARMONY. 
credit: apy.vision
Designed for everything APYs, you can analyze historic APYs of different pools on your dashboard and compare performance. Keep track of Impermanent Losses/Gains for accuracy in profit calculation. Calculate your profits/rewards from all farms.
PRO features give access to advanced analytics and added functionality like data in real-time and advanced searches. Holding VISION tokens gives you access to PRO membership. Holding 1 VISION token gives a $100 track value.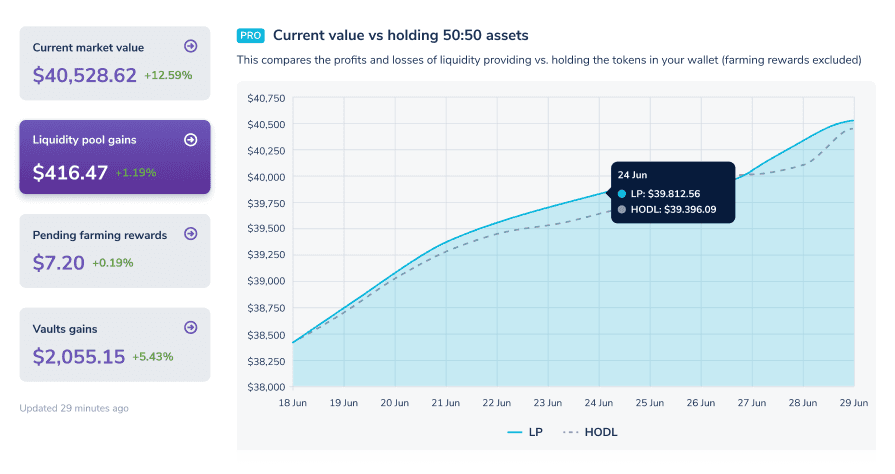 credit: apy.vision
Features
Analyze historic APYs and health metrics
Track your pools across protocols and networks
Impermanent Loss calculator
Profit/Loss calculator
Multi-chain support
6. Sonarwatch
SonarWatch is a Solana DeFi tracking dashboard on the Solana blockchain. Monitor your assets, and view the Price, APR, supply, and other statistics of all your assets. Track all your assets across 15+ Solana protocols and 500+ pools and yield farms by connecting your wallet address.
Explore the DeFi ecosystem and see the top gainers and losers.
Solana NFT collections can be viewed on the platform. View all your collectibles in one place.
credit: sonar.watch
SonarWatch also has pro features that are accessible through payment with $SONAR, the utility token of the platform.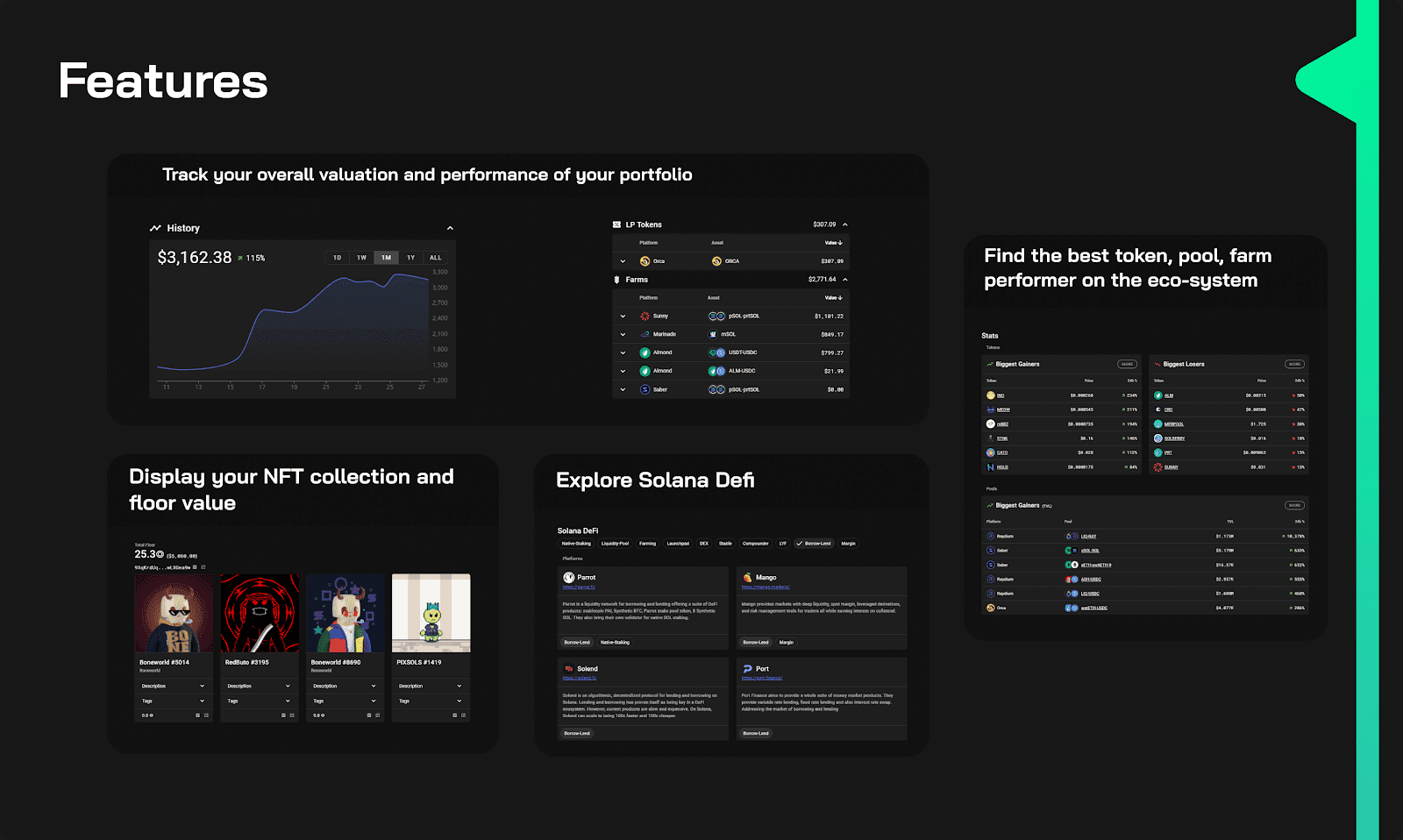 Credit: sonar.watch
Features
Multi wallets support
Historical portfolio value chart
NFT collection Floor price evaluation
Currency selector
Asset Statistics  (Price, APR, TVL, Supply)
Token, pools, farms, staking & lending tracker
Impermanent Loss Calculator
Solana DeFi ecosystem overview
Frequently Asked Questions (FAQs)
Q1. Are DeFi protocols safe?
While DeFi protocols offer newer and better investment solutions, it doesn't eliminate risk. There are still scammers disguised behind DeFi protocols to scam and exploit, and protocols with faulty codes. Always research before investing.
Q2. How secure is DeFi?
DeFi does not offer insurance as traditional finance does. It is an ecosystem with risks and the surest way to navigate successfully is by doing research before investing.
Q3. How do I track DeFi investments on multiple chains?
DeFi dashboards are the best option for tracking investments on multiple blockchains. While some are exclusively used for tracking on a single blockchain, others track investments across multiple chains and even have the option to add more.
Final Thoughts
Depending on the blockchain(s) where you invest in DeFi, you should have a DeFi dashboard you use to keep track and come up with better investment decisions
Read More