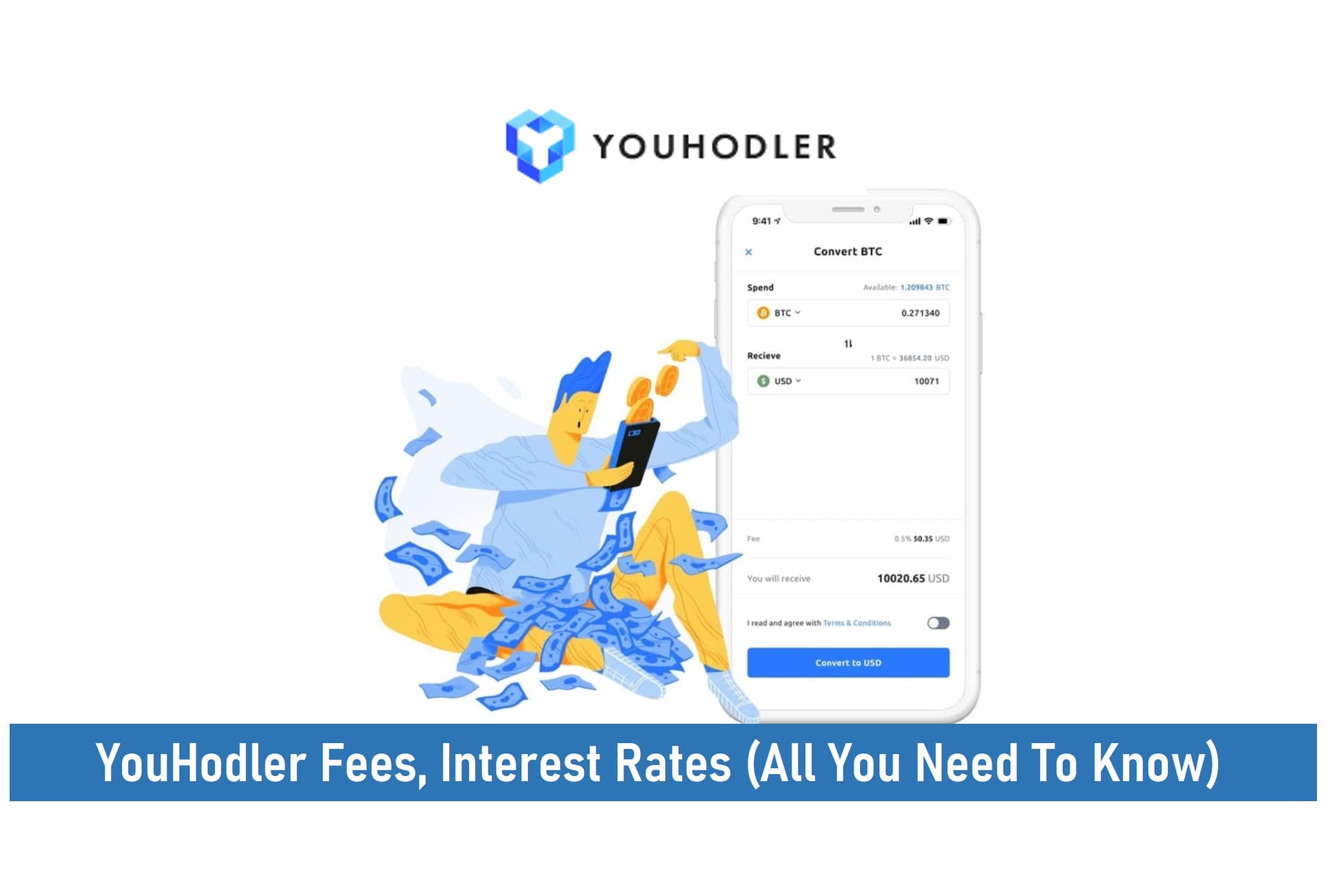 YouHodler is a fintech company focused on crypto-backed lending, crypto conversions, and high yield crypto-savings accounts. The company is also an EU and Swiss-based brand with two main offices in Cyprus and Switzerland.
YouHodler is also an active member of the Blockchain Association of the Financial Commission and the Crypto Valley Association.
In this article, I will be explaining everything you need to know about YouHodler, ranging from its services, fees, interest rates, and other services.
You can also check out my previous article on how to access a crypto loan on the platform with ease.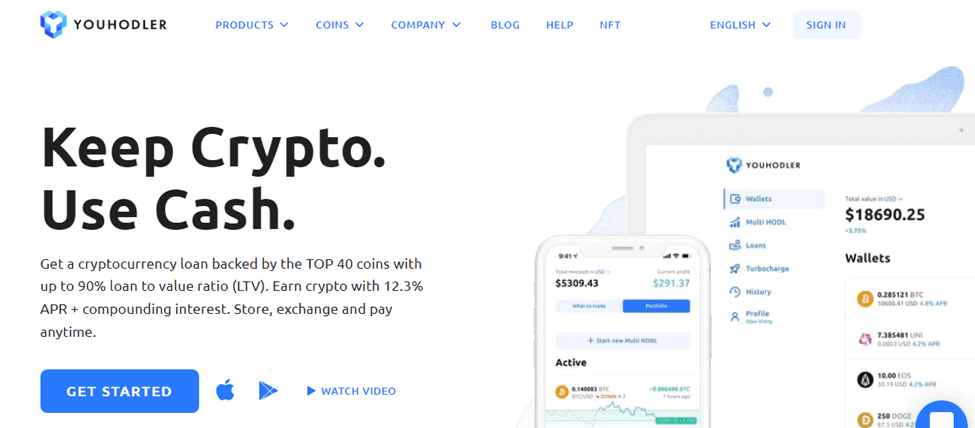 Key Takeaways
• YouHodler offers a wide variety of services, ranging from crypto loans to crypto conversions and even interest of up to 12% on saved cryptocurrencies.
• YouHodler's multi-coin wallet provides a lot of flexibility in its usage and implementation as regards crypto.
• The deposit and withdrawal fees for YouHodler range from $5-$70 depending on the method used for either depositing or withdrawing.
• YouHodler supports 50 cryptocurrencies, which you can use to engage in either a crypto-to-crypto conversion or a crypto-to-fiat conversion process.
SEE ALSO: How To Access a Crypto Loan On YouHodler (Quick Steps)
SEE ALSO: How to Earn Compound Interest on Cryptocurrency
Now let us delve into more details…
YouHodler offers numerous services, as can be seen on their homepage. In the products section, the platform offers crypto loans, exchange, interest, multi-HODL, and turbocharge features.
Crypto Loans
On YouHodler, you can get access to instant crypto loans when you use the top 50 coins on the platform as collateral. You can then withdraw them to your credit and personal banks.
The rates are also provided, as well as the time and loan duration, and they are explicitly spelled out so you know the terms and conditions, which include when to pay back.
Exchange
Another feature of the YouHodler is that it provides crypto-to-crypto and crypto-to-fiat exchange. You also get to do all this and much more with real-time execution prices and low fees.
YouHodler also has an exchange converter where you can easily check out the rates of different currencies to determine if the rates are something you can work with before engaging in the transaction.
Interests
YouHodler provides excellent interest rates for different cryptocurrencies, as some of them include: 12.3% for USDT, 4.8% for BTC, 5.5% for LTC, etc. Compared to other crypto exchanges such as Binance, Crypto.com, and BlockFi, YouHodler offers better interest rates with even longer durations.
You can simply turn your cold assets into hot profit instantly by depositing crypto into your crypto savings account and getting weekly interest payments.
Multi HODL combines the best of both crypto exchanges and traditional trading platforms into one. To simply engage in the multi-hodl feature on YouHodler, just follow the simple steps listed below:
1. Select a token.
2. Set profit and risk thresholds.
3. Get your crypto anytime by watching your progress and closing positions.
4. Repeat the process all over again.
YouHodler has a turbocharge service, which allows users to get a chain of loans. The platform uses borrowed fiat to purchase additional cryptocurrency without commission and then uses it as collateral for other loans in the chain.
To use the turbocharge feature on YouHodler, simply follow the steps below:
Transfer crypto to your YouHodler wallet.
Calculate the turbocharged amount.
Set your take-profit price.
Repay or close all loans at any time.
Manage your turbocharge.
Turbocharge
Minimum loan amount: $100.
Close now fee: 1%.
Savings
The minimum deposit to start earning interest is $100 (in crypto equivalent).
Maximum deposit: $100,000 (overall, in all currencies).
Users can calculate their savings rate with the YouHodler Savings Calculator.
YouHodler Fees
YouHodler provides users with a transparent fee schedule, and these fees are categorized into different types as shown below:
Exchange Fees
YouHodler users can use the fee calculator to work out conversion rates and associated fees. Fees vary by asset, as shown in the examples below:
Exchange timings can be summarized as follows:
Stablecoins to Stablecoins-instant.
Crypto to Fiat-instant.
Fiat to Stablecoins-instant.
Crypto to Crypto-5-30 minutes.
Crypto to Stablecoins-5-30 minutes.
Deposit and Withdrawal Fees
Deposits:
USD SWIFT: $25 fee per deposit, $100 minimum.
EUR SEPA: No fee deposit, €100 minimum.
EUR SWIFT: €25 fee per deposit, €100 minimum.
There are also minimum deposits for GBP and CHF, both 100.
Credit Card (loan repayment): 4.7% ($1/€1 minimum)
Crypto: No fee, $5 crypto equivalent minimum.
Stablecoins: No fee.
Fiat Withdrawals Fees:
USD SWIFT: 1.5% fee, minimum $70.
EUR SEPA: 1.5% fee, minimum €70.
EUR SWIFT: €5 fee, minimum €55.
GBP and CHF: 0.15% fee, minimum GBP55/CHF55.
Fiat Withdrawal Limits:
By bank card: $2 / €2.
By bank wire: $500/€50/CHF & GBP 500.
Crypto/Stablecoin Withdrawal Limits:
The minimum withdrawal amount is around $5-$50 in crypto/stablecoin equivalent depending on the withdrawal currency.
Please note that withdrawal fees vary and can be viewed in the withdrawal form of the crypto wallets.
Loans
Minimum loan amount: $100.
Close now fee: 1% from the overdraft amount.
Reopen: Interest fee + 1% service fee (from the borrowed amount).
Extend PDL by 1.5% using additional collateral.
Increase LTV by 1.5% of the increased amount.
YouHodler Multi-Coin Wallet
YouHodler claims to have the most advanced crypto wallet on the market as investors can earn, HODL, multiply, and even earn interest of up to 12% APY.
YouHodler's multi-coin wallet is uniquely designed to simplify crypto details and make managing your coins and tokens easier than ever.
Easily HODL, earn interest on and multiply digital currencies in these smart and beautifully designed crypto wallets available for iOS, Android, and desktop operating systems.
With this, you can also create a bitcoin account with your very own bitcoin wallet along with additional dedicated multi-coin wallets for 14+ popular cryptocurrencies.
The wallet security is also well advanced and secured with the safety of fiat funds, as YouHodler has bank accounts at reputable banks in Europe and Switzerland, and partnerships with trusted fiat payment providers.
Features of the wallet include:
The only bitcoin interest wallet with the highest rate, up to 4.2% a year.
USDT wallets and other stablecoin wallets that offer savings account interest rates of up to 12% APY.
Unique features like the BAT wallet with loans and trading tools.
Earn interest on amounts over $100,000 using the combination of crypto wallets and Multi-HODL.
Deposit and Withdrawal Options
YouHodler enables the deposit and withdrawal of crypto and fiat currencies. For investors looking to deposit or withdraw fiat or purchase crypto by credit/debit card, you will need to complete the account verification process.
Cryptocurrencies
Users can make deposits and withdrawals using the supported cryptocurrencies on YouHodler.
To make crypto deposits and withdrawals, go to the "Wallets" page as shown below: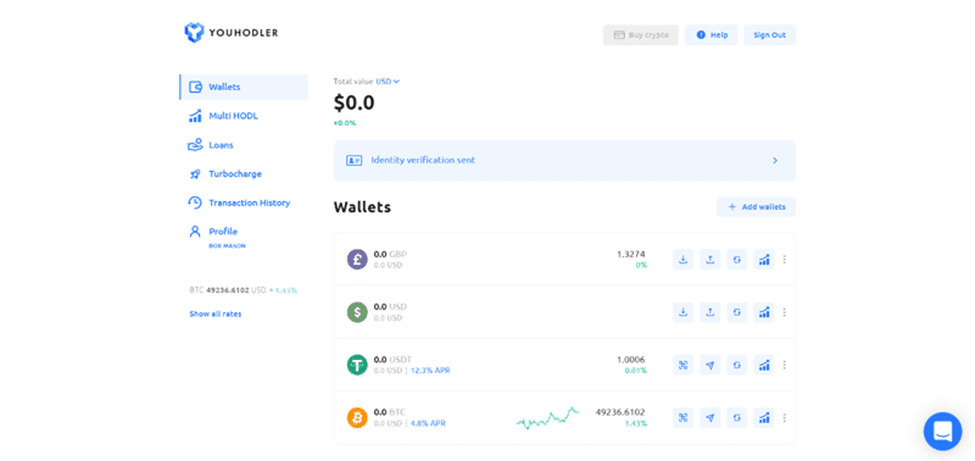 Deposits
Select the crypto wallet listed on the "Wallets" page and click the deposit option. Once you have selected the deposit option, copy the wallet address to your external wallet or scan the QR code to complete the transfer.
Once your bitcoin has reached your YouHodler wallet, you will receive an SMS and an email notification.
Withdrawals
For withdrawals, users can withdraw cryptos by transferring them from the YouHodler wallets to external, compatible wallets.
To withdraw your crypto, select the wallet from which you wish to withdraw your crypto and click the "Withdraw" icon.
Copy and paste your external wallet address and confirm that you have double-checked the address.
Click on the "Get email code" icon to confirm the withdrawal by email.
Enter the code and then click "Withdraw".
Fiat Currencies
Deposits
To deposit fiat currencies, go to the wallets page and select the fiat currency that you wish to deposit.
You may add additional fiat currency wallets by clicking the "+Add Wallets" icon.
Click on the deposit icon.
Then click on:
The "Bank Wire" icon for bank transfers for no fee deposits. Transfers can take up to 3 business days.
Advcash (including bank cards) icon for instant payments. There is a 1% fee for Advcash deposits.
For Advcash payments, enter the amount that you wish to deposit and click "Continue".
You will then be redirected to the Advcash.com page to complete your details to complete the deposit.
Additionally, users may deposit with any other credit card. There is a 4.5% deposit fee.
Withdrawals
To withdraw fiat, go to your wallets page and select the fiat wallet from which you wish to make a withdrawal.
Click on the Withdrawal icon.
Select the withdrawal option.
Credit card – instant with a fee ranging from 3% to 3.5%, or $1 to $5.
Bank wire: Approximately 24 hours, with a fee of 1.5%. There is a minimum withdrawal of $70.
In the case of bank wire withdrawals, enter the IBAN and account number along with your bank details and complete the transaction.
Please note that bank processing times and fees vary depending upon the bank wire method. There are also minimum withdrawals depending on the currency. See below:
USD (SWIFT): Up to 5 days, with a fee of 1.5% and a minimum withdrawal of $70.
EUR (SEPA): Up to 2 business days with a fee of €5, and a minimum withdrawal of €50.
EUR (SWIFT): Up to 5 days, with a fee of €55 and a minimum withdrawal of €500.
GBP/CHF: Up to 3 days, with a fee of 0.15% and a minimum withdrawal of £55/CHF55.
Supported Cryptocurrencies
YouHodler supports 50 cryptocurrencies, which includes the most popular cryptocurrencies and the less popular ones as well, for investors to choose from.
Some of these cryptocurrencies include Bitcoin Cash, Cardano, Stellar, Ripple, Dogecoin, Tron, Litecoin, etc.
To exchange crypto for another crypto or fiat currency, go to the Wallets page and follow the steps below:
Select the crypto that you wish to exchange.
Click on the "Exchange" icon.
Enter the amount that you wish to exchange and select the target currency from the drop-down menu.
Acknowledge that you have read and agree to "How Conversion Works" and "Terms of Conversion Services."
Then click the "Convert" icon.
Frequently Asked Questions (FAQs)
Who can sign up on YouHodler?
YouHodler services, for now, are limited to only some select countries, as currently about 19 countries, including the United States, do not have access to the services.
As a citizen of a supported country, you are only allowed to have one account on the platform.
How does YouHodler work?
The YouHodler platform is a multi-faceted crypto-fiat financial service. It allows one to borrow fiat funds instantly based on the current value of one's cryptocurrency asset holdings, as well as lets users convert crypto to crypto, crypto to fiat, crypto to stablecoins, and withdraw fiat to an approved debit/credit card or personal bank account.
Final Thoughts
The YouHodler platform is an excellent platform for crypto investors, particularly for those who wish to borrow crypto loans. In all, it provides excellent crypto services and is one you should check out.
Read More