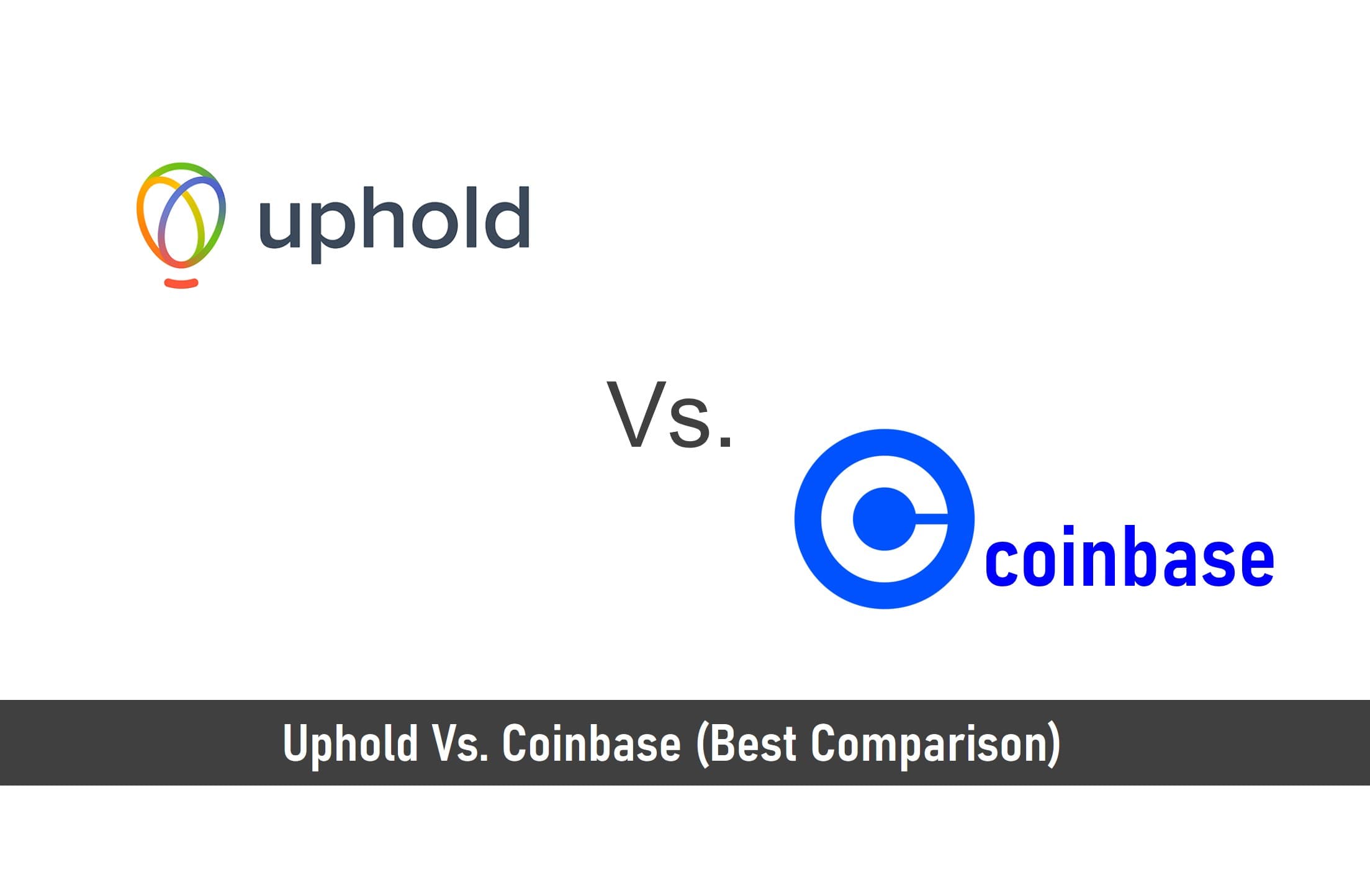 Uphold and Coinbase are two of the best crypto exchanges in the crypto market. As such, it comes as no surprise that investors are constantly checking to see which of them offers the best features or can satisfy their crypto needs the most.
Key Takeaways
• Uphold and Coinbase are two of the best cryptocurrency exchange in the crypto market.
• Uphold supports 75 digital currencies whereas Coinbase supports over 100 cryptocurrencies.
• Coinbase has a unique interface and sets up which makes it very convenient for even new investors.
• Most of the transactions and activities carried out on Uphold are free in contrast to that of Coinbase.
SEE ALSO: Compare Fees Coinbase Vs. Binance
SEE ALSO: How to Earn Crypto on Coinbase While Learning
In terms of Coinbase, new investors can be rest assured that this exchange has a very friendly user interface with no complications.
Even if you've never heard of Coinbase and are visiting the website for the first time, the chances of getting confused or misunderstanding some terms are almost nil.
On the other hand, Uphold supports not only cryptocurrency but goes a step further to offer investors the ability to purchase stocks and precious metals such as gold.
This platform is ideal for investors who want to diversify their investment portfolios beyond cryptocurrencies.
With that being said, I shall be taking a look at both exchanges with particular attention to their features, pros and cons, ease of use, fees, supported cryptocurrencies, and security.
At the end of this comparison, I will be given a final verdict, which should guide you in your decision as to which exchange to use.
Let us go into the details…
Uphold Vs. Coinbase: Features
Uphold
1. Users can trade between any supported assets: Users can trade between any crypto of their choice without any limitations, so long as the cryptos are supported.
2. Trade non-crypto assets: Trade precious metals, foreign currencies, and even fractional shares of some stocks.
3. Works with Brave browser rewards: If you use the Brave browser, you can earn free BAT cryptocurrency and withdraw it to an Uphold account.
4. Automated transactions: With the AutoPilot feature, you can schedule up to $100 in Bitcoin every month for trades of cryptocurrencies, precious metals, equities, and more. One-time scheduled transactions are also available.
5. Limit orders: According to Uphold, with its limit orders, you can "have up to 50 orders in place simultaneously using the same pool of capital, and you can also establish buy and sell orders against a target price that is outside the order."
6. Third-party integrations: Using the Uphold API, users can take advantage of features such as "Tap Rewards" and "Taxbit."
Coinbase
1. Easy crypto purchases: You can purchase crypto from your account balance or directly from a bank account, debit card, or PayPal if you're willing to pay a little extra.
2. Protected by Insurance: Coinbase maintains crypto-insurance and all USD cash balances are covered by FDIC insurance up to a maximum of $250,000.
3. Free crypto with Coinbase Earn: Once you sign up, you can earn free crypto as a reward for watching short videos on how it works.
Pros and Cons of Uphold
| | |
| --- | --- |
| Pros | Cons |
| Investors can trade crypto, metals, and stocks. | It supports fewer cryptocurrencies than some crypto exchanges. |
| Investors can convert between any type of supported assets. | Spreads can exceed 1% on bitcoin and 3% on metals. |
| It Integrates with Brave browser rewards. |   |
Pros and Cons of Coinbase
Pros
Cons
It is easy to buy bitcoin and other cryptocurrencies.
High transaction costs up to $2.99 per trade.
Coinbase Pro offers lower pricing.
0.50% spread built into most asset prices.
It has an advanced trading platform.
 
It grants investors the opportunity to earn crypto using the Earn option on the exchange.
Ease of Use
As earlier said, Coinbase makes its platform so easy and non-complicated that it is suitable for even new investors looking to make use of the platform to buy, sell, or exchange cryptocurrencies.
It makes signing up so easy that you can do this and much more in less than 180 seconds, whether on the website or using the mobile app.
On the other hand, Uphold may prove a bit difficult for investors, especially the new ones, but with enough patience, they will get the hang of it.
The platform provides more assets than just cryptocurrencies, which is partly responsible for why the platform is a bit complicated.
Nonetheless, an experienced investor who understands crypto and other investment assets and who is already used to accessing different investment platforms shouldn't find Uphold challenging at all.
Fees
| | | |
| --- | --- | --- |
| Fees | Uphold | Coinbase |
| ACH Transfer | Free | Free |
| Purchase-Bank Account | Free | 1.49% |
| Purchase-Debit Card | Free | 3.99% |
| Purchase-PayPal | N/A | 3.99% |
| Withdraw Crypto to a Wallet  | Free | Free |
| Crypto Conversion  | Free | Up to 2% spread |
| Trades | Variable spread that may be as high as 4% in some cases  | Up to 0.50% spread, plus a variable or fixed fee of $0.99 to $2.99 based on the amount or a variable fee based on the payment method  |
| Wire Transfer | $30 to deposit under $5,000 or free for over $5,000 | $10 deposit, $25 withdrawal  |
Supported Currencies
Uphold supports 75 digital currencies, including majors, alt-coins, emerging tokens, and stablecoins.
Some of the cryptos supported by Uphold include Bitcoin, Atom, Bitcoin Cash, Dash, etc. You can check here to see the full list of the supported digital currencies.
On the other hand, Coinbase currently supports over 100 cryptocurrencies, with plans to add more as legally possible in the future.
Some of the cryptocurrencies it offers include Bitcoin, Ethereum, Bitcoin Cash, Solana, Shiba Inu, etc. You can check here to see the full list of the supported cryptocurrencies.
Security
| | | |
| --- | --- | --- |
| Security Features | Uphold | Coinbase |
| Cold Storage | 70% of assets in cold storage and 20% in multi-signature hot storage | 98% of assets in cold storage |
| Bug bounty program | Yes | Yes |
| Two-factor Authentication | Yes | Yes |
| Third-party insurance | Yes | Yes |
| Background checks on employees | Yes | Yes |
Final Verdict
Uphold and Coinbase are reputable cryptocurrency exchanges that will appeal to a variety of investors.
From the comparisons made in this article, one can see that Coinbase has the edge over Uphold in most of the criteria used for comparing both exchanges.
While Coinbase might be easy to understand and use, Uphold still has its own advantage in that it provides a wider array of digital assets other than just cryptocurrencies to investors.
At the end of the day, both exchanges are good and best suited for their intended target investors.
As such, if you wish to invest in other assets other than crypto, Uphold is your best bet, while if you wish to delve deeper into crypto with more crypto options to invest in, Coinbase is where you should be.
SEE ALSO: Staking On Coinbase? 5 Key Things You Should Know
Frequently Asked Questions (FAQs)
Is Uphold Legit?
Yes, it is, as Uphold is regarded as one of the most dependable cryptocurrency exchanges for trading across a wide range of asset classes on the market.
Can I transfer from Uphold to Coinbase?
Yes, you can, but make sure you have all the details of your Coinbase account before transferring crypto. 
Final Thoughts
Uphold and Coinbase are excellent wallets in their own right, and it can be argued that they have different audiences.
As a result, make sure to read through this article to compare the features of both to determine which one is best for you.
Read More