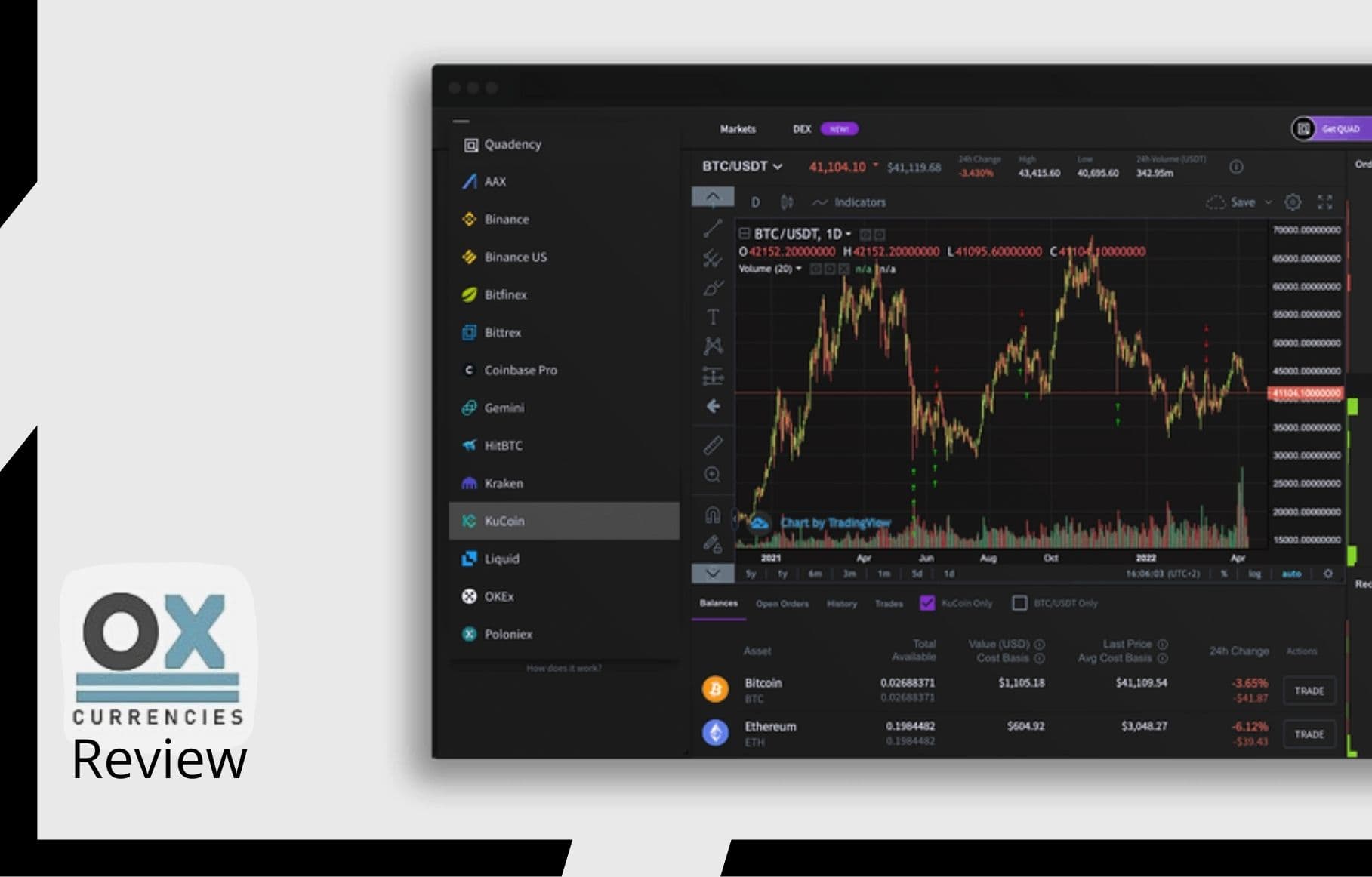 Overview
Quadency is a cryptocurrency asset management platform with automated strategies. It functions as a unifying window/interface for trading and managing a crypto portfolio from different exchanges.
Quadency is a one-stop trading platform for investors of all levels. With the provision of advanced crypto solutions through automated bots, traders – beginner, average, or experienced, can easily exploit the benefits of automated trading with a few clicks.
Still at the preliminary stage of an extensive roadmap of plans, Quadency is aiming beyond just an automated trading platform. In this Quadency review, we'll explore some of the things that make the platform unique.
Quadency Features
Quadency is equipped with a lot of features for both beginner and pro traders.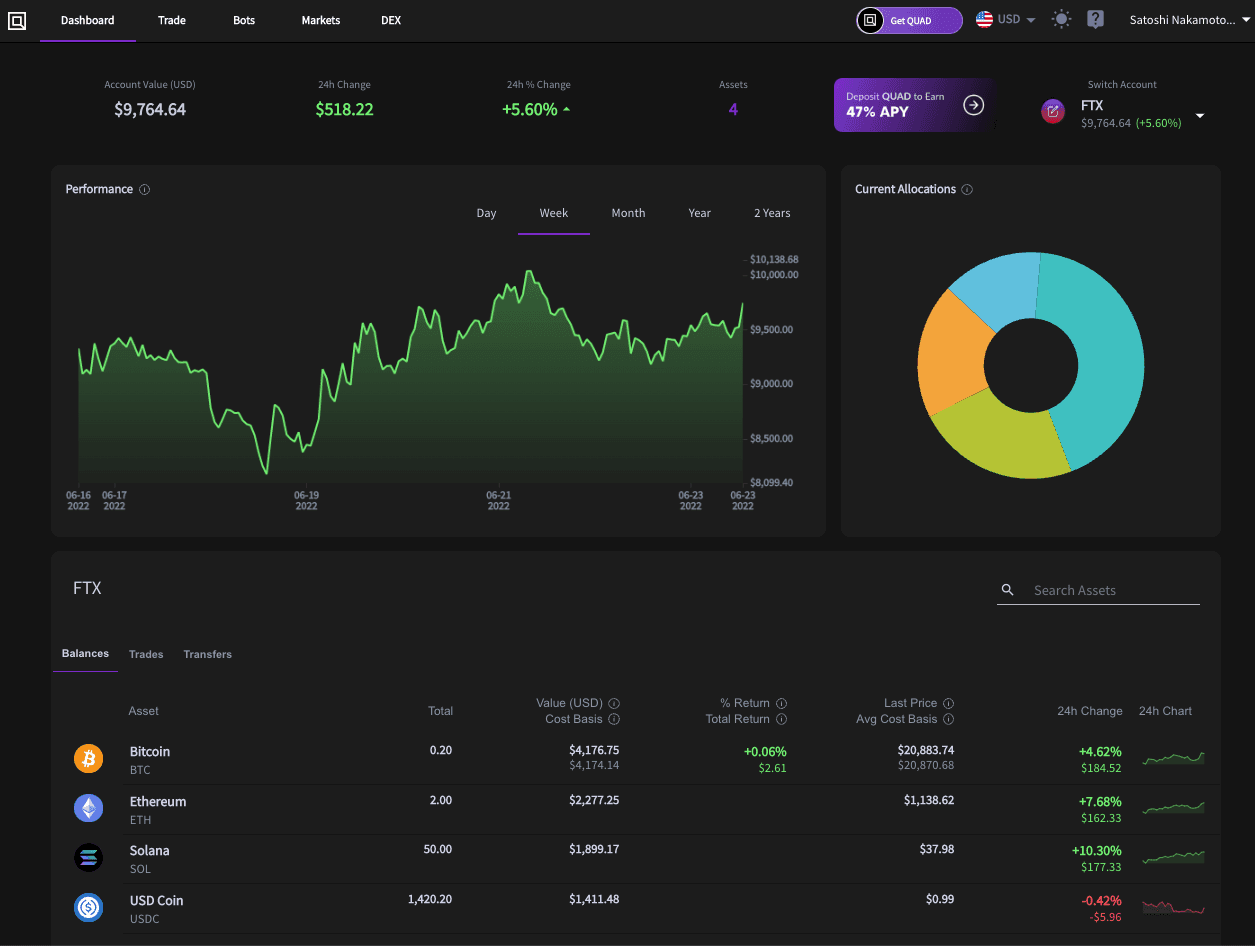 image credit: Quadency
1. Manual trading
2. Automated trading
Different trading bots for different purposes are available on Quadency. There are bots for gradually accumulating crypto and bots for managing your trades through the use of indicators and signals. There are also bots for rebalancing portfolios.
Bots are capable of placing smart orders despite the direction of the market and still make a profit. Set your bot and allow it to accumulate crypto as you sit back and relax.
Different indicators can be turned and used for profit-making according to the trend. Turn your TradingView alerts into automated trade orders for your bots. The Bollinger bands indicators can get you to profit from price swings. It eliminates trading emotions, Relative Strength Indicator (RSI) makes it easier to decide when to buy and sell.
You can choose from already built bot strategies and begin trading in minutes. Or you can use the Strategy Coder to create your custom bot based on Python and use it execute multi-market strategies.
There are many bot strategies to choose from or customize on Quadency. They include
Smart Order
Market Maker
Strategy coder
TradingView alerts bot
Bollinger Bands
Accumulator
Relative Strength Indicator (RSI).
"Market Maker Plus high" frequency trading. Which planet
MACD
DMAC
Grid Trader
Multi-Level RSI (Combine with DCA)
Lastly, you can Backtest your bot and strategies to be sure before you deploy them.
3. Portfolio
Portfolio Analytics
You can connect multiple exchanges to your account. Monitor and track the performance of your various assets across the different exchanges and wallets all from a single place.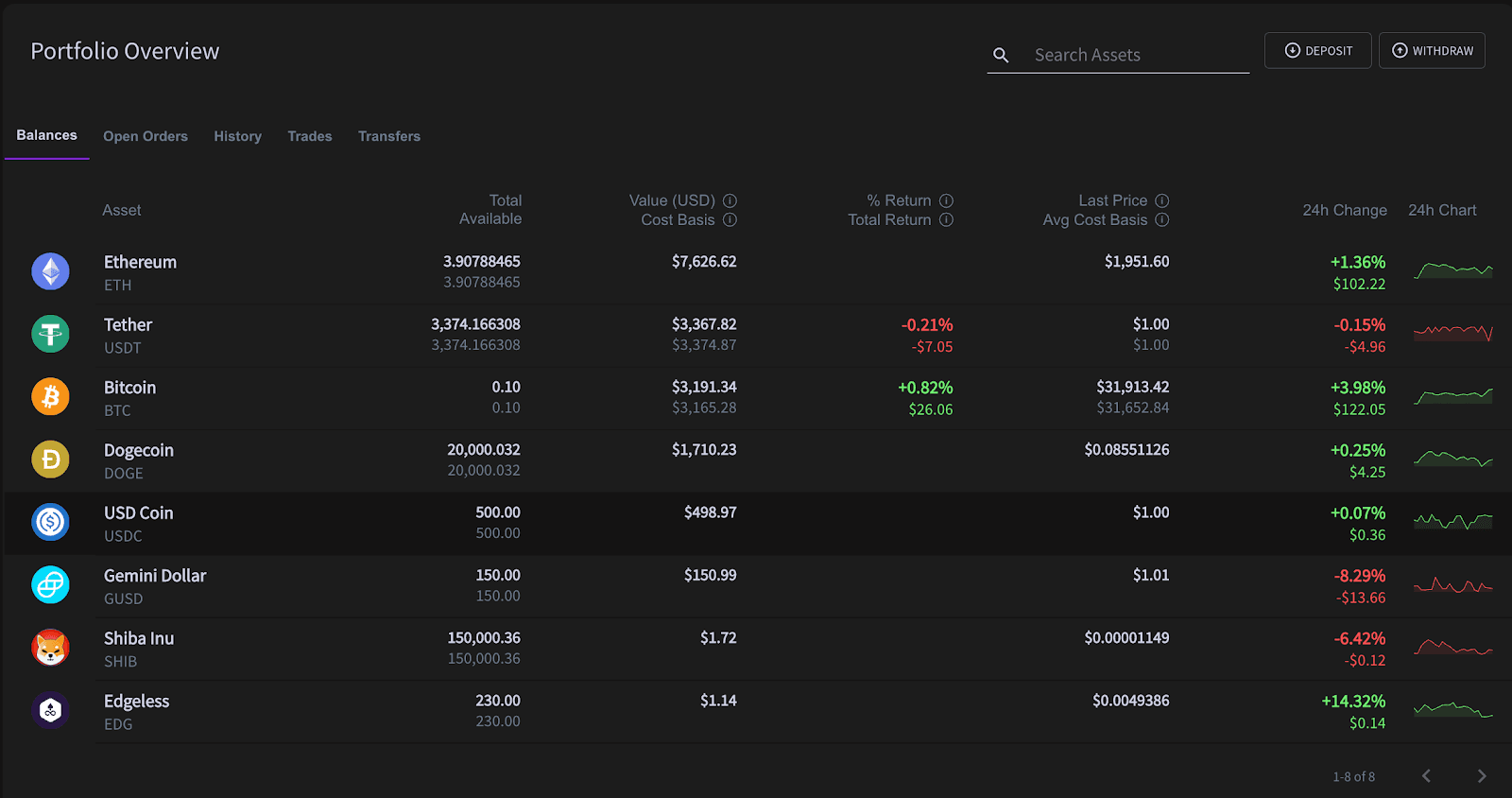 image credit: Quadency
Portfolio Rebalancer
As the value of assets on your portfolio rises or falls, the portfolio rebalancer automatically rebalances your portfolio to the initial asset weights.
See our top crypto rebalancing tools you can choose from.
4. Asset Research
Instead of relying on personal knowledge of advice from a variety of sources across social media, direct insights from well-known and respected insiders are available on Quadency. These, you can find on the Quadency blog page.
Supported exchanges
Which exchanges can I connect to Quadency? Quadency, currently supports 13 major exchanges and they include the following:
AAX
Binance
Kucoin
Liquid
OkEX
Binance US
BitFinex
Bittrex
Coinbase Pro
Gemini
HitBTC
Kraken
Poloniex
All listed exchanges can be connected via API keys with Quadency, allowing you to trade across all from a single platform.
Tradable Assets
Over 1500 digital assets can be accessed on the Quadency trading platform.
All trades on Quadency are purely Spot trading. Derivatives such as futures, margins, and perpetual swaps are currently not supported on Quadency. They are, however, part of the future plans of the Quadency team.
Quad token
As part of their goal to provide investors with a better digital asset trading and management experience, Quadency has a token – QUAD – native to the platform. Launched on Ethereum Mainnet and Listed on SushiSwap, CoinMarketCap and CoinGecko, the Quad token grants access to trading bots and backtesting, tools, and other features on Quadency.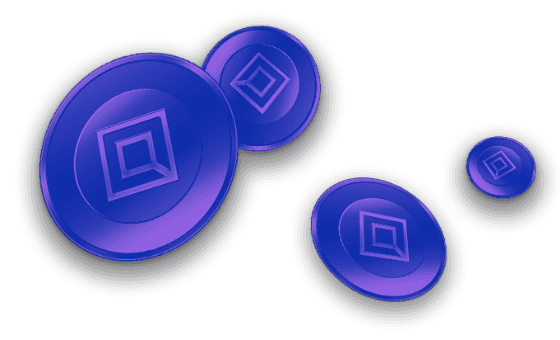 The QUAD Smart Contract is genuine, having passed Zokyo's security audit assessment.
Pricing
Having scrapped the old pricing packages now runs a fair "pay as you trade" pricing. Instead of monthly subscriptions in return for access to the features of the platform, your trading volume and participation in the Quadency ecosystem will determine what you can access. A five-tier pricing category with varying benefits is available depending on how much USD worth of QUAD tokens you hold in your account, or your total trading volume over 30 days on Quadency-supported exchanges.
Official pricing: https://quadency.com/pricing
Tier 1
Hold <$100 QUAD
OR Trade <$10K Monthly
Accessible features
0.10% Bot Trading Fee
10% Discount with QUAD
10 Live Bots
10 Daily Backtests
1 Exchange Account
Tier 2
Hold $100 – $1K QUAD
OR Trade >$10K Monthly
Accessible features
0.07% Bot Trading Fee
25% Discount with QUAD
50 Live Bots
100 Daily Backtests
Unlimited Exchange Account
Smart Suggest Access
10% Referral Bonus
1% QUAD Staking Bonus
Tier 3
Hold $1K – $10K QUAD
OR Trade >$100K Monthly
Accessible features
0.05% Bot Trading Fee
50% Discount with QUAD
100 Live Bots
500 Daily Backtests
Unlimited Exchange Account
Smart Suggest Access
QUAD Alpha Access
25% Referral Bonus
2.5% QUAD Staking Bonus
Tier 4
Hold $10K – $50K QUAD
OR Trade >$1M Monthly
Accessible features
0.03% Bot Trading Fee
75% Discount with QUAD
500 Live Bots
1000 Daily Backtests
Unlimited Exchange Account
Strategy Coder Access
Smart Suggest Access
QUAD Alpha Access
50% Referral Bonus
5% QUAD Staking Bonus
Tier 5
Hold >$50K QUAD
OR Trade >$5M Monthly
Accessible features
0.02% Bot Trading Fee
100% Discount with QUAD
Unlimited Live Bots
Unlimited Daily Backtests
Unlimited Exchange Account
Strategy Coder Access
Smart Suggest Access
QUAD Alpha Access
100% Referral Bonus
10% QUAD Staking Bonus
Security
Quadency implements numerous industry-standard security measures to keep accounts secure from unauthorized access.
Your funds are safe with Quadency as they never leave your exchange accounts. Quadency does not need direct access to your funds to operate. Access is via an Application Programming Interface (API) which allows Quadency to connect and communicate with its supported exchanges. This is how data such as price data, and account balances are collected, and also how buy and sell orders are placed.
API keys, passwords, and other sensitive information are encrypted using industry-standard Bcrypt. A 256-bit multi-layer encryption keeps out unauthorized access. end-to-end encryption of communication with SSL over Transport Layer Security (TLS), keeps transmitted data encrypted. For browser security, content-security policy (CSP) and HTTP Strict Transport Security (HSTS) features are utilised to halt any data breach via your browser.
Two-factor authentication is offered on all user accounts and is advised for additional security of user accounts. 
As a preventive measure, Quadency is subjected to regular penetration testing by third-party security providers.
All financial products are regularly tested before integration and strict compliance with OWASP top 10 standard reliability standards is ensured. For secure processing of payments, all processing is done via Coinbase Commerce and Stripe, securely over SSL. 
Other measures include
Rate limits and ReCaptcha
We use Amazon Web Services against potential DDoS attacks
Ease of use
A good support page stacked with insights and tips makes it a beginner-friendly platform.
A customizable trading interface allows you to personalize your trading experience. Choose a preferred currency to view prices and portfolio values.
Quadency is also available as a mobile app, so you can check and automate your trades on the go.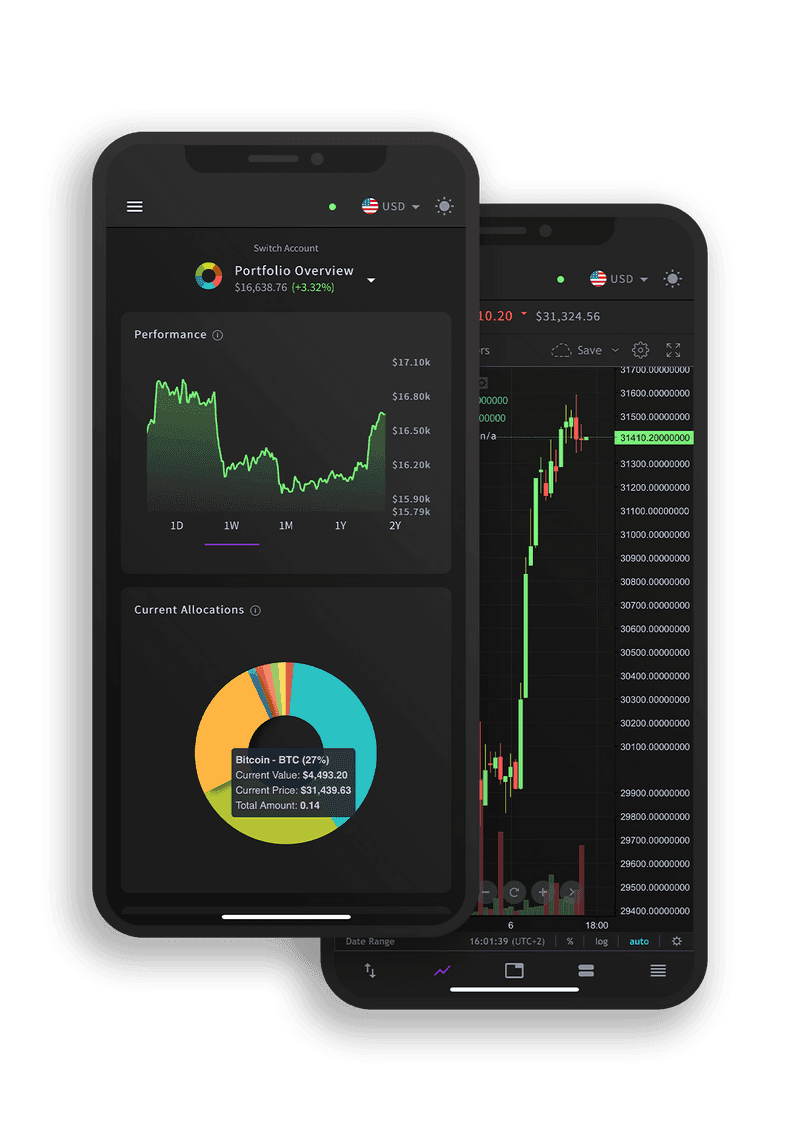 Final Thoughts
Overall, Quadency is a platform with quality trading services. Unlike other platforms offering similar services, Quadency offers more with a native token and an interesting roadmap of features. With plans in place to launch its exchange later this year, the platform is looking to be a multi-chain solution to better digital asset management and trading.
Read More