ITrustCapital Review – All the Facts 2022
Overview
ITrustCapital is a U.S. investment service company situated in Irvine, California. The company was founded by industry leaders with a focus in alternative assets IRA industry.
Cryptocurrency and precious metals trading, (precisely physical gold) are its strong and only products. ITrust clients are allowed to buy, hold and trade these assets in real-time through a U.S. retirement account.
As an IRS compliant platform, millions of Americans now invest in cryptocurrencies and physical gold.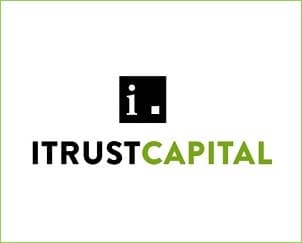 Many other institutions facilitating this kind of service muddle up the process with high cost and huge tax liability.
With IRS targeting cryptocurrency investors, ITrustCapital simplifies the process by eliminating tax burden for its users with a 1% transaction charge compared to other IRAs charging up to 15% for a single transaction.
ITrustCapital highlights these key focal points in its business:
The man behind the wheels of ITrustCapital is Todd Southwick. As the Chief Executive Officer, he brings to the table 20 years of proven market experience.
He jointly runs the firm with Blake Skadron, the Chief Operating Officer with 10 years extensive experience in sales and management.
Registered Address: 18575 Jamboree Rd #600, Irvine, CA 92612, United States.
Regulation
Cryptocurrencies particularly Bitcoin became legal in the U.S, Japan, UK, Canada and other developed economies.
In the U.S, Bitcoin is not treated as a legal tender. Instead, the government regards the Bitcoin as a property.
This now makes Bitcoin and other Altcoins taxable, drawing the interest of government agencies like the IRS.
Tradable Assets
Cryptocurrencies
Bitcoin (BTC)
Ethereum (ETH),
XRP (XRP),
Litecoin (LTC),
Bitcoin Cash (BCH),
EOS (EOS),
Chainlink (LINK) coming soon,
Stellar (XLM) coming soon
Precious Metals
Gold,
Silver (coming soon)
Minimum Deposit
The minimum to open an ITrust account is $1,000. There is no maximum.
Trading Accounts
ITrust avails its users investment opportunities through existing or newly created Individual Retirement Account (IRA).
Accounts can be funded in 3 ways:
Transfer an IRA – Any existing IRA can be transferred. (Traditional, Roth, SEP, Simple, Inherited)
Employer Plans – Once you leave a job for any reason, you can rollover your retirement plan. (401k, 403b, TSP, 457)
Contribution – Add new funds based on yearly guidelines.
Note that joint accounts are not allowed. The "I" in IRA stands for individual, but you will need at least one beneficiary listed on your account who would inherit the account upon your passing. Most users name their spouse as the primary beneficiary.
Languages
ITrust communicates to its users predominantly in English. Its presence in other regions of the world is not known.
Currency Pairs
ITrust offers the lowest cost platform to trade digital assets, it does not trade Forex.
Assets that are traders on its platform are a fine selection of cryptocurrencies and physical gold.
Max Leverage & Spread
Not applicable
Deposit
Transfer an IRA – Any existing IRA can be transferred. (Traditional, Roth, SEP, Simple, Inherited).
Employer Plans – Once you leave a job for any reason, you can rollover your retirement plan. (401k, 403b, TSP, 457)
Contribution – Add new funds based on yearly guidelines.
Please note that these are the waiting period for transfers.
IRA Transfer: 1-2 weeks
Employer Plan Rollover: 3-4 weeks
Contribution: 1-week
Withdrawals
As a retirement account, it is expected that investments should be accessed from age 60.
If you take a distribution of your funds before the age of 59 ½, you could be assessed a 10% penalty, and the withdrawal may be taxed as income.
Transaction Fees
Monthly account cost: $29.95
Cryptocurrency Trades: 1%
Physical Gold: $50 over spot per ounce
Physical Silver: $2.50 over spot per ounce (coming soon)
Insurance & Security
Its cryptocurrency assets are secured through curv. Curv is the industry standard and leader in digital asset security. 
Gold / Silver are stored in the secured vaults at the Royal Canadian Mint
Personal Account Manager
With an effective customer support 24/7, you will get answers quickly to questions via Live Chat and Callback options.
ITrust staff adds a personal touch to all communication lines which naturally translates to a staff knowing and managing your request individually.
Training and Education
ITrustCapital offers no specific trainings like other Forex brokers who actively trade in currencies and other digital assets.
ITrust provides a broad knowledge center for users and nonusers to benefit from its cryptocurrency and gold trading learning materials.
Final Thoughts
If you're looking to build a vibrant portfolio of digital assets especially in your later years, ITrustCapital should be the guys to talk to.
With a smart tax benefit, low transaction fees and transparency in its business dealings, ITrust pioneers a new phase of digital asset investments with a mid to long-term focus for the benefits of its users.
ITrustCapital provides a more active investment platform for Americans to retire.
With a strong U.S. presence and an audacious mission to empower more users through alternative investment, the future is promising especially to investors that are currently plugging into digital assets.
Pros & Cons
PROS
Tax-free trading and tax-deferred or tax-free gains.
Very low transaction fee of 1% on cryptocurrency trades.
Easy funding process at all levels.
IRS regulations applies to ITrustCapital.
Insured by reputable third parties, Curv and Royal Canadian Mint.
Transparency in its onboarding process.
Experienced management team.
CONS
Funding minimum is $1000.
Limited assets to trade (Cryptocurrencies and Precious metals).
Withdrawals before age 60 are charged 10% penalty.