Got something brilliant to share with our audience? we are open to accept guest posts at this time.
As an Investment focused website, we accept articles on Cryptocurrencies and Forex trading (If you're writing on a general finance topic, please relate your article to any of the highlighted themes).  
You may decide to send us an already written post in any related topic or simply contact us if you have other ideas to share upfront before writing.
We charge 35 US Dollars for guest/sponsored post submissions (payment detail at the end of this page). Please note that this is a consideration for publishing. Contents that do not fit our audience or lack the required qualifications may be rejected.
To get your content published, kindly follow these guidelines:
Article titles must be in any of these categories (Currency trading, Investing in Cryptocurrencies or Stock trading).
Article must be original and not published anywhere else.
We wish to remain friends with Google and so we recommend article length should exceed 750 words. A thousand words or more is just perfect for SEO.
Document Format: MS Word Doc. or other Word Formats…No PDFs or Text Doc. formats.
Run article through a grammar checker, Grammarly is preferable.
Test article for plagiarism and copyright issues.
One or Two Standard or HD Free stock images (150KB max) are acceptable (Optional).
Article should have one hyperlink, we can discuss if you need more than one.
After we receive and duly acknowledge your submission, we will send your article to our review team. You should hear from us via email in 24 – 48 hours.
Upon approval of article, we review and notify you of the publishing date. Don't worry, your article should be published in a matter of hours .
Articles should be submitted to

admin@ox-currencies.com

or reach me directly

eddu@ox-currencies.com
See article structure below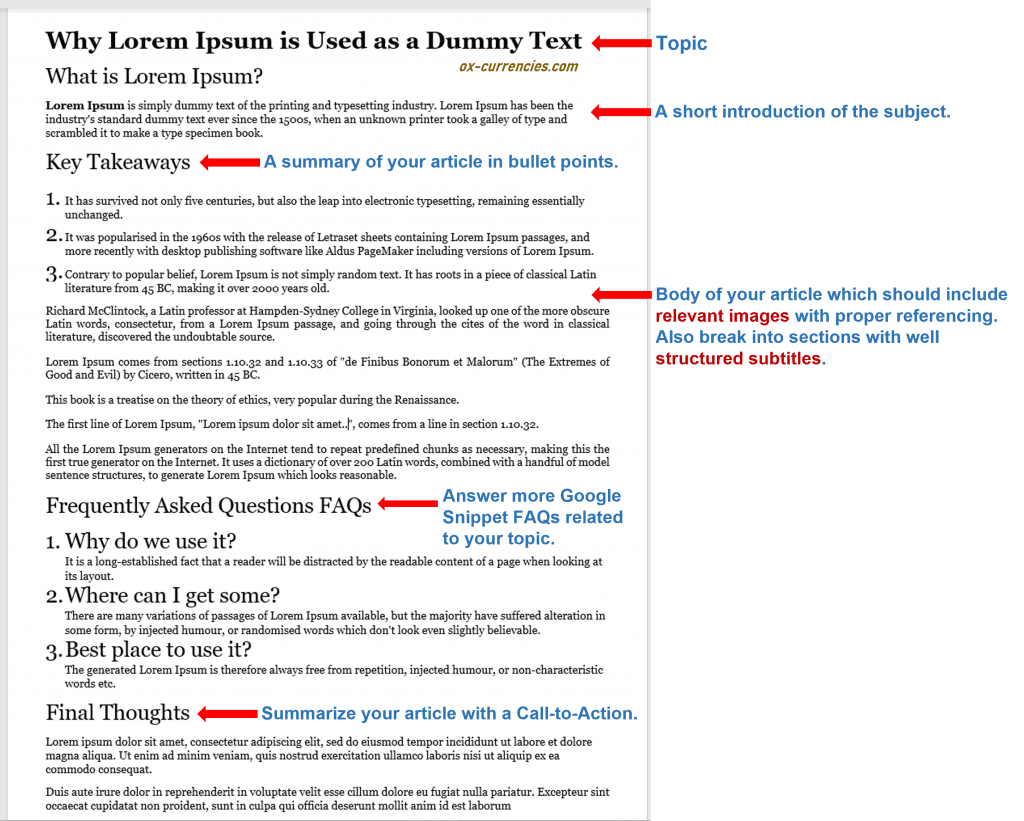 FREQUENTLY ASKED QUESTIONS
Q: What should I do after submission?
A: Be patient and look out for our response via email. We typically respond to submissions in 24-48 hours.
Q: What do I do if my submission is rejected?
A: We always look to clarify why an article was rejected. Areas that need revision are pointed out. After revision, you may wish to resubmit.
Q: After approval, what should I do?
A: A link to the published page would be sent to you via email. It's now time to engage with your friends on social media by sharing your post with them.
Q: How often can I submit a guest post?
A: As many as you want, we are open to accept contents that would educate and inform our audience.
Q: Why should I limit the number of hyperlinks in my articles?
A: To avoid hurting your SEO efforts, we carefully limit the number of links referring to a page from a single domain.
Q: Will I get a referral backlink in the process?
A: Of course, if you request, we are willing to offer a backlink (do-follow) to your blog, if you need more than one, we can add that at a marginal cost as well.
Q: Can I apply to become an In-house writer?
A: We look to hire in-house writers with forex and cryptocurrency trading knowledge to scale our publication efforts. Please check our pages frequently for openings in this regard.
Payment: PayPal@ox-currencies.com
If all these doesn't make sense, you can shoot us an email.
Yours Sincerely,
Eddu
The Editor