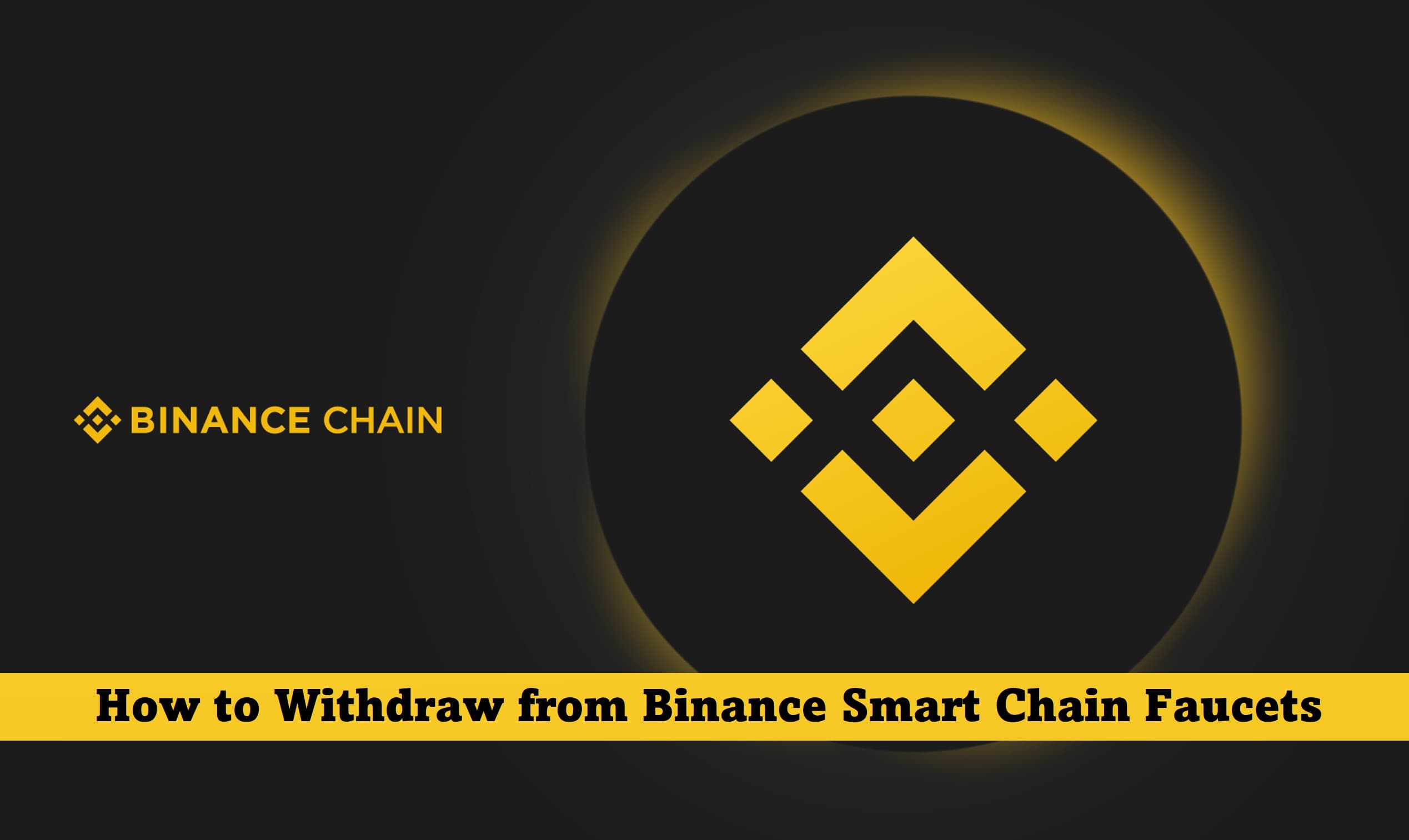 In a world of blockchains, DeFi and dApps, countless possibilities can be done on the ecosystem.
Developers are constantly improving on blockchains, developing new blockchains and tokens. To push adoption, tokens are given out for free via faucets, just like bitcoin was at the inception of cryptocurrency.
Binance Smart Chain gives out free BNB to developers for experimental purposes to encourage the building of dApps and other projects on their blockchain.
Learn in this article how you can withdraw BNB from the Binance Smart Chain faucet to your wallet.
What Are Crypto Faucets?
Crypto faucets are platforms in the form of websites or applications that distribute cryptocurrencies in small amounts to people for free or in exchange for completing tasks. The idea is to give people a hands-on experience of the features of a cryptocurrency.
Crypto faucets usually come in two kinds, direct paying faucets, and micro wallet faucets. Direct paying faucets send claimed cryptocurrencies directly to the provided address, while micro wallet faucets send the claimed or earned cryptocurrencies to a micro wallet from which they can be withdrawn.
Some faucets have a minimum threshold amount which users have to accumulate claimed assets up to before they can withdraw them. Other faucets pay instantly within seconds of claiming the cryptocurrency.
About Binance and Binance Smart Chain
Binance is a cryptocurrency exchange. Founded in 2017 by Changpeng Zhao, Binance has grown to have a very large daily trading volume and is no doubt the largest crypto exchange.
Binance Smart Chain (BSC) is a platform for Decentralised Finance platform, a blockchain created by Binance for its BNB coin. Very much alike in many ways to the Ethereum blockchain, BSC is an alternative to Ethereum and its likes, coming with improvements to lessen cost and increase speed.
Smart contract functionality and compatibility on Binance Smart Chain is boosted with the Ethereum Virtual Machine (EVM), all in a bid to bring smart contracts support into the ecosystem of Binance Chain.
This EVM compatibility makes it possible for Ethereum tools and DApps to be supported on BSC. Hence, developers can port their projects from Ethereum to Binance Smart Chain.
So dApps, MetaMask that is built to integrate and work with Ethereum, can be configured by tweaking some settings to work with Binance Smart Chain.
Perfecting this requires testing, hence the Binance Smart Chain faucet for giving out test tokens.
Binance Smart Chain Faucet
You can only claim and withdraw free test tokens from the Binance Smart Chain faucet as these tokens are not considered to be real tokens, hence not sold anywhere, and you are advised not to buy anywhere too.
BSC faucets do not require any task like viewing of ads or solving captcha to be done before testnet BNB can be claimed. Rather the site runs a hidden ReCaptcha to prevent robots.
Requests on the faucet are tied to third-party social media as a preventive measure against malicious usage of the faucet for spamming and scams using the testnet token. This limits people from exhausting the Faucet.
A tweet URL of a tweet containing your Binance Smart Chain address within is required to be pasted in the provided space back on the faucet page to validate the claim.
Note: other means are currently being utilized for this these days and the above requirements might not be in place anymore.
How to Withdraw from Binance Smart Chain Faucet?
Withdrawing from the Binance Smart Chain wallet is very easy. The faucet is direct, meaning withdrawals go directly into your wallet address.
To withdraw:
1. Go to https://www.binance.org/en/create and create an address for yourself if you do not have one.
2. Install Math Extension Wallet or MetaMask for integrating with the Chain.
3. Switch to Binance Smart Chain Testnet after unlocking your extension wallet.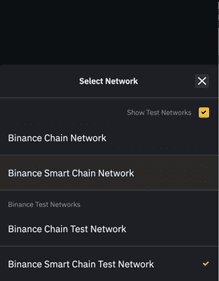 4. Now copy your address.
5. Go to the faucet page: https://testnet.binance.org/faucet-smart.
6. In the provided space on the faucet page, paste your Binance Smart Chain address where you want to receive the token.
7. After entering the address, choose the token you want to withdraw by clicking on either give me BNB or Peggy tokens to pick from a list of pegged tokens.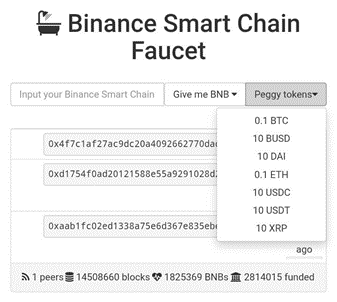 .
You will see your request being processed and the token will be sent to your address all in a matter of seconds. There should be an increase in your balance.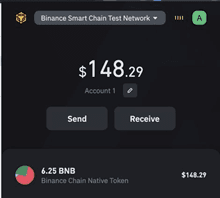 Tokens withdrawn from the Binance Smart Chain faucet are merely testing tokens meant for use on the Binance Chain testnet.
SEE ALSO: How To Join Binance Smart Chain As A Validator
Frequently Asked Questions (FAQs)
Q1. How can I withdraw real BNB from faucets?
There are other faucets too not owned or operated by Binance, where actual BNB can be claimed in small amounts. Below are some faucets where you can withdraw BNB.
1. Firefaucet gives out about 12 different cryptocurrencies and you can claim BNB every 30 minutes by solving captcha. 
2. Free Binance coin allows you to claim between 0.49708378 to 0.00000050 BNB every hour by performing a roll and solving a captcha. What you get is based on a random algorithm.
3. Topcoins is another faucet platform where you can claim BNB every 15 minutes by solving a captcha. You also have an option to claim other tokens like BAT, TRX, and BCH instead.
Q2. How to withdraw from a microwallet?
A Microwallet is a mini online wallet or micropayment cache that is used by faucets to cut down fees associated with withdrawing claimed cryptocurrencies. Faucetpay and expresscrypto are popular microwallets used by many faucets.
You can withdraw BNB from a microwallet after you have accumulated enough BNB from faucets up to the minimum withdrawal threshold amount. Just go to the withdraw section, choose the coin you want to withdraw, input your address and authorize the withdrawal. Your assets will be processed to your wallet.
Q3. How do I use coins from the Binance Smart Chain faucet?
BNB or other pegged tokens claimed from the Binance Smart Chain faucet are meant for use on the Binance Chain testnet. They are not real BNB tokens with value but are meant to be used by developers for experimenting on the test before developing and launching projects in the mainnet.
Withdrawal from the Binance Smart Chain faucet requires integration on the Chain itself. Likewise using the test tokens on the testnet for experimenting.
Read More