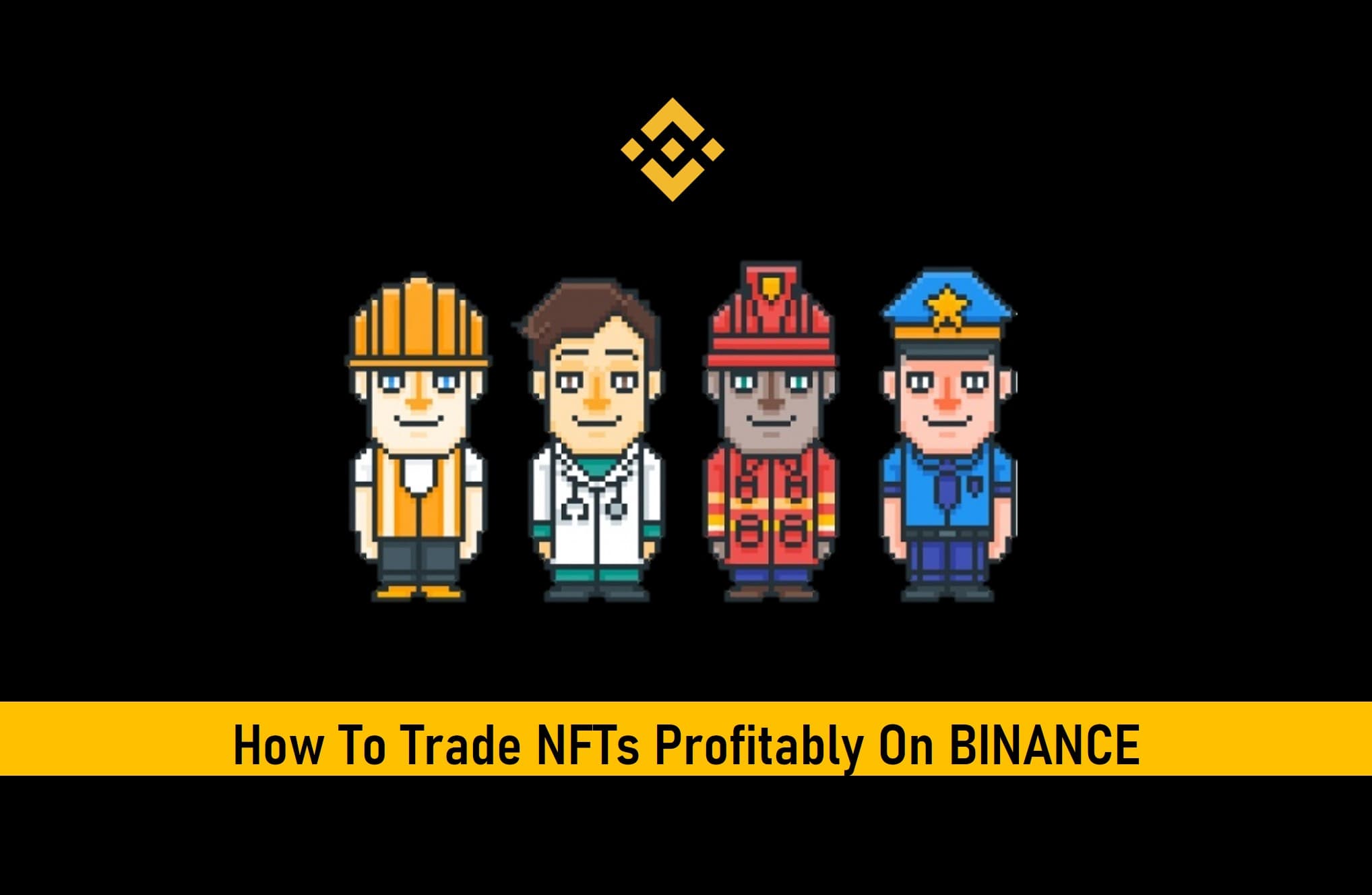 NFTs right now are the biggest thing happening in the world of crypto today. With investors and even ordinary individuals getting their hands on the token while making mind-blowing amounts from it.
According to Forbes, NFTS recorded $23 billion in trading volume in 2021, which is quite impressive for something that became popularized only recently.
On the other hand, Binance on other hand is the largest crypto exchange in the world by trading volume and offers various features to various investors. Because of this, it would be quite impossible to not see NFTs actively traded on the exchange.
Meanwhile, I will be explaining in this article how you can trade NFTs on Binance.
The exchange may not be your traditional NFT marketplaces like Rarible and OpenSea, but it offers the NFT trading feature just as well as these platforms, and interested investors can follow through with this article to find out how.

Key Takeaways
• NFTs are unique tokens in the sense that no two NFTs can be duplicated as they are highly secured on the blockchain.
• Binance does an assessment each time before an NFT is listed to preserve the quality and standard of both the NFTs and the platform.
• On Binance, only selected high-profile users are eligible to sell NFTs, although this feature will soon be made available to all users in the coming future.
• Binance is home to some of the best NFTs created by popular celebrities and high-profile artists which gives it an edge over other platforms.
SEE ALSO: How to Sell NFTs Quickly on OpenSea
SEE ALSO: How To Make NFTs for Yourself (6 Quick Steps)
SEE ALSO: Are NFTs a True Store of Value?
Binance NFT Marketplace
Just as the name implies, the Binance NFT marketplace is a platform where Non-fungible tokens can be bought and sold. Binance has the Binance smart chain where you can mint your NFTs and even transfer them to the Ethereum blockchain where necessary.
Collectors and Depositors of NFTs both receive 1% royalties when investors sell or deposit their NFTs on the marketplace.
Features of the Binance Marketplace
Recall that I mentioned earlier that Binance is the largest crypto exchange in the globe by trading volume. Well, this is specifically what sets it apart from the rest.
Binance because of its large size has an ecosystem where top-notch NFTs are created by big-time artists and high-profile users. This means you get to engage with the best of the best in the NFT business. A feat not many marketplaces have attained.
In addition to this, Binance provides the best rates, so when buying or selling NFTs, you are sure to get the best rates on the market for your trade.
One last thing is exposure. Getting your NFT sold on Binance is your best bet because it has a very large user base where people can easily see your work and the chances of you making a sale are increased.
How to Buy an NFT on Binance
What you simply need to do here is to head over to Binance and go through the available NFTs on the platform. Once you have found the one you wish to buy, click on its name to head to that particular NFT page.
There you will find more details about the NFT, such as the description, price, type of sale, and other necessary information.
If you click on an auction sale, you will need to make a bid, and the investor who makes the highest bid at the end of the NFT bidding round gets the NFT. Next, you click "place a bid" to head to the next screen.
A pop-up should appear where you can input your bid. Your bid must be higher than the previous one by at least the minimum markup. When you're happy with the amount, click "Place a Bid" to confirm.
A fixed item can be purchased in two ways. You can both click the "buy now" button to buy the NFT instantly, or wait till the NFT has a lower price, and then buy it using the "Make an Offer" button.
Bear in mind that this does not guarantee an instant sale as the seller can either refuse or accept the offer made by you.
How to Sell an NFT on Binance
Selling an NFT on Binance at the moment is exclusive to selected artists, presumably high-profile artists, although Binance states that this feature will soon be made available to all users.
Once you have made your NFT, you can either keep it in your collection or start the listing process immediately.
You can also sell an NFT that you have deposited into your account or purchased. When it comes to sales, there are two ways you can do that, which are through "Auctions" or "Fixed Price."
To sell an NFT, head to your "Collections" and click on the NFT you want to list. Click the "List NFT" button to customize your sale.
For an Auction sale, choose "Highest Bid." In the "Minimum Bid" field, you can input the starting price for your listing. If you would like to have an instant sale without bidding, select "Set Price." 
You will then see a "Price" field where you can choose how much you want to sell the NFT. Both of these options also let you choose what cryptocurrency you would like to receive as payment.
Make sure you choose an end date for your sale, from anywhere within one day to thirty days from the time of listing.
Also make sure to properly describe the NFT, stating the features, description, and other added values it might have, while also making sure that it is placed in the right category.
This is so that buyers find it easier to locate your NFT, and on your own part, you get to sell it on time that way.
Once all these are done and you are satisfied with the terms of your listing, click "submit."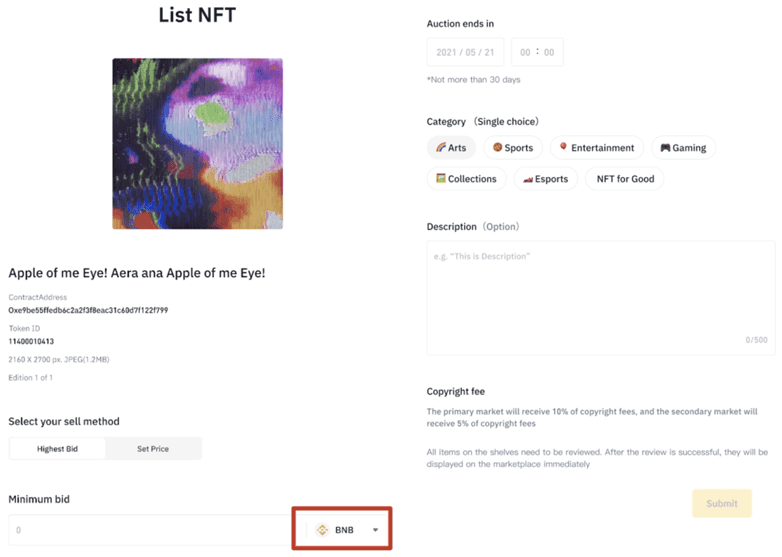 Note that doing all these will not lead to an automatic listing on Binance as Binance consistently tries to maintain a high standard as such NFTs which do not meet up to the standard may not be listed.
Binance usually takes 4-8 hours to do this after which you will receive an email or an SMS to know the fate of your NFT.
If you are confident that your NFT will be approved, you can choose a specific time when you want your listing to go live (at least 12 hours after you submit your listing request) or allow Binance to list your NFT immediately after it gets approved.
Frequently Asked Questions (FAQs)
Can NFTs be traded?
Yes, they can, just like crypto, be traded on specialized platforms such as Binance or marketplaces.
What can I sell as NFT?
A lot of things can be sold as NFTs ranging from images to music, videos, games, and even tweets. Anything that can be represented digitally can be sold as an NFT.
Final Thoughts
Trading NFTs on Binance is as easy as it gets, but mind you, Binance pays high cognizance to the quality of NFTs it lists on its platform, so you might want to make sure you are well versed in NFTs or simply learn how to create one with the help of the Binance Academy.
Read More