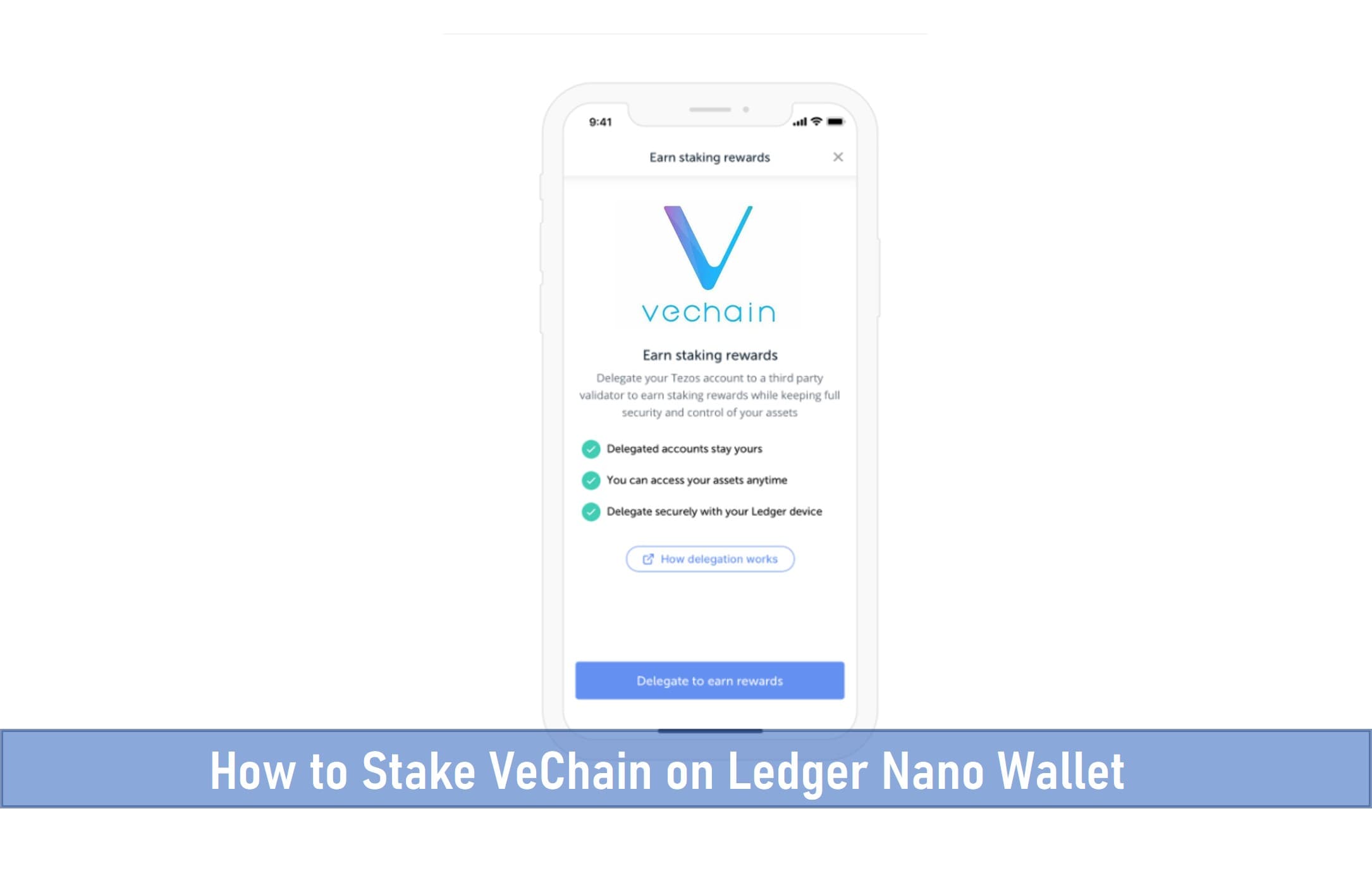 To stake VeChain on Ledger, you first need to own one (Ledger Nano X preferably).
To stake VeChain on Ledger means you will have to delegate (lock) your VeChain assets for a period to participate in the proof-of-stake consensus.
This means that you can participate as a validator on the blockchain and by verifying and adding new transaction records to the network.
Staking is a viable way to earn from your digital assets passively.
Ledger is a renowned hardware wallet for storing and staking VeChain.
What is VeChain?
VeChain is a blockchain platform designed to enhance business processes and support supply chain management in an efficient, transparent, and traceable way.
VeChain was founded in China (2015) by Sunny Lu to streamline the complex supply chain through the use of Distributed Ledger Technology (DLT).
VeChain's Market Price – Today
[mcrypto id="8812″]    
Let's examine VeChain historical price movement.
[mcrypto id="8811″]
Staking VeChain
Staking is the process through which a blockchain network user 'stakes' or locks their cryptocurrency asset on a network as part of the consensus mechanism, thus ensuring the security and functionality of the chain.
There are two ways to stake your VeChain.
1. The first is by running your own masternode. 
2. Stake VeChain through an existing node through a third-party platform through a cryptocurrency wallet like the Ledger Nano wallet.
The two staking methods differ in some ways…
Running a masternode is a more complex process than staking your VET in a wallet, although the rewards are higher than staking in a wallet.
Setting up your own masternode requires you to stake a minimum amount of VeChain.
There are four holding tiers for VeChain stakers on Masternode:
1 Strength (a minimum of 1 million VET is required)
2 Thunder (minimum 5 million VET)
3 Mjolnir (minimum 15 million VET)
4 Authority node (minimum 25 million VET)
Staking VeChain and Earning Rewards
Staking VeChain comes with many benefits…I'll highlight them one after the other.
The VeChain runs a system known as the two token models;
1. the VET and,
2. VeThor (VTHO) tokens.
VTHO tokens power operations on the blockchain.
The two-token model helps to prevent the speculation of the price of its native token which might prevent the full functioning of the blockchain from fluctuations in supply and demand.  Therefore, when you stake VeChain you earn VeThor (VTHO) tokens.
Staking VET On Your Ledger Nano wallet
One of the easiest ways to stake your VET is through your ledger Nano wallet X and the official desktop wallet, SYNC. This is straightforward compared to running your own masternode.
Staking your VET on the ledger Nano wallet will earn you VTHO every ten (10) seconds at the rate of 0.00432 VTHO per VeChain per day.
This means that if you stake 10 VeChain you earn 0.00432VTHO every day that you continue staking.
Staking rewards are usually paid once a month, if you remove your coins from the staking you will lose your reward for the month.
Let's go through the steps
Download and install Ledger Live on your computer, from ledger.com, you may also download it in-app store or google play.
2. Download the official desktop wallet called SYNC on env.vechain.org and click download SYNC.
3. Connect your ledger device to the manager and ensure your ledger device has the latest firmware version for protection.
4. Search  for VeChain in the app catalog and start your installation of the  VeChain app
5. After you have clicked the install button, just follow the instructions when the installation window appears.
6. Open your SYNC wallet and start to import your ledger device.
7. At the top right corner, click the ledger icon, which will direct you to the wallet app
8. Click on the ledger and follow the steps that appear on SYNC
9. Select Ledger device.
10. Connect your ledger device
Is It Safe To Safe Vechain On Ledger Nano X
Presently, there are no know problems associated with staking VeChain on ledger Nano X -although there may be a drop in the value of your cryptocurrency due to volatility in market prices. However, these risks are also seen in all forms of money.
SEE ALSO: Ledger Powered Crypto Debit Card (What You Need To Know)
Final Thoughts                
Staking VET can you earn good returns.  The good thing is you do not have to do anything to continually earn your rewards.
Staking rewards are usually distributed once a month, if you remove your coins from the staking you will lose your reward for the month.
VeChain is a project with short-term, mid-term, and long-term prospects, it is also one of the few cryptocurrencies with real-world application, as seen by the numerous partnerships of VeChain with many bluechip organizations like BMW, PriceWaterHouseCoopers, Walmart China, etc.
With these factors owning and staking VeChain is a good investment option if you're considering earning passively.
Read More