How To Stake CHESS To Earn BNB With Up To 42.17% APY
Recently, Binance made an announcement to its users that it had launched a CHESS staking feature, which means that users of the exchange can now stake CHESS to earn BNB with up to a 42.17% annual percentage yield.
CHESS is a governance token of the Tranchess protocol currently issued on the Binance Smart Chain which follows the ERC-20 standard.
The CHESS token distribution was created to slowly reduce issuance within four years, coupled with fixed weekly emissions.
In this article, I will be showing you how to stake CHESS to earn BNB with up to 42.17% APY on Binance. To get started Join Binance.
Key Takeaways
• With Binance, you get to stake the CHESS token with an amazing reward of up to 42.17% annually.
• Binance makes it clear that it will not assume responsibility for any loss that may occur as a result of staking on the platform.
• Undertaking proper research before venturing into crypto staking is always important, as you will be performing that activity with acquired knowledge.
• CHESS is a governance token that is issued on the Binance Smart Chain while following the ERC-20 standard.
SEE ALSO: How To Access Secure Asset Fund (SAFU) On Binance
SEE ALSO: How To Join Binance Smart Chain As A Validator
SEE ALSO: How To Stake Cardano On Binance
What is CHESS?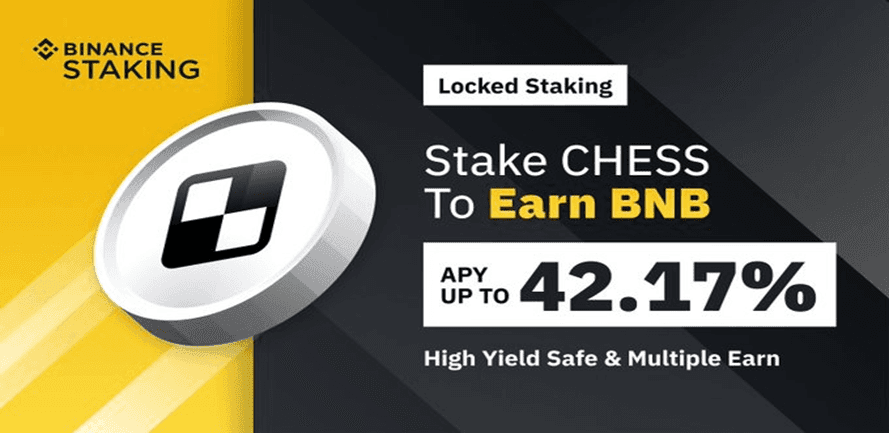 If you want to stake the CHESS token, you will have to first purchase one of the major cryptocurrencies on Binance, such as Ethereum, Bitcoin, or Tether.
After that, you then need to make a crypto deposit to an altcoin exchange, which when confirmed, you can then buy the CHESS token on Tranchess.
All said and done, follow me as I show you how you can stake CHESS on Binance with an expected return of up to 42.17%.
There are two alternatives one can take when it comes to staking CHESS on Binance, which are:
Alternative 1: Staking CHESS in a locked staking format
This form of staking is usually done on a first-come, first-served basis with an interest calculation period starting from the day after locked staking is confirmed to the end of the corresponding product period.
The interest on the locked CHESS comes the next day between 12 midnight and 4 am (UTC) after the locked staking period has expired.
Once this happens, users can now get their staked CHESS with the interest (in the form of earned BNBs) into their spot wallets.
Below is a table showing different types of locked staking and their respective durations:
| | | | | |
| --- | --- | --- | --- | --- |
| Asset | Duration | Max. Locked Staking Limit Per User | Standard Annualized Interest Rate | Min. Locked Staking Limit |
| CHESS | 10 days | 100 CHESS | 42.17% | 10 CHESS |
| CHESS | 30 days | 1,000 CHESS | 12.15% | 10 CHESS |
| CHESS | 60 days | 2,000 CHESS | 15.52% | 10 CHESS |
| CHESS | 90 days | 1,000 CHESS | 18.68% | 10 CHESS |
If you wish to view your locked staking assets, you can simply head on to Wallets-Earn-Locked Staking-Locked. The annual percentage yield is adjusted daily based on the on-chain staking rewards, and the specific APY is subject to the page display on the day.
Frequently Asked Questions (FAQs)
What are the risks of staking crypto on Binance?
The major risk you will face when you stake crypto on Binance is the crypto price. When the crypto price falls, your earnings from staking will drop drastically.
This in turn will affect your staked portfolio as you won't be able to sell your assets due to them being locked up for that period.
Is staking crypto profitable?
Yes, staking cryptocurrency is profitable, although it comes with some risks of its own, which you need to take into consideration should you expect profits from doing so.
Can you stake Ethereum on Binance?
Yes, you can stake Ethereum and other cryptocurrencies on Binance. Staking on Ethereum, in particular, attracts zero fees for staking, with a minimum of 0.1 ETH being allowed for staking on the Binance platform.
Final Thoughts
In this article, I have listed two ways in which you can stake CHESS to earn BNB. All you need to do is go through this article, and you are good to go.
Read More