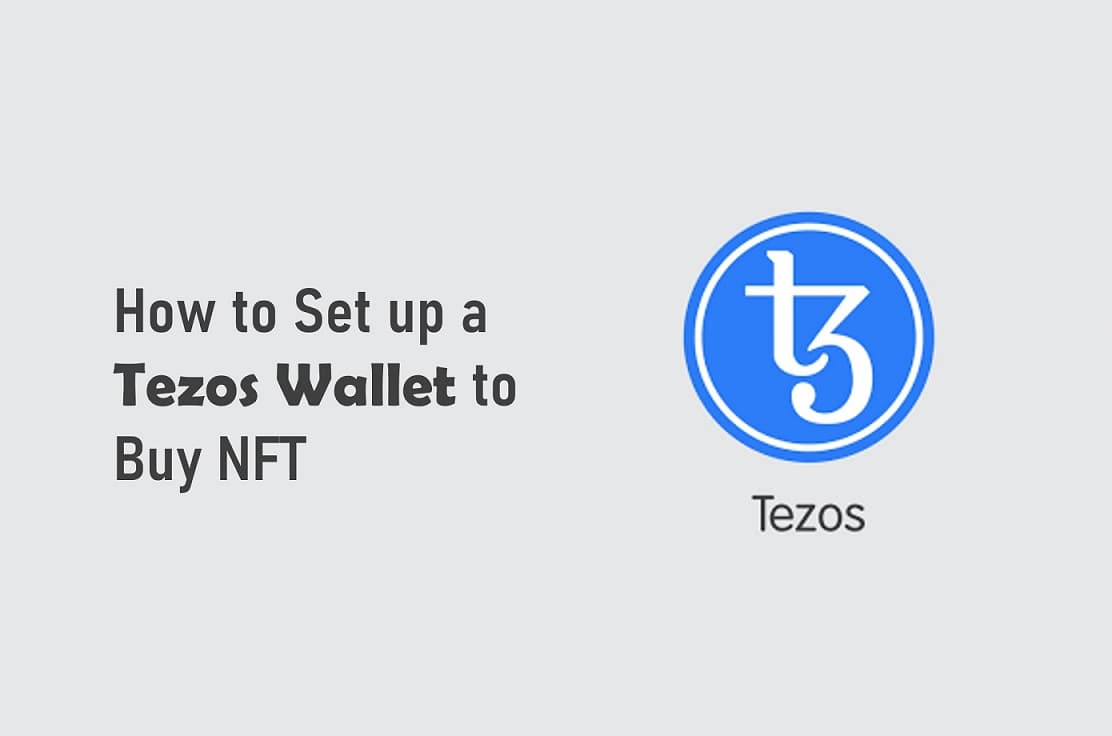 How to set up a Tezos Wallet to buy NFT
Tezos Protocol and Temple Wallets
Tezo is an efficient and rapidly growing blockchain that is used by NFT platforms such as Hiectnunc and Kalamint. However, to purchase a Tezos-based NFT, you should have a crypto wallet such as a Temple Wallet. The Temple wallet comes in highly recommended for Tezos NFTs.
Note: NFT here stands for Non-Fungible Tokens.
The Tezos protocol provides a formal process for stakeholders to govern the protocol and implement future innovations. Proof-of-Stake (PoS) is the mechanism by which Tezos participants reach an agreement on the state of the blockchain.
Unlike other PoS protocols, Tezos allows any stakeholder to participate in the consensus process and be rewarded by the protocol for contributing to the network's security and stability.
The Tezos blockchain was created to facilitate formal verification, which aids in the security of smart contracts and the avoidance of buggy code.
Tezos can be upgraded without splitting the network into two different blockchains and disrupting the network effects that form over time.
SEE ALSO: How to Stake Cardano On Ledger Nano Wallet
SEE ALSO: Top 11 Best Cardano (ADA) Wallets for Staking & Storage
SEE ALSO: Quick Steps To Stake Tezos On Coinbase
Key Takeaways
• Tezos allows any stakeholder to participate in the consensus process and be rewarded by the protocol for contributing to the network's security and stability.
• NFTs are non-fungible tokens that stand as representations of ownership of unique items such as art or collectibles.
Temple Wallet is a user-friendly browser extension wallet for the Tezos ecosystem. Temple allows you to interact with web-based decentralized applications (dApps) directly from your browser.
Other important features are as follows:
Investigating various Tezos-based assets
Simple account transfer from other Tezos wallets
Delegation of tasks to bakers
It is a wallet that is completely open-source and audited.
Step I: Make use of your Google Chrome or Firefox browser to navigate to . To install the Temple extension in your browser, click the "Install Now" button. You may receive an alert asking you to confirm that you still want to install it.

Step II: Select the Install button for the browser that you are using. In this case, the Google Chrome version will be installed.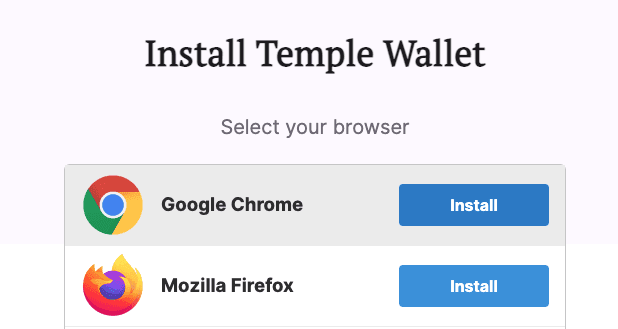 Step III: You will be redirected to the Google or Firefox extension store. To install it, click the "Add to Chrome" button.

Step IV: Once installed, you will be directed to a page where you can either import or create a new wallet. Click the "Create a New Wallet" button.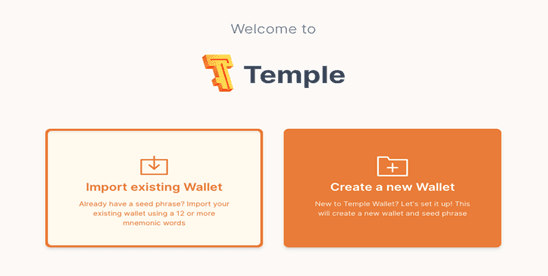 Step V: Enter a password for logging into the wallet, then click the Accept terms box and then the Create button.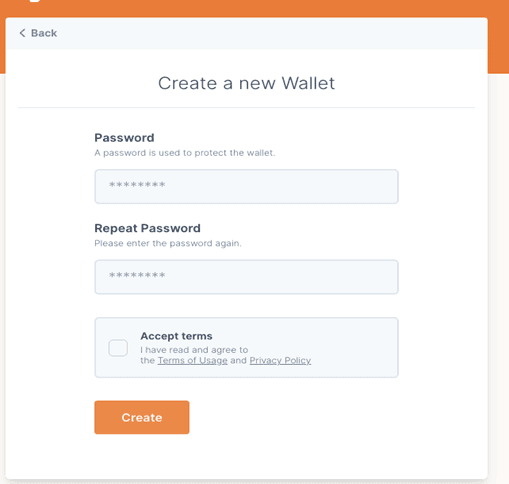 Step VI: For your account, Temple will generate a Seed Phrase. Consider this to be your Social Security Number, which you should never share with anyone.
Someone else can log in to your wallet and access your funds even if you don't have a password by entering the Seed Phrase. To view the Seed Phrase, click on the grey box labeled "Protected."
You should write the words down on a piece of paper and keep them somewhere safe. It should not be saved in your Contacts or any other online application. You will not be able to view the Seed Phrase again once you click the "Continue" button.
Step VII: Congratulations, your Temple Wallet has been created. The crypto address for your wallet is in the small grey box that begins with "tz." It is "tz1LvJp…CgWe" in the example below.
Please keep in mind that this is only a summary of the address. By clicking on the box, you can view the full address, which will automatically copy to your clipboard. To view it, simply copy and paste it into a document or input field. This address is required to receive Tezos tokens.
Step VIII: Now that you have a wallet, you must add Tezos tokens to it. The best way to get them is through a platform. You'll need to send them to your Temple crypto address once you've purchased them.
Step IX (Syncing your wallet): To buy an NFT from a platform such as  or , you must "sign" transactions from your wallet. The first thing you should do is connect your wallet to the platform. Assume you want to buy an NFT from . At the top of the page, next to the three-lined icon, there is a "sync" link. To sync your wallet, click the "sync" button.

A pop-up will come up asking you of a wallet you wish to sync. You then proceed to click on the "Temple – Tezos Wallet (ex. Thanos) link.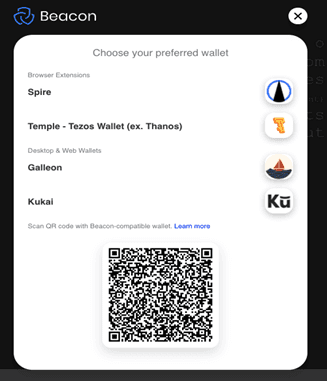 You will be asked to confirm the transaction after clicking on the Temple Wallet. To begin using your wallet, click "Connect."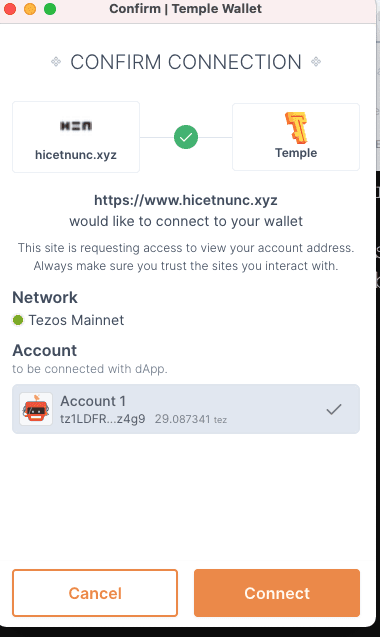 Step X (Purchasing an NFT on ): It's very simple to buy an NFT once your wallet is synced. Simply click on the NFT you want to buy, and if it's available, you'll see a "collect for XXX Tez." link. Here, they clicked on the "collect for 0.77 Tez" button.
and you will be asked to confirm the transaction, just as you did when you synced your wallet. After you confirm it, it will be added to your collection a few minutes later.
Frequently Asked Questions (FAQ)
1. How do I buy NFT Tezos?
You can purchase NFT Tezos on various platforms. Coinbase would be a good one. After this, transfer it to your chosen wallet crypto address.
2. Can Metamask hold Tezos?
Metamask cannot hold Tezos as it does not support it. You would need to install a different wallet.
3. How much is Tezos worth?
Tezos is worth $5.36 as of the time of writing this article.
4. Does Trust Wallet support Tezos?
Trust Wallet supports Tezos as with it, you buy, sell, and store your cryptocurrency as you are in charge of your funds.
5. How do I get a Tezos Activation Code?
Tezos activation codes are available via the Tezos foundation as the codes are available to those who have completed the identity verification process.
Final Thoughts
Setting up a Tezos Wallet to buy Non-Fungible Tokens as we can see from the article above is as easy as it gets. Here in purchasing Tezos based NFTs, the Temple Wallet was used.
You could also make use of other wallets as Temple Wallet was only used for an illustration in this article and is by no means the only wallet out there for Tezos based NFTs.
Read More