Last year was a huge moment for NFTs as the sector has seen an enormous surge in comparison to a year earlier, with blue-chip collections, celebrities joining in, and a massive influx of community members.
Although this has given liquidity, opportunity, and a huge potential for growth to the market, it has also attracted prospective scammers.
Because of the decentralized structure of the NFT world, many people have become victims of a variety of frauds. And there's been little anyone can do to stop them in many circumstances.
At the blockchain level, digital assets are fortunately quite secure. This implies it's extremely improbable that anyone's assets will be lost as a result of a blockchain-level hack or attack.
Instead, the vast majority of NFT thefts and losses are caused by asset owners falling prey to one of an increasing variety of scams or failing to appropriately secure their assets.
If you're a collector of digital collectibles or have NFT exposure, it's important to learn how to properly secure your assets. And one of the best hardware wallets is the Trezor Model T.
In this post, we will take a look at the Trezor Model T and how it can be used in keeping your NFTs safe.
Key Takeaways
• Non-fungible tokens (NFTs) are a cryptocurrency structure that keeps unique metadata that identifies each token or coin.
• Trezor model T Wallet can be used to store and secure NFTs as long as they are on a network that is already sponsored in device firmware, such as Ethereum.
• Non-fungible tokens can be secured with the Trezor hardware wallet using a third-party interface, such as Metamask, which should securely organize NFTs.
• After you've installed Metamask, you'll need to configure it to use the Trezor seed for authentication.
SEE ALSO: How To Secure Your NFTs On Ledger Nano X
SEE ALSO: How to Create Cardano NFTS with the Cardano Token & NFT Builder
Disclosure: Please note that some of the links below are affiliate links and at no additional cost to you, we will earn a commission. When you purchase a Trezor Model T hardware wallet using the affiliate link, they compensate us, which helps make this guide free of charge to you.
➡ Click here to purchase the Trezor Model T for your NFTs.
How Trezor Model T works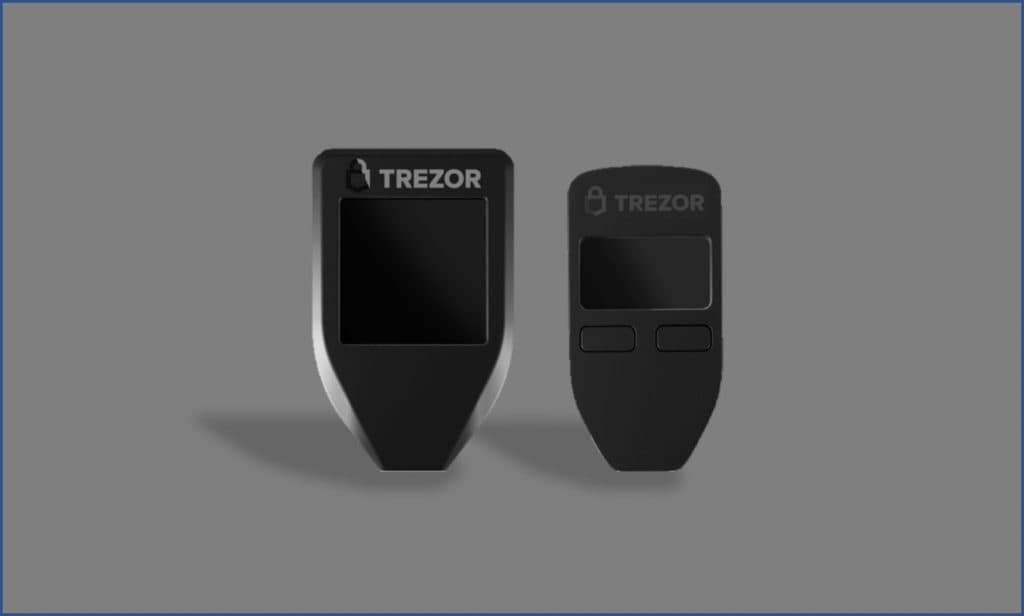 Trezor hardware wallets have supported the Ethereum chain for a long time, thus you can store your NFTs there.
However, this is accomplished by linking your Trezor wallet to the MetaMask browser plugin.
To use a Trezor hardware wallet to store NFTs, you'll need to install a third-party app that can manage NFTs.
Metamask, a web wallet plugin that supports Ethereum NFTs, is one of the most popular apps.
After you've installed Metamask, you'll need to configure it to utilize your Trezor seed for authentication.
How to Use MetaMask with Trezor to secure NFTs
It's quite simple to add NFT tokens to your hardware wallet. All you need is an Ethereum address that your Trezor has safely generated offline. Connect your Trezor to Trezor Suite and create a new Ethereum account, then send your NFT to that address.
You'll have complete control over the keys linked with the NFT in this manner. Below are the steps you need to take.
Step 1. Set up an Ethereum account in Trezor Suite
All you need is an Ethereum address to send NFTs to store them.
Visit the Accounts page in Trezor Suite and click the green plus (+) sign next to My Accounts.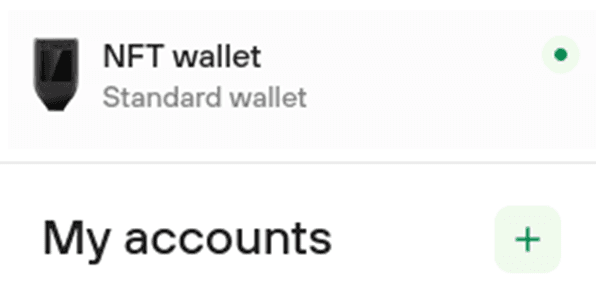 This will bring up a menu where you can add new coins. Choose Ethereum from the list and click Find my Ethereum accounts after clicking Activate more coins.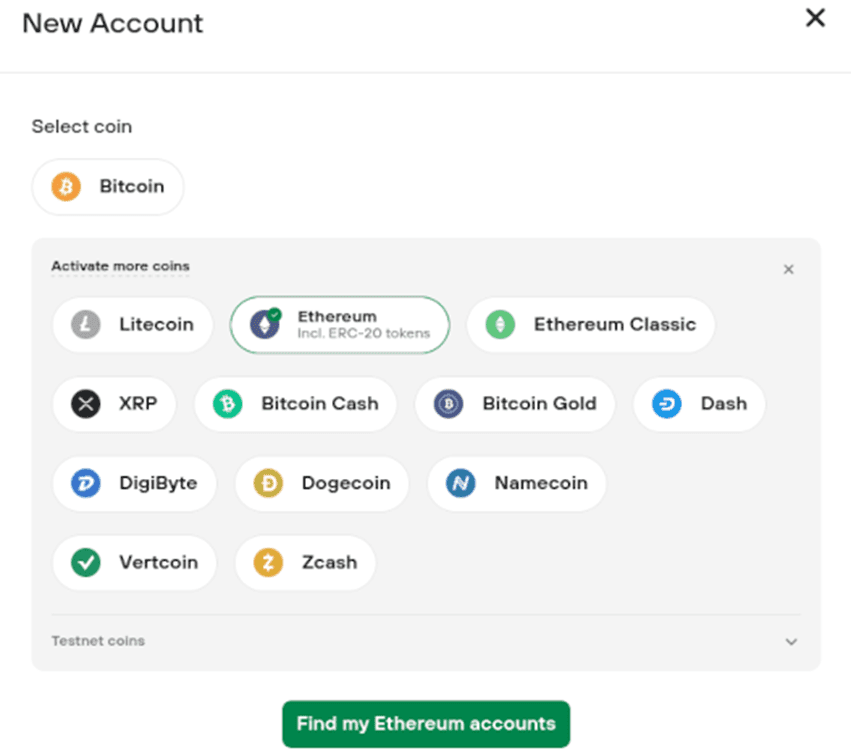 Select Receive, then Show complete address.

You can start receiving NFTs, ERC-20 tokens, and other Ethereum transactions once you've validated the address with your Trezor.
Step 2. Connecting Trezor to MetaMask
Your Trezor hardware wallet must be connected to your PC.
Click on the MetaMask plugin, then on the top right-hand user icon, then on Connect Hardware Wallet.
Select TREZOR from the drop-down menu, then click Continue.

Select Always allow for this service from the drop-down menu after checking the box.
Select Export.
After entering your PIN, click Confirm.
If you have a password, type it in and then press Enter.
Select one or more addresses, then select Unlock.
MetaMask is now connected to your Trezor wallet.
Step 3. Transfer or Buy NFTs to your Trezor hardware wallet
You can now start buying and transferring NFTs safely with Metamask activated and your Trezor linked.
Go to your preferred marketplace and, if you want to buy something, use your Trezor-connected Metamask account to complete the transaction.
A smart contract is typically used to sell NFTs through a marketplace. This frequently entails the marketplace holding funds until the sale is confirmed, at which point the NFT is transferred.
Both interacting with smart contracts and sending NFTs require a significant amount of data. Even if the NFT is just a link, expect to pay a lot of money in transaction fees when purchasing it.
Before finishing the purchase, confirm the purchase in Metamask and double-check that all transaction information is displayed appropriately on your Trezor.
If you purchased an NFT at the final price, the transaction will take some time to complete and the NFT will arrive.
If you won an NFT in an auction, you'll have to wait until the auction is over before getting your NFT or getting your allotted cashback.
The NFT is stored at the Ethereum address owned by your Trezor once it is completed. That means it is protected from online attacks, and you have complete control over it.
However, keep in mind that in many circumstances, photos linked by NFTs can be replaced with another image that is completely unrelated to the item you intended to purchase.
➡ Click here to purchase the Trezor Model T for your NFTs
Adding NFTs to Your Trezor Home Screen
While Trezor Suite does not support NFTs, you can always save the image that your token points to and subsequently load it into your Trezor.
Go to Device Settings in Trezor Suite and scroll down to Customization to set an NFT as your home screen image.

Upload a copy of your NFT image, preferably downsized to 144×144 pixels, by clicking Upload Image. Use your Trezor to confirm the update.
You may need to try a few different positions to get your NFT to appear properly on your Trezor screen.
SEE ALSO: How To Trade NFTs Profitably On Binance (Step by Step Guide)
Final Thoughts
NFTs are currently on the rise and it's a huge opportunity for every investor and artist to earn huge from the market. However, one needs to be wary of potential scammers and take preventive measures.
One great measure is transacting on a hardware wallet and Trezor Model T is one of the best hardware wallets by Trezor that guarantees safety to your crypto assets and NFTs.
Read More