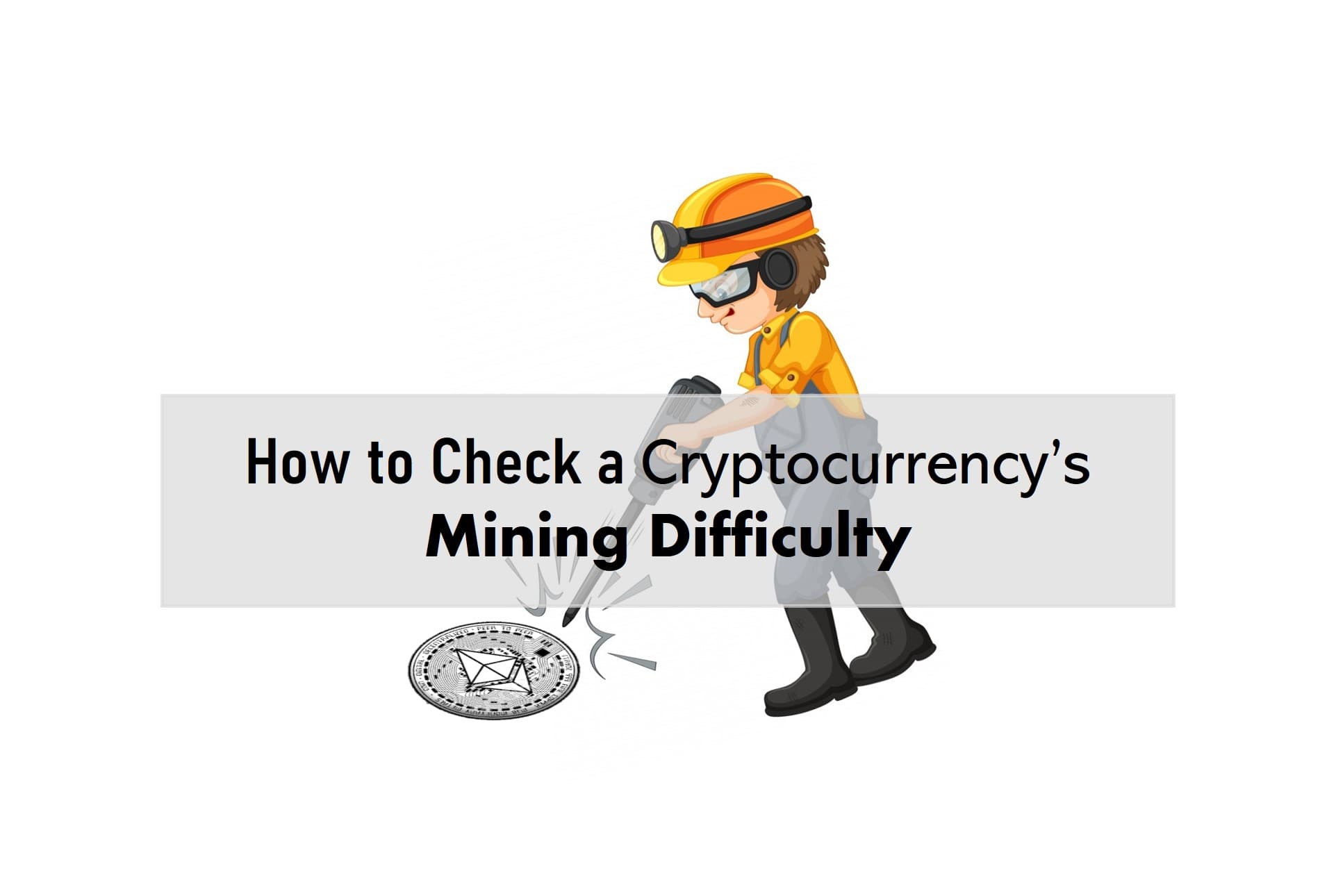 Mining difficulty is the measure of computing power needed to determine the right hash in order to validate a Bitcoin transaction into the blockchain network.
The mining difficulty of a cryptocurrency changes from time to time and with the cryptocurrency. When more miners mine, cryptos tend to be added or validated into the blockchain network faster because a lot of computing power is involved.
Mining difficulty relates to the Proof-of-Work consensus mechanism which adopts a mine-and-reward system. Miners earn a fraction of the crypto mined.
For example, Bitcoin miners are rewarded with 6.25BTC per block mined but the frequency or chances of earning varies as the mining difficulty increases or decreases.
Key Takeaways
• Energy requirements, capital, time and profitability can be calculated by understanding the mining difficulty of a coin.
• You can get the stats of the mining difficulty of almost all major cryptocurrencies for free and for over its lifetime.
• Mining difficulty enables miners determine upfront costs and reduce wastages.
• Mining difficulty works with the Proof-of-Work consensus mechanism.
How to Check a Cryptocurrency's Mining Difficulty
Use a Web App Offering the Service
This is obviously the fastest way to get around to determining the coin difficulty of the cryptocurrency you want to mine. For example, BTC.com is quite elaborate with its stats BTC, BCH, LTC, BSV, and ETH coins.
BTC.com software calculates key mining metrics you need to know and displays the data on its chart. The platform reveals the hash rate required of a coin, the difficulty, next difficulty date, and other estimates.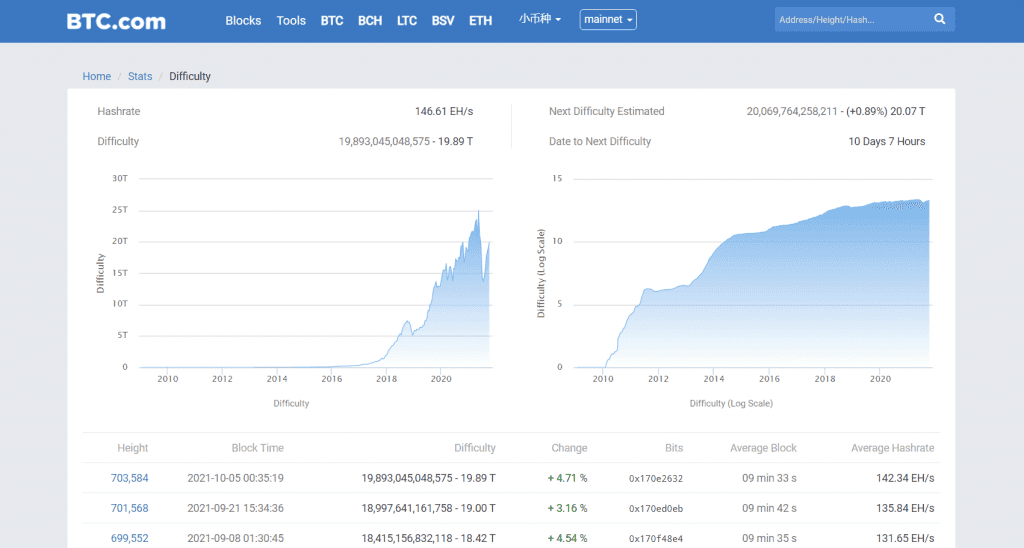 The challenge with BTC.com is that it calculates mining stats for BTC, BCH, LTC, BSV, and ETH coins which is somewhat limited especially for miners with interests in other coins asides from the above listed.
Here are three top mining difficulty apps with more coin options…
Block Chair has an easy and appealing interface.
The app has support for 9 cryptocurrencies and coins: Bitcoin, Bitcoin SV, Dash, Dogecoin, eCash, Ethereum, Groestlcoin, Litecoin, and Zcash.
For each cryptocurrency, you can view its mining difficulty over 1 month, 3 months, 1 year, or even the currency's lifetime.
Coin Wars has a very comprehensive interface. The interface is not very easy to work on, but it is manageable. The interface is mediocre in terms of appeal. However, this will not be a problem.
Of all the three apps, CoinWarz has the largest support of cryptocurrencies. It supports Bitcoin, Litecoin, FeatherCoin, PeerCoin, Dogecoin, DigiByte, Vertcoin, Einsteinium, Dash, Groestlcoin, Florincoin, Monacoin, Viacoin, Syscoin, Verge, Monero, Ethereum, Zcash, Horizen, etc.
For each cryptocurrency, you can view its mining difficulty over 1 day, 1 week, 1 month, 3 months, 6 months, 1 year, 3 years, or even the currency's lifetime.
SEE ALSO: 10 Legit Bitcoin Mining Sites For New Miners
YChart has a very comprehensive interface as the interface is easy to work on and quite good in terms of appeal.
YChart claims to have support for many cryptocurrencies and coins. We were able to confirm that it supports Bitcoin and Ethereum. We did not check for the rest, but believe it should support all popular cryptocurrencies.
For each cryptocurrency, you can view its mining difficulty over 1 day, 5 days, 1 month, 3 months, 6 months, 1 year, 3 years, 5 years, 10 years, or even the currency's lifetime. Kindly note, accessing periods above 1 year require having a premium account.
SEE ALSO: How to Join Mining City and Earn Coins Daily
2. Join the Cryptocurrency's Mining Network
Since the mining difficulty of a cryptocurrency is determined by the miners powering the currency's platform, the most direct way to check is to get a miner and make it join the mining pool.
In this kind of situation, you do not have to get an expensive miner: a decent miner will be enough. If you need to know the difficulty over a short period, you can just rent a miner, but if you need to know the difficulty over a long period, you may buy one.
Note: The type of miners supported may vary between two cryptocurrency platforms. Before getting a miner, ensure that you know what type of miners are supported. For instance, if you get an ASIC for Ethereum, you would only be wasting your money.
3. Use the Help of Someone in the Network
If joining the pool of miners that power a cryptocurrency is too much of work for you, you may consider this option.
Find someone who has a miner that is engaged in the cryptocurrency's platform. Ask them to kindly provide you with the difficulty.
Unless you have a personal relationship with the owner of a miner, they will hardly be willing to help you. For this reason, I suggest you get some cash to give.
How is Mining Difficulty Calculated
The method of calculating mining difficulty varies from one cryptocurrency to another. However, to give me an idea, below is how the new mining difficulty is calculated.
After a new block of transactions has been added to the Bitcoin network, according to the protocol, all mining machines are expected to evaluate a set of mathematical formulas.
The result of the calculation will be the new mining difficulty all miners must use till it is time to add a new block.
Among the data fed into those formulas, the time it took the last block to be added to the platform is one of the most important.
SEE ALSO: 7 Best Cloud Mining Contracts for Lucrative Returns
Frequently Asked Questions (FAQ)
1. What is the Downside of Crypto Mining?
The most glaring downside of crypto mining is the energy consumption that it uses for mining cryptocurrency along with hardware expenses. There is also the problem of scams and frauds which in future can create mayhem.
2. Which Cryptocurrency Uses the Least Energy?
Nano currently has the smallest energy footprint in the market, using only 0.000112 kWh per transaction.

3. How Long Does a Crypto Mining Rig Last?
A Crypto mining rig has a lifespan of between 5-10 years on the average.
4. Does Mining Ruin a GPU?
Mining harms your GPU in the sense that one of its by-products is producing excess heat. If you run your mining setup 24/7 at a high temperature above 80 oC or 90 oC, the GPU could sustain damage that will severely affect its lifespan. 
Final Thoughts
Checking a cryptocurrency's mining difficulty is quite seamless. Thankfully all these have been explained in this article hence if you engage in cryptocurrency mining, the information needed for you to determine your mining difficulty can be found here.
Read More