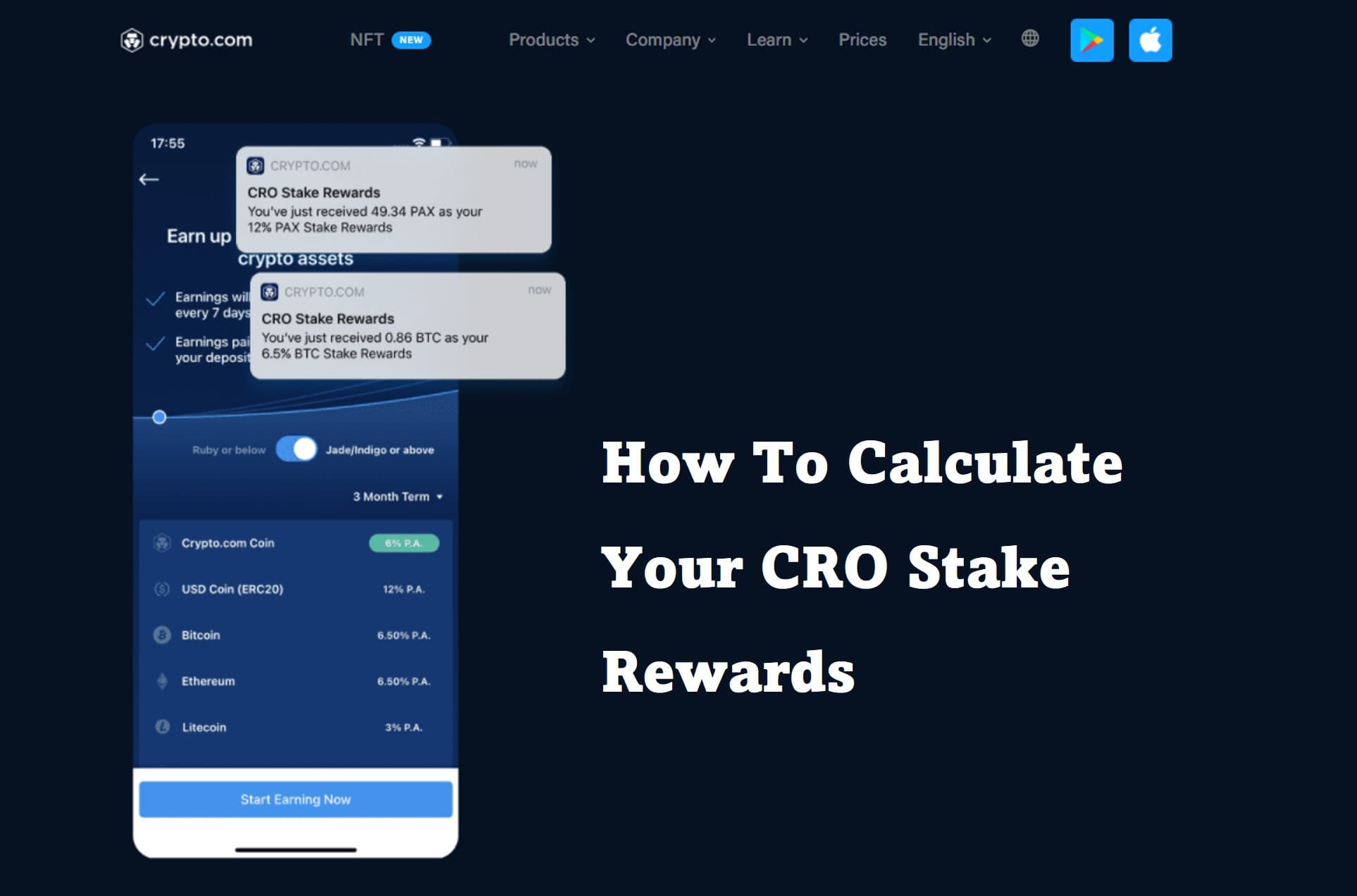 CRO is the native cryptocurrency (technically a cryptocurrency token) of the "Crypto.com Chain," a blockchain established by Crypto.com.
The main purpose of the token is to enable you to pay for real-world items with your cryptocurrency by changing it into fiat currency (such as pounds sterling and US dollars) in real-time.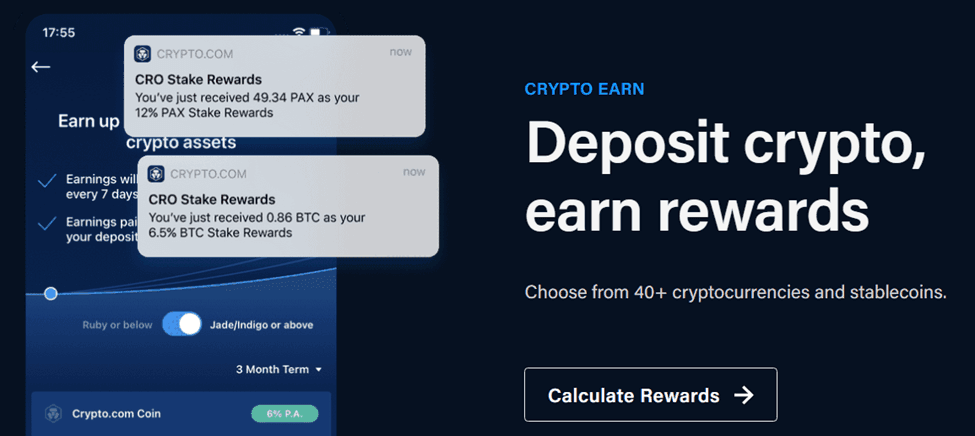 Key Takeaways
 • The term duration and the amount of CRO stake determine the stake reward that will be issued to your token.
 • Users on Crypto.com can earn stake rewards on up to 48 different tokens on the Crypto.com website.
 • Crypto.com offers better annual percentage returns on staking than some crypto exchanges.
SEE ALSO: How To Stake and Earn Rewards On Crypto.Com
SEE ALSO: 30 Countries Listed On The Crypto.com Exchange
Crypto.com also collaborates with businesses to ensure that the payments are accepted as widely as possible, most notably, Visa.
Originally, it was named MCO and was developed on Ethereum'sblockchain, whereas Crypto.com was dubbed Monaco. However, they rebranded and changed the token into CRO, as it is currently called.
Below are the CRO staking benefits and how to calculate your CRO staking rewards:
CRO Staking Benefits
1. Staking CRO on the Crypto.com App will give you the following benefits:
2. You get to have one of their premium metal Crypto.com Visa cards.
3. Receive Crypto Wallet Benefits, i.e., Purchase rebates and Extra card cashback.
4. Take advantage of lower APRs on Crypto Credit and Crypto Earn.
6. Users with an existing stake will still receive the 16%/18% rate until the 180-day staking period is over. The new rate (10%/12%) will take effect once the staking period has matured or if there is any staking activity that changes your CRO staked amount.
5. Users with an existing stake and who have completed the 180-day staking period will have their rate adjusted to 10% or 12%.
 You can visit the Crypto.com Cards section for details of the different levels of benefits concerning the amount of staked CRO.
Calculating your CRO stake rewards
If you wish to calculate your reward rates, all you need to do is to follow the steps below:
1. Log in to Crypto.com.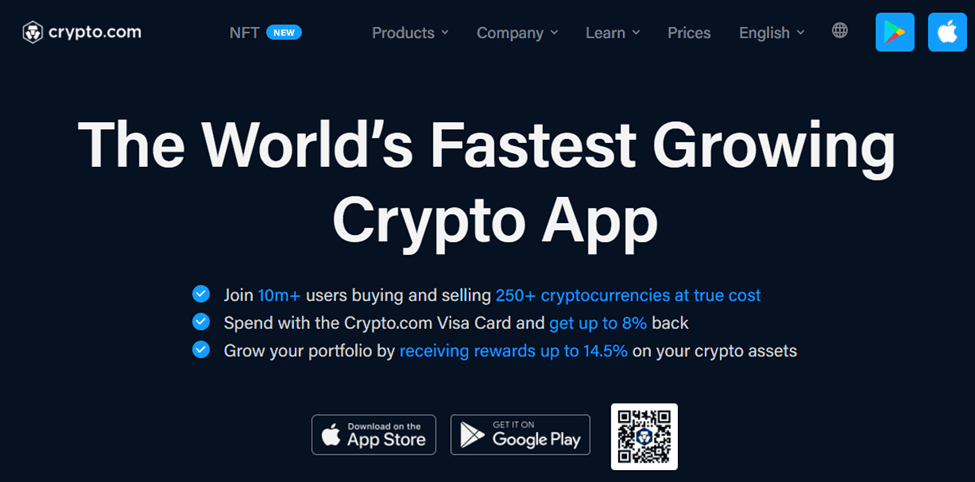 2. Scroll down the website and click on "calculate rewards" under "Crypto Earn".

3. Once there, you will see a column with a deposit token, deposit amount, and deposit term.

4. Next, you select the deposit token, deposit amount, and deposit term of your choice.
5. Once that is done, crypto.com will automatically calculate and display to you your expected earnings per year, rewards paid weekly, and your interest per annum.
That's it, and you are good to go.
Token reward rates on Crypto.com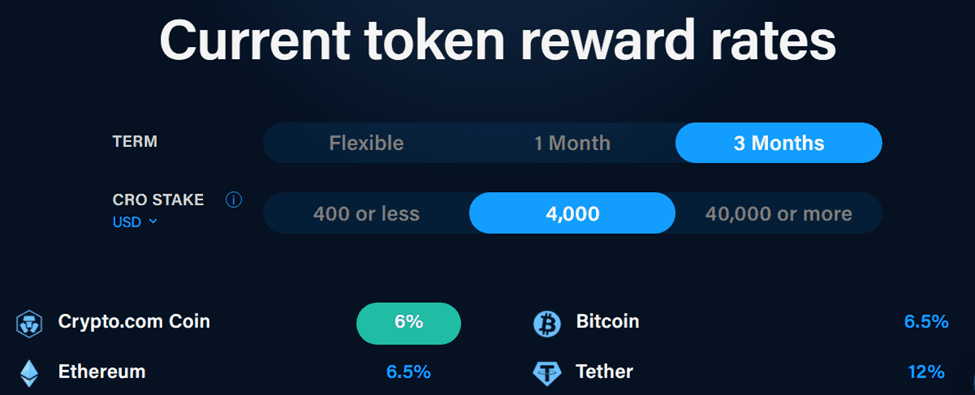 For token reward rates, there are currently 48 tokens with different reward rates on crypto.com.
These reward rates could be flexible, one month, and three months with a CRO stake of 400 or less, 4000, and 40000 or more.
When the term for a token reward rate is flexible and the CRO stake is 400 or less, the reward percentage given will be different from what will be gotten when the term for that token reward rate is fixed at one month or three months or when the CRO stake is fixed at 4000 or 40,000 and above.
In essence, the term duration and the amount of CRO stake determine the token reward rates that will be given on Crypto.com.
For example, given a term duration of one month and a CRO stake of 4,000, the reward rate for the DAI token is 10%.
SEE ALSO: 7 Crypto Exchanges With the Best Annual Percentage Yield (APY)
SEE ALSO: 12 Best Bitcoin Exchanges for European Users
SEE ALSO: 7 Best Insured Crypto Exchanges for Better Protection
Final Thoughts
Calculating your CRO stake rewards and knowing the token reward rates on Crypto.com is quite simple.
If you are an investor looking to have an in-depth understanding of these rates before staking, you could simply visit the website for information or you could simply read this article as it provides you with the necessary information concerning staking rewards you need to know before staking.
Read More