TradingView is one of the leading online platforms for traders and investors of digital assets. On TradingView, there's a wide range of assets to trade or invest in such as stocks, forex, currencies, futures, bonds, indices, etc.
You can check this post to see the top classes of instruments to trade on the TradingView platform.
Interacting with the TradingView platform for the first time comes with some new features that users of the platform need to be familiar with, and one such feature is the "bar replay"
The bar replay is a feature on TradingView that allows you to access and analyze your old trades or backtest a trading system.
This article will provide insights into how the bar replay works on TradingView. Keep reading!
Key Takeaways
• The bar replay is useful in analyzing your old trades or backtesting a trading strategy.
• You can playback several charts on the same layout.
• Not all charts are available for playback, e.g., the Japanese chart types.
• The Playback mode allows you to apply indicators. You can also create drawings with it, which will remain on the chart even after you exit the playback mode.
• Regression Trend and Volume Profile Fixed Range tools don't work during the playback.
• An indicator with a security function won't work during the playback.
• Quotes are shown in the trading panel and the watchlist match real-time data when the chart is in playback mode.
SEE ALSO: How To Switch from MT4 To TradingView
SEE ALSO: How To Use TradingView Crypto Arbitrage Scanner
SEE ALSO: How To Use TradingView Social Networking Tool
How Bar Replay Works on TradingView
The Bar replay on TradingView works in a unique way that enables you to relive moments in time on a chart, and it's an effective tool for studying trade history, past price action, and in the analysis of investing strategies at any point.
To get started with the bar replay on TradingView, log in to your TradingView account. Once you have successfully logged in and opened your chart, click on the button in the chart's top panel to open the Bar Replay toolbar.
These playback buttons function just like the ones you see on any media player. Once the replay toolbar is opened, the chart enters the playback start point selection mode. You will notice a red vertical line along with the Jump To button, which you can use as a tip.
Immediately the Bar replay toolbar opens, select the starting point of playback, i.e., the period you want the replay to start from, etc, by clicking on any historical bar.
After you must have selected your starting point, you can easily adjust your playback speed to your liking, as it will determine how fast each bar of trading appears while you watch the replay.
Once you are done with that, you can press the play button and watch the replay on your screen.
You can close your replay toolbar by clicking on [X] on the toolbar itself or simply by clicking the bar replay button.
About TradingView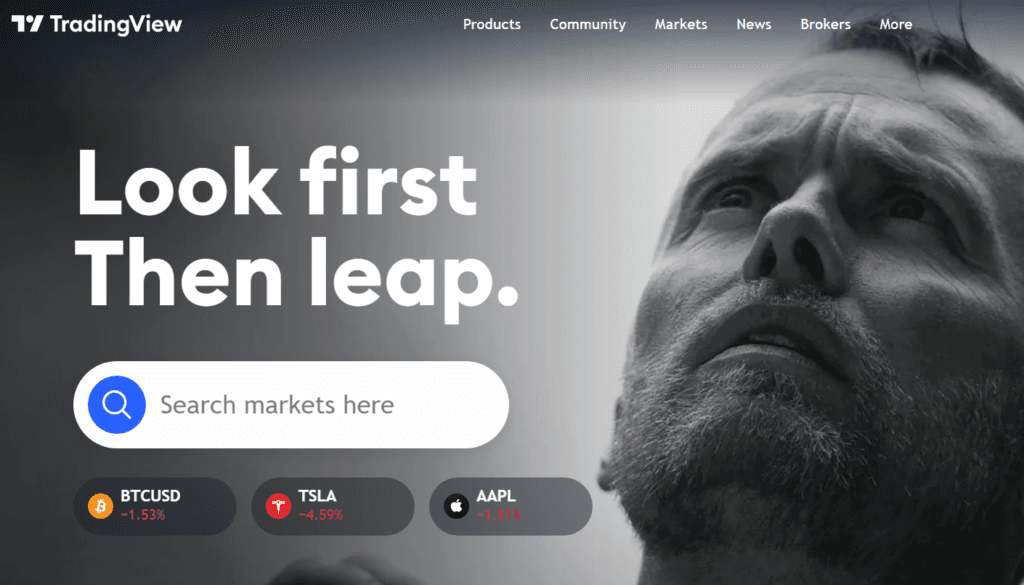 TradingView is an online platform that enables you to create charts and analyze numerous financial assets.
The platform provides a robust and favorable trading environment for investors, traders, educators, and market enthusiasts to connect and share their ideas about the market.
TradingView also doubles as a scanner for crypto assets and
So as much as it is a trading platform, it also doubles as a social network for traders.
With TradingView, not only do you have access to powerful technical analysis and trading & charting tools but also to a community of traders with similar interests.
Once you have developed your strategies, you can proceed to publish your findings to the community and, by so doing, build your trading skills with feedback from other traders on TradingView.
You can signup to enjoy these features on TradingView.
Frequently Asked Questions (FAQs)
How do you do a backtest in Tradingview?
You can backtest a trading strategy on TradingView through the use of the bar replay option by clicking on the "Bar Replay" button on the chart.
Is backtesting free on TradingView?
Yes, backtesting a trading strategy is free on TradingView with bar replay.
Is TradingView ideal for beginners?
Yes, it is. It is good for any trader looking for a free and competent platform with several useful financial tools. So, TradingView is a good option for beginners and even experienced traders.
What can I do on TradingView?
You can easily trade and network with other traders on TradingView. By so doing, you get to home your charting and trading skills. TradingView also supports simulated trading on its charts so that you can test different strategies.
Final Thoughts
By applying the method above, you can easily use the bar replay on Tradingview to study your past trades, price action, and investment strategies.
TradingView is a great platform to boost your knowledge of markets and strategies and develop your trading and charting skills.
You also get to network with other experienced traders in the community who will provide you with more insights and clarity in making profitable decisions.
Read More