The U.S financial market is highly regulated with the likes of the Federal Reserve, Financial Deposit Insurance Corp (FDIC), Securities and Exchange Commission (SEC), Office of the Comptroller General of  Currency (OCC), Consumer Financial Protection Bureau (CFPB), regulating certain financial institutions, the currency and its impact on the economy.
The forex market is regulated also by different bodies depending on the brokers' jurisdiction. ASIC, FSA, FCSA are notable bodies regulating FX brokers. There are some other regulators limited to zones & regions which have their powers limited to those areas.
The U.S financial market is highly capitalized with the USD being the dominant currency not only in the U.S but also globally. Most U.S FX brokers are of U.S origin which means that these brokers follow the U.S financial laws strictly.
Since the number of FX brokers in the U.S is limited and the barrier of entry is high, there is just a handful to pick from.
I will highlight the best FX brokers that are reputable and have a long service history.
Key Takeaways
 • Forex brokers are highly regulated in the United States, hence the limited number of forex brokers available.
 • U.S. clients/traders can still trade with foreign brokers through the use of off-shore brokers, although this comes with a high level of risk.
 • IG Markets is known as the number one CFD provider and offers a customized trading experience for both new and experienced U.S. traders.
 • TD Ameritrade was ranked as the number one broker in 2021 by stockbrokers.com for its excellent features and unique trading opportunities.
SEE ALSO: 5 Tips for Choosing a Reputable Forex Broker
SEE ALSO: Best ECN Forex Brokers
As the United States is a world economic power and plays an active role in the forex industry, it is no surprise that U.S. investors are highly sought after by top forex brokers.
The United States, despite its standpoint, possesses strict forex regulations, which is perhaps why there are a limited number of forex brokers that accept U.S. clients.
Below are some of the regulations made by the United States:
U.S. traders are only allowed to trade with other brokers from the United States, except for offshore brokers who have their level of risk.
All U.S. brokers must be duly registered with the National Futures Association or Commodities Future Trading Commission.
Only brokers who have gotten the Retail Foreign Exchange Dealer registration are allowed to operate legally as brokers in the United States.
Let us look at some of the top forex brokers that accept U.S. clients:
1. Forex.com
Forex.com is one of the top forex brokers that accept U.S. clients. This broker allows U.S. traders to carry out FX activities without the need to pay some unwanted commission expenses.
It accepts payments and withdrawals through institutional transfers and payment cards with safety and reliability in mind. This particular broker also allows U.S. traders to practice trading strategies on its platform and has consistently seen a steady client base since 2020.
Lastly, with the forex.com active trader program, U.S. traders get to enjoy the following:
1. With cash rebates as high as $10 per million traded, you can save up to 15%.
2. Interest is paid up to 1% on your average daily available margin balance.
3. Get guidance and priority support from your dedicated market strategist.
4. No bank fees for wires.
5. Access to exclusive events and product reviews.
2. IG Markets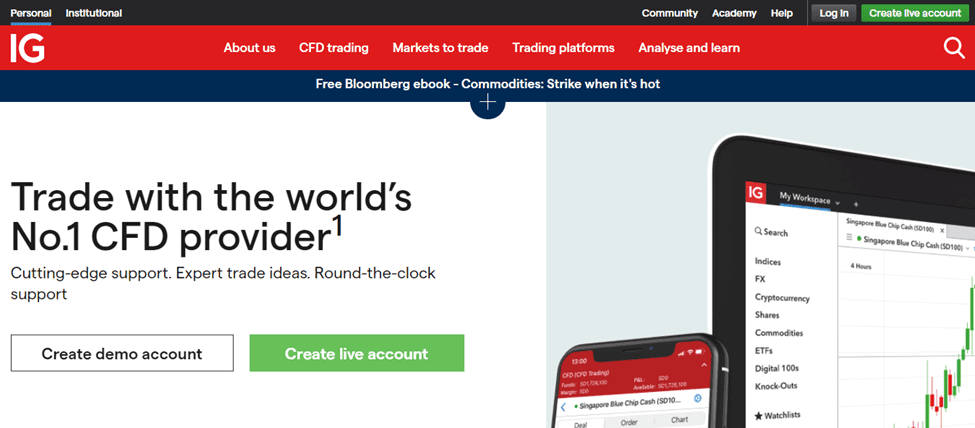 IG Markets is known as the world's number one CFD provider. The platform provides an opportunity for both experienced and new traders to learn with the best curriculum that suits them.
For instance, if you are an experienced U.S. trader, you get to learn certain things, such as the costs and spreads of the IG markets, weekend trading, and much more.
If you are a new trader in the United States, you can use the platform to learn how to trade, how to trade in different ways, how to manage risks, and how to perform an analysis.
IG Markets also has an academy known as IG Academy where traders can take free trading courses and webinars and a community where traders can discuss online with other traders as well.
Some of its major features include:
1. A web platform that is quick and simple to use.
2. Award-winning apps optimized for all devices.
3. Specialist platforms and charting – L2 dealer, ProRealTime, and MT4.
4. Full suite of alerts and risk management tools.
3. TD Ameritrade
I guess from the name, Ameritrade, you could guess that this is also one of the top forex brokers that accept U.S. clients.
The platform was named the number one broker in 2021 by stockbrokers.com and offers a commission-free trade with the promise of helping traders get smarter with every trade they make on the platform.
You can also trade from their desktop, web, or mobile platforms as they are designed for performance and are built for all levels of investors.
Some of the features of TD Ameritrade include:
It provides a wide selection of investment choices.
1. It has interactive courses and webcasts.
2. It offers commission-free online trading.
3. It offers objective, third-party research.
4. It has an excellent professional support team.
4. Interactive Brokers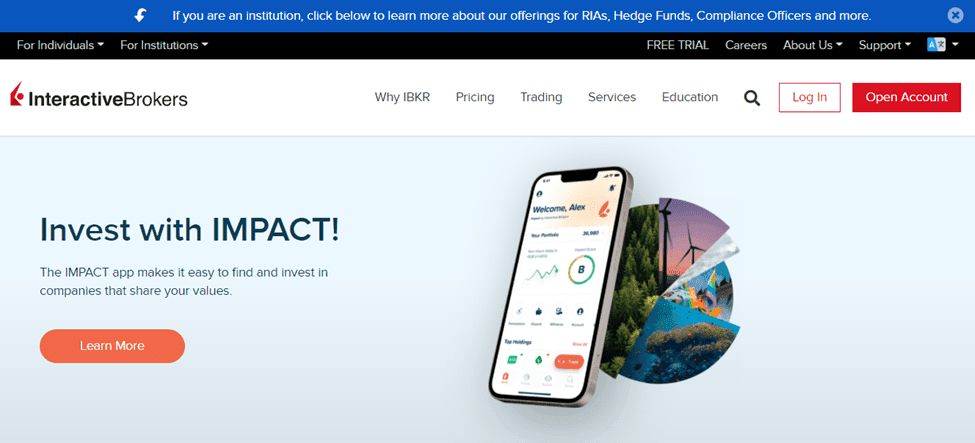 Interactive Brokers is also one of the top forex brokers out there for U.S. clients. It has grown internally to become one of the premier securities firms with over $10 billion in equity capital.
In its broker-dealer agency business, IBKR provides direct access trade execution and clearing services to institutional and professional traders for a wide variety of electronically traded products, including stocks, options, futures, forex, fixed income, and funds worldwide. Interactive Brokers Group and its affiliates execute over 2,621,000 trades per day.
With the platform, U.S. traders can invest in stocks, options, futures, currencies, bonds, and funds from a single integrated account, and they can access market data 24 hours a day, six days a week.
Some of the benefits of Interactive Brokers include:
1. Low commissions start at $0with no added spreads, ticket charges, platform fees, or account minimums.
2. Access to the IB SmartRoutingsystem, which provides a $0.47 per 100 share price improvement versus the industry.
3. Financing rates are up to 50% lower than the industry.
4. Earn extra income on your lendable shares.
5. OANDA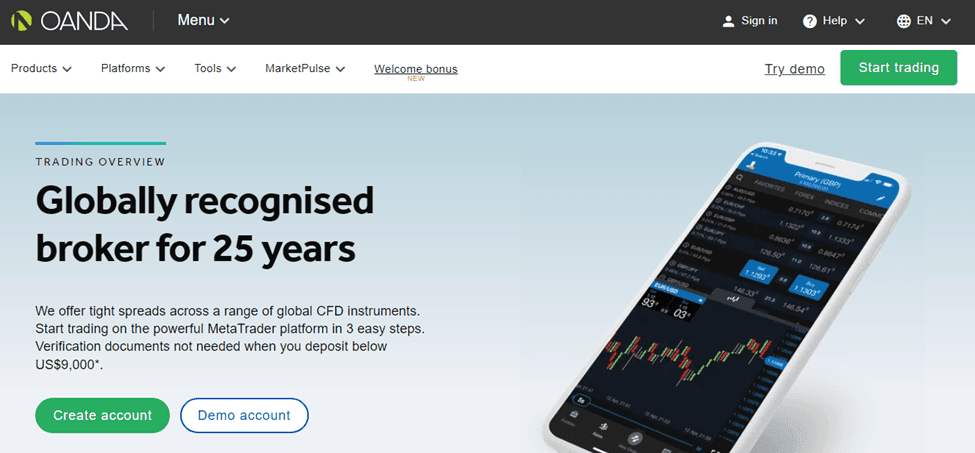 For the past 25 years, OANDA has been a globally recognized broker. The platform offers tight spreads across a range of global CFD instruments. As a U.S. trader on the platform, you do not need to provide verification documents when you deposit below $9,000.
On the platform, U.S. traders get access to a wide range of tools, including technical analysis (powered by Autochartist) and premium MetaTrader tools (a behavioral analysis tool designed to help traders improve behaviors).
U.S. traders can fund their accounts on the platform using any of the following: bank transfer, wire transfer, VISA, MasterCard, Neteller, and Skrill.
Lastly, U.S. traders can utilize the benefits of the platform to the fullest by making use of their bridging technology and tier-one bank pricing to give them an even more powerful trading experience.
They also gain access to more than 50 technical tools, including 32 overlay indicators, 11 drawing tools, and 9 chart types with their apps for iOS and Android.
Frequently Asked Questions (FAQs)
Can a US citizen open a foreign forex account?
Yes, a U.S. citizen can open a foreign forex account, but only with offshore brokers who possess a high level of risk and foreign brokers who accept U.S. traders.
Why is there a limited number of forex brokers in the U.S.?
Well, it is because of the heavily regulated nature of the U.S. forex environment that tends to limit the profits in turn for brokers. So, because of this, forex brokers get discouraged, leaving only a select few operating in the U.S. market.
Final Thoughts
The above-listed forex brokers are brokers that are regulated in the United States, which means that you are sure to benefit from trading with them as a U.S. trader because they are guaranteed to offer safety and accountability concerning your trade.
Read More