In a previous article, I talked about how you can set up your crypto exchange using the best software, the white-label solution.
The white-label solution is ready-to-use software that has been designed, tested, and made available for immediate use by numerous exchanges. White-labelling grants the user consent to rebrand software to make it look like its own.
Many crypto exchanges in the crypto space make use of the white label solution, mainly because it is more cost-effective and more secure and can easily be used without the need to build software from scratch.
This article looks at the list of crypto exchanges that offer white-label solutions and how they differ in their offerings.
Key Takeaways
• Binance offers the Binance Cloud as a white label solution to users who are willing to start up their crypto exchange business.
• With PayBito users not only get access to white-label solutions but they also get to make use of other features such as crypto trading on the platform.
• FTX provides all the needed tools alongside the right white-label software that users would need to create their crypto products.
• Kriptomat goes the extra mile to guide you on how to make use of its white-label software explaining the features that come with it.
SEE ALSO: 7 Cryptocurrency Derivate Exchanges With Their Own Coin
SEE ALSO: 10 Best Bitcoin Exchanges With Competitive Transaction Fees
SEE ALSO: Top 8 Cryptocurrency Exchanges that Do Not Require KYC
An Overview of these Exchanges
| | |
| --- | --- |
| Crypto Exchanges | White-Label Solutions |
| Binance | Has a white-label solution called Binance Cloud. |
| Changelly | Offers Changelly API (its white label solution to interested users). |
| Soft-FX | Soft-FX provides white-label cryptocurrency and turnkey Bitcoin exchange solutions with a launch time of up to a week. |
| Paybito | Has one of the most trusted white-label software providers across the globe. |
| FTX | Makes use of an API-based turnkey white-label solution. |
| Kriptomat | Has the white-label API it offers to crypto exchange builders. |
| Kraken | Has a white-label clone script that consists of all the trading features of the Kraken exchange. |
| LocalBitcoins | Makes use of a white-label clone script that holds all trading functions. |
| Kucoin | Has a clone script which is the most prominent white-label crypto exchange clone software that helps users to launch a stunning bitcoin trading platform like KuCoin instantly. |
| Wazirx | Has one of the best white-label crypto exchange software in the crypto market. |
1. Binance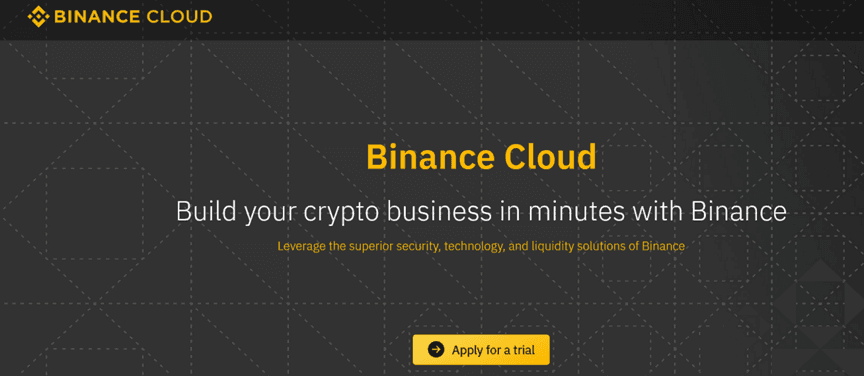 Binance Cloud provides a one-stop white label solution for you to launch their crypto exchanges quickly.
With Binance Cloud, you can launch your crypto exchange leveraging the superior technology and liquidity solutions of Binance.
According to Binance, there are four major reasons why users should build with the Binance cloud. They are Liquidity, Security, Performance, and Independence.
Liquidity
Once you start up your crypto exchange, you get to share Binance's liquidity. Also, as the world's leading digital asset exchange by real trading volume, Binance's orders account for >50% of market volume on the majority of listings.
Security
With Binance cloud, you can be assured that their exchange will be protected because Binance's state-of-the-art security and risk management ensure that your clients' funds are safe.
Performance
With Binance Cloud, the exchange runs smoothly when it matters most. Also, Binance's matching engines stand up to stress even at peak trading times.
Independence
With Binance Cloud, you are free to be flexible and independent incorporating your style and tokens.
You also get to have an independent operation with self-service for coin listing and content management.
2. Changelly
Changelly makes use of a white label solution called Changelly API that is aimed at enriching the user experience of your clients while providing their business with extra traffic and increasing their conversion rate.
Changelly API also saves you and your clients a lot of time and effort as well as allows you to pay lower withdrawal fees. Changelly API provides the service it has been added to with access to Changelly's core features.
3. Soft-FX
White Label software solution from Soft-FX is your one-stop gateway to the highly competitive and constantly changing market of digital assets.
At a turnkey cost, you get a non-turnkey set of features that ensures you are ready for any market conditions.
Depending on your crypto exchange business needs, with the white label exchange software of Soft-FX, you can be up and running in just two weeks.
4. PayBito

PayBito is a security-centric, multi-currency-supported, Segwit-enabled high-frequency trading platform with ERC20 compliance meticulously designed for digital assets.
PayBito offers a complete White Label Cryptocurrency Exchange Software application to buy, sell, and trade in cryptocurrencies.
Some of the features of PayBito's white label solution include: handling pending transactions, Segwit Enablement, 3 Layer or Point Architecture, Firewall implementation or Firebase implementation, Doc Management Solution KYC, and Geography Specific Verification, integration with different exchanges – Crypto Liquidity, etc.
5. FTX
With FTX's white-label solution, users are more than capable of taking their crypto exchange business to the next level.
The white-label solution gives you the ability to execute your business with competitive and low fees, scalable, 24/7 services for businesses of all sizes.
In addition, access to global licenses and operate a regulatory-compliant business with best-in-class KYC/AML processes.
6. Kriptomat

The Kriptomat crypto exchange white-label API ensures that you can fully customize and implement whatever tool you need in setting up your crypto exchange platform.
With Kriptomat's white-label API, you can create your solution using our REST API, styling the display and user flow to match your site or app.
In addition, you can also offer crypto to your users through your brand, offer your users' fiat payment methods, get complete control over the commission that is added to transaction fees (your markup), and much more.
7. Kraken

Kraken considers itself to be more than just a crypto exchange, making it easy to buy and sell crypto seamlessly on its platform.
The exchange also carries out advanced crypto trading where you can lower your average cost per trade, easily trade large volumes at stable prices, and trade crypto fast with its robust, low latency API.
Speaking of white label solutions, Kraken's white-label clone script is the pre-fabricated cryptocurrency exchange clone software that consists of all the current trading features of Kraken exchange.
Kraken clone software is completely designed, developed, verified, and ready for deployment. So you can instantly launch a crypto exchange like Kraken by using the customizable Kraken clone script.
8. LocalBitcoins
LocalBitcoins considers itself to be the largest and most trusted peer-to-peer bitcoin trading platform.
Its white-label clone script is the ready-made p2p cryptocurrency exchange clone software that holds all the trading functions, and plug-ins, and works the same as Localbitcoins. It is also fully customizable and highly secure.
If you are planning to develop a first-quality p2p crypto exchange like LocalBitcoins at a low cost, then using bug-free Localbitcoins will be the best solution for your p2p exchange business.
9. Kucoin
KuCoin is a secure cryptocurrency exchange that makes it easier to buy, sell, and store cryptocurrencies like BTC, ETH, KCS, SHIB, DOGE, etc.
KuCoin's white-label clone script is the most prominent white-label crypto exchange clone software that helps you to launch a stunning bitcoin trading platform like KuCoin instantly. This script holds all the current trading modules of KuCoin.
This white label crypto exchange script is highly customizable. So you can modify the name, theme, trading features, visuals, and other add-ons per your crypto exchange business concepts.
10. Wazirx

Wazirx is the most trusted cryptocurrency exchange in India where users can buy various cryptocurrencies. The platform offers best-in-class security, super fast KYC, lightning-speed transactions, and much more.
Wazirx's white-label clone script is one of the best white-label crypto exchange clone software in the crypto industry.
This ready-made cryptocurrency exchange clone software has all the basic features that Wazirx has along with some essential security systems.
By using the best Wazirx clone software, you can build an excellent crypto exchange like Wazirx quickly at an affordable cost.
Frequently Asked Questions (FAQs)
What is a white label solution?
A white label solution is a product or service you can rebrand and resell as your own to clients. A white-label product is typically developed by Company A that can be rebranded and sold under Company B.
Is white labeling legal?
Yes, White labeling is very much legal. It is a legal protocol that allows one product or service to be sold and rebranded under another company's brand.
Final Thoughts
If you are interested in starting up your crypto exchange, making use of a white label solution as your software plan would be highly beneficial.
To guide you with this process, we have listed a list of crypto exchanges that offer their versions of this solution. You can make your choice from any of the above.
Read More