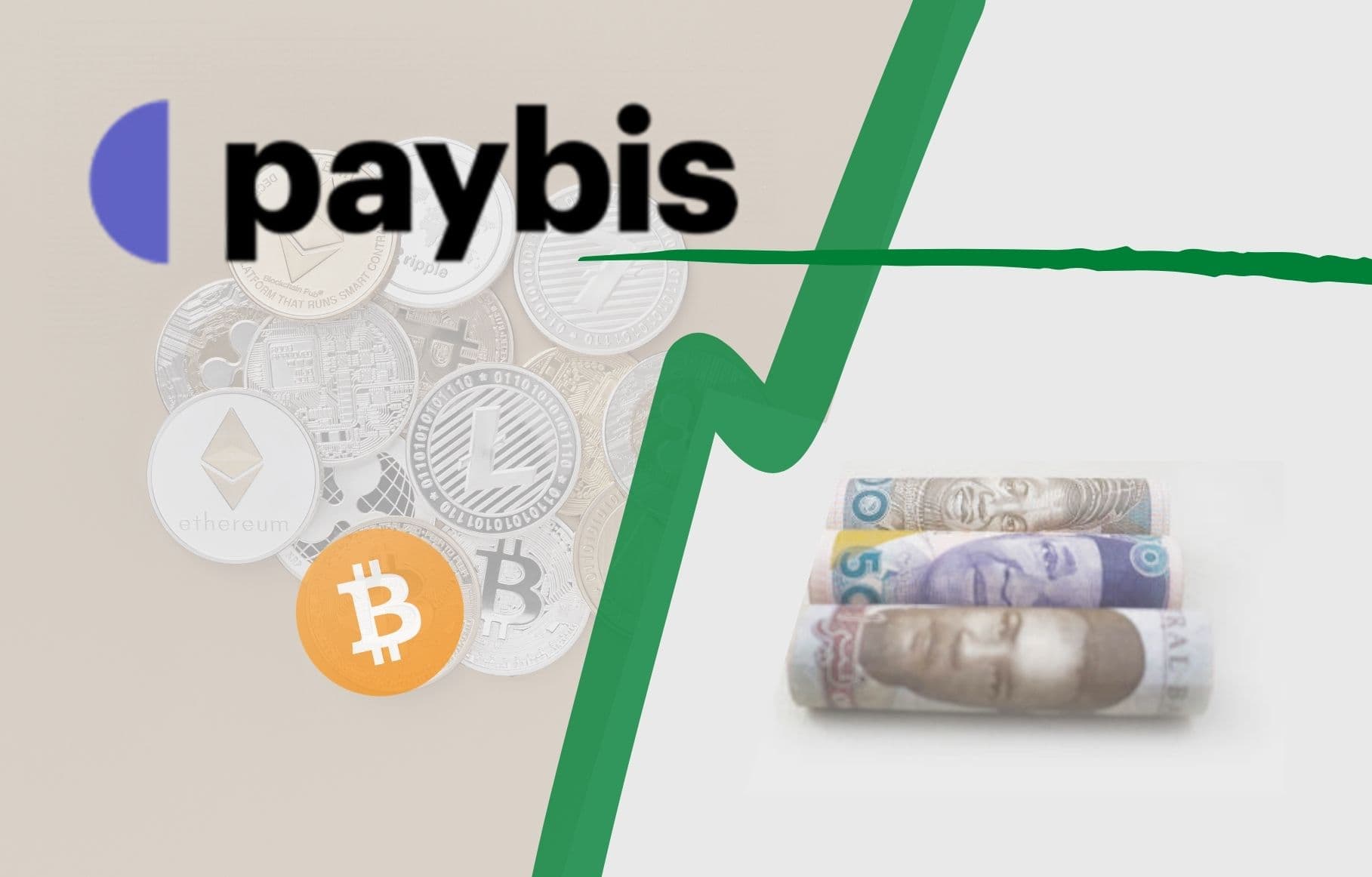 The ban on crypto in Nigeria has affected the crypto community in a lot of ways. 
After joining the list of countries where crypto is illegal to trade or mine, purchasing crypto or converting crypto to cash can lead to your funds being frozen by your bank. So what then is the solution?
To still be in the Crypto game, most people have turned to P2P networks to sell their crypto for fiat without any issues. Unfortunately, many have also become victims of scam networks. Don't get scammed, see 9 Top Best P2P Exchange Platforms To Join In 2022.
Over the past couple of months, many solutions have been presented as ways to convert crypto in Nigeria. One particular favorite among these is PayBis. Known for easy transactions and used by some to make money through crypto Arbitrage.
In this article, you will be looking at a detailed explanation of how you can convert crypto in Nigeria by using PayBis.
What is PayBis?
PayBis is a cryptocurrency exchange for buying and selling different currencies. Founded in 2014 by Innokenty Isers in Latvia, the platform allows users to buy, convert between different types of cryptocurrencies, sell crypto for fiat, and also provides liquidity services for fintech businesses.
Paybis users can purchase any crypto from the list of supported coins on PayBis with any of the 47 major fiat currencies supported on the platform through bank transfer and credit/debit cards. Bitcoin can also be sold for either EUR or U.S Dollars.
Supporting over 180 countries worldwide and with a wide range of payment methods, PayBis is a choice platform if you are looking to convert crypto in Nigeria. With PayBis you can buy cryptocurrencies using credit cards, bank transfers, and e-wallets such as Neteller and Skrill.
To use PayBis, you need to have a verified account. Follow the steps below to create and verify a PayBis account.
Creating a PayBis account
Registration
Go to the PayBis website.
Access the menu options and click on Sign up. If you have an account, you can just Login right away. Otherwise, continue with the sign-up process.
Enter your email address in the provided space and click on Continue.
Check your email for a 6-digit verification code sent to you. Enter the verification code in the space provided and click on Continue. You will be redirected to the wallets page to buy assets or add a wallet.
Congratulations, you have successfully created an account on PayBis. But to use any feature on PayBis you need to verify your account by performing a KYC verification.
Verification
Registered in the US as a Money Services Business and regulated by the UK Financial Conduct Authority (FCA), KYC is required for you to be able to use PayBis. Hence you have to verify your identity.
Accepting over 6,500 documents from different countries and territories, KYC should be easy and instantaneous. Identity card, Driving License, Passport, and Residence permit, can be used for verification, or PAN card, Voter card, Health ID, and Military ID card, depending on your region.
Access the drop-down Menu at the top right corner and then click on verification.
On the verification page, you will get a "your account is not verified" prompt. Click on the Start Verification button to begin.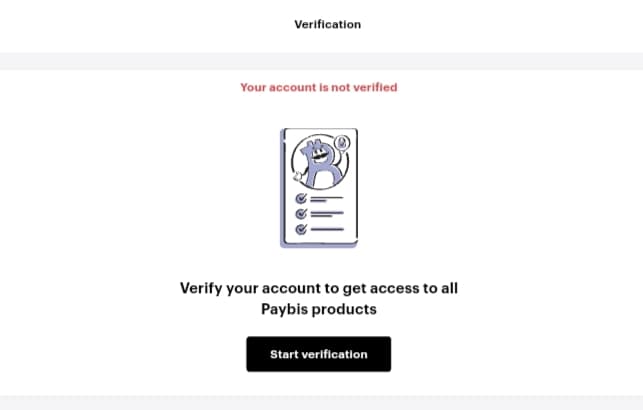 STEP 1: Upload document
Based on your location, under select the country that issued your document, your country should be set to Nigeria automatically. Otherwise, choose Nigeria from the list.
Select the document type you intend to use for the verification process. It can be Passport, Driver's license, ID card, and Residence permit.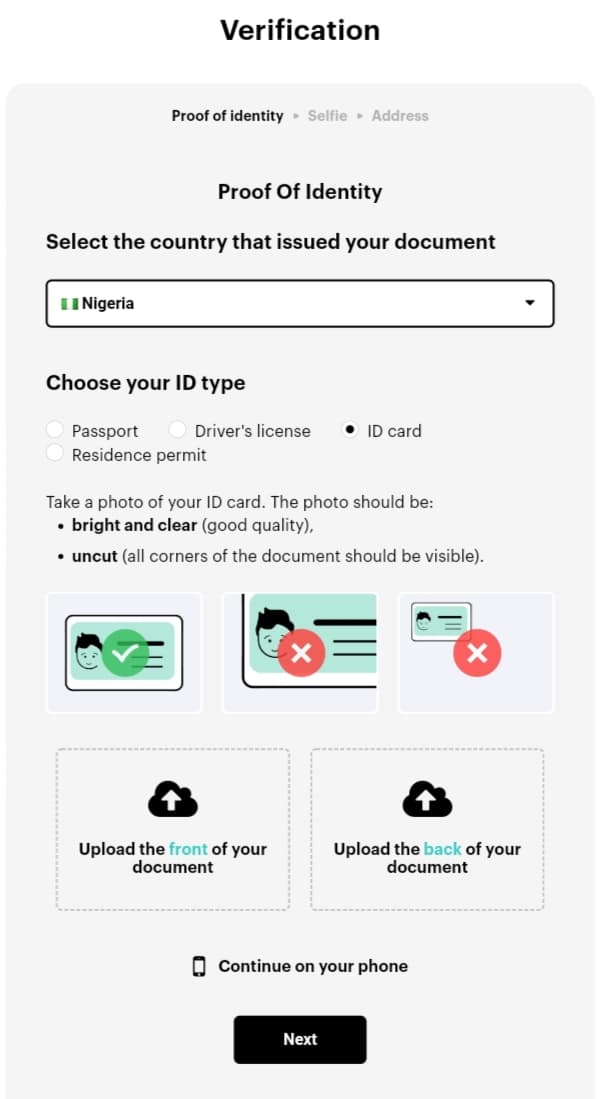 Take a clear, uncut (all edges showing) photo of the document, or both sides of the document depending on the document type, and upload. Ensure it is of good quality for faster verification. You should get approval within 5 minutes with a good quality.
If you are using a PC or device with no camera or unclear camera, you can transfer the registration process to your mobile device by clicking on continue on your phone. Scan the QR code, copy the link, or enter your phone number to get the link sent to you.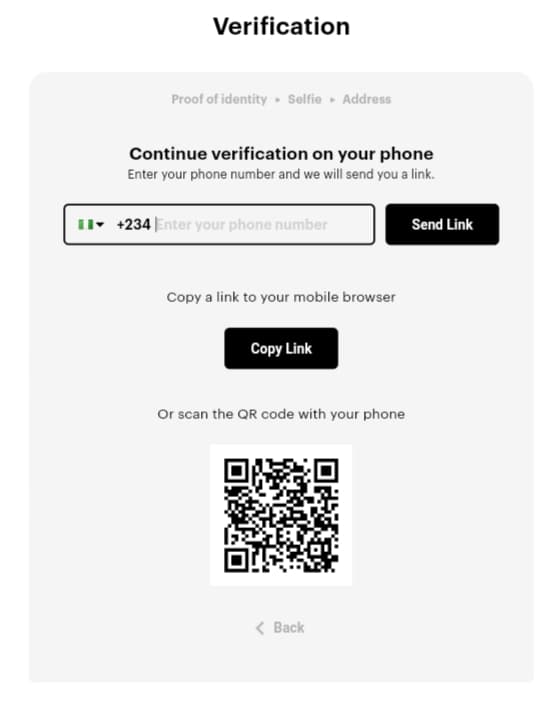 Click on the Next button when you are done uploading the document.
STEP 2: Take Selfie
Next, complete a liveness check by ensuring your face stays within the camera frame while slowly moving your head right, left, up, and down according to instructions to complete a 3D scan.
STEP 3: Add address
Add your address: country, city, state (if applicable), address line, and postcode.
Wait for a while, up to 5 minutes, for system check. Verification will be approved automatically after that. 
How to Convert Crypto on PayBis
You can purchase 36 cryptocurrencies available on PayBis, but currently, you can only sell Bitcoin. This means you cannot convert one crypto to another. You can only convert fiat to the supported cryptocurrencies or convert Bitcoin to fiat.
Converting Bitcoin to fiat, you may only receive a payout to your personal Neteller, Skrill, or Bank account. Bank accounts are exclusive to USD and EUR accounts, so if you are in Nigeria you are left with Neteller and Skrill to receive your payout. Both platforms are supported in Nigeria.
To convert Bitcoin on PayBis,
Go to the drop-down menu and select Exchange.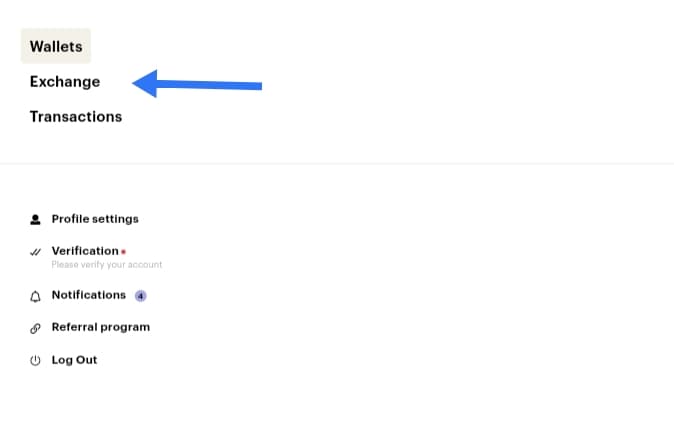 Click the currency button underneath "You spend" and select Bitcoin from the list.
Do the same underneath "You receive" and select either Neteller or Skrill.
Enter the desired amount of Bitcoin you want to convert in the "You spend" box. Its equivalent according to the current exchange rate will be filled automatically in the "You receive" box.
Enter your Neteller/Skrill account details and then click Continue.
Transfer the stated amount of Bitcoin to the wallet address that is provided if you are using an external wallet.
Your transaction will be processed immediately to your Neteller/Skrill account once the blockchain confirmation is done.
Now that you have converted your crypto to fiat, you can go to your Neteller or Skrill account and withdraw it to your bank account or use it for online payments.
Frequently Asked Questions (FAQs)
Q1. Does Paybis have a wallet?
Yes, PayBis offers secure wallet services that you can access from your profile. You can create a Bitcoin wallet, Ethereum wallet, etc from your PayBis website. A dedicated app is also available for this.
Q2. Does Paybis work in Nigeria?
Yes, PayBis is supported and works in Nigeria. over 180 countries are currently supported on PayBis, making it a popular place to purchase cryptocurrencies.
Q3. How do you get crypto on Paybis?
To get crypto on PayBis all you need is to create and verify an account. After which you can proceed to select the crypto you want to buy, input the amount and then choose how you want to pay for it. You will be required to input the wallet address where you want to receive the purchased crypto.
Q4. What cards are accepted on PayBis?
Visa/MasterCard credit/debit cards are accepted on PayBis and are also the fastest way to buy Bitcoin on the platform.
Final thoughts
Converting with PayBis might be swift and easy, but the fact you can only sell Bitcoin on the Platform is a disadvantage. If you want to do more than just sell Bitcoin, you can check other cryptocurrency exchanges where you might be able to do so.
Read More