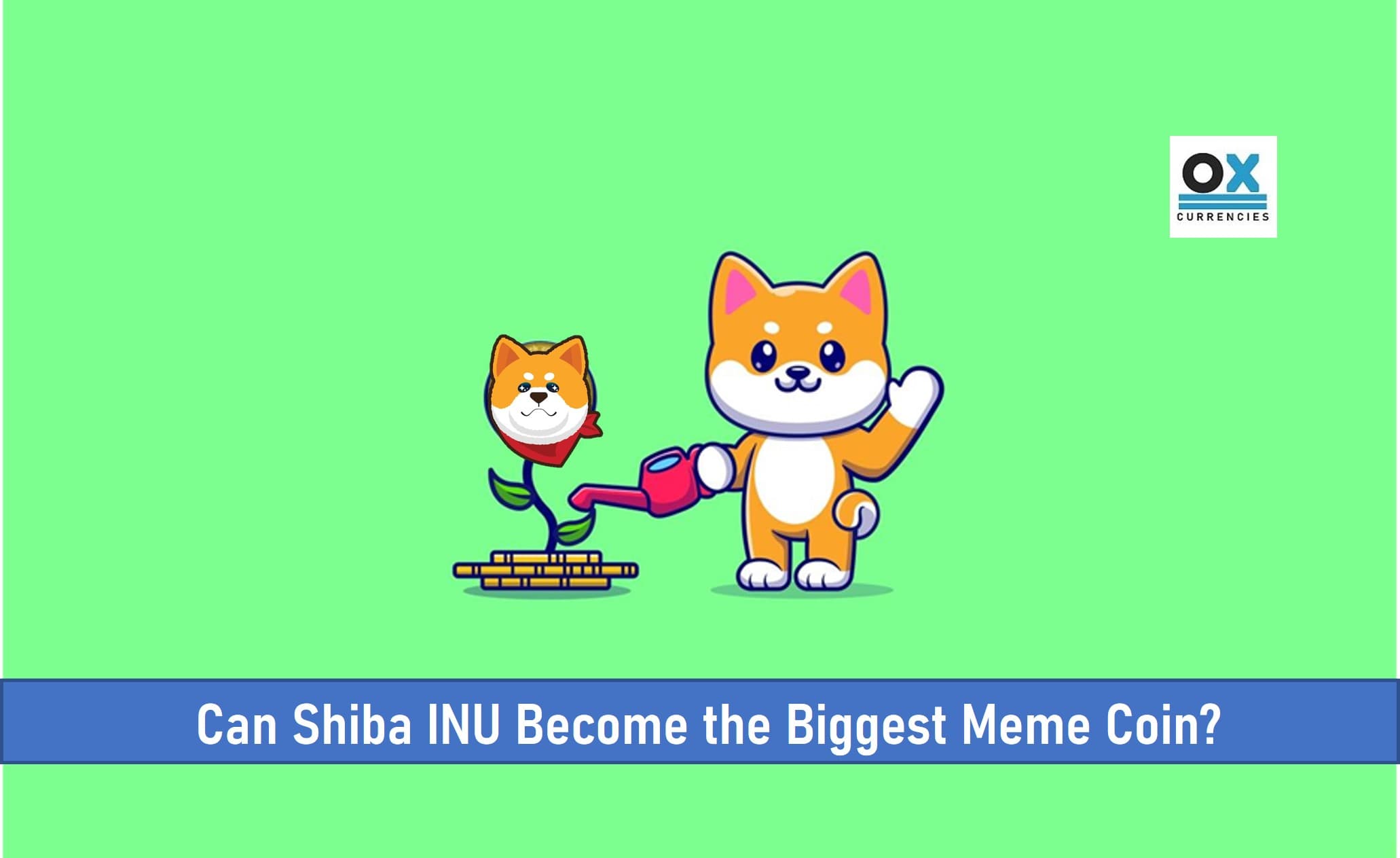 Can Shiba INU become the Biggest Meme Coin?
When meme coins were first developed and introduced to the crypto market, no one understood what they would be used for in the dynamic crypto world. But gradually, meme coins took the market and started a new order, and today, it has become a powerful force in the coin market.
With years, more meme coins have been introduced, with existing ones growing in functionality due to their ability to leverage new innovative features that create a rewarding system for traders and everyday users.
This guide will answer questions about one of these meme coins, known as the Shiba Inu, whose popularity has soared higher than its competitors over the years.
Can the Shiba In become the biggest meme coin? Keep reading to find out!
Key Takeaways
• In the year 2020, Shiba Inu (SHIB) started as a rival to Dogecoin (DOGE) and is now regarded as a successor to the Dogecoin
• It has earned its reputation over the years and ranking among crypto users due to its organic growth driven by a clear plan for future innovation and developments.
• The biggest strength of this meme coin is its community, and Shiba Inu has successfully built a business around it.
• It was developed by Ryoshi, who was said to be a breakaway from Dogecoin to create a project that would surpass Dogecoin's capabilities.
• The first notable difference between Dogecoin and Shiba Inu is their total supply.
• Vitalk Buterin was gifted half of the total supply when the Shiba Inu was released, and he locked them in a dead wallet.
• The goal of burning the Shiba Inu token is to reduce its total supply to a reasonable quantity, thereby creating artificial scarcity for the project; as a result, Shiba Inu users and traders will be able to enjoy better and improved values on their Shiba Inu tokens investments.
• Some crypto experts have predicted that the estimated average trading price of the Shiba Inu coin in 2030 would be around $0.0003092, which means massive trades will take place around this cost.
• The maximum cost that year would be about $0.00035649, while the maximum price would be around  $0.00029857.
SEE ALSO: Can Shiba INU Become the Biggest Meme Coin?
SEE ALSO: Shiba INU Burn Alert – How Investors can Key in
SEE ALSO: How To Store Shiba Inu On Ledger Nano Wallet
SEE ALSO: Does Shiba Inu Have Tokenomics?
Can Shiba INU become the biggest Meme Coin?
Yes, the Shiba INU has the potential to become the biggest meme coin. But the key to achieving such a milestone depends on significantly reducing the extremely high supply of the token (with a total circulating supply of 549,063.28 trillion) and increasing its market cap of $5.689 and value per individual token.
To ensure a maximum reduction, the token community and ecosystem must be committed to the SHIB token burn program for the long term because a significant reduction in the supply amount of the token will increase the value of the Shiba INU as well as its ecosystem.
What is Shiba Inu Coin?
The Shiba Inu is a decentralized cryptocurrency created in 2020 by an anonymous individual known as Ryoshi. It was developed as a community-building cryptocurrency within the Shiba Inu Ecosystem.
Like most meme coins, it was built on top of the  Ethereum Blockchain Network and launched as a rival to Dogecoin or "Doge-Killer". The coin was named after the Japanese dog breed known as the Shiba Inu.
The biggest strength of this meme coin is its community around which the Shiba INU has built a business around and, as a result providing everything that is required in a community with the launch of its metaverse in September 2021 known as Shibaverse providing gaming, education, buying and selling of virtual lands as well as other community-related events.  
This had been one of the reasons for its continued growth and sustainability.
It has continued to shadow other meme coins, which makes crypto users excited and more convinced that it's not just a pump-and-dump coin, and as a result, several investors who are searching for meme coins that can deliver a vibrant community-backed platform with high-value of tokens are investing in the Shiba Inu.
Why is Shiba Inu Coin So Popular?
There are a lot of reasons why the Shiba Inu coin is popular, but the two primary reasons include the following;
1. Elon Musk, the founder of Tesla, once tweeted about his interest in owning a Shiba pup, which hyped the crypto market and increased Shiba Inu prices by 300%.
2. Shiba Inu's price also fell to 40% after  Ethereum founder, Vitalik Buterin, donated about 50 trillion Shiba Inu Coins to the India Covid Relief Fund, founded by an Indian crypto entrepreneur named Sandeep Naiwal.
What is the Shiba Inu burn rate?
Shiba Inu is often regarded as one of the largest cryptocurrencies in the crypto market, with a market cap of $5.689 billion. It is also rated behind Dogecoin(DOGE), the largest meme coin.
For the Shiba Inu to overtake Doge and become the biggest meme coin, there must be an increase in the coin's market cap by decreasing its total supply and increasing the token's value.
For this to happen, certain factors must be put in place, such as the development team's commitment to building more solutions for web 3.0, increasing the features and functionality of the network, and the token would go a long way in attracting investors to the coun, and as a result, increase its value.
Frequently Asked Questions (FAQs)
Q1. Can the Shiba coin ever reach 1 dollar?
No, it cannot because that would equal the coin having a market cap that exceeds the total global wealth, thereby leading to hyperinflation.
Final Thoughts
Cryptocurrencies are generally volatile, which makes it quite difficult to give an accurate price prediction, and it's even worse for meme coins.
But if the Shiba Inu can attain a price of $0.0007 per token, the market cap would overtake Ethereum, giving it the spot of the 2nd largest cryptocurrency in the crypto market.
Shiba Inu has successfully taken over some Dogecoin markets and is daily rising in popularity among crypto investors.
So it's just a matter of time before it completely overcomes Dogecoin if the burning rate can be sustained to reduce its total supply and increase its market cap.
Read More