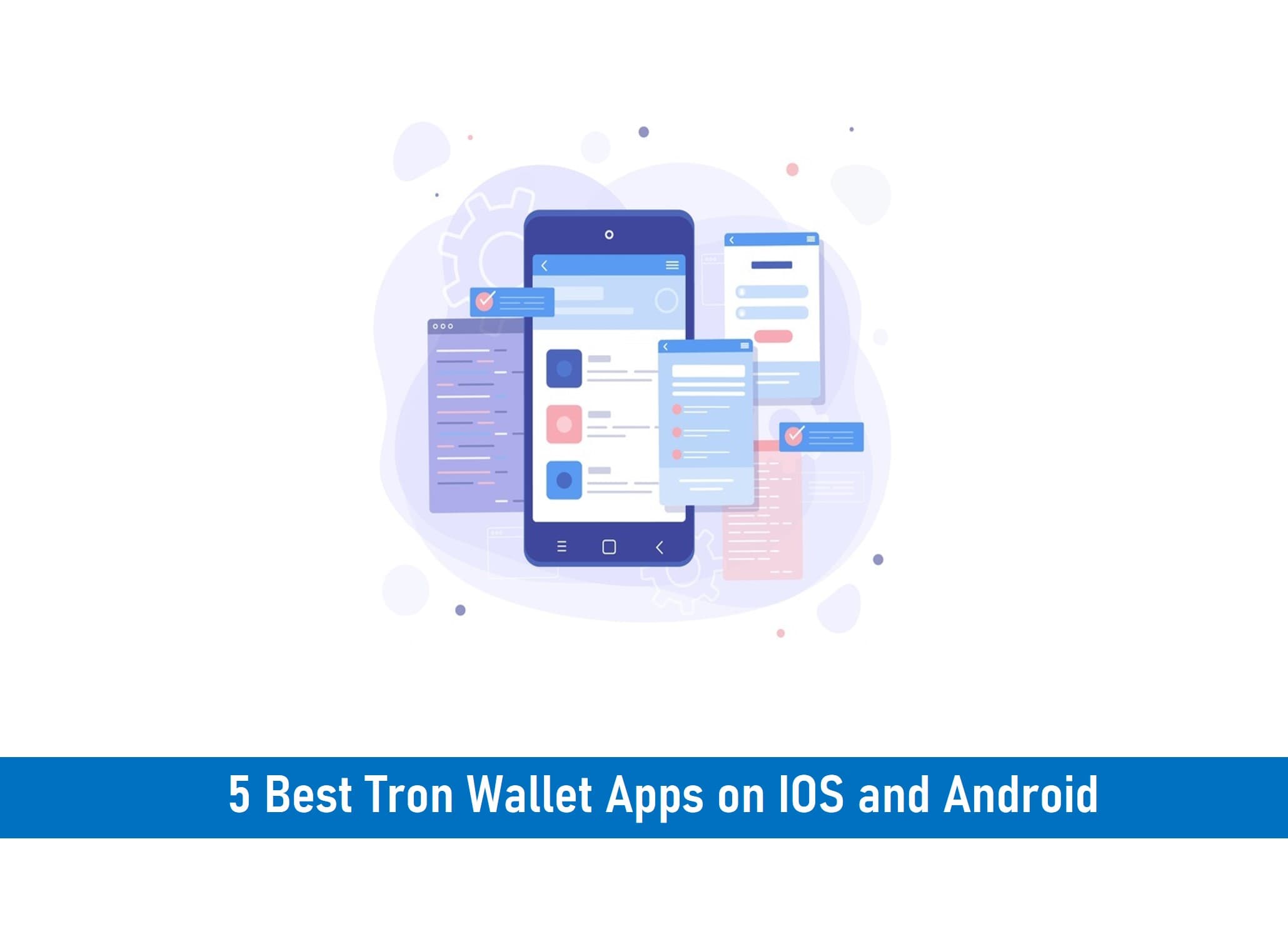 Finding the best wallet apps for your TRON should not be an uphill task, but sometimes, one can end up downloading an incompatible wallet app from the Apple or Google play store.
With a large pool of digital wallet apps in both stores waiting to be downloaded, I will walk you through some of the best wallets that will work just fine to secure your Tron projects.
Key Takeaways
• Tron runs on a proof-of-stake principle as its consensus algorithm and thus requires wallets that support it.
• The TronLink app offers a simple user interface and an integrated cold wallet, allowing users to keep and safeguard their TRX currency. With such great features, it is without a doubt one of Tron's best wallets.
• Investors don't have to worry about security when they use Trust wallet since the seed they established during the initial setup always controls their crypto assets.
Even more impressive is the fact that Tron did this in less than two years. We've saved you a lot of time by putting together a list of the finest Tron wallet apps right now.
Let's get started.
1. TronLink Wallet App
Tron holders seeking a dependable wallet to store their TRX can finally rest easy because TronLink is one of the foremost and secure wallets available.
This wallet, also known as the Tron Android Wallet, is designed to be multifunctional.
It offers a simple user interface and an integrated cold wallet, allowing users to keep and safeguard their TRX currency. With such great features, it is without a doubt one of Tron's best wallets.
You can have confidence in the protection of your assets since it creates a recovery phrase of 24 words that you can completely manage.
Furthermore, because it is a wallet intended especially for holding Tron, other wallet tokens cannot be sent.
In addition, the wallet functions as an explorer block, allowing users to examine the most recent blocks and transactions. You may view representative candidates, associated nodes, coins, and accounts.
2. Trust Wallet App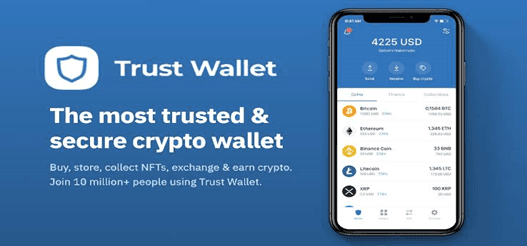 As the name implies, the Trust wallet can be trusted with your Tron cryptocurrency. Trust wallet is one of the most intriguing and one-of-a-kind Tron wallets.
It is one of Binance's most fully developed and newly acquired bitcoin portable wallets. It, like other HD wallets, protects the wallet with a seed phrase.
You don't have to worry about security when you use Trust wallet since the seed you establish during the initial setup always controls your assets. Trust Wallet, is a popular wallet for mobile applications.
There are no web versions or corresponding Tron desktop programs; instead, it is available solely as a mobile app for iOS or Android devices.
Bitcoin and Ethereum are among the major cryptocurrencies accepted by the Trust Wallet (ETH).
There are approximately 10 million Trust wallets in use, and the general reputation is outstanding, with positive evaluations. This is a great window if you want to acquire or trade various crypto assets other than Tron.
3. Cobo Wallet App
Cobo Wallet is a new multi-currency HD wallet that accepts a wide range of cryptocurrencies, including Tron. Bitcoin, Ethereum, Litecoin, EOS, Dash, and more cryptocurrencies are accepted via Cobo Wallet. It only takes a few minutes to download and set up the wallet.
Since the Cobo wallet is available for both iOS and Android users, there is no need for users to worry about the security of their TRX.
Because you preserve control over your seeds, you also have High-Security Module HSM-level protection and control over your assets with the Cobo wallet. This high-end hardware wallet costs a pretty penny.
The Cobo Wallet, which costs $479, is one of the best hardware wallets on the market.
Cobo Wallet is a well-known and successful investment app, as well as one of the year's most anticipated wallet apps.
In addition to offering clients a variety of revenue possibilities, Cobo wallet enables users to mine quickly and cheaply for excellent returns.
4. Guarda Wallet App
Guarda Wallet is a multi-currency non-custodial cryptographic storage facility that supports over 40 major blockchains and over 10,000 tokens, including Tron TRX.
The fact that it supports many different digital assets other than TRX makes this wallet more enticing. Guarda Wallet is a popular Tron wallet for holding TRX.
It is cross-platform and can be utilized by mobile devices (iOS and Android), desktop PCs (Windows, Mac, and Ubuntu), browser extensions, and online wallets.
By selecting a validator (SR-Super Representative), you may easily manage and hold Tron (TRX) with information and collect incentives.
For investors that demand more than simply storage, this is one of the finest TRX alternatives on the market. Investors who wish to utilize TRX regularly will find wallets like Guarda Wallet particularly beneficial.
5. Atomic Wallet App
Atomic Wallet is one of the most established wallets accessible for all operating systems, including Windows, Mac, Ubuntu, Debian, Fedora, and mobile (Android/iOS), and it supports most cryptocurrencies.
Using the atomic wallet's integrated atomic swap exchange, users may purchase, sell, and store over 300 currencies. Bitcoin, Ethereum, XRP, Litecoin, Tron, and many more important currencies are supported.
Because it is free and allows you to buy cryptographic assets directly through your wallet, the Atomic Wallet is great for novices.
In contrast to other wallets such as Exodus, you must first acquire your crypto assets through third-party trading and transfer them to the wallet before they can be traded.
The finest aspects of the Atomic Wallet are its price, cryptocurrency, and token. Users of this wallet have access to robust private key encryption and free custody solutions, resulting in unrivaled security.
Users may use their bank cards to acquire cryptocurrencies such as Bitcoin, Litecoin, or TRX using an Atomic wallet.
The wallet takes major international currencies like USD, EUR, and any other local currencies from any location on the planet.
Frequently Asked Questions (FAQs)
1. What is Tron (TRX) freezing?
Tron freezing is a process that allows you to easily stake your coins and earn passive profit. There are numerous platforms, such as Tronblocks, where you can stake your TRX coins.
2. Is it good to buy Tron now?
The TRON currency allows you to operate a variety of decentralized apps that are powered by blockchain technology. Furthermore, its future potential and low cost to lead the Web 3.0 above make it a good choice.
3. What is Tron's private key?
The private key is a 64-character code ranging from 0-9 to A-F. You are free to use and access your TRX. Anyone who has access to your key can use your TRX, so keep it safe at all times.
Final Thoughts
Tron is a reputable cryptocurrency in the crypto market, and this is why we have listed out the wallet apps available on IOS and Android with which you can easily purchase Tron.
Read More