For some time now, Solana has been the go-to blockchain for NFTs and crypto transactions due to its top-notch qualities, such as 50,000 transactions per second and the use of Proof-of-History to process transactions.
The recent utilization of this blockchain by Bangsta Bears in creating a unique set of NFTs is a testament to this fact.
In addition to being an exceptional blockchain, Solana has supported crypto wallets that it allows for staking, DeFi, and NFTs.
These wallets come with their own unique features that make them stand out from the rest, providing you with a wide array of options.
Key Takeaways
•Solana continues to set records as the most preferred blockchain for staking, DeFi, and NFTs, with new projects coming up on the blockchain every day.
• With the Phantom wallet, you can keep tabs on your NFT collections and stake natively, which is a particularly unique feature of this wallet.
• The Solong wallet is best suited for inexperienced investors who wish to access SOL as easily as possible without any confusion due to its simple user interface.
• The Math wallet is a multichain web3 walletoffering over 20 blockchains and is compatible with Android and iOS devices.
SEE ALSO: How to Qualify for a Solana Airdrop
SEE ALSO: 7 Best Exchanges that Supports Solana
To help you and other investors with selecting the best ones to use, I have compiled a list of the six best Solana wallets available for staking, DeFi, and NFTs.
You can check them out below:
1. Phantom Wallet

The Phantom wallet starts by making itself virtually accessible to users through its Google Chrome extension, which is one of the reasons why it has become one of the best wallets for Solana today.
With the wallet, you can easily access SOL, monitor your NFT collection, and engage yourself in the world of DeFi.
The Phantom wallet also supports staking natively, which means you get to delegate your SOL to a validator and begin receiving rewards.
The wallet, though great, does come with some challenges, such as the problem of allowing big validators to amass more stakes while impeding efforts to decentralize the network.
This is exacerbated by the fact that they do not indicate the commission a validator will receive in their list, which many users misinterpret as the APY return they would receive, thereby driving users towards more costly validators rather than the lucrative ones.
Nonetheless, the Phantom wallet is still a great option and a wonderful addition to the Ledger Nano X, keeping your SOL completely safe and secure so you may use all of the features and DApps without any cause for alarm.
2. Solflare Wallet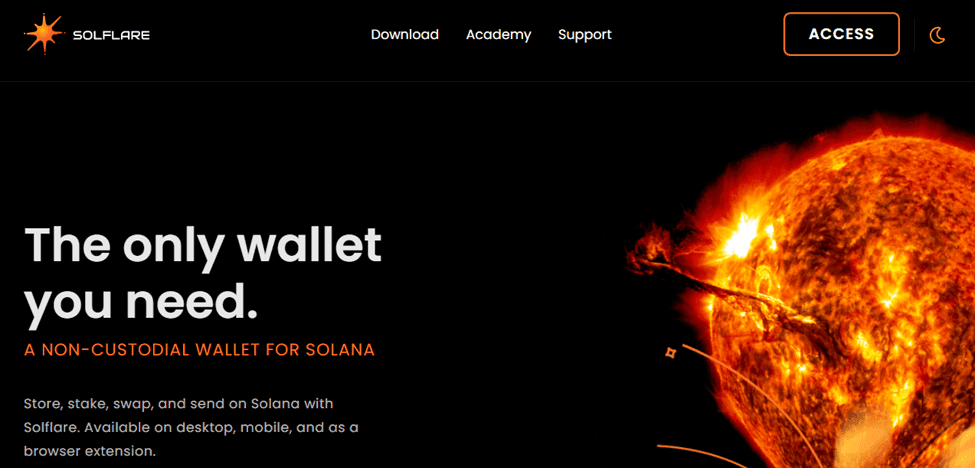 The Solflare wallet is quite exceptional, especially in terms of its security, where it combines with the Ledger wallet to provide one of the best security features present on any feature.
The wallet also has a good browser extension and can be operated on your mobile as well as your desktop devices.
Moving on, this wallet allows you to trade, stake, save and send SOL, and it is extremely compatible with Solana, making it an "all-in-one" solution for crypto investment.
It's also a great choice for anyone new to cryptocurrencies or searching for a more basic, non-custodial, and NFT-friendly wallet.
SolFlare, like the Phantom wallet, is a fantastic alternative to using the Ledger Nano X hardware wallet.
One of the top features of the SolFlare wallet is having full access to your funds at all times and the option of investing in NFT art and music.
3. Sollet Wallet

This Solana SPL token wallet is easy to use and requires a link-up with the ledger Nano X wallet to manage SOL. It can also be easily accessed from anywhere, although it does not boast of having the best security compared to those of other wallets.
Sollet is useful for converting SPL coins to SQL on its own; however, without the Ledger hardware wallet connection, it is not recommended for direct access to Solana DApps.
This is due to the possibility of flaws in the Sollet browser plugin. Utilizing Sollet with Ledger, on the other hand, is great and offers an amazing combination while using Solana for various transactions.
4. Solong Wallet

The  Solong wallet is a fantastic alternative for first-timers new to crypto who prefers a wallet that doesn't require much effort to install and use. The wallet is an excellent browser extension that can be easily added to the Edge and Google Chrome browsers.
It's an easy way to store Solana coins and tokens while also connecting to various Solana-powered DApps.
The Solong wallet, while good in its own right, does not have a huge number of features, especially if you are an experienced investor.
Notwithstanding, its simplistic design and setup make it a walk in the park when it comes to accessing the Solana token and utilizing a fast, efficient blockchain.
5. Ledger Nano X Wallet

The Ledger Nano X hardware wallet is one of the best crypto wallets to install, and it's also one of the most popular. It's a terrific way to keep your Solana crypto coin safe while using DApps created on this blockchain to gain incentives.
This wallet is one of the simplest to set up, with the Ledger Live app being a useful tool for communicating with the Ledger Nano X via the Manager table and also making it easy to install the Solana app, which can be found in the app catalog.
In a few minutes, you can build the SolFlare wallet on the Ledger Nano X, which includes security features and allows you to transfer, receive, and store SOL tokens.
The wallet's staking page provides access to a list of validators, allowing you to investigate stake totals, skipped blocks, the number of delegators, and validators' websites.
While the Ledger Nano X is significantly more expensive than other Solana-compatible crypto wallets, it is worth the extra fee since it's one of the most secure hardware wallets for staking, NFTs, and Defi, as well as for accessing many other options not available in other wallets.
6. Math Wallet
The Math wallet, which functions as an extension, is suitable for both desktop and mobile browsers. Math Wallet supports over twenty blockchains and enables users to make transactions and processing simple.
This digital wallet is compatible with Android and iOS devices, and it is also compatible with a Google Chrome extension.
With the Google Chrome plugin, you can discover and access a plethora of decentralized exchanges (DEXs), connect to Solana DApps, and utilize Ledger hardware.
SEE ALSO: What are Solana Validator Node Requirements?
SEE ALSO: How Much Do Solana Validators Make?
Frequently Asked Questions (FAQs)
What types of wallets does Solana support?
Solana supports several types of wallets in the Solana native command-line app as well as wallets from third parties.
Is the Phantom Solana wallet safe?
Yes, it is, as the Phantom wallet satisfies the condition of being a web-based wallet for the Solana blockchain while having one of the best security measures for safely storing, sending, receiving, staking, and swapping tokens.
 Final Thoughts
The above-listed Solana wallets are some of the best wallets you can find utilizing the Solana blockchain. Just in case you are confused as to which to use, you can easily make your choice by taking a look at these six wallets and picking one based on your needs.
Read More